A cat collar conveniently displays a cat's latest ID tags, but it also expresses your cat's unique personality while keeping them safe. They are especially important for outdoor cats if they tend to enjoy exploring the neighborhood. When it comes to choosing the best cat collar, you should always prioritize function over fashion and make sure the one you choose has a number of key features that will keep your favorite feline safe.
The safest thing you can do for your cat is to keep them indoors. The average lifespan of an indoor cat is 10 to 15 years, whereas outdoor cats usually only live about two to five years. The significant difference is due to various factors cats face when living outdoors. Disease, attacks from other animals, danger from cars, and weather are all factors that impact how long cats can survive in the outdoors. Researchers from the University of Maryland have also found that felines carry an "uncontrollable drive" to hunt and kill surrounding wildlife, and while that's all well and good for the cats, these actions reduce native animal populations and degrade biodiversity.
If you do plan to let your kitty have some outdoor time, be sure to equip them with a collar. A good cat collar should fit snugly enough to not come loose or get caught on anything, but not so tight it chafes or is uncomfortable. Breakaway collars are a good option to keep your cat from choking in case the collar gets stuck on any objects.
A collar can be a great investment to keep your cat safe and stylish. StudyFinds researched the best cat collars, finding the top recommendations across 10 expert websites. If you have a favorite collar of your own, let us know in the comments below!
The List: Best Cat Collars, According
to

Experts

GoTags has space for up to 21 characters and plenty of room to customize these kitty collars with your feline friend's name and a contact number. "They're made from durable, non-snagging nylon and fastened with a breakaway safety buckle to allow your feline friend immediate escape if the collar gets caught on anything. Like many cat collars, the reflective band helps pet parents and cat sitters locate their kitties in the dark and also makes them more visible to traffic," states Trusted Housesitters.
There are five colors to choose from and you can adjust the collar to fit neck girths between 8 and 13 inches. "Even if your cat is indoor-only, Dr. Caos notes that a collar is essential because it provides a means of identification for your cat. 'Identification is especially crucial for indoor cats in case they accidentally escape from the house,'" offers The Dog People.
Your cat will stay comfortable thanks to the smooth, tapered edges that give it a perfect fit suitable for cats of all sizes. "This collar has a reflective surface and breakaway clasp add to this collar's safety features. 'This is a nice way to have your contact info on your cat's collar without a name tag dangling,' one reviewer says," states Women's Day.
This Frisco cat collar is made from high-quality nylon webbing, so it won't stretch or fray.  "A collar that is too loose may slip off or get caught on objects. A collar that is too tight can be uncomfortable and restrict your cat's movements or breathing. When shopping for large breeds like Maine Coons, strong materials and sturdy hardware are essential," says The Dog People.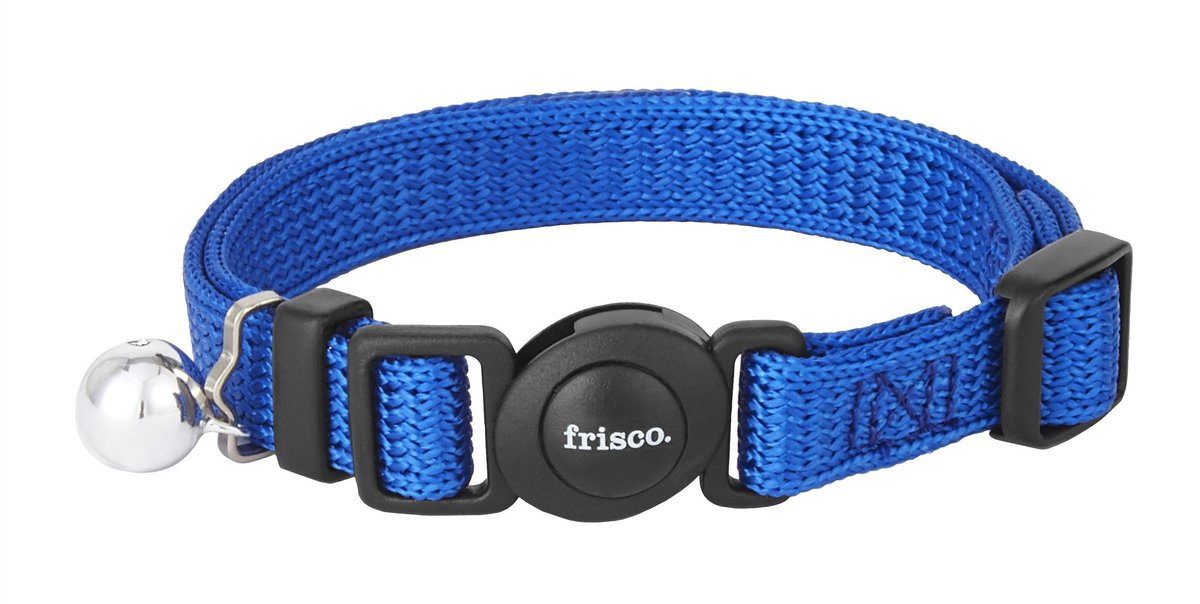 This simple, fuss-free collar is perfect for both indoor and outdoor use. "The Frisco collar is designed for cats eight pounds or heavier, the breakaway accessory includes a metal ring for your pet's identification tag," offers Martha Stewart.
The Frisco Cat Collar can be festive. It offers some great pattern choices, including seasonal prints. "The Frisco Breakaway Cat Collar is adjustable, has a bell, and features a tab breakaway clasp. This makes it easy for cats to free themselves from being caught, whether they are indoors or outside," explains Better Pet.
This breakaway collar from Red Dingo is affordable and made of heavy-duty nylon. "It features a quick-release safety clip, a metal ring to attach your kitty's ID tags, and a wildlife safety bell that warns birds and small animals of your cat's approach," says The World Animal Foundation.
The Red Dingo has a steel K-ring where you can attach your cat's ID as a backup for your cat's microchip. Cats.com hails the Red Dingo as their top pick "The quick-release safety clip comes undone with even slight tension to prevent snagging. What we also love about this collar is that it is incredibly affordable and machine-washable for easy cleaning. The ½ inch width is ideal for cats and the size can be adjusted between 8 and 12.5 inches."
The combination of high-quality nylon and abrasion-resistant ribbon makes it comfortable for most cats. WAF warns, "Some may find the nylon irritates their skin, causing hair loss and scratching. Its simple design and adjustable length make it suitable for most adult cats, and it's machine washable and easy to clean, even if your cat wears it constantly.
The Pawtitas collar offers comfort by being strong, but also allowing your cat to easily break free if ever caught in something. "The Pawtitas Glow in the Dark collar is made from reinforced nylon that increases its durability, making it suitable for outdoor cats with a sense of adventure," explains The World Animal Foundation.
After dark, cats are nearly invisible to drivers. A collar that glows in the dark gives them a better chance of being seen. "The Pawtitas Glow in the Dark Cat Collar was the brightest of those we tested. It gets its vivid glow from a ribbon of lightly patterned reflective material that's sewn onto 3/8-inch-wide ripstop nylon webbing. The Pawtitas collar held up extremely well in our fray, soak, and clean tests. It also has an adjustable length, breakaway buckle, and removable bell. The collar is available in eight colors," offers the Insider.
While the glow-in-the-dark feature is amazing, its intensity may fade over time. "The Pawtitas Glow in The Dark Cat Collar with Safety Buckle is an ingenious product that marries fun and functionality for your feline companion. The collar's glow-in-the-dark feature stands out for enhancing nighttime visibility, adding a layer of safety for cats that enjoy nocturnal adventures. This collar also boasts a safety buckle, providing an essential breakaway function to prevent accidents if the collar gets caught. The collar is made from durable nylon, ensuring it can withstand the rigors of cat play, but it also maintains comfortable wear," states iheart Cats.
The Bemix collar is perfect for your cat with high-quality nylon that's built to last. "The Bemix Reflective Kitten Collar can be adjusted from 7"-11" so they're suitable for a lifetime of use for your young feline friend! Reflective collars like these enable you to keep track of your furry feline on their nighttime adventures, and the bell jingles with every step they take so you always know when your kitty's on the move," offers Trusted Housesitters.
The ideal material for these favorite cat collars seems to be nylon. With this set, Bemix offers a lifetime warranty or free replacement. "Featuring a breakaway clasp and reflective tape for safety, the bell is also designed to only jingle when your cat is especially active. With almost 12K five-star reviews on Amazon, happy customers say these collars are good quality at a great price," says Women's Day.
The Bemix Pets cat collar has all of the qualities of an effective collar for your furry friend, including a reflective strip so they are seen at night. "The collar comes in a 7-inch length that adjusts to a maximum of 11 inches to fit cats of all sizes. The collar comes equipped with a reflective strip that shines bright when any light is shone onto it. This ensures that drivers can easily see your cat and slow down for it to pass. The collar uses a breakaway buckle that opens up in case of high stress and the manufacturer offers a lifetime warranty and free replacement that can be easily claimed in case of any default or manufacturing error," shares Fresno Bee.
You might also be interested in:
Sources:
Note: This article was not paid for nor sponsored. StudyFinds is not connected to nor partnered with any of the brands mentioned and receives no compensation for its recommendations.