Looking for a fun getaway? A really fun getaway? How about taking that vacation to Sin City? Las Vegas, of course, is a huge destination for visitors year round, especially for adults looking to add a little risk to their lives. And if rolling the dice in a game of craps or sitting at the blackjack table isn't your thing, relaxing poolside or enjoying some of the very find dining can be just as rewarding (especially if the casino is the opposite)! StudyFinds has the scoop on some of the best hotels in Las Vegas to help you plan your next trip.
Vegas is actually considered one of the best locations in the United States to celebrate New Year's, ranking 2nd on the list for a Wallethub study that considered food, entertainment, safety, accessibility, and cost. Las Vegas is home to some of the best hotels and resorts, casinos, shopping, clubs, food and entertainment in the world. Grab a bite at one of Gordon Ramsay's famed establishments, check out the new Resorts World, or take a ride on the High Roller, the world's largest observation wheel.
Whether you're looking to celebrate the New Year or you're planning a trip for next year to the City of Sin, we've got you covered. We searched for the best hotels in Las Vegas and compiled a list based on the most common recommendations across 10 expert websites. Already have a hotel in Vegas you enjoy? Let us know your favorite in the comments below!
The List: Best Vegas Hotels, According To Pros
1. The Wynn
The Wynn is the picture of Vegas extravagance if you're looking to splurge or treat yourself to the full experience. Connected to the neighboring resort Encore, the Wynn is known for lush indoor gardens full of Instagrammable spots. 
"With its gold-gilded peacock statues, red-trimmed pool cabanas, and enough fountains to rival the Romans, this Strip favorite proves that Vegas Chic is not an oxymoron," writes Conde Nast Traveler. "When you walk into the Wynn, it's an otherworldly fantasy: the lobby, bright with natural light, is full of moving floral sculptures."
Guests can check out numerous cocktail lounges, go clubbing at XS, or experience some of the best food the strip has to offer at restaurants like the newly opened Delilah supper club.
"Fresh off a room renovation with a price tag of over $200 million, it's no surprise that Wynn Las Vegas is "the pinnacle of panache for Las Vegas accommodations," as one reader put it. Respondents love the "gorgeous" spa, "stellar service," and excellent restaurants," writes Travel + Leisure.
2. The Venetian
The Venetian is more of a family-friendly stay (though just as luxurious!) that is modeled after the city of Venice. Grab a ride on a gondola and get serenaded on a cruise through a labyrinth of indoor canals.
"Wander the resort and its Grand Canal Shoppes under Canaletto-blue trompe l'oeil "skies" and you'll find everything from a reasonably priced food court to Mott 32, one of the best Chinese restaurants in the country, making it one of the best hotels for both kids and adults," writes Forbes.
This resort is connected to the Palazzo, and offers everything from casinos and restaurants to shopping and entertainment, without ever leaving the property.
"At these Italian-themed sister properties, opulence is the overriding aesthetic, from grand pillars to muraled ceilings to the turquoise canal that winds through the Venetian complete with singing gondoliers, writes TimeOut. "The same holds true for the all-suite accommodations, which feature separate sitting areas and grand bathrooms and start at a size larger than most New York apartments."
3. NoMad Las Vegas
If you'd like to stay at a hotel that feels like more of a getaway than the typical gaudy casino-style resort, the NoMad Las Vegas offers European inspired elegance, while still being conveniently located within the hustle and bustle of the Park MGM.
"A burgeoning trend on the luxury hotel scene is offering a hotel within a hotel. The NoMad Las Vegas is one such place, found within the sprawling Park MGM hotel on The Strip," writes Good Housekeeping.
Enjoy deep red carpets, wooden floors, and a Moroccan style pool, then escape to the swanky bar or restaurant that's reminiscent of an old-school speakeasy.
"The NoMad's Las Vegas outpost showcases a different kind of opulence: It's got bird-shaped cocktail glasses, golden statues of Great Danes in room corners, bedrooms clad with leather lounge chairs, blue accents, deep-red eucalyptus floral arrangements, and bathtubs next to beds," writes NY Mag.
4. Four Seasons Las Vegas
You can't go wrong with the Four Seasons if you're looking for a stellar experience. The Four Seasons is known worldwide for their amazing customer service and attention to detail.
"This internationally renowned brand often makes an appearance on our 'best hotels' lists," writes The Luxury Editor. "And it's the perfect choice for those who don't want to stay in a hotel-casino. Here you can escape the tables, but with the benefit of full access to Mandalay Bay Resort's facilities.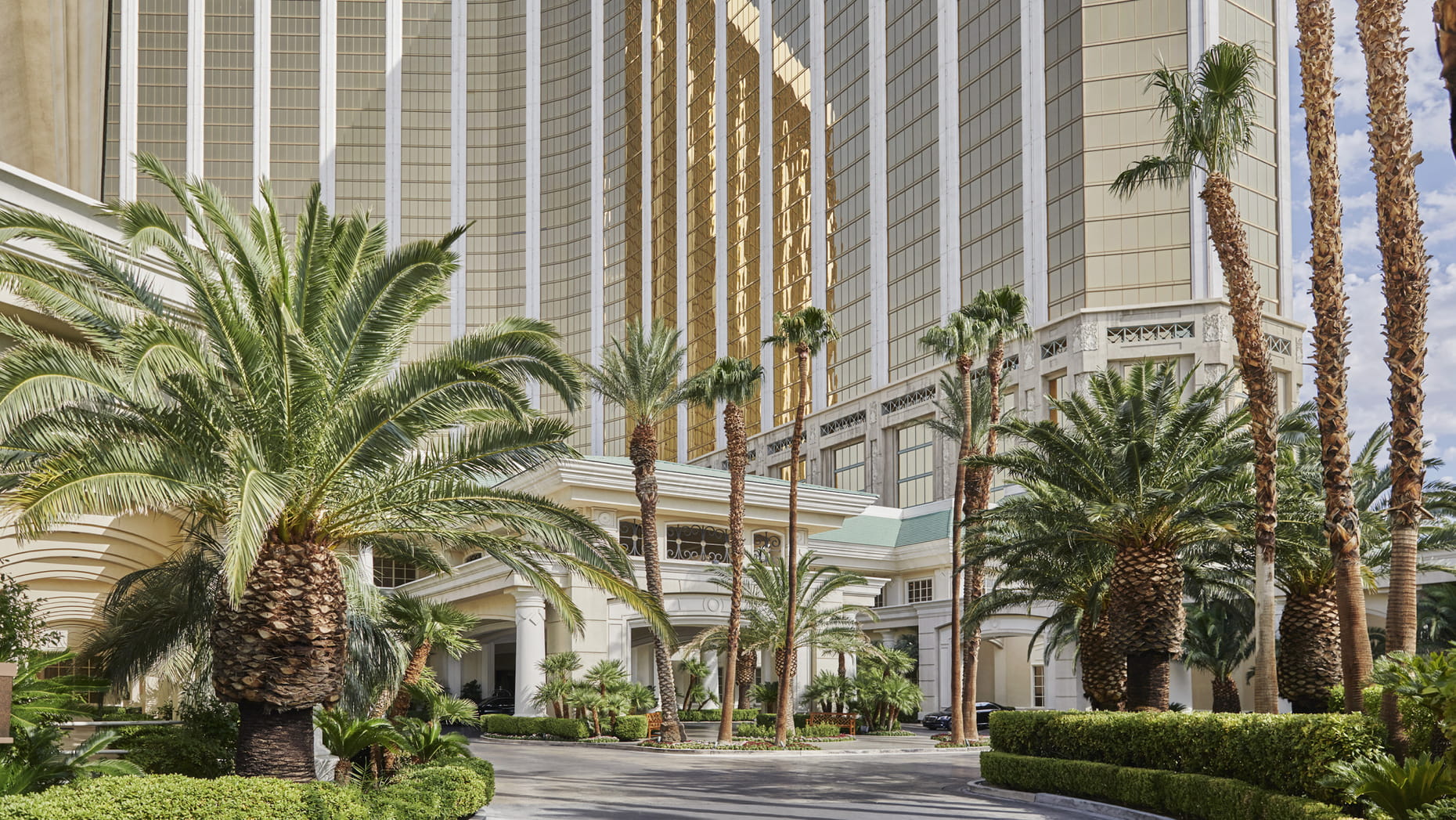 The Four Seasons Las Vegas is home to a spa, two restaurants, two pools, a fitness suite, and meeting rooms, and is nearby the Bali Hai golf course. Guests can enjoy a view of the Strip or the Vegas mountains from suites with marble floors and floor-to-ceiling windows.
"Four Seasons is known for its impeccable service. It's a great choice if you want to be close to the action but still have a calm oasis to return to at the end of the day. The rooms are spacious and well-appointed, and guests love the attentive staff," writes Travellers Worldwide.
5. The Cosmopolitan
The Cosmo is a trendy spot that is favored by young people, with clubs Marquee and BOND offering the typical Vegas nightclub experience. Marquee also hosts seasonal dayclub events poolside.
"Whether you want a relaxing retreat to recover from your wild night out, or an extravagant party that never stops, The Cosmo can offer you a one-of-a-kind stay you'll never forget," writes Las Vegas Direct.
Multiple dining options is a big draw of the Cosmo. Grab a steak at STK with a live DJ, brunch buffet at Wicked Spoon, authentic Spanish cuisine at Jaleo, or seafood at the raw bar at Blue Ribbon.
"The Cosmopolitan has quickly established itself as one of the trendiest spots on the Strip. The typical Vegas kitsch has been swapped out for aggressively modern design and futuristic touches (guests sign in on an iPad)," writes Oyster. "Fanfare aside, rooms are large and feature comfortable, designer furnishings and modern, open bathrooms."
Sources:
You may also be interested in:
Note: This article was not paid for nor sponsored. StudyFinds is not connected to nor partnered with any of the brands mentioned and receives no compensation for its recommendations.