Admit it — when you hear that beat drop and the words "get into the groove," you can't help but break out the dance moves! It may even invoke feelings of nostalgia for some of you. Madonna, the Queen of Pop, has been a music icon for over three decades. From her stunning performances to her bold fashion choices, she has become one of the greats. Everyone around the globe has heard of her, and some of us want to be her! She has had numerous albums that have gone platinum, gold and even diamond! And with so many great hits, some of which span nearly 40 years, which ones are considered the best Madonna songs of all time? 
Some of the best music was made and released in the 80s. From the Eurythmics' hit "Sweet Dreams" to Guns N' Roses' iconic tune "Sweet Child of Mine," the 1980s brought us sweet tunes, crazy dance moves, and even crazier hair! But when I think of this decade, I can't help but think of the Queen of Pop! Madonna's first album, "Madonna", was released in 1983 and spawned the hits "Like a Virgin" and "Borderline". The album was a massive success, selling over 10 million copies worldwide. Madonna followed up with the equally successful "Like a Prayer" in 1989, which contained the hit singles "Like a Prayer" and "Express Yourself." 
In one survey, her song, "Into the Groove" made the top 50 list of happiest songs. And it's no surprise that 58 percent of adults say the songs which made them the happiest were the ones released in their youth. Greatest Hits Radio presenter Pat Sharp explains that music can have a powerfully uplifting effect on listeners. "As the home of the Good Times and the biggest songs of the 70s, 80s and 90s, we always believed that there was a strong and positive connection between our listeners' formative years and feelings of nostalgia and happiness, and this survey confirms that," Sharp said.
And according to another study, that connection is passed on from most parents to their kids, with over 63 percent of parents teaching their kids to appreciate the same hobbies and music they enjoyed when they were their age. Fifty-seven percent of music-loving parents are teaching their kids to appreciate the same tunes they enjoyed in their youth. Among their playlist picks? Celine Dion (42%), followed by Whitney Houston (39%), Madonna (38%), and the Backstreet Boys (34%).
Needless to say, the Queen of Pop has a lot of hits under her belt! So, now that we're ready to jam out to some of these iconic oldies, let's see which hits made our list. By consulting 10 expert music sites, we compiled the top 5 best Madonna songs of all-time so you can get your groove on! Your favorite Madonna song didn't make the cut? Let us know in the comments below!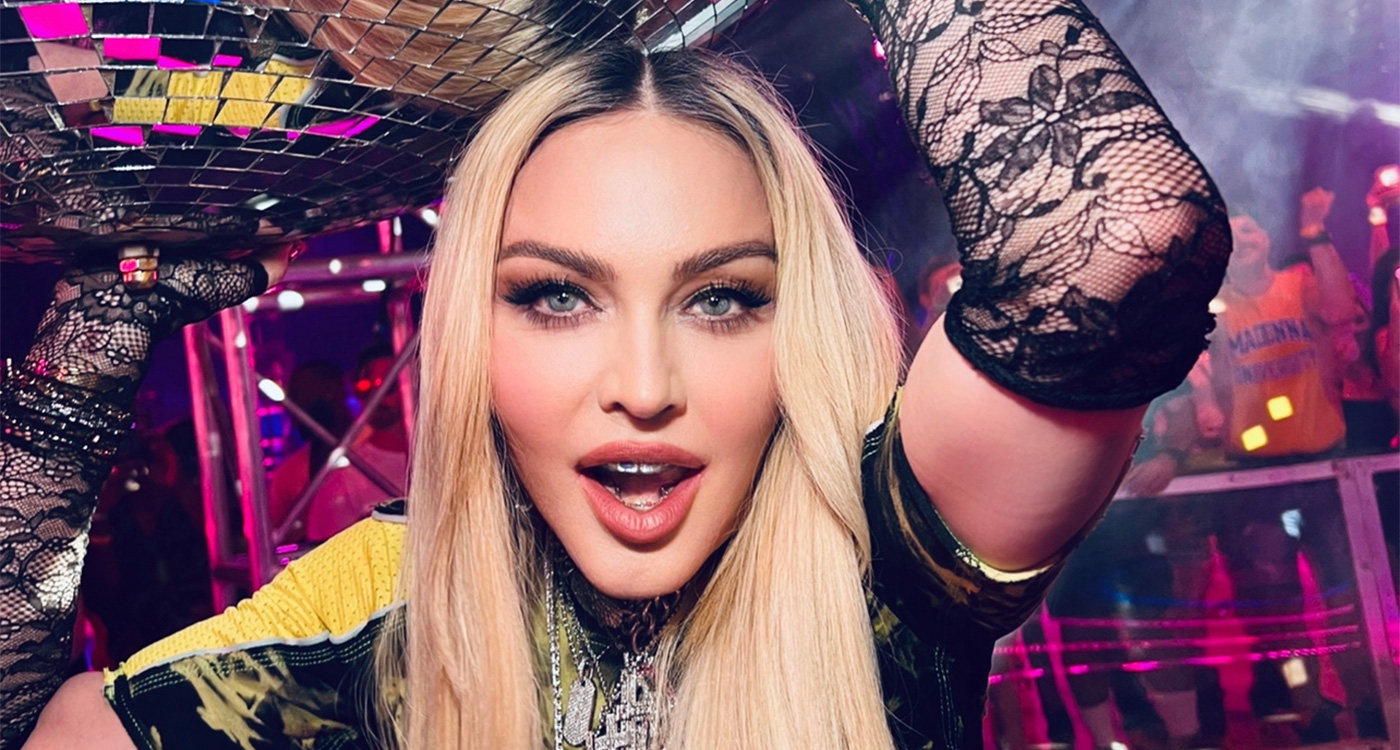 The List: Best Madonna Songs of All Time, According to Music Experts
1. "Like a Prayer" (1989)
Her hit "Like a Prayer" was released in 1989, and it was one of her most popular songs! It reached number one on the Billboard Hot 100 chart, and it stayed there for nine weeks. The song also won a Grammy Award for Best Female Pop Vocal Performance. And as if the song wasn't great enough, the video will live on in our minds forever (well at least those of us who remember it). Though controversial, the video made the top 5 list of Best Music Videos of All time.
"Written and produced by Madonna and Patrick Leonard, this track saw Madonna enter a new artistic and personal approach to songwriting, as she believed that she needed to cater more to her adult audience," says Smooth Radio. "The song speaks about a passionate young girl in love with God, who becomes the only male figure in her life."
Entertainment Weekly adds, "From the moment Madonna sings 'Life is a mystery, everyone must stand alone' atop that solemn organ and the hushed tones of a choir, 'Like a Prayer' goes on to achieve a spiritual transcendence that makes this her supreme single."
"As she told Rolling Stone at the time, 'I pray when I'm in trouble or when I'm happy. When I feel any kind of extreme.' It wouldn't be Madonna's style to drop such a personal song without a huge scandal to go with it. But even by her standards, 'Like a Prayer' stirred up some controversy." Smooth Radio adds, "The Vatican condemned the video, while family and religious groups also protested its broadcast. They also boycotted Pepsi, who had used the song in their commercial campaign. All the fuss did was make Madonna an even bigger star."
The Guardian describes the essence of the song, stating, "Madonna's character has 'no choice' when she hears 'your voice', her vocals conveying wilful submissiveness with absolute tenderness. But she also has faith in herself: 'you know I'll take you there' is repeated like the Staple Singers' early 70s mantra. Here, however, it transforms into a celebration of emotional, personal conviction. She is Madonna, after all."
2. "Vogue" (1990)
Her hit "Vogue" was released in 1990, and it was her first number-one song on the Billboard Hot 100 chart. It stayed at number one for two weeks, and it won a Grammy Award for Best Music Video (Short Form). The song was originally released on the soundtrack for Dick Tracy in 1990. The song has been covered by many artists including Kylie Minogue, No Doubt, Britney Spears, and Lady Gaga.
Parade adds, "'Vogue' tops our list because it's possible this is the song in all of Madonna's incomparable catalog that's had the greatest cultural impact. 'Vogue' ruled the airwaves in every corner of Earth in the summer of 1990, and it's still a hot topic right now (thanks in part to FX's acclaimed series Pose). A Pettibone co-production, 'Vogue' brought an underground movement into the mainstream, winking to (and even name-checking) the past while creating something cutting-edge."
"Like Madonna herself, 'Vogue' isn't just iconic, but also controversial," says NME. "Inspired by a dance style that originated in New York's Ballroom culture scene, it's a beautifully crafted homage that has long faced accusations of cultural appropriation: the video may be black-and-white, but the issue isn't. What we do know for certain is that Madonna really did believe in the healing power of clubbing, especially after losing so many friends to AIDS. There's no doubt, either, that 'Vogue' continues to be a byword for dance floor escapism, which is why Beyoncé just sampled it on her 'Break My Soul' remix. 'What you lookin at?' A pop star in her imperial phase, that's what."
Billboard writes, "A Hot 100 topper for three weeks in 1990, 'Vogue' is quintessential Ciccone: The lyrics hit on her recurrent themes of escaping the pains of life that you know (life that you knooooow) through dance floor ecstasy and her adulation of Golden Era Hollywood glam (the black-and-white David Fincher-directed video is arguably her finest visual moment) — all while an endlessly listenable, strangely of-its-era-yet-timeless disco-house anthem plays. You might try to resist, but once it starts playing, you have no choice but to let your body go with the flow."
3. "Like a Virgin" (1984)
Like many of her songs, "Like a Virgin" was very controversial in its time. It was released in 1984 and became Madonna's first number-one song on the Billboard Hot 100 chart. It stayed at number one for four weeks. The song was inspired by Madonna's relationship with Sean Penn, who she married in 1985. 
"Produced by Nile Rodgers and written by the hitmaking team of Tom Kelly and Billy Steinberg, 'Like a Virgin' became so much bigger than the song — from the vintage video to that unforgettable MTV Video Music Awards performance," says Entertainment Weekly. "But the single itself stands as one of the best of the '80s."
PopMatters writes, "A pop starlet at the time in deep competition with the critically acclaimed Cyndi Lauper, there wasn't any real belief that her longevity in the music business would surpass so many pop stars before and after her. When 'Like a Virgin' hit, Madonna's status was elevated to that of pop culture icon. She proved (probably to herself as much as to the rest of the world) that she was more than a simple pop star — she was pushing buttons, exposing belly buttons, dressing in a manner all her own, singing about topics that no one else dared to tread, and loving every minute of it."
"Even if the word 'virgin' is the only sexual reference in the lyrics, 'Like a Virgin' still sounds saturated in lust – it's all in the way Madonna sings it over that Nile Rodgers funk throb," says Rolling Stone. "The song was written by Billy Steinberg and Tom Kelly, who were told they might have to change the title to get it recorded. But Madonna loved it. 'They're so geeky, they're cool,' she said of the lyrics."
4. "Into the Groove" (1985)
This song was released in 1985, and it reached number one on the Billboard Hot 100 chart. It stayed there for three weeks, and it won a Grammy Award for Best Female Pop Vocal Performance. Billboard writes, "Despite having already set new standards for boldness in pop music by the time of its release via her 1985 big-screen debut Desperately Seeking Susan, the song's greatest lyric is conspicuously shy, with Madonna slinking back to her place to literally dance like nobody's watching. But that timid couplet — half of the greatest pre-chorus ever written — ends up being as empowering as anything Madonna ever wrote. It's a love letter to her millions of fans who'll never be stars anywhere outside of their bedroom mirrors, a revelation that even the Queen of Pop still finds dancing on her own to be life's greatest, truest thrill."
"You couldn't escape Madonna in the summer of 1985, and this demo, tidied up for inclusion in the soundtrack of her first major movie, Desperately Seeking Susan, was the Europe-wide smash of that summer, though US chart rules meant it was ineligible for the listings, as the song had been issued a bonus track on the stateside 12-inch of another Madonna hit, 'Angel'. This urgent synth-dance cut was named Billboard's dance song of the decade at the end of the 80s," says Dig.
"Madonna's inability to understand the coolness of 'Groove' (especially that bassline!) represents the fundamental aspect of what makes her so mesmerizing to watch for nearly 30 years now," says PopMatters. "She is not a flawless icon — she is continuously trying and failing at close to half of everything she does — and yet, it's this conflation she manages between iconography and humanity that draws us to her. We feel like we could be her, and yet simultaneously know that we never can. Madonna's music has always felt as though she's playing on a completely different field than everyone else, and 'Into the Groove' is her ultimate anthem, even if she herself doesn't want to believe it."
5. "Music" (2000)
This tune was released in 2000, and it reached the top of the Billboard Hot 100 chart. The song also won a Grammy Award for Best Dance Recording. "Always a club kid at heart, Madonna knows a simple lyric can sound profound on the dance floor," says NME. "That's definitely true of this song's iconic refrain: 'Music makes the people come together.' Co-produced by French electro musician Mirwais Ahmadzaï, with whom she reunited for 2019's 'Madame X' album, 'Music' is a glitzy disco banger infused with Madge's signature brand of camp abandon. But this being Madonna, it's also deadly serious at the same time. When she sings 'don't think of yesterday and I don't look at the clock', you know she means it."
American Songwriter adds, "Madonna said the song was inspired by a Sting concert she went to. It's a disco, electro-funk song made for people to dance and celebrate the power of song."
"By the time Madonna was ready to release her ninth studio album, she was riding a large wave of comeback-ness. There was no denying that when the lead single 'Music' hit (both the Internet and clubs) that Madonna had reclaimed her rightful place on the throne as 'Queen of Pop'," says PopMatters.
You might be interested in:
Sources
Note: This article was not paid for nor sponsored. StudyFinds is not connected to nor partnered with any of the brands mentioned and receives no compensation for its recommendations