From board shorts to briefs and everything in between, there are tons of suit styles out there. Summertime calls for hitting the beach or pool and with that comes the need for funky-patterned trunks that you can count on as you splash in the waves or do a cannonball. Some of the best men's bathing suits reflect your individual style, last season after season, and most importantly, stay on during summer fun.
Clad in your favorite pair of board shorts, a stroll along the shoreline can actually improve your overall well-being. Researchers with the Barcelona Institute for Global Health (ISGlobal) studied the benefits of different environments on mood and found that short walks near water are especially helpful in lifting a person's mood. In other words, the best way to combat the blues is to spend time in blue spaces — near a beach, lake, river, or even some fountains.
"We saw a significant improvement in the participants' well-being and mood immediately after they went for a walk in the blue space, compared with walking in an urban environment or resting," says study coordinator Mark Nieuwenhuijsen. In addition to mood, researchers say the data shows improvements in participants' energy levels and mental health after the blue space activity.
In another study, Researchers from Washington State University report living closer to both green spaces (outdoor areas, parks, forests) and blue spaces (bodies of water) may reduce the risk of experiencing serious psychological distress among older adults. The team assessed a total of 42,980 people over the age of 65 living in urban areas of Washington state during this project.
Heading to the shore proves to be beneficial, meaning it's time to book a trip and grab all of your swim essentials. If you want something that's both fashionable and functional, we've got you covered. StudyFinds compiled a list of the five best men's bathing suits, from ten expert websites to sport by the water this summer. As always, we'd like to see your own recommendations in the comments below! 
The List: Best Men's Bathing Suits, According to Expert Reviews
These swim trunks from Patagonia come in five- and seven-inch inseams and many color varieties. "Patagonia Baggies are made using 100% recycled nylon, which is lightweight and durable. They're treated with a water-resistant coating to keep you dry when you wear them during activities like hiking, but also include many features designed for fully submerging as swim trunks," according to Insider.
"The fabric is durable and water repellent with a quick drying, lightweight, mesh liner to help keep you cool. You also get the benefit of vertical side pockets to store your belongings," adds TheCoolist.
These are Travel + Leisure's top pick for hiking: "Arguably the most popular bathing suit on this list, Patagonia's classic Baggies are great for jumping in the lake and then continuing on with your adventure."
This stylish pool short from Lululemon, scores high marks from reviewers. The cost? Between $78 to $88, depending on the style (five or seven-inch) and pattern. "The Pool Short is new for this season, coming in a seven-inch length falling above the knee and in an array of fun colors that will pop in the pool or on the beach. The coolest part may be the pocket, as it comes with a zipper closure on the side," notes the New York Post.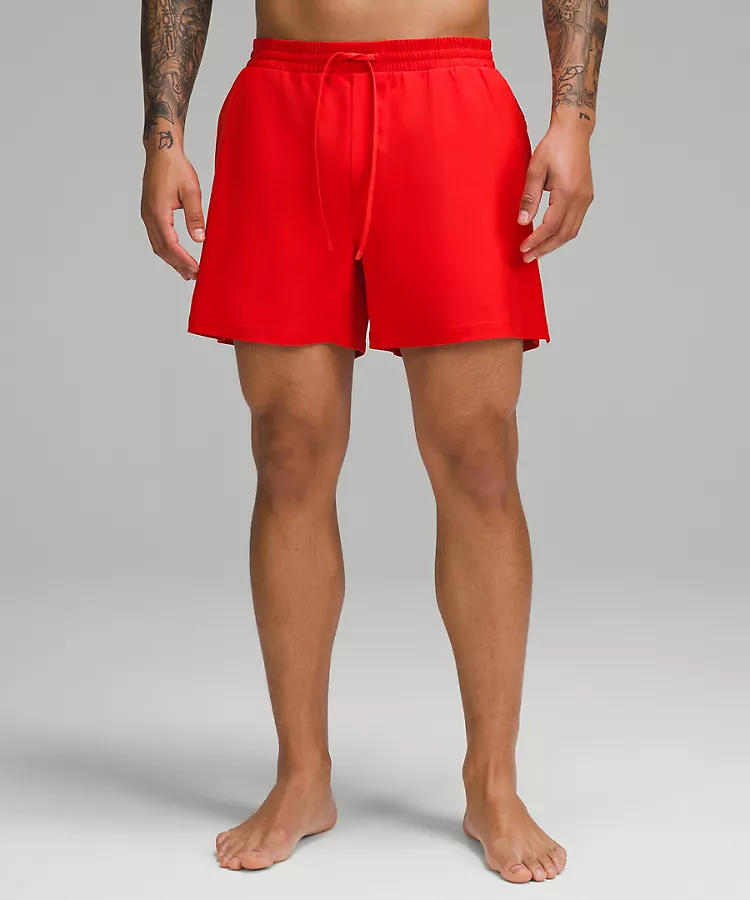 The Modest Man points out these, "are perfect for when you want to showcase your best summer bod and eschew any bright colors or distracting patterns. They're made with a water-repellent, quick-drying fabric that's also highly abrasion-resistant, making them good for wearing all summer long."
"According to the commentators of TikTok, every man looks good in 5-inch-inseam shorts, and they'd certainly have nothing to complain about with this Lululemon bathing suit. Meant to be an easy flow from yoga to the pool, Lululemon's bathing suit not only shows off your thighs, it's also super-comfy and functional," adds Travel + Leisure.
Whether you are in the market for a swim trunk or a swimsuit brief, Speedo has something for you. "If you're traveling to many parts of Europe or Brazil, long board shorts will make you stand out like a sore thumb, so blend in with the locals with a pair of swim briefs. If you do, Speedo remains the best pick for performance," according to Travel + Leisure. Speedo Powerflex Swim Briefs cost between $25 to $50, depending on the style and pattern.
If you are looking for some additional coverage, Esquire points out, "the brand also has 5-inch, 7-inch, and even 10-inch inseams, all of which are quick-drying, stretchy, and have built-in UPF protection." You can find the Speedo Redondo Stripe Swim Trunk on Amazon.
"Speedo is a brand synonymous with swimming, and so it's only fitting they made the list. We found this full-coverage pair of shorts on Amazon, but for those looking for the classic speedos, they have those as well," writes The New York Post.
They say everything old becomes new again. And that includes these 1980's inspired swim trunks from Bonobos. They're made from 85% recycled polyester and 15% spandex, with mesh interior lining. "Create your pool style around this vintage surf-inspired trunk, made with water resistance and UPF defense," notes Men's Health.
They come in several colors and sizes. Entertainment Tonight adds, the trunks feature "a staple curved hem, these super short swim trunks perfectly pay homage to the swimwear styles of the '80s."
Travel + Leisure points out, these trunks "are retro in the best way possible with bold colors and a simple strip on the side. They come in more than a dozen unique styles, from pineapples to waves to bold turquoise. If 5 inches is too thigh-high, you can also get them in a 7-inch inseam."
Pro-tip: You can often find some Bonobos styles at a deep discount on their website during sales.
Nike is a trusted brand for athletic apparel, and their swim trunks are also a hit with reviewers. The New York Post calls the Nike Essential Swim Trunks, "perfect for the summer, coming in bright blue, neon green, peachy orange and basic black to mix and match all season. They are also fully lined, have mesh pockets on either side and the whole suit is made of 100% recycled polyester fibers, keeping your swim sustainable." 
GQ has high praise for the Nike Swim Volley Short, adding, "wait, you aren't an '80s sitcom heartthrob? In these, you might as well be." While Forbes notes the Volley trunks, "have a stretch waistband with an exterior draw cord, water repellent finish, on-seam pockets and built-in mesh lining."  
You might also be interested in:
Sources:
Note: This article was not paid for nor sponsored. StudyFinds is not connected to nor partnered with any of the brands mentioned and receives no compensation for its recommendations. This post may contain affiliate links.