Hiking is an excellent way to nurture both physical and mental well-being. The physical benefits are evident as you challenge your body with every step, building endurance and strength over time. The feeling of accomplishment when reaching a summit or completing a challenging trail is amazing. Equally important are the mental benefits of hiking which allows you to escape from the stresses of modern life. It's a form of meditation in modern form and hikers understand that to be truly one with nature, you need the best hiking boots to stabilize your experience.
From rugged mountain ranges with panoramic vistas to serene lakes nestled deep within the wilderness, every hike unveils a unique and captivating world waiting to be uncovered. Each trail offers a different adventure, whether it's encountering diverse wildlife, stumbling upon ancient ruins, or marveling at geological wonders. You can have a great adventure when you prepare with the best tools.
Quality hiking boots are characterized by their rugged construction, offering durability and protection against the elements. They feature a supportive design, with ample ankle support and cushioning, to ensure comfort during long hikes over uneven terrain. These boots also provide excellent traction, helping hikers maintain stability on various surfaces, from rocky trails to slippery slopes.
StudyFinds has your back. We have combed through reviews from the experts in gear and we have the ultimate list of best hiking boots for men, recommended by experts. Where is your dream hiking experience? Leave a comment to let us know!
The List: Best Hiking Boots for Men, According to Experts
At the top of our list is a staple in the hiking boot industry. "Merrell has been making the Moab 3 Mid GTX Boot for more than 15 years, and it remains the best-selling hiker in the world," shares Travel & Leisure. "And things just keep improving with the latest iteration, which includes a more supportive insole, a softer midsole, and a new Vibram TC5+ tread outsole, while also utilizing more recycled materials than in previous models. But you still get the out-of-the-box comfort for which the boot is famous. It provides solid stability and arch support thanks to a molded nylon arch shank, and a mixture of durable pig suede leather and breathable mesh protects your feet from the elements while also allowing for a bit of air circulation. Traction proved to be fantastic on everything from mud to snow to wet rocks and wood, and our feet stayed dry, even when fully submerged, the water rolling off the high-quality outers. The instant comfort also proved itself over long testing hikes."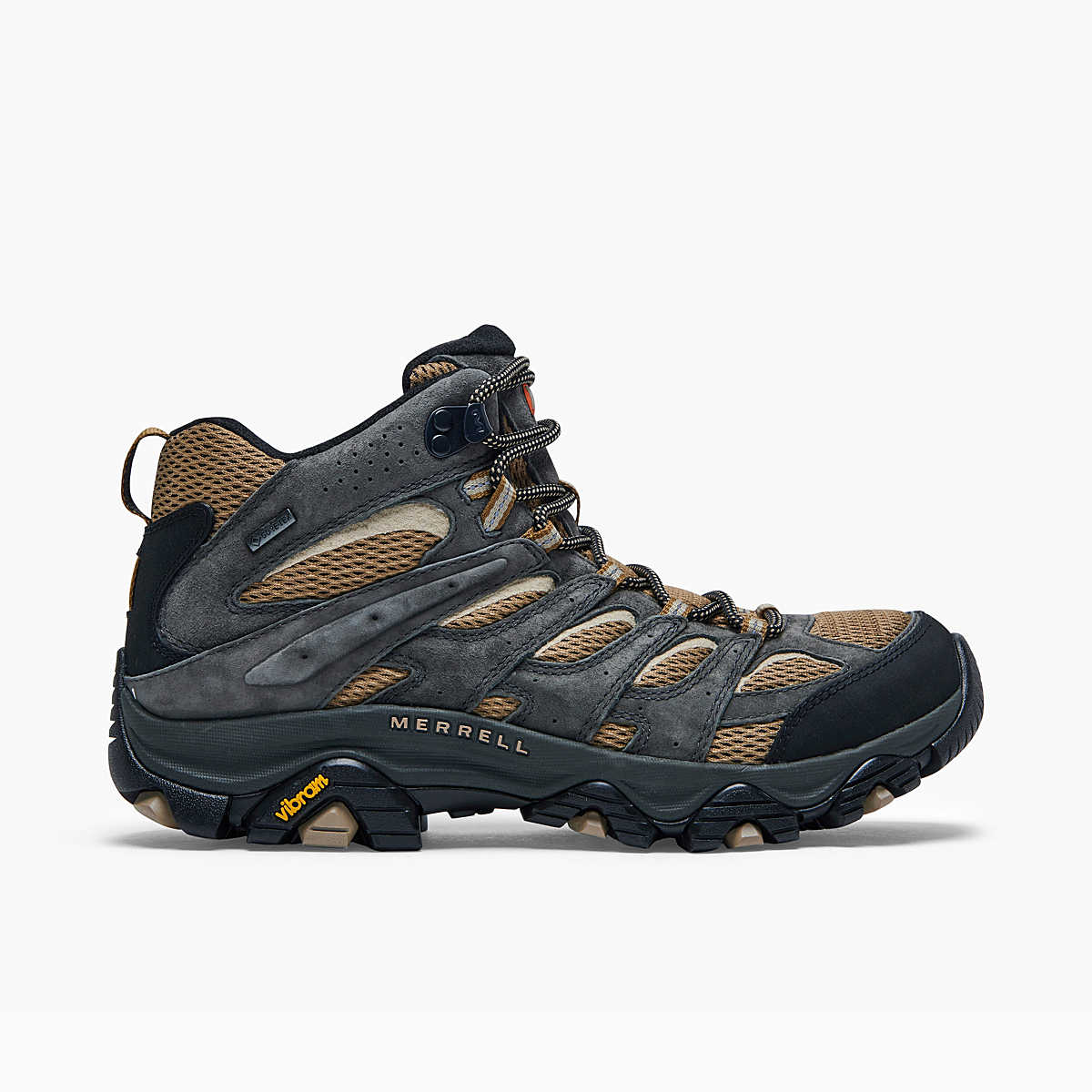 Imagine standing in front of your dream view only to have the moment ruined by squishy mud between your toes. "The recently updated Moab 3 features a more supportive insole, a cozier midsole, and a revamped Vibram outsole for improved traction and confidence," a reviewer from Gear Junkie shares. "They also crafted the new Moab with sustainable materials, making this the most environmentally friendly iteration yet. The breathable mesh upper is reinforced by a suede leather overlay for increased durability. And despite the mesh, which improves breathability, the shoes proved to be completely waterproof through eight river crossings."
Sometimes it's the simple reasons that propel you to the top of the hiking boot list. "The Merrell Moab 3 Mid WPs are my choice for best value hiking boots. These delightful lightweight hiking boots are comfortable and supportive and offer grippy traction when dry. They're easy to slip on and generally fit true to size," writes a reviewer from Alp Insider.
When experts weigh in on their favorite hiking boots for men, they are like fine wine tasters. A reviewer from Switch Back Travel writes, "Built like a trail running shoe but with added ankle support and protection, the Salomon X Ultra 4 Mid is our favorite all-around hiking boot for 2023. Updated last spring with a sleeker upper and revised chassis, the latest version of the boot offers an impressive combination of comfort and low weight—all while retaining solid toe protection, stability, and well-rounded traction. You also get Salomon build quality, which we've found tends to stand up to more abuse on the trail than other boots in this weight and price range. For fast-moving day hikers, lightweight backpackers, and even thru-hikers, we heartily recommend the X Ultra 4 Mid."
Outside Online adds, "The Cross Hike looks like a trail runner on steroids, and that's exactly how it performed, crushing technical day hikes with a precise feel and excellent traction. 'The grip is huge,' reported Easthampton, Massachusetts-based tester Adam Jaber. In wet terrain and on steep dirt, the deep, sharp, and chunky Y-shaped lugs dug in, while the soft rubber held tenaciously to rock. On the way down, a line of lugs at the heel edge helped with braking. 'It felt confidence-inspiring,' Jaber said. Combined with a lightweight and a narrow sole width, he was dancing through technical terrain that would normally slow him down. And there was just enough cushioning and support to keep his legs fresh, too. The Gore-Tex membrane proved bomber in soggy conditions and comfortable in temperatures that ranged from the 50s through the 80s."
Who knew that hiking boots could be so intricate, offering specific types of support for the man on a mission in the wild? Travel & Leisure writes, "The Salomon X Ultra 4 Mid Gore-tex Hiking Boot fit almost like a sneaker rather than a boot, but our initial skepticism that it might not perform well on the trail evaporated the second we hit the dirt. The boot moved smoothly, navigating through puddles and loose snow, without compromising the waterproofness, which comes from breathable Gore-Tex. And everything wiped clean post-hike, which affirms the boot's durability. They required no break-in period whatsoever, and the streamlined design helps shave off vital ounces, which makes the boot incredibly agile on the trail. Salomon uses a new Advanced Chassis, which provides articulation on your outer foot to improve stability, while the high cut provides ample ankle support."
The Salewa brand is known for producing the ultimate, rugged hiking boot for men. According to Outside Online, "The toe box is roomy. A removable heel cup and laces that integrate into the hard plastic eyelets around the ankle allowed Weiner to customize a snug fit. The EVA foam midsole absorbed some of the pounding on long day hikes, although the Pedroc performed best with moderate to light loads. And big, chunky lugs add impressive traction that grip sand, dirt, gravel, and mud."
When it comes to being challenged in the toughest hiking situations, the Salewa hiking boot comes out on top. Gear Junkie adds, "We took the Pedrocs on some wild excursions bushwhacking up muddy Appalachian slopes, parkouring through boulder-strewn creek beds, and galivanting over technical alpine terrain, and this boot leaves very little to be desired. Then, even after serious torture, they look sleek and stylish enough to trot around town after the adventure. Gotta love getting compliments in Target while running errands post-hike."
You could tackle the mountainside but this expert reviewer believes the Salewa hiking boot is more versatile than that. "Built for mixed mountain terrain, casual strolls in the park, and the city streets, the lightweight Pedroc Pro Mid PTX Boot from Salewa won us over with its instant-comfort, right out of the box," a reviewer from Travel & Leisure explains. "No breaking-in period needed, no hot spots, pinching, or blisters, and the abrasion-resistant double ripstop uppers along with a TPU rand kept our feet protected from obstacles, with the brand's breathable Powertex membrane to block out water. Under foot you'll find multi-directional lugs throughout the midsole that provides ample traction in mud, grass, rock, and slick surfaces, but it's not so over-engineered that the boots feel bulky. As with all footwear focusing on speed, the boot proved nimble and agile, with solid ankle support and an easy-to-adjust lacing system. And the boot also won our fandom for its modern, streamlined aesthetic, making them at home in the city as well as out in nature."
With a backpack loaded with snacks, water, and essentials, you're ready to tackle the great outdoors, but not without your hiking boots from La Sportiva. The brand boasts a variety of boots that cater to your desired hiking experience but there's one boot from their brand that stands out. "La Sportiva's TX Hike Mid GTX Hiking Boot will resonate with wide-footed hikers," shares Travel & Leisure. "They provide out-of-the-box comfort, with a padded tongue that improves both the comfort and fit. The seamless uppers are reinforced with TPU overlays that provide durability without adding weight, with AirMesh materials to aid in breathability without sacrificing its waterproof protection. Vibram Ecostep EVO in the outsole,  combined with five-mm lugs, found purchase in snow, wet terrain, and rocks, while the EVA midsole, which is co-molded with a stabilizing insert, provided plenty of bounce and cushion without sapping any of forward momentum."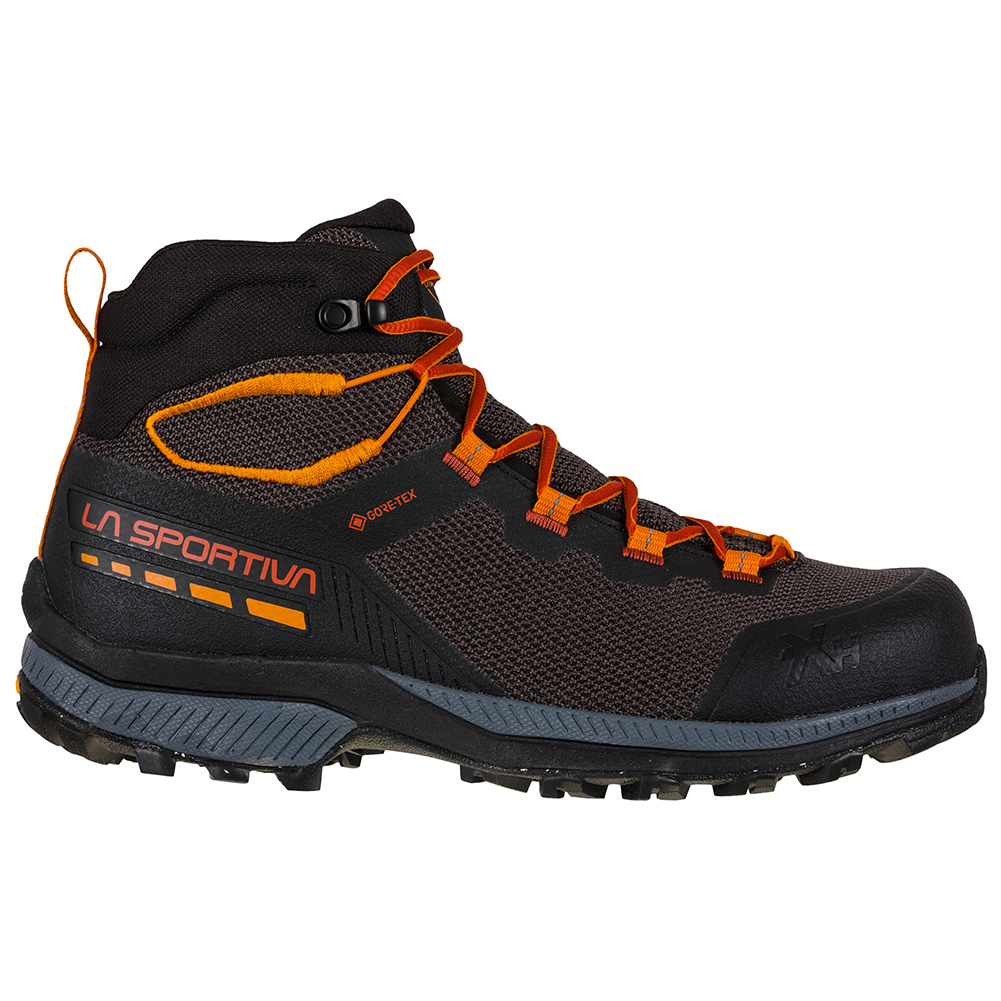 "If you're hiking with a heavy load, you'll most often want some stable and supportive hiking boots. A stiff outsole and midsole in a boot like the La Sportiva Trango Tech GTX add support underfoot. And a nice firm ankle collar supports the ankle joint when missteps over loose ground are a possibility," adds Gear Junkie. "Heavier boots tend to have rigid ankle support, whereas lighter hybrid options tend to have more of a sock-like fit around the ankle. Our ankles are intended to have a certain degree of flex, and some have more stable ankles than others. This is another important factor to consider when choosing the best boot for your feet."
Each outdoor adventure holds the promise of unforgettable moments, so let's not invite tragedy into the equation by having a hiking boot that is secure. "We do love how the grippy, rubber outsoles of these boots offer good traction on slick, uneven terrain," shares a reviewer from Very Well Fit. "Anyone who has ever done core training on balance boards can appreciate the need for good traction on unstable surfaces. During tests, we found that the midsole and heel felt well-bolstered, with good shock absorption on a variety of surfaces. The ankle collar has a built-in gaiter with a convenient pull tab for slipping the boots on and off. When it came to waterproofing, we found that the lining and mesh upper let air in while keeping moisture out—keeping our feet dry on our hike through fresh streams, mud, and a waterfall. Some hikers note that this boot runs small and narrow, making the Ultra Raptor II an ideal option for those with narrow feet."
Rounding out our list of best hiking boots for men is the Danner Mountain 600. "Danner took its popular Mountain 600 hiker and went on a major sustainability kick," shares a reviewer from Outside Online. "The leather now comes from certified tanneries that follow strict sourcing and labor practices. Plus, the polyester lining is 100-percent recycled, the footbed is a mix of recycled rubber and bio-oil, and the Gore-Tex lining is 30-percent post-consumer material. The midsole-outsole package remains the same—Vibram SPE and Vibram Fuga, respectively. Both are long-lasting, and the Fuga can be resoled through Danner. Biggest win? The move to sustainability didn't hurt performance."
Most footwear are disposable, but the Danner brand creates hiking boots that can last a lifetime. "These designs are not light or as breathable, but are incredibly tough and water resistant," shares a reviewer from Switch Back Travel. "They do require some maintenance to keep the leather in good shape, but they'll reward those cleaning efforts with a construction that is built to outlast everything else on the market. As an added bonus, some boots like the Danner Mountain Light can be re-soled, so you don't need to replace the whole boot once you wear down the lugs."
You can conquer any trail with the Mountain 600s, according to an expert reviewer from Travel & Leisure. "Dubbed a 'Performance Heritage' boot by Danner, the Mountain 600s lean into the brand's legacy to deliver a classic aesthetic with full-grain leather uppers that pass through six tests before being crafted, while the internal tech uses the latest footwear innovations to keep things lightweight…Built to handle the demanding climate of the Pacific Northwest, the boot uses a proprietary breathable waterproof layer to block out the elements. Comfort is further reinforced with a removable OrthoLite footbed, packing in three layers of varying density polyurethane, which also works to dissipate heat and promote air circulation."
Now that you have the right hiking boots, where are you going on your next hike? Leave a comment to let us know!
You might also be interested in:
Sources:
Note: This article was not paid for nor sponsored. StudyFinds is not connected to nor partnered with any of the brands mentioned and receives no compensation for its recommendations.