Tossing and turning all night because you can't get comfortable on your lumpy mattress is never fun. If you can relate, it may be time to upgrade to a smart bed. While expensive, a smart bed may be worth its weight in gold. The best smart beds often come equipped with adjustable settings for firmness, elevation, and position. There are sensors to monitor your sleep patterns and temperature controls to ensure you remain at an optimal temperature throughout the night. Some top-of-the-line models offer built-in massage, zero-gravity settings, and anti-snore functions. These beds go beyond mere comfort, aligning more with a futuristic, technology-driven lifestyle product than a conventional piece of bedroom furniture. With so many bells and whistles, which do you choose? We've done the research so you can get a better night's rest.
We all know a good night's sleep makes a big difference in your health. A recent study found even a one-percent reduction in deep sleep a year can lead to a 27 percent increased risk of dementia in those over 60. Deep sleep is defined as slow-wave sleep in the third stage of non-REM sleep and helps you wake up feeling rested and refreshed.
If you have trouble reaching deep sleep throughout the night, the answer may lie in calming your mind before bed. New research shows that what you think about before bed affects your sleep quality. Calming your thoughts is easier said than done, though.
So, whether you are looking for a bed that helps improve your health, or you're simply seeking the ultimate in nighttime luxury, our carefully selected list is tailored to meet a variety of needs and preferences. Let's unveil our top picks for the best smart beds available today. Did we miss one you love? Tell us in the comments.
The List: Best Smart Beds, According to Experts
This smart bed system is the number one standout that topped nearly all the lists, including ours. Sleep Foundation writes, "The Solaire combines both advanced and time-tested materials to provide sleepers with a durable and reliable mattress. This is a smart mattress not because of integrated sensors or techy WiFi integration but because it gives customers an impressive level of fine-tuned control for a customized feel. The Solaire is made by Saatva, an online mattress brand known for designing beds with quality materials. It is an airbed with a total height of 13 inches and five interior layers, the top three of which form the comfort system." The mattress has a lifetime warranty and a 365-day trial.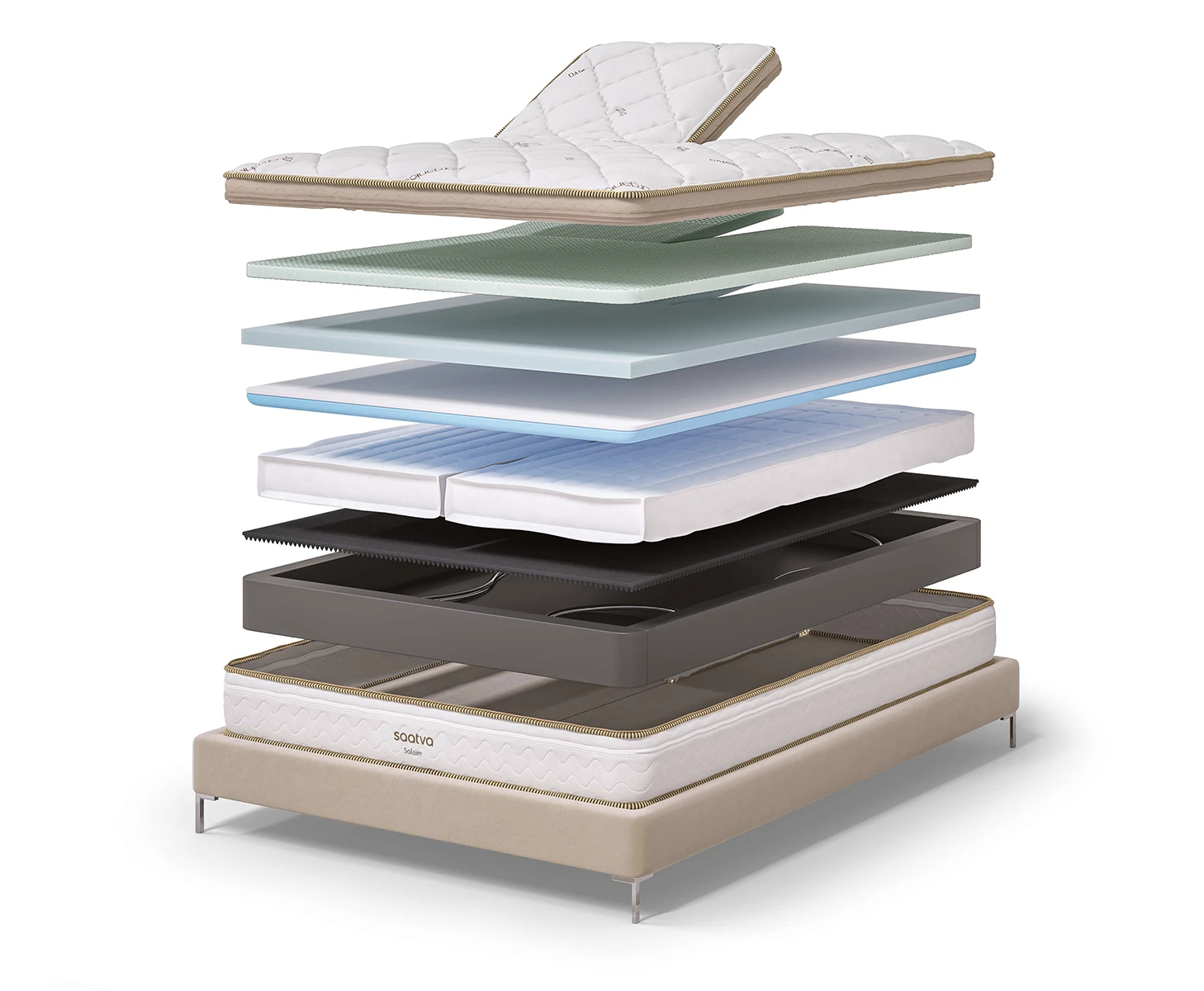 Sleepopolis states, "On the Saatva Solaire, there are 50 settings controlled by air chambers via remote control. So, regardless of your preferred sleeping position, you should find a setting that suits your needs. We put the Saatva Solaire through our pressure map test in our mattress lab. To do this, we spread a specialized mat across the mattress surface to track areas of high pressure, moderate pressure, and low pressure. While testing this bed, we adjusted the firmness to our needs in each sleeping position. From back sleeping to side sleeping to stomach sleeping, we got outstanding pressure relief results. We're confident folks should be sufficiently cushioned on this mattress, and not feel any added pressure."
"The Saatva bed frame also lets you adjust the head and feet position, though if you want to benefit from individual side adjustments, make sure you buy the split mattress design," reports U.S. News & World Report. "The mattress is thick and comfortable, with gel and latex designs helping to keep you cool during the night."
Want to turn your current mattress into a smart bed? Tom's Guides writes, "The Tempur-Ergo Power Base is a smart bed base designed to work with your existing mattress, as long as it in turn can be used with an adjustable bed. The ideal partner would be a Tempur mattress, which is why you'll see Tempur-Pedic mattress deals giving you hundreds of dollars off both when bought together."
"If you are planning to buy a smart mattress, a smart adjustable bed can nicely complement your purchase," writes Sleep Foundation. "The TEMPUR-Ergo Extend Smart Base from Tempur-Pedic is a state-of-the-art bed loaded with useful features and capabilities. Unlike most adjustable beds sold today, this model is equipped with sensors to track various sleep metrics. You can access your data at any time via the Tempur-Pedic SleepTracker-AI companion app."
A Bedder World reports, "Tempur-Pedic's TEMPUR-Ergo Smart Base offers adjustable head and foot positioning, along with massage functionality and under-bed lighting. It also features a sleep tracking system that provides insights into your sleep patterns."
"The Emma Shift is a smart mattress with an unusual feature at this price point: You can customize exactly how firm it is," writes U.S. News & World Report. "You'll typically need to spend thousands of dollars on a smart bed frame for this ability, but not with the Emma Shift. The mattress has this function built-in, so you can just stick it on top of your existing bed frame and enjoy its smart functions right away. The mattress is a hybrid spring and foam design, so is supportive and comfortable, without the heat issues of pure foam."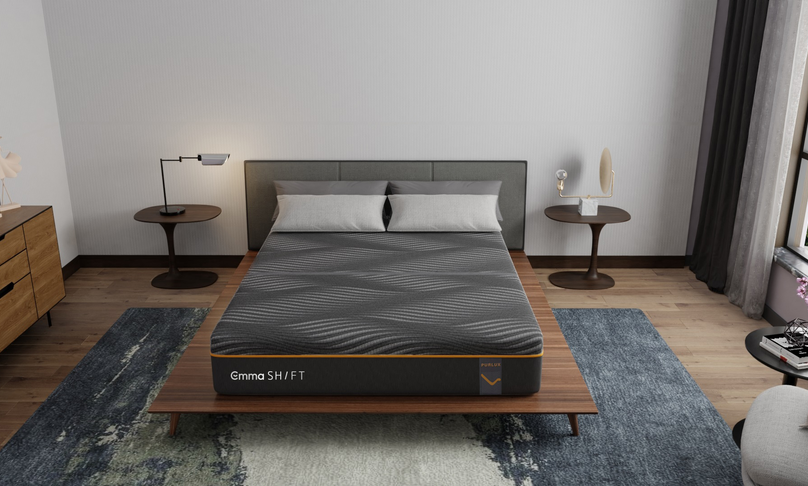 According to Mattress Advisor, "Emma is a brand best known for building sturdy mattresses that support sleepers of all sizes—particularly heavier sleepers that enjoy a firm bed. The Shift is the brand's smart bed, and it not only upholds Emma's reputation for supporting plus-size sleepers but also lets you tweak how firm you want the bed to be, from super-soft to plank-like firm."
Sleepopolis states, "If you're wanting the bells and whistles of a smart bed without the high cost, we can't recommend the Emma Shift enough. Using a dial on the side of the mattress, you can adjust the firmness level on the Emma Shift. The valve changes the air pressure on the inside of the mattress. Larger mattress sizes allow folks to choose their own firmness setting on both sides of the bed."
MBG Lifestyle says, "Imagine a mattress that could not only adjust to your preferred firmness level but also detect when you're snoring and automatically lift your head to stop it. That's exactly what this smart bed does. It's also equipped with a foot-warming feature and comes with an app that provides you with a personalized Sleep IQ report each morning. Plus, the Smart 3D fabric makes this bed ultra-cool and breathable, which is a must-have for hot sleepers. One pretty significant detail: In order to access all of the bed's features, you'll need to purchase the FlexFit 3 Smart Base, which is sold separately."
Mattress Topper Judge writes, "Featuring high-end specs, it's clear that the Sleep Number 360 i8 Smart Bed is among the top best smart mattresses. And just as its fellow counterparts, it is remote-control enabled. However, the remote it comes with is intuitive, meaning even the children and the elderly can easily use."
"This intuitive Sleep Number mattress will learn your habits to provide personalized recommendations to help you achieve your coolest and most restful sleep yet," according to Tom's Guide.
Are you all about tracking your sleep? Then this is the bed for you. U.S. News & World Reports states, "Sleep Number's SleepIQ app is one of the most detailed sleep-tracking applications out there. It tracks your sleep quality, how long you're in bed, your movement, heart rate, breaths, and more to help you get the best sleep possible. You can also use it to manually adjust the firmness on either side of this smart bed for maximum comfort by yourself or with a partner. There are lots of layers to the mattress. Some are made of stress-relieving foam, while others are made of gel to help draw heat away from drawing heat away from sleepers. There's no active temperature control, but it's less than half the price of Sleep Number's flagship models."
Mattress Topper Judge reports, "Some of the fantastic features of this bed that render it a smart bed is; the pump, sleep IQ technology, and remote controller. The pressure sensors in the air chambers can detect the location of your body and make necessary adjustments for maximum comfort. Additionally, the responsive air technology feature ensures you are cradled as you sleep by sensing your movement to make automatic adjustments to the firmness of your bed. Remember, the bed also has an app that receives data based on your sleep."
If you sleep with a partner, Mattress Advisor says, "The luxury Sleep Number i10 smart bed allows you to set your own preferences for firmness, but also automatically adjusts throughout the night in response to your movements. And it does so on each individual side of the bed, so couples who have different firmness needs can sleep together without compromising. As with many other smart beds, it will track your breathing and heart rate, and offer tips on diet, exercise, and sleep optimization through an app."
"The Pod 3's smart alarm clock triggers you to awaken when you are in the lighter part of your sleep cycle, so waking up is not as jarring," writes Sleep Advisor. "The mattress is also integrated with dual-sided temperature control so you and your partner can adjust the temperature to your liking, which is great for folks who sleep hot."
MBG Lifestyle says, "Waking up in a puddle of your own sweat is truly the worst. But with this smart mattress, that will be a worry of the past. Thanks to the bed's cooling and heating system (which you can even control with your phone), you'll always be able to find the perfect temperature."
According to Mattress Topper Judge, "This mattress integrates multiple advanced features that make it a viable option for sleepers who want the best-in-class temperature control. Temperature is quite hard to get right while in bed, and if you sleep hot, you'll wake up frequently during the night."
This bed has all the bells and whistles and the price tag to go along with it. MBG Lifestyle writes, "A standout in smart bed technology, this mattress is topped with a 4-inch cooling-gel-infused memory foam layer that contours to your body (with individual side adjustments available) and relieves pressure points. Underneath, you'll find an air chamber with five separate body zones (legs, hips, lumbar, shoulders, and head), that can be inflated or deflated to your desired level of support and firmness. If that wasn't enough, the mattress also has built-in sensors that track your sleep data."
According to Sleep Advisor, "This mattress is built to address changing needs by adjusting firmnesses in different areas of the mattress in response to pressure points detected by sensors that are integrated into the performance fabric in the mattress."
"If you're craving sensor-driven sleep data and bed adjustments, this is the smart bed to go for," according to Mattress Topper Judge. "With over 20 patents for proprietary software and hardware, you can rest assured of having a personalized sleep experience."
You may also be interested in:
Sources:
Note: This article was not paid for nor sponsored. StudyFinds is not connected to nor partnered with any of the brands mentioned and receives no compensation for its recommendations. This post may contain affiliate links.