Sometimes, you just can't beat the classics. It's a sentiment that rings true for many drivers that feel advancing technology can't replace the experience of driving a stick shift car. While driverless vehicles, electric engines, and other new advances are vastly changing the landscape of driving as we know it, some continue to prefer a more hands-on approach to the open road with one of the best stick shift cars of 2023.
When it comes to road safety, the attentiveness that manual vehicles require might just make for less distracted driving. Drivers of automatic vehicles are easily able to tune out while behind the wheel, which could lead to danger on the road. In fact, a recent survey of 2,000 U.S. drivers has revealed that more than a quarter of Americans are "zombie drivers." In all, 27 percent of respondents admitted to "zoning out" while driving, and 55 percent said they often feel like they are driving on autopilot. On average, drivers said they zone out about four times per week, and it happens more often during longer drives.
Another study of teenage drivers found that all teens, regardless of gender, were prone to risky behaviors like cellphone use and speeding while driving. Among studied teen drivers, speeding occurred during roughly 40 percent of trips, while handheld phone use was noted in just over 30 percent of driving instances. Even worse, teens used a cellphone while speeding during five percent of studied trips.
So, whether you're in the market for a stick shift vehicle for the love of the ride, as a way to promote conscious driving habits, or for another reason entirely, there are plenty of options available. While stick shift is becoming less common on the whole, there are still several models that can be purchased new off the lot with a manual transmission. And as an added bonus, they are often slightly cheaper to both buy and repair!
With plenty of choices to sift through, it may feel challenging to identify the right model to meet your needs. StudyFinds did the research for you and searched 10 expert websites for reviews on the best stick shift cars. This list includes the top recommendations, but of course, if you have a favorite that we didn't include, be sure to let us know in the comments below!
The List: Best Stick Shift Cars, According to Experts
If you're in the market for a truly versatile vehicle, the Subaru BRZ is sure to tick all your boxes. With great performance, an enjoyable driving experience, and an affordable price tag all wrapped up in a compact and attractive package, it's a car that has something for everyone. "The Subaru BRZ comes set up by the Japanese engineers for stability and precision," says Luxatic. "The manual transmission is a no-brainer for this model, offering those classic thrills driving enthusiasts long for with the modern performance the industry has to offer. It's regarded as one of the best cars when it comes to driver experience."
Even better, you won't have to pay extra for a great manual transmission. "A six-speed manual comes as a standard option on the car across the board," explains HiConsumption. "With its 205hp boxer engine, sport-tuned suspension, and low center of gravity, the BRZ has been widely heralded as one of the most driver-forward cars in recent memory."
"When it comes to affordable performance, it doesn't get much better than the Subaru BRZ. Light, quick, and easy to handle, the BRZ is a back-to-basics coupe that's engaging yet comfortable enough to drive every day," TrueCar adds. "A two-door coupe that's fun to drive and reasonably priced is rare these days, which is why the Subaru BRZ is such an appealing package."
Our second spot goes to another Subaru, which shouldn't come as a surprise to fans of the company's sturdy and reliable vehicles. The WRX is no exception, with plenty of premium features packed into its affordable price tag. "The Subaru WRX is one of the most entertaining sedans in its class, thanks to its rally racing heritage, potent power, and sports-car handling," claims TrueCar. "It lacks the refinement of some rivals, but that may actually add to the performance-car experience."
Stick shift driving is possible with the WRX for no extra cost, but that doesn't mean it offers anything less than a top-notch driving experience. "A six-speed manual transmission is available in the base WRX for $29,605," MotorBiscuit adds. "Originating from the world of rallying, the Subaru WRX is packed with all-wheel drive, hefty horsepower, and customizable suspension settings."
"Standard аll-wheel-drive, six-speed manual transmission as the only option and a 2 liter turbo 4 cylinder with no less than 268 horsepower and 258 pound-feet of torque, that's the Subaru WRX," says Luxatic. "Count in the other features of this model like upgraded differentials, steering and suspension tuning and Brembo brakes and you've got yourself a fun car to drive around."
This well-known vehicle is a favorite of many lovers of the classics. Perhaps that explains the excitement for the new and improved manual Ford Mustang. As HiConsumption says, "fans of the classic pony car rejoice — almost every version in the range comes with the option for a six-speed manual, no matter the engine option or roof configuration."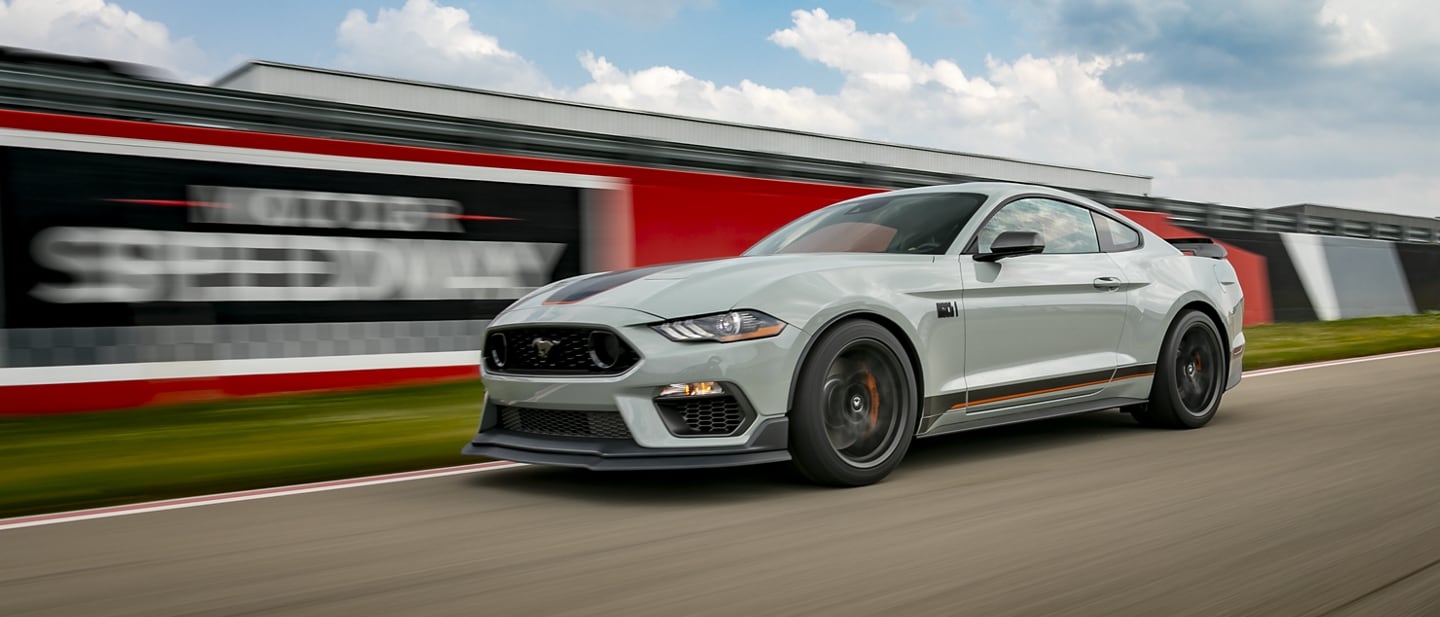 An old favorite that has only improved with age, the Mustang offers plenty of power that makes for a consistently enjoyable driving experience. "The legendary Ford Mustang couldn't have missed from this list," adds Luxatic. "A staple of the American muscle car tradition, it comes with a six-speed manual transmission as standard paired with a 2.3L 4 cylinder engine capable of 310 hp and 350 lb-ft of torque."
"In an era far removed from its 1960s origins, the Ford Mustang maintains the image and style that have made it a perennial favorite. It's a stylish two-door that puts looks and performance ahead of practicality. From a performance perspective, the Mustang is a special bargain," TrueCar adds.
The Ford Bronco has received a facelift, bringing the beloved classic into the 21st century with plenty of exciting upgrades. But even with all the modern touches, the option for a great manual transmission hasn't gone anywhere. According to Gear Patrol, "Ford revived the Bronco lineage to great fanfare. And the new SUV lived up to the hype."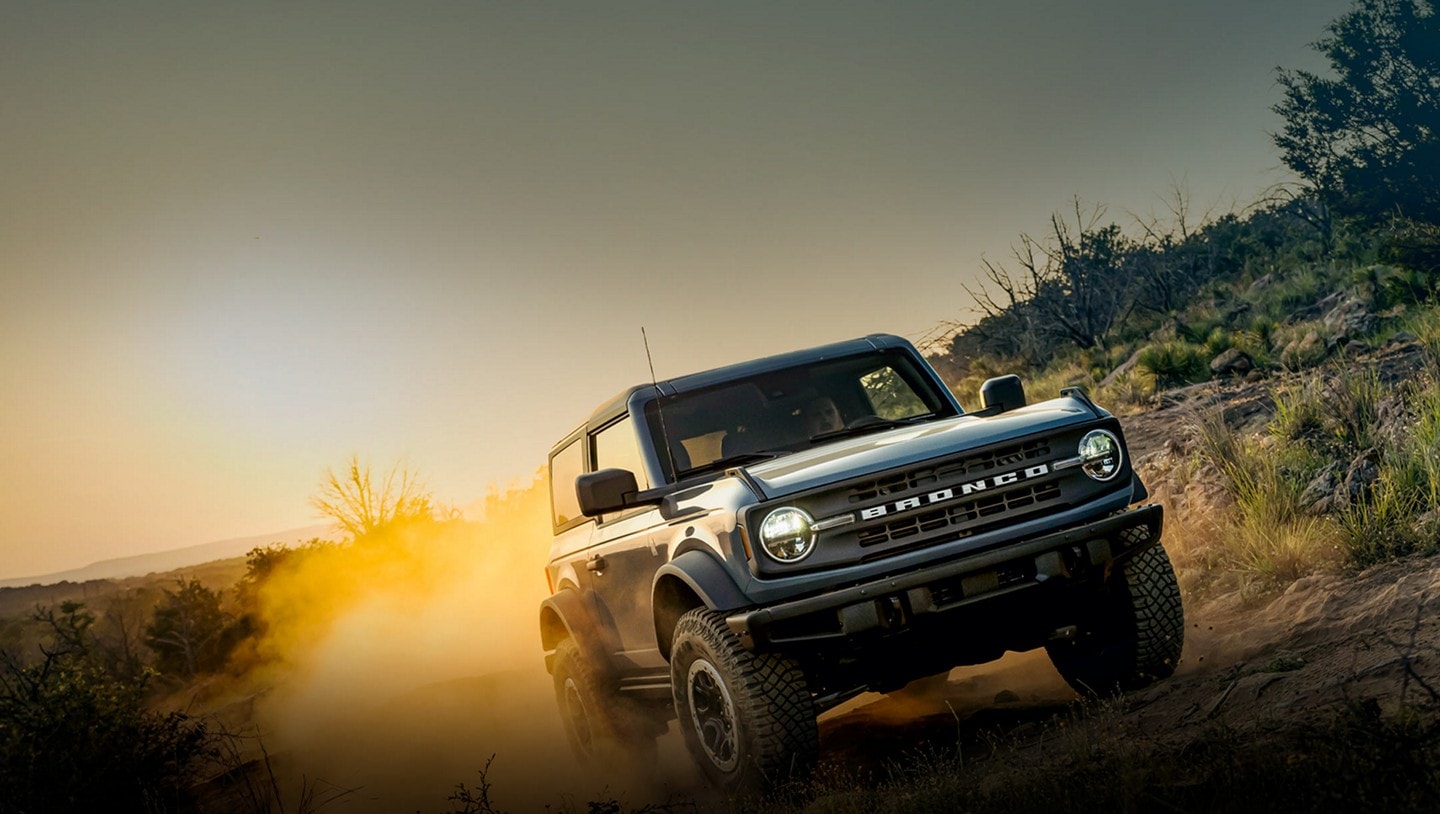 "Ford's new Bronco range was designed to revive the legacy of the original Bronco, and consequently, the new Bronco range receives some interesting and old-school touches, like the option of a manual transmission," says Top Speed. "Available exclusively with the 2.3-liter EcoBoost four-cylinder turbo engine that makes 300 horsepower and 325 pound-feet of torque, the seven-speed manual unit is a fun and involving addition to the Bronco's arsenal and is a significant step up in driver involvement and feedback when compared to the standard 10-speed automatic."
"With the return of the Bronco name comes the return of the manual transmission to Ford's SUV platform," adds HiConsumption. "With an ultra low-range granny gear positioned to the left of first, it makes for even more capability come time to venture off-road."
Perhaps one of the most recognizable vehicles in the United States, the Honda Civic is a symbol of reliability, safety, and durability. And this classic vehicle stays true to its history by continuing to give drivers the ability to opt in to a stick shift. "One of the most popular cars in the U.S., the Honda Civic delivers economy, reliability, comfort, and safety among its many virtues," says TrueCar. "But the 'secret sauce' that separates it from most other compact cars is that it provides more driving enjoyment than basic low-cost transportation."
But the Civic does more than just offer the choice between manual or automatic transmission. Buyers of a manual Civic have tons of options for their preferred driving experience, with stick shift offered in multiple models. "From the Sport and Sport Touring models to the uber-angular Type R, there are stick-shift options abounds," HiConsumption boasts.
You're sure to get what you pay for (if not more) with the newest line of Civics. "One of Honda's best selling models, the new Civic comes with a row-your-own gearbox in several of its flavors. It's a six speed manual that you'll have to pay extra for, because the base model doesn't have it, but you'll get a lot for the buck with the Sport, Sport Touring and Type-R," says Luxatic. "And with the R's 306 horsepower 2.0L turbo beast, it's more than perfect."
You might also be interested in:
Sources:
Note: This article was not paid for nor sponsored. StudyFinds is not connected to nor partnered with any of the brands mentioned and receives no compensation for its recommendations. This article may contain affiliate links.