Diners love omelets for their versatility and flavor. Endless methods for a customized omelet can fit many different dietary needs and preferences: from vegan to paleo, or sweet to savory. They are served for breakfast, lunch, or dinner and easily adapted to fit any flavor profile. They are fun to make, but are prepared differently worldwide, which leads us to wonder about the best ways to make an omelet.
Omelets and other breakfast foods are so well-loved that some would like to build a new meal around them. Many consider breakfast to be the most important meal of the day, but for others, it's simply the most delicious. Either way, our morning fare is so beloved in the United States that many restaurants offer it all day long, allowing pancake fans to enjoy a double dose before lunch. That said, it should come as no surprise that a recent survey found more than half of Americans believe "second breakfast" should actually be considered an official meal. The average American admits to having a second go at breakfast at least once a week. But it is not just the taste factor that has people returning for more eggs and toast. Respondents say it also gives them the energy boost they need to make it through the morning. So it makes perfect sense then that a whopping 62 percent of adults feel "second breakfast" should be just as conventional as breakfast, lunch, and dinner.
Another recent study suggests children who don't eat an egg by the time of their first birthday are more likely to develop an allergy to the food as they get older. Researchers with the American College of Allergy, Asthma, and Immunology say an intolerance to eggs is the second most common food allergy worldwide. Egg allergies often result in rashes, eczema, occasional vomiting, and even anaphylaxis. Being allergic to eggs can also lead to the development of asthma in older patients. Study authors are now advising parents to start introducing their children to eggs at six months to ensure they do not develop an allergy. Health officials generally recommend babies eat small portions of egg when they start to have solid food. Specifically, experts recommend starting with pieces of the yolk from a hard-boiled egg.
Breakfast factoids aside, it's time to put your chef hat on! StudyFinds turned to its sources to learn about the best ways to make an omelet across cultures, countries and personal preference. Let us know your favorite breakfast prep methods in the comments below!
The List: Best Ways
to

Make an Omelet, According to Foodies
1. American
The American diner experience must include the ever-popular omelet if it is going to be legit. Americans that eat at the diner know that an omelet is a great choice for any meal. "Here's the description from the IHOP website:  Our delicious blend of ham, cheese, fresh onions and hash browns is topped off just right — with a dollop of sour cream. Then we serve your omelette with your choice of one delicious side: three buttermilk pancakes, hash browns, toast or fresh seasonal mixed fruit. What a delicious breakfast! The omelette was perfectly prepared, the eggs were fluffy and I got the ham, cheese, fresh onion and hash brown in every bite. Just look at all that cheese! Dipped into that dollop of sour cream, every forkful of omelette was a dose of YUM!  Ordered with a side of yes, more hash browns, the bill for my breakfast came to about $13. That's not exactly Bachelor on the Cheap friendly, but on this occasion, I'm OK with it. You just won't get something like this at a fast food joint. It's OK to splurge once in awhile. IHOP's Country Omelette was tasty, tasty, tasty!" says Bachelor on the Cheap.
Among the many types of fillings for American diner omelets, there is one in particular that has risen to name recognition on a global scale. The Denver Omelet is famous and tasty: "Yet another version of the omelet is the Denver omelet sandwich, which originated in the American West in the early 1900s. Historians claim that the dish—made with green bell pepper, ham, and onion and originally served between sliced bread—was created by transcontinental railroad workers or cattle drive cowboys. In the 1950s, the Denver omelet sandwich was said to be the most popular sandwich on menus across the country. (Somewhere along the way, the bread was dropped, and this omelet became an American diner staple.)," adds Food & Wine.
The Denver omelet is indeed a favored variant: "Denver omelet is an American dish made with eggs, ham or bacon, onions, and green peppers. In order to prepare it, the mixture is poured into a frying pan, cooked, and folded to form an omelet. Although a plaque on California Street in Denver says that this dish was invented to mask the stale flavor of old eggs, it is more probable that the dish started not as an omelet, but as the Denver sandwich, which is actually a Denver omelet tucked between two pieces of toast," writes Taste Atlas.
2. French
The French Omelet is a classic that many have heard about, but perhaps have not had the chance to try. "A class French Omelette is soft, buttery, and delicious. Some chefs prefer to keep it simple with just eggs and butter, while others add fillings like shredded cheddar or Gruyere cheese, mushrooms, bell peppers or tomatoes, sour cream, diced ham, or bacon. But no matter what the add-ons, the central flavor remains that of the butter and eggs," points out The Statesman.
The rich yet simple flavors are best summed up as follows, "This omelette is probably one of the easiest omelettes one can make at home. This French delicacy requires only eggs, milk and butter. The plain and simple omelette accentuates the simple flavours of the egg and butter giving a creamy, custardy breakfast. Click here for the full recipe for French Omelette," explains NDTV.
3. Spanish
Eggs and potatoes are a delicious combination that are highlighted in the Spanish omelet. "Crispy, fried potatoes and eggs make up this popular Spanish Omelette (Tortilla) recipe, perfect for picnics, parties, bbq's, or your traditional Tapas menu! Upgrade your omelette! This tortilla has been in my life for as long as I can remember. It was with me at breakfast times when I couldn't look at another bowl of cereal, with us at family barbecues and picnics, with me through breakups, and saved me from eating plain eggs AGAIN when I couldn't stomach any more plain, scrambled eggs. Normally, a typical tortilla is made first by deep frying the potatoes in 1 – 2 cups of oil, depending on how many potatoes you are using. My mother, however, has managed to cut this amount down to 1/2 a cup, which gives exactly the same crisp and golden results, with half the fat! So long as you use a good quality nonstick pan to prevent sticking, 1/2 cup is the perfect amount of oil. Thanks mama! Serve with a salad, or use as an entree or appetiser. Great for snacks. Traditionally served as tapas in little squares. Your guests will LOVE this!" recommends Café Delites.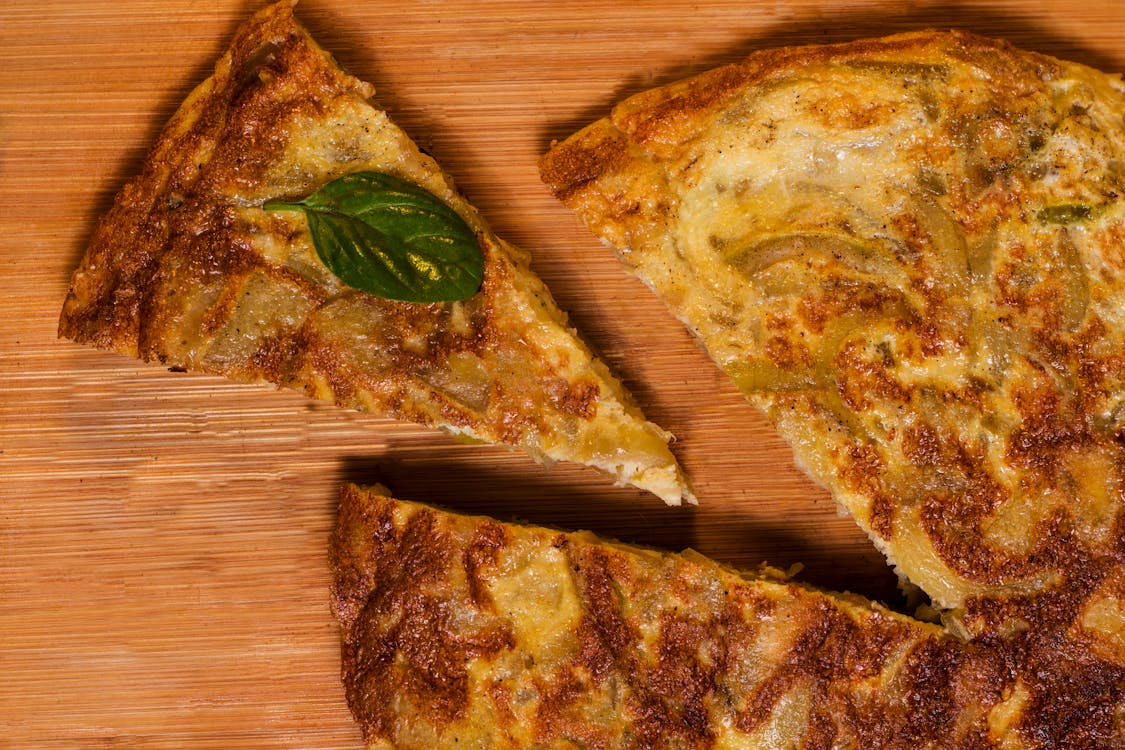 "Celebrated as a National dish by Spanish people, the Spanish omelette or the Spanish tortilla is a traditional dish in their cuisine. The omelette is made with potatoes stuffed inside the layer of an egg. Potatoes, egg and onion are sautéed together in butter and then added to the egg, this can be cooked with such simple ingredients and in a jiffy for breakfast," mentions NDTV.
The Spanish Omelet recipe is built around two ingredients: egg and potato. "Also known as Tortilla de Patata, it's one heavy meal that can keep you going for hours without feeling the need to snack. As the name suggests, it's made with layers of potato that's sautéed in oil first. You can add an assortment of other ingredients like onions, spring onions, and bell peppers. Plus, you're bound to have leftovers, which means a little less to cook for the next meal," adds The Statesman.
4. Japanese
Tamagoyaki is a type of Japanese folded omelet that is both a main course and a side-dish. Tamagoyaki is the Japanese rolled omelet that is popularly served for breakfast, put in a bento (Japanese lunch box) as a side dish, or used as a filling in sushi. "Tamagoyaki, literally meaning 'grilled/fried egg,' is made by rolling together thin layers of seasoned egg in a frying pan. The flavors of tamagoyaki vary and different types of fillings can be added. Tamagoyaki is often seasoned with soy sauce and sugars, but nothing can beat the flavor of dashi. Dashi is very simple to make, but umami-rich kombu and katsuobushi give this stock wonderful rich flavors without overpowering the other ingredients. By adding dashi to the egg mixture, the egg gets a nice umami boost and the dashimaki tamago has deeper, more complex flavors than regular tamagoyaki," explains The Spruce Eats.
Tamagoyaki, a Japanese staple, is made by carefully rolling several thin layers of cooked egg into a rectangular omelet, which creates a soft and delicate texture. Traditionally, it's made in a special tamagoyaki pan, but this version also works with an 8-inch nonstick skillet. There are sweet and savory variations, and this recipe falls somewhere in between the two: The soy sauce, mirin and dashi pack it with umami, while the sugar adds a subtle sweetness. The technique can be challenging at first, but do your best to keep each layer consistent in color and each fold parallel to the last. Don't worry about little tears; they'll be covered up with the next layer," points out The NY Times.
The Japanese tamagoyaki shows up in many bento boxes as part of the colorful array of side dishes that they often include. "Tamagoyaki is a Japanese-style omelette that's made by rolling together many layers of egg cooked like a usual omelette. It's a popular breakfast dish as well as a bento box item. These egg rolls are then eaten with soya sauce or any other kind of dip. Not only is it delicious, the way it's made by rolling layers of eggs is surprisingly pleasing to watch. You can make this in a usual pan, though in Japan, it's usually prepared in a rectangular omelette pan called a makiyakinabe," mentions CN Traveller.
5. Thai
The Thai omelet may be a brand new experience for many American diners, but thanks to the growing popularity of international foods they are becoming more easily available for the curious palate. "Khai yat sai is a traditional type of omelet originating from Thailand. The name khai yat sai means stuffed eggs. In order to prepare the dish, eggs should be lightly cooked, seasoned with oyster sauce or fish sauce, topped with ingredients such as spring onions, carrots, tomatoes, peas, ground beef or pork, then folded over before serving. Once folded over, it seems like the omelet is stuffed. It's recommended to serve khai yat sai on its own or with rice and chili peppers in fish sauce on the side," says Taste Atlas.
Q5 #Foodiechats via @IncredibleEggs Khai Yat Sai in Thailand is a simple omelet w/ minced pork & herbs. What's in your omelet? #WorldEggDay pic.twitter.com/oCUZStEKvh

— #Foodiechats (@Foodiechats) October 10, 2017
Khai yat sai is highly customizable and could be an easy way to feed large groups. Just set up the individual elements in separate bowls and let everyone build their own. "Often mistaken as a breakfast item due to the English designation 'omelet,' Khai Jiao is generally regarded by the Thai people as a rice topper to create a complete meal or a member of an all-out Sam Rap (family-style multi-dish feast) to complement a sour dish or take the edge off a chile relish. Here's what you need to make one serving: a couple of eggs, fish sauce to taste, a few droplets of acid (vinegar, lime juice, or lemon juice), and some vegetable oil. The only extra ingredient is optional but recommended: some rice flour (cornstarch works, too). You don't need much, a tablespoon will do. This helps the omelet form crisp edges. For those with rendered lard on hand, you can fry the omelet in that to get similar results. But if you're using plain vegetable oil, you may want to add a bit of flour to the beaten eggs. Making a good Thai-style omelet requires some technique, but it's nothing complicated," assures Serious Eats.
Try this delicious variant if you are curious about sampling breakfast in a unique way as compared to the typical omelet. "When we say the Thai Khai Chiao is a complete meal, we mean it, as it's usually served over a plate of rice. It typically has soft, fluffy layers of eggs with crisp edges. It's a popular street food in Thailand. You can make it even tastier with sliced scallions, green onions or shallots to add flavour and texture to the omelette, as well as proteins like pork or chicken. Remember to add a few drops of lemon juice or vinegar to the eggs for this prep before beating it," adds CN Traveller.
You might also be interested in:
Sources
Note: This article was not paid for nor sponsored. StudyFinds is not connected to nor partnered with any of the brands mentioned and receives no compensation for its recommendations.