Reading a book means relaxing. But in our busy lives, it can be difficult to make time to just sit and read. During the day you don't have your hands free and in the evening you're too tired. Audiobooks are a great solution to this dilemma. You can listen to them in your car or while doing chores or give your eyes a much-needed break from screens in the evening and doze off to "storytime." Because you deserve premium me-time, Study Finds created a list of the best audiobook apps for your most relaxing listening experience.
Audiobooks let you feel the ultimate connection to a book. Researchers from the University College London found that listening to audiobook versions of popular novels – and movies – has a greater overall emotional impact than watching them on screen. This applied across different stories, different ages, and different demographics. 
There's a reason that listening to a story engages us the most. According to a Brazilian study, story time reduces pain and stress by fueling certain hormones in the brain in children. "During storytelling, something happens that we call the 'transport of narrative', that is, the child, through fantasy, can experience sensations and thoughts that transport them, momentarily, to another world, another place, […] away from the aversive conditions […]," says study author Dr. Guilherme Brockington from the Instituto D'Or de Pesquisa e Ensino (IDOR) and Federal University of ABC. 
Because adults also need to escape reality with a good book from time to time, we've got you covered with a hands-free listening experience. StudyFinds reviewed ten expert websites and created a list of the top five best audiobook apps based on the recommendations. If your favorite app is not on the list, please let us know in the comments.
The List: Best Audiobook Apps, According
to

Experts

The clear expert favorite is Audible: Ten out of ten experts recommend it, and the app is at the top of most lists, as well as the best overall pick of at least two reviewers. "This Amazon-owned service dominates the audiobook space — and for good reason," writes Discovery. "With an Audible subscription, you can get your hands on virtually any title you can think of, plus their originals and exclusives!"
According to Review Geek, "Audible is the king of audiobooks." In addition to the app's "enormous" selection, "Audible's book recommendation algorithm is fantastic. […] The more you listen to, sample, and rate audiobooks, the better it gets at serving up titles that you'll be interested in."
While this audiobook app is only available for a monthly or annual fee, another big plus is that with Audible, you get to keep your audiobooks: "When you choose a title, Audible lets you keep your titles forever, while other apps simply allow you to borrow them," writes ZDNET.
Eight out of ten experts list Kobo as one of the best audiobook apps. This app is a budget pick because it "is currently the lowest priced of the big audiobook platforms, but despite the more affordable monthly cost offers over six million eBooks and audiobooks," mentions Mashable.
Kobo is technically not an audiobook app, but also an audiobook app: "Best known as an ebook retailer, Kobo Books also offer audiobooks on their platform. The 'Kobo Plus Listen' plan works out cheaper than Audible Premium Plus as you get unlimited access to over 100,000 audiobooks in their library for only $9.99," says Discovery.
In addition to its low price, the app includes some neat features, such as "letting you choose between day or night mode, font size, and even type with a built-in dictionary. Kobo will also suggest new titles as you progress, making personalized recommendations based on your reading history, adds ZDNET.
Audiobooks.com is a solid alternative to numbers one and two on our list. While this app "can't quite keep up with the membership benefits of Audible," it does include some nice extras: "The Audiobook Clubs are an interesting and unique offer. They also have fantastic sales and deals as well as a large selection of entirely free audiobooks that are open to non-members," says Lovely Audiobooks.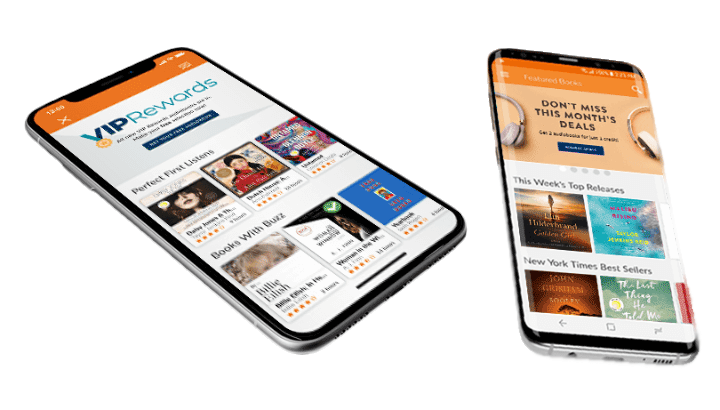 In addition, even though the Audiobooks app is "the same price as an Audible Premium Plus membership — $14.95 — […] you get not one, but two audiobooks: one from Audiobooks.com's entire library of over 300,000 titles, and a second […] from their 'VIP' library, which changes each month. An Audiobooks.com membership also gets you access to exclusively curated audio news, audio magazines, audio summaries, and sleep and meditation content in the apps," Mashable points out.
As for special tech features, this "app includes variable playback speed, automatic bookmarking and a sleep timer," per Tom's Guide. "Additionally, this app includes cross-device syncing, allowing listeners to easily transition from their smartphone, tablet or computer without losing their place in the audiobook." 
With seven out of ten expert recommendations, Scribd has almost the same number of accolades as Audiobooks.com. However, with a cost of $11.99 after a 30-day free trial, Scribd is more affordable. And the app "is bilingual, as well, offering over 60,000 Spanish-language titles at time of launch," writes ZDNET.
"Scribd has one of the largest digital libraries around," claims Speechify. "The service features ebooks, audiobooks, news articles, podcasts, and even sheet music. While Scribd isn't an exclusive audiobook service, it houses many titles for audiobook users."
"If you're looking to combine your audiobook listening with ebooks, podcasts, and news publications like The New York Times, Scribd might be the app for you," seconds Discovery. "Their massive library includes a healthy balance of traditionally published books, TikTok bestsellers, and Scribd Originals." A unique benefit is Scribd's publishing platform: "If you're a writer, Scribd also has an open publishing platform to help you self-publish your audiobook in minutes!"
A little behind Scribd, this app still had half of the experts recommending it. Based on mentions, it just barely outdid its competitor, Libby. Both apps are free. But with Libby, ​​"you only have 14 days to finish [your books] before the app automatically returns them. Plus, you may have to wait in line for popular audiobooks," says Review Geek. Therefore, Google Play Books got the spot on our list.
"With no monthly subscription required, you can browse the audiobooks available and choose to pay to download individual titles. For the iOS app, you need to purchase the titles on the Google Play Books webstore and they will sync to your mobile device," explains Mashable. "The apps are simple and make it easy to see what titles you have downloaded. The audiobooks themselves sync across all your devices, including in the car with CarPlay."
This app is also great for special interests: "When you like comics and manga, Google Play Books is the place to go," writes ZDNET. And "personalized reading recommendations mean that you will never run out of content." 
You might also be interested in:
Sources:
Note: This article was not paid for nor sponsored. StudyFinds is not connected to nor partnered with any of the brands mentioned and receives no compensation for its recommendations.