Backpacks are a simple and convenient way to organize your items on the go. They come in many different styles and sizes to complement your lifestyle. Larger backpacks are great to take along while hiking or camping. There's also smaller versions that can easily replace a purse or fanny pack for everyday use. The best backpacks for women are durable, stylish and fit all of your essentials conveniently on your back. 
When choosing a backpack, make sure to consider how much you plan to put in it. Weight distribution is extremely important for comfort. Overloading a backpack can lead to back and shoulder pain. Speaking of back pain, new research out of Finland suggests taking up horseback riding as a form of therapy could help ease the ache. Patients with chronic low back pain may benefit from equine-facilitated therapy (EFT), according to the study from the University of Eastern Finland. Over the course of a 12-week intervention perceptions of pain among horse-riding patients steadily declined, all while daily functioning abilities improved.
Statistically significant improvement was seen across multiple health domains, such as sleep, reaching and bending forward, and standing for a long period of time. As the exercise load gradually increased, patients' pain levels decreased while their participation in social activities increased and psychological well-being improved.
Whether you're commuting or vacationing, taking the right backpack along can be a game changer. To help you choose, StudyFinds put together a list of the top five brands from ten expert websites, to find the best backpacks for women. As always, we'd like to see your own recommendations in the comments below!
The List: Best Backpacks for Women, According to Experts
This minimalist backpack design keeps travel and convenience in mind. "It comes with a 15″ exterior laptop pocket, a trolley sleeve, catch-all exterior zip pockets, two water bottle holders, and comfortable straps," notes Woman's Day.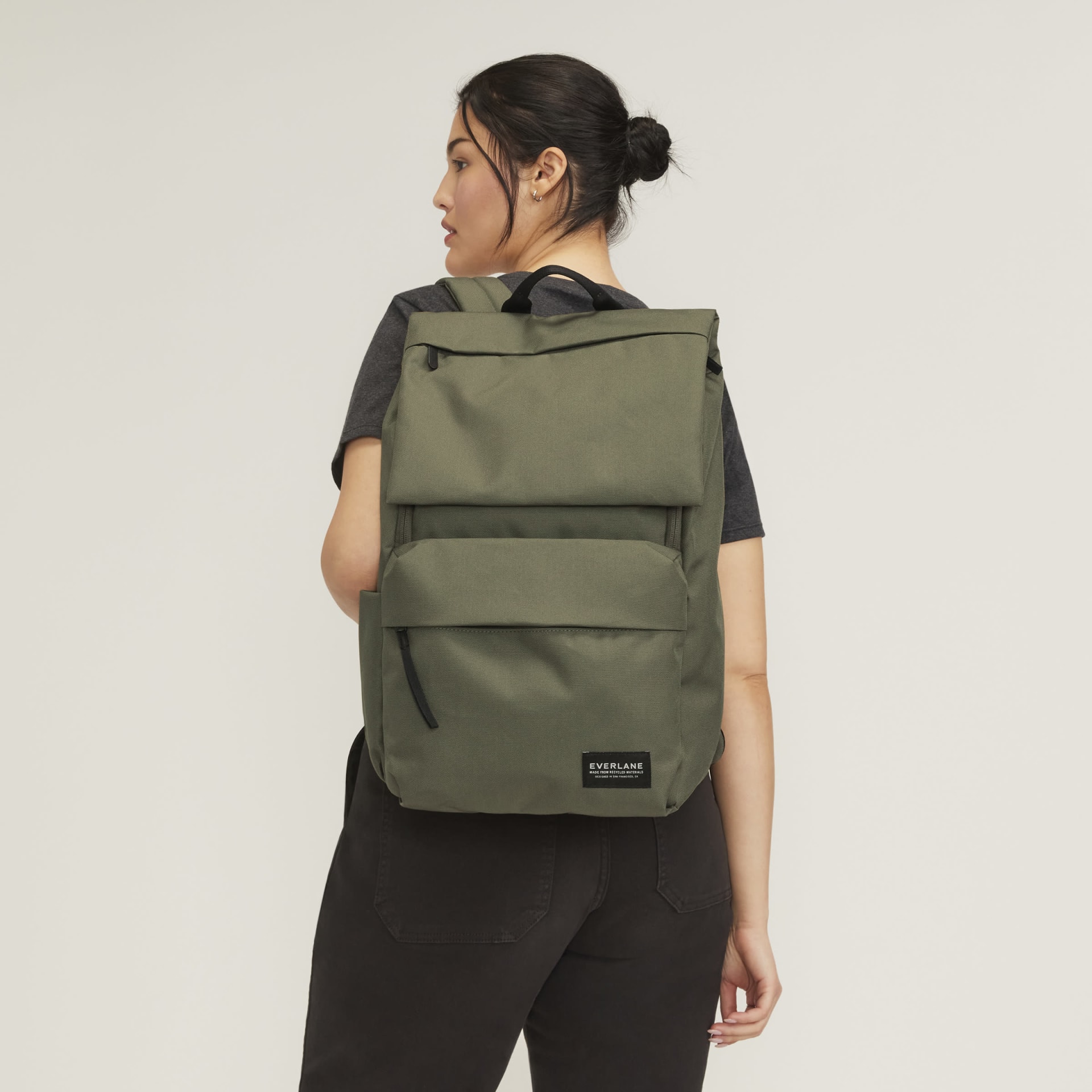 It's also eco-friendly. "This backpack's material is 100% recycled polyester but has a water-resistant finish. The magnetic flip-top closure is a unique feature of this Everlane bag," adds The Atlas Heart.
Travel+Leisure points out that "there aren't as many pockets inside, but we prefer that since it allows you to organize as you see fit without having to make everything fit into an exact space. The backpack is also water-resistant so you'll be safe even in an unexpected storm."
InStyle crowns this bag 'Best Overall', noting "the neoprene bag comes in three sizes — small, medium, and large — but for everyday use, we suggest the medium, which can hold everything from a pair of gym shoes (it has a dust bag to keep them separate!), a laptop, a water bottle, to all the various little items you carry with you, too." 
"This sleek backpack is plenty functional: It has a two-way zip-around closure, a laptop sleeve inside, side pockets, and a small pocket at the top for your cell phone. It includes a detachable pouch, a key leash, and mesh shoe bag, and is also just a gorgeous bag," suggests Condé Nast Traveler.
The medium and large backpack sizes come in ten different colors. "Dagne Dover products are made with Repreve technology, meaning they're sustainable," adds Elle. However, some reviewers did note the neoprene can develop creases over time.
If you are planning a hiking or camping adventure, here's a solid backpack option. "The Osprey Aura AG 65 excites us to put it on and hit the trail because it has an incredible range of adjustability that easily accommodates many shapes and sizes. Our testers found this pack one of the easiest to adjust, even on the go," notes GearLab. 
Travel+Leisure calls the Aura AG 65 'Best High-capacity', suggesting "the 65-liter pack weighs just 4 pounds, but when it's fully loaded, the anti-gravity suspension and hip belt work together to ergonomically distribute weight and allow a free range of motion." 
Switchback Travel spotlights the Osprey Aura AG 65 LT design, adding "Osprey took the organization, comfort, and durability of a high-end backpacking pack and streamlined it, removing all superfluous bells and whistles. What remains is everything you need (and nothing you don't) for brief overnights to week-long sagas, including best-in-class comfort, convenient pockets and storage, reliable weather resistance (including a rain cover), and top-of-the-line ventilation." The LT also features an adjustable torso length, plus it's made of sustainable materials.
Here's a smaller backpack option from Away Travel that scores big points with reviewers. "It is made from water-resistant nylon and features a deep, wraparound zipper opening that extends the main compartment forward. It has a classic padded laptop pocket that is elevated with a magnetic locking zipper, a key clip, padded shoulder straps and more," according to Parade.
Condé Nast Traveler describes the backpack as "functional and simple, with a classic look that you won't tire of." It's available in four colors.
"The main compartment opens like an accordion so it's easier to view all your items at once. The hidden pocket on the front makes a great space for quick grab items like your passport or phone," adds The Atlas Heart.
The New York Post suggests TUMI's Voyageur Celina Backpack "is a splurge worth making as it features a laptop pocket, interior multifunction pockets and exterior zip pockets."
Another notable design is the Voyageur Ruby Leather Backpack. It comes in two colors. Travel+Leisure highlights, "the spacious Ruby will blend in anywhere you want to take it and hold everything you need along the way. You get the expected back secret pocket and trolley band on the rear; a separate padded laptop pocket for a computer up to 15 inches; a main compartment with its own interior zip wall section; and a front zipped pocket with slip pouch."
If you don't want a leather bag, check out the brand's Voyageur Carson Nylon Backpack. Condé Nast Traveler notes, it features "four exterior pockets, a padded laptop sleeve, and both a zip pocket and multiple sleeve pockets inside. Plus, padded, adjustable straps to keep your shoulders comfortable."
You might also be interested in:
Sources:
Note: This article was not paid for nor sponsored. StudyFinds is not connected to nor partnered with any of the brands mentioned and receives no compensation for its recommendations. This post may contain affiliate links.