Often, the love of fishing gets passed down through generations. It is a great skill to teach to little ones who are interested in spending time outdoors and acts as a bonding experience. While learning the ropes, it is important to have quality equipment for homing in your skills. Some of the best beginner fishing rods offer user-friendly design and a great jumping off point for those casting their reel for the first time.
Fishing doesn't have to be harmful to the environment and it's still just as fun without hurting our flippered friends. Catch-and-release fishing is seen as a more humane way to enjoy the sport by many. There is still room for caution though, because a study by biologists at the University of California, Riverside finds that injuries caused by hooks in fish can actually hinder their ability to feed in some cases.
Looking to get your kids outside? This may be easier than you think. In fact, parents pass on their love for nature to their kids genetically. Genetics help determine how close people feel to the great outdoors and how often they visit green spaces, say scientists. Fishing is a great way to spend time outdoors while also teaching your children a new skill.
As you live out your fisherman fantasy, be sure to pick up the right pole to start off with. To make your search effortless, StudyFinds has selected the five best fishing rods for beginners to learn with. We scoured through 10 expert websites to compile this list. Let us know in the comments if there's one we missed that deserves a spot on this list!
The List: Best Beginner Fishing Rods, According to Experts
Field & Stream explains the design: "The hybrid rod blank is finished off with simple one piece, stainless steel guides ensuring many seasons of worry free fishing. I chose the Ugly Stik Elite rod setup for spincast fishing, making this pick not only my best all around rod for beginners, but my pick for the best spinning rod for beginners as well. Shakespeare's Ugly Stik lineup wouldn't be complete without their famous Ugly Stik rod and reel combination offerings. My pick for the best beginner rod is no different, and the Ugly Stik Elite rod can be purchased in a combo setup for any angler that's in the market. Pairing my best beginner fishing rod with a fishing reel made to match the rod's action, feel, and fish-fighting strength is perfect, making the Ugly Stik Elite Combo my best fishing rod and reel combo."
"It features 3 ball bearings alongside a one-way clutch instant anti-reverse bearing to ensure that all your gears feel smooth. This will also allow you to set the hook instantly. This combo is a bit more on the pricey side but it is a solid combo that you can grow with," says Floating Authority. "The Ugly Stik construction features a Machined double anodized aluminum spool that further comes with an oversized bail wire to increase its durability. The Ugly Stick rod and reel combo also comes with compression bail springs that are aimed at improving the spinning reel's life span. You will also appreciate the soft touch handle knobs that will allow you to grip it firmly and comfortably."
"Shakespeare is one of the most trusted fishing brands on the market. This is great for the 5 to 6 year old's. Ideal for most panfish applications where there's good access to the water, such as docks and gently sloping banks. There's not a lot than can go wrong," adds Ontrack Fishing. 
Fish Rook loves the durability and quality behind this product: "With this kit, you have the option of choosing the reel and rod size suiting your fishing needs and expertise level. You also get incredible fluidity in the spinning reel, with two gear ratios as per the level you choose. With the triple-disc drag and other features, you can rest assured of a pleasurable fishing experience with this one."
"With the KastKing Centron Spinning Combo, you get quality and durability. The Toray IMG graphite body is strong yet lightweight. The rod has high modulus carbon fiber graphite construction. The spinning reel has a graphite frame and spool is aluminum," adds OGO Fishing. "You have the option of different rod and reel sizes. You can pick one as per your skill level or the type of fishing you are going for. If you hope to catch panfish, trout, or bass, go for the 6-feet rod with compact 2000 size reel. If you add walleye to the list, go for the 7'6″ rod with 4000 size reel. For Salmon, catfish, and steelhead, the 8 feet rod with 5000 size reel will work best."
"One of the more budget-friendly picks, the KastKing Centron does hold its own in this list. This spinning combo meant for smaller game but still performs well under pressure from fighting species such as Large and Small Mouth Bass. Having said that people have done some offshore fishing with this setup and have had success. The ideal use for this combo would be as a travel set since it does not take up a lot of space and it comes in two pieces," writes Floating Authority. 
Floating Authority says to go for this model if you live near the ocean. "In terms of choice, there are many different kinds of models to choose from the 2000 – 6'6 Medium Light Series to the 6000 – 9' Medium Heavy Series for bigger fish. The overall impression of this fishing rod and reel combo was positive."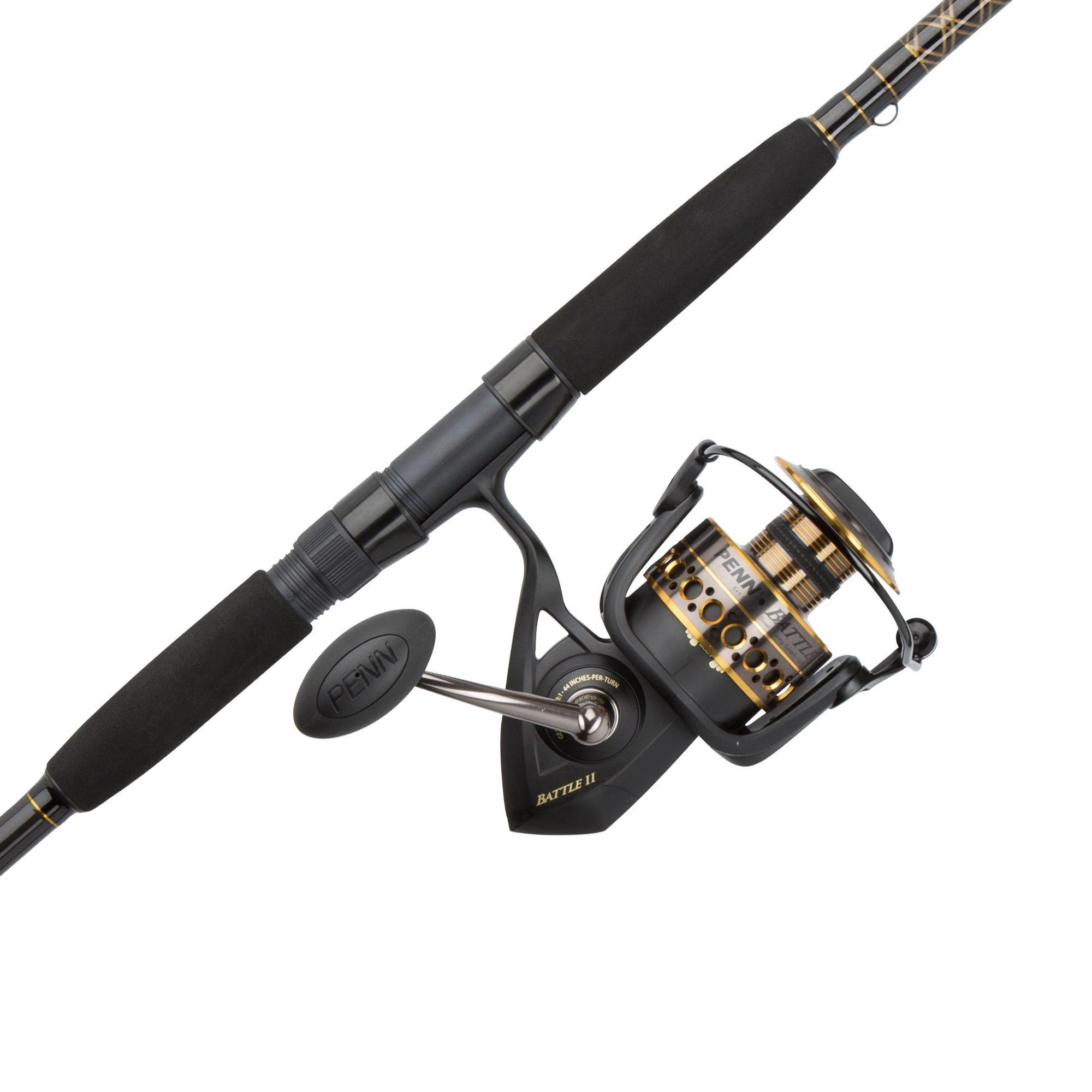 Crow Outdoors describes the experience: "There is a smooth and pleasant drag with varying levels to adjust. The reel has options in terms of fishing lines and accommodates larger diameters. The rod and reel together are a perfect combo in this case. The rod does not hold any difficulty or complication to handle. It is exceptionally suitable for beginners as it makes you exactly feel the entire process."
"It is hugely popular for its well-thought drag system which allows you to catch considerably heavy fish conveniently. Likewise, its anti-reverse bearings help you with the needed stability and strength. Speaking of the design, it is made up of a mixture of graphite and stainless steel which is absolutely durable and offers stability. Here, the metal rotor is specifically added to help you with a fairly decent line capacity. It further incorporates a carbon fiber drag mechanism that can task heavy loads easily," writes Fishing Bevy. 
"What can we say? It's a classic," says The Perfect Combo Fishing. "This beginner's fishing pole was by far our best purchase when Walker started fishing. He cut his fishing teeth on it. It gave him confidence. He slew the fish. We still use it. This combo has been the go-to for newbies for years. The reason for this is: it is so simple to use. It takes a little practice with timing. Consequently, I highly recommend helping a child get their timing down in the front yard or living room before you go. Tie on a plastic fish or one of your children's little people. Then let them cast. Give them a target. Teach them when to release their thumb. Make it fun!"
"Kids can be tough on gear, and fishing rods and reels are no exception. With durability and economy in mind, this year's best fishing rod for kids is the Zebco 33 Spincast Combo. The Zebco 33 line has been a mainstay for beginning anglers for generations. Made to be durable and easy to use at a bargain price point, the Zebco 33 Spincast Combo is an ideal setup for kids," adds Field & Stream. "The Zebco 33 rod and reel combinations have long been a tradition for generations of anglers making their first cast. From panfish to trout, largemouth bass to catfish, a Zebco 33 combo will get the job done. The sturdy 6-foot-long fiberglass rod comes in a little on the heavy side, but for the money you can't beat its durability."
"Spincast Combos are known for being on the kid's shelf or they sell for people who just want to get started and go once or twice a year. But as it turns out this Zebco can take it further than that. Some people have had success with bigger fish but I wouldn't go for bigger species like Muskie or Salmon," writes Floating Authority. 
Honest Fishers says this is a great option on the cheaper side. "Every part of the angling device boasts top-quality materials, making it strong and durable for any task. It is easy to handle by anyone, lightweight, and it is the best to be considered by beginners and experts. It thus enhances one's performance, and it is very responsive in any condition. The baitcaster has a magtrax brake system, which is reliable at ensuring you remain in control of the angling machine. It has a machined aluminum spool, power disk drag system, and one-piece graphite frame."
"Now, for the angler with less money to spend, I would recommend the Abu Garcia Black Max Combo. I've personally bought at least 3 of these combos over the last 4 years and they have all treated me very, very well for the money," attests Tackle Test. "No, they are not as sensitive or as light as the Lew's combo. They are not as smooth as the Lew's. They shouldn't be, since they cost less. But for the money that you spend on one of these combos, they are still very good."
"Abu Garcia is a brand that many people know for the quality of their products. Their fishing gear is some of the best you will get in the market. You can expect a fantastic product with Abu Garcia Black Max Baitcaster Combo. What you get in the package is a baitcasting rod and reel combo for beginners at a friendly price point," adds OGO Fishing. 
You might also be interested in:
Sources:
Note: This article was not paid for nor sponsored. StudyFinds is not connected to nor partnered with any of the brands mentioned and receives no compensation for its recommendations. This post may contain affiliate links.