There are many reasons why a person might want blackout curtains. Night workers, parents with an infant, and people living in well-lit urban areas might all benefit from curtains that block out light effectively. The retail options for curtains are endless, so trying to find the top five best blackout curtains required some research with our ever-reliable sources.
The appeal of blackout curtains for night workers as well as folks that stay up until sunrise is apparent. According to a recent study, some people are naturally night owls, while others can't help but rise early and seize the day. Referred to as a chronotype, or each individual body's need for sleep at a certain time, sleep study experts have generally considered this characteristic to be unchangeable. Simply put, night owls usually have a tough time turning into early birds. Now, however, researchers from Baylor University suggest chronotypes are more flexible than most people think. Genetics certainly predispose us toward a preference for either the morning or evening hours, but researchers believe being a night owl can also stem from behavioral choices. Regardless of whether it's the result of biology, institutional factors, or behavioral choices, being a perpetual night owl (evening chronotype) has a long connection to poorer sleep health, low alertness in class, and diminished academic success.
There isn't much that a good night's sleep can't do. Now, a new study is reinforcing the importance of getting good quality sleep as we age. Researchers from the University of California-Berkeley find that deep sleep can protect older adults from Alzheimer's-related memory loss. "With a certain level of brain pathology, you're not destined for cognitive symptoms or memory issues," explains Zsófia Zavecz, a postdoctoral researcher at UC Berkeley's Center for Human Sleep Science. "People should be aware that, despite having a certain level of pathology, there are certain lifestyle factors that will help moderate and decrease the effects. One of those factors is sleep and, specifically, deep sleep," the researcher continues in a university release. Previously, studies have linked poor sleep to a faster accumulation of beta-amyloid protein in the brain, which is the hallmark of Alzheimer's disease development. One of the most disruptive parts of having the condition is memory loss, related to destroyed memory pathways that can make performing daily tasks difficult.
Always wanting to lend help to the sleepy, we have rounded up our sources to discover the top five best blackout curtains to purchase today. Hopefully, you'll finally get the good night's sleep that your body needs. Let us know your favorites in the comments below!
The List: Best Blackout Curtains, According
to

Experts

Rated as the best overall blackout curtains according to NBC Select, "'This selection accomplishes all of your needs for a beautifully designed blackout curtain that's still reasonably priced,' said Beth Brown, an interior designer and owner of Beth Brown Interiors in Atlanta. The curtain is offered individually or in a set of two and you can purchase separate ring clips for ease of use."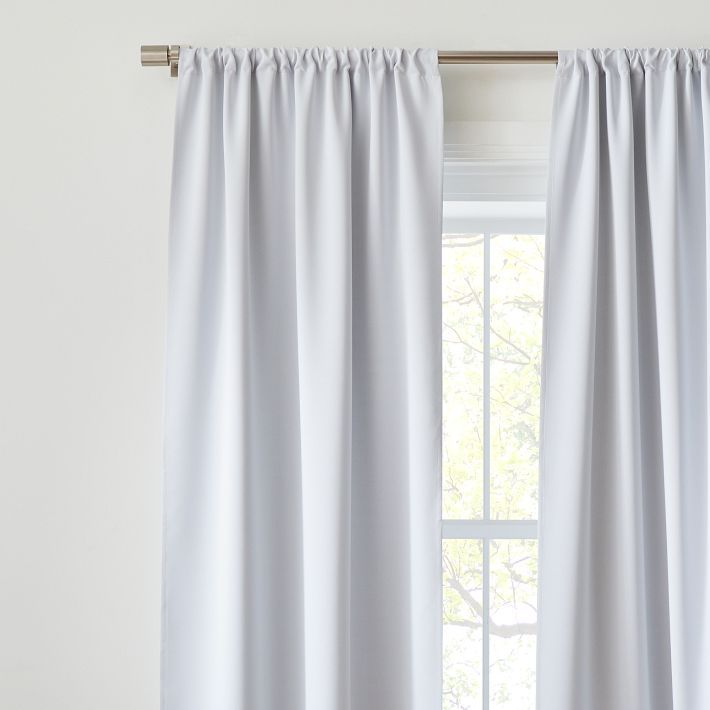 While considered pricey as compared to some of the other entries on this list, the overall quality of sleek appeal make them very popular with consumers. "Like most items at West Elm, these blackout curtains are on the higher side, price-wise. Sometimes to match a room's décor, your blackout curtains need to be made from a lighter-colored material. Known for its brand quality, West Elm delivers on its blackout curtain collection. Blocking out both light and noise, West Elm's blackout curtains are also effective in lighter material colors. Not only are these blackout curtains capable of being layered, but they are also fabricated in a fair trade-certified facility. Though on the pricier end, they come in two different hanging methods to match your room's needs. Plus with West Elm's lineup of curtains, they have custom sizing options and different textures to layer," writes Better Homes & Gardens.
Another popular option from this brand is the West Elm Cotton Velvet Curtain. Healthline calls them the most stylish option for blackout curtains: "West Elm's Cotton Velvet Curtains will add a low-key yet luxe touch to any room. You can order them with or without a blackout curtain liner, which is made to block all light. There's also a range of equally beautiful hardware you can browse to go with them. The West Elm Worn Velvet Curtains are described as having a luxurious, vintage look with a blackout design. Made out of 100% polyester, this curtain looks like worn velvet and has a slight sheen. The curtain comes in a variety of colors, including Alabaster, Tarragon, Golden Oak, Regal Blue, Camel, Frost Gray, Metal, and Dusty Blush."
For some shoppers who prioritize low price over aesthetic appeal, Nicetown could be a great option. The Spruce writes out the details: "You're unlikely to find a better deal for light-blocking curtains than NICETOWN's Thermal Insulated Grommet Blackout Curtains. And even at this great value, these curtains do what the best light-blocking curtains do: reduce noise, block outside heat and cold for climate control in your room, and block light. The curtains are offered in over a dozen colors, and in our testing we found the darker colors are more thoroughly light-blocking than the white panels. No matter which shade you choose to match your decor, you'll get anywhere from 90 to 100 percent light blocking capability–a detail that makes a big difference."
Another advantage of these curtains is that they are appropriate for larger windows and sliding doors. Bob Villa.com says, "It was clear that these were quality curtains as the fabric is triple-weave polyester, blocking up to 95 percent of outside light sources. Our tests found that these curtains performed extremely well, even in the middle of the day. The material doesn't wrinkle and looks great right out of the packaging. The silver grommets allow easy installation, while the 14 bold color options offer plenty of choice to match—or add contrast to—a living space."
Able to reduce both sound and light, these curtains could be a great choice for apartment dwellers looking to have a uniform look in all of their rooms. According to This Old House.com, "These window curtain panels have a noise- and light-reducing design, so you can sleep soundly without outside disruption from cars or street lights. If you want every family member to have this protection, you can purchase these curtains in various sizes and colors to match their bedroom decorations and windows."
For another lower cost alternative, the Deconovo Blackout Curtains can be an easy to match add-on for curtains that you already have. According to This Old house.com, "Customers praised these curtains for being made of sturdy, thick material that was energy-efficient and wrinkle-resistant. A common complaint in negative reviews was that the curtains let some light through. Other customers said that they received panels of inconsistent sizes."
As a solid and functional option, the Deconovo Curtain Sets are also quite good at thermal insulation for both hot and cold weather. Healthline states that, "One of the great benefits of blackout curtains is that most come with an insulating quality that prevents drafts. This can help you with temperature regulation in both the summer and winter. The Deconovo curtain is an affordable curtain that is designed to block out light, muffle outside noise, and insulate against heat in the summer and cold in the winter. That extra layer of insulation could mean lower energy costs, since you won't have to blast your heat or AC as often to keep your room at the temperature you like."
This company offers the most color varieties and as it offers single panel packs, consumers won't end up with leftover panels. "If you're looking to brand match your blackout curtains around the house but want different colors for different rooms, it's easiest to have one effective blackout curtain that comes in many colors. Or, if you're trying to match your curtains to an existing design or paint color, the more color options to choose from means you're more likely to see success. Deconovo's blackout curtains come in a whopping 33 colors. These grommet curtains are thermal insulated and come in a variety of sizes. Though they are only sold one panel per package, their prices are relatively affordable," according to Better Homes & Gardens.
For a middle ground of convenience, rapid shipping, and affordable price the Amazon Basic Curtain set could be the best choice. Better Homes & Gardens writes, "Those who shop at Amazon often know just how incredible the Amazon Basics line is excellent for home essentials. These curtains are an affordable option available in various sizes and colors to suit your home. This product comes in two panels without a stiff liner, allowing you to easily drape your curtains. These grommet curtains come in many design options and are top-rated by customers for durability and value for the cost."
Well-regarded amongst purchasers, Self writes: "With more than 31,000 five-star ratings, these room-darkening curtains from Amazon Basics have droves of glowing reviews. 'My room is like a cave with them,' one person wrote. 'I've been sleeping a lot better due to how dark my room is at night,' wrote another. Plus, you can choose whether they come with grommets or a curtain-rod pocket."
Also, as a machine washable option, this set might be appealing for purchasers with in-home or unit washing machines. NBC Select writes, "These blackout curtains come with two panels, are machine-washable, have Velcro ties to pull them back and are made in an Oeko-TEX standard factory. Plus, with their reasonable price point and range of styles, Brown noted that they're an ideal choice for rooms that change often — like kids' rooms — or for those who are renting."
As is so often seen in home décor, form and function can be equally important. "If you're looking for a stylish and reliable option, IKEA Marjun is an excellent choice. These curtains are made from thick fabric which actively blocks out both light and noise from the outside world. They also have thermal properties that keep your room cool in hotter months. The product comes with adjustable tie-backs so you can control how much sunlight enters the room as well. Another differentiating feature of the Marjun Curtain is the stylish design of its fabric. They come in a variety of colours and patterns to suit any decor style: from luxe, classic prints to modern geometric designs! Plus, it's easy to assemble thanks to IKEA's straightforward instructions," mentions FactoryDirectBlinds.com.
Hunker also claims that "While IKEA's Marjun blackout curtains do not block 100% of the exterior light, these room darkening drapes are perfect for homeowners who want style and performance at an affordable price.  These curtains have a 4.7-star rating on IKEA's website, with many customers praising them for their easy installation. The only downside is that they're only offered in one size: 57 inches in width by 98 inches in length."
Wirecutter writes, "These come in only one length and three color-blocked styles, but they look nice, blocked more light in our tests than most, and they're less expensive than many we've tested."
 You might also be interested in:
Sources
Note: This article was not paid for nor sponsored. StudyFinds is not connected to nor partnered with any of the brands mentioned and receives no compensation for its recommendations.
*Note: prices referenced in this article were at the time of publishing and are subject to change without notice by the manufacturer.