Why do we love to grill? Lighting a fire from charcoal or wood, prepping ingredients, and getting set up outside are all parts of what make grilling such an enjoyable cooking method gone pastime for many American home cooks. Barbecue season brings fun, outdoor gatherings in the sunshine with family and friends, but requires one of the best charcoal grills to do the trick first!
Whether grilling in the backyard, campgrounds, or pre-game at a tailgate, the most essential piece of gear is the grill itself. Although adventurous home cooks can grill just about anything. According to a recent study: burgers, hot dogs, and chicken wings are now officially on "God tier" status according to BBQ fans – proving the classics have stood the test of time, despite the rise of alternative grilling menus across America.
Outdoor grilling is also seen as a skill that is passed down from parents to their children. Another recent study indicates that millennials were the most likely to grow up watching their parents or guardians cook food on a grill (69%). Nearly four in five (78%) also believe the student has surpassed the teacher — as they believe they've developed better grilling skills than the person who taught them. Regardless of generation, the average respondent takes over grilling duties from their parents at age 16, with 58 percent saying they've taught a parent how to cook certain foods on the grill. In fact, a whopping 75 percent of millennials have taught older generations to grill certain foods.
Ready to heat things up? With these impressive models, create delicious summertime meals in the backyard with family and friends. StudyFinds has considered 10 sources to evaluate the best charcoal grills for cookout season. Let us know what you recommend in the comments below!
The List: Best Charcoal Grills, According to Experts
Get grilling with the original infrared grilling fuel using Napoleon's PRO Charcoal Kettle Grill. You'll know it's a Napoleon with the iconic WAVE™ cooking grids for those distinctive sear marks. Easy access, hinged, porcelain coated cast iron cooking grids make adding more charcoal or woodchips effortless, while three cooking heights and masterful airflow management provide precise temperature control. The improved PRO Air Control system increases air and temperature accuracy. A large stainless steel heat diffuser lifts the charcoal up off the bowl of the kettle evenly radiating heat throughout the grill and directing spent charcoal down to the ash catcher," says Bar-B-Que.com.
"At first glance, the 22-inch Pro Charcoal looks like most any kettle grill. You've got the signature marine buoy shape, classic black exterior, ash-catcher protrusion at the bottom, plus legs, a lower grid-style shelf, and a pair of wheels for trundling about the yard. But, wait — what's with that wide band of stainless steel around the midsection? And why is the handle at the front and not on the top? What's going on here? Let's start with the handle. Unlike many kettle grills on the market, this one has a hinged lid. That means you can flip it up and out of the way rather than needing to lift it off completely and find somewhere to hang it or set it down. Additionally, it's offset from the center, so your hand doesn't cross the heat zone as you open it. It's safer and far more convenient," adds Food Fire Friends.
Adding to this: "A stainless steel heat diffuser in the bottom of the grill helps direct heat from the charcoal throughout the bowl for slow cooking and can be removed for high heat grilling. Control the airflow with the corrosion-resistant air vent on the lid and dual stainless steel air vents and monitor the internal heat with the Accu-Probe temperature gauge. The offset lid is hinged for safe operation. Clean-up is easy with the removable high capacity, steel ash catcher. Four legs, a powder-coated bottom shelf, and all-weather wheels complete this charcoal grilling package," writes BBQ Grills.com.
Barrel or drum pan grills were originally repurposed steel drum containers. "It's a solid grill with storage shelves that's light enough to move around. Its barrel design is equipped with a warming rack, which allows for more cooking space. The cooking grates are made of cast iron, and a side vent and smoke stack allow for optimal temperature control. The Super Pro can also be used as a Texas-style smoker when bought with the side fire box attachment. During testing, we were impressed with how easy this grill was to put together: The instructions were very clear with useful illustrations, and all the parts were easy to identify, down to the washers," explains Good Housekeeping.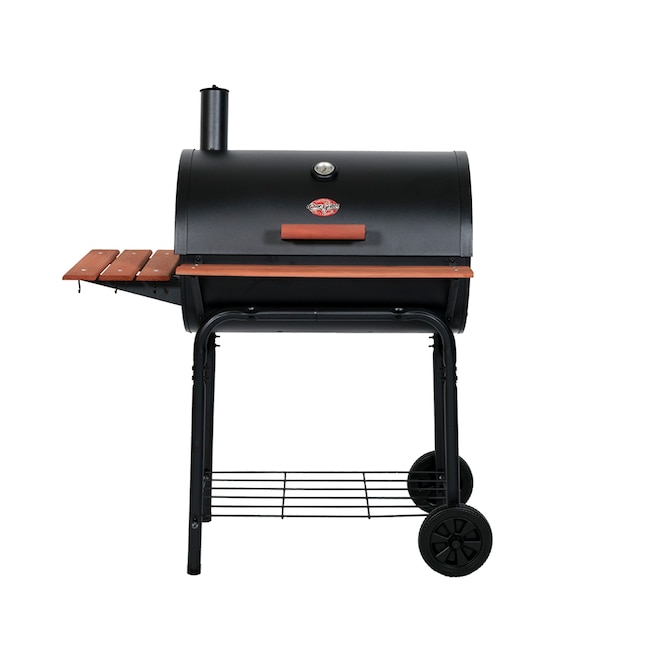 For some additional details, Char Griller mentions: "Made of heavy-duty steel, this grill will last for years to come with the proper care. With 850 square inches of grilling capacity, the Super Pro can hold 34 burgers at a time. That's enough for the whole crew! It is also Side Fire Box compatible, so you can even turn the Super Pro into a Texas-style smoker. Charcoal barrel grill with large rubber wheels for easy mobility. 850 square inches of total cooking space."
"It features a durable steel barrel for maximum heat transfer, delivering plenty of flavor to your food. Its durable cast-iron cooking grates sear foods evenly and quickly and are easily removable with the Char-Griller grate lifter. It has a two-wheel design that allows convenient portability to backyard gatherings, beaches or family reunions. You also won't overcook with the built-in temperature gauge, adjustable coal grate and heat damper," states Lowes.
If movement and portability are more important than size, then a cart grill could be your best choice. "If there's always a party in your backyard, you'll love this grill. First of all, it's large, with a grate that can handle at least 25 hamburgers, depending on how big you shape your patties. Then, it gives you two charcoal pans that can be raised or lowered independently to create two separate cooking zones that can be used at different temperatures. That means you can slow roast a leg of lamb on one side, while you're quick grilling shrimp for appetizers or hot dogs. Under the grates, there are two doors so you can add briquets to whichever side needs to be stoked. With two side tables, you have a landing pad for your tongs and basting brush. Under the grill there's a basket for stashing your mitts, chimney starter, and paper towels. The Dyna-Glo has a thermometer in the hood, a removable ash pan, and a bottle opener on the side, so the griller in chief can open their cold one," says Food Network.
"An all-around crowd-pleaser, the Dyna-Glo DGN576SNC-D Dual Chamber Stainless Steel Charcoal BBQ Grill lets you sizzle up to 30 hamburgers to grilled perfection in no time at all. This durable unit features a sturdy powder coated steel frame with a double-walled stainless-steel fire box protected by a thick cast-iron pair of doors. Two charcoal trays lets you adjust the cooking temperature as needed. The lid is double-walled to retain heat and features a built-in temperature gauge. Two side-shelves provide a place to keep utensils, buns, and more. The bottom of the frame features a sturdy wire basket for keeping a handy bag of charcoal. A bottle opener is built into the grill to let you enjoy some suds while you tend to your barbeque. Each of the grates is made from a durable cast iron and features a porcelain enamel to prevent sticking and retain juices," adds Walmart.
This Heavy-Duty Premium Charcoal Grill in Black and Stainless Steel from Dyna-Glo offers everything you need to enhance your outdoor barbecue experience. With a total of 816 sq. in. of barbecue cook space, you can serve up BBQ ribs, grilled chicken, grilled salmon, grilled vegetables and more with that smoky barbecue flavor your family and friends will enjoy for years to come. The easily accessible and adjustable charcoal tray lets you customize the cooking temperature of this charcoal grill by using the adjustment crank to raise and lower the charcoal tray. The stainless smoke stack features an adjustable flue for fine tuning temperature control of this charcoal grill," mentions Wilmar.
"There is a lot to like about the Akorn grill. The first thing is the price tag. Expect to pay 3-4x more for a comparable Kamado Joe or BGE. When I first saw the price of this grill, I was skeptical as other grills I have used and experienced were double and triple in price. Another feature I really liked was the cast iron grill grates. They are heavy-duty and very easy to clean. In the center of the grill is a removable insert where you can easily add more charcoal or wood as needed. I also like the easy dump ash pan. Once the ash pan is full, simply detach it from the Akorn, dump out and place it right back in. No more taking a shop vac to suck out the ash, this system makes the most sense, and I was pleasantly surprised to see this feature. The folding side shelves are a nice touch and even though they feel cheap, offer extra space and come in handy. The shelves also have hooks to hang utensils on. Other similar types of grills do not come with side shelves but rather they can be purchased additionally," describes Smoked BBQ Source.
A Kamado Grill doesn't need to break the bank though, "We used this to cook up barbecue classics like chicken wings and ribs, and were highly pleased with its performance. Once we learned how to get the grill to the right temperature, the temperature inside the grill remained constant no matter what was happening outside, It is important to get the initial temperature right since this takes a while to cool down. Other aspects we liked were that the grates became more nonstick as the testing went on and the warming rack proved itself to be the perfect bun warmer," says The Spruce Eats.
Get creative with your outdoor recipes: "Airflow and insulation are the priority with this type of grill and the Expert Grill Kamado is designed for maximum flow control in a solid and stylish steel package. 4 layers of insulation provides superb heat retention. Cast-iron cooking grids offer excellent heat distribution. Numbered airflow vents on the top and bottom coupled with a precise hood mounted temperature gauge help the Expert Grill Kamado BBQ grill produce quality results. From raging direct grilling and searing to an all-day low and slow smoking, the Expert Grill Kamado has got it covered. With a 27-hamburger capacity and a large deep hood for the biggest of Thanksgiving turkeys this unit can bake, roast, sear, smoke & grill," points out Walmart.
Of course, there is also the mini version of the classic Weber Grill that is another potentially great grill choice for a much lower price point. "The Smokey Joe is a classic kettle-style portable charcoal grill. It's a small grill, compact and lightweight, making it ideal for on-the-go grilling. Singles and couples who typically cook for just 1-3 people will also find it sufficient to satisfy the urge for some basic barbecue at home. Despite its size, you'll have no trouble generating enough heat to sear like the big boys. Plus, it's just about large enough to set up two-zone cooking for indirect heat," writes Food Fire Friends.
For grilling on the go, this small but versatile grill could be a great choice. "Load up the car and hit the road with your Smokey Joe® portable charcoal grill. Its durable, lightweight, compact design is perfect for grilling on the go – whether walking to the beach or taking a road trip," adds Walmart.
This small grill is also a great choice for those who are short on space. "Big fun comes in small sizes! A miniature take on the classic Weber kettle, the Weber Grills 112681 Smokey Joe Premium charcoal BBQ grill helps you grill in style even in tight spaces like apartment balconies and its take-along size makes it perfect for picnics, camping, or tailgating. Made of premium-grade U.S. Steel, the bowl and lid of this portable Weber kettle grill are coated with a black porcelain enamel inside and out that is baked on, fusing the finish to the steel to prevent rusting and peeling through years of use. The adjustable, no-rust aluminum top vent provides the proper airflow needed for perfect grilling and helps you to control the temperature across the 14 1/2-inch diameter cooking area. The Smokey Joe Premium features a lid lock that secures the lid in place for carrying, which lowers to double as a lid holder while you grill. Weber Smokey Joe grills also feature heavy-duty, plated steel cooking grates and a glass-reinforced nylon handle that will withstand the elements for the life of the grill. With the Smokey Joe Premium, you will love its compact size and stylish looks every time you fire it up!" mentions BBQ Grills.com.
You might also be interested in:
Sources
Note: This article was not paid for nor sponsored. StudyFinds is not connected to nor partnered with any of the brands mentioned and receives no compensation for its recommendations.