What comes naturally and deliciously after dinner? Dessert of course! For chefs and non-chefs alike, we have researched the best dessert cookbooks for you to bring into your kitchen. The beauty of these cookbooks is that the majority of their recipes are easy to follow. Yes, even the ones from the icon Martha Stewart. And who doesn't love simplicity? 
Don't feel too guilty about your sweet tooth. It turns out that your personality may influence what treats you gravitate towards. According to a new study, nearly two in five (37%) people say they have a bigger sweet tooth now than when they were a kid. It turns out personality and marital status may even play a role in how you feel about dessert. The survey of 2,000 U.S. adults reveals that there could be more than just taste buds that influence how we feel about sugary foods. When comparing respondents who are introverts to those who are extroverts, researchers report that nearly half (49%) of extroverts claim their sweet tooth has grown since childhood. More self-reported introverts than extroverts preferred chocolate desserts (46% vs. 31%) and were also more likely to eat sweets in the morning (33% vs. 15%). So next time you reach for that extra cookie, you'll have an idea as to why.
Homemade desserts are undeniably delicious. From using hand-picked fruits to artisanal chocolates, homemade desserts allow for a level of customization and personalization that simply cannot be replicated in store-bought options. The sheer joy of witnessing the transformation of simple ingredients into mouthwatering confections through one's own efforts adds an extra layer of satisfaction and love to the final product. Moreover, homemade desserts offer a unique opportunity for experimentation and creativity, enabling individuals to infuse their creations with innovative flavors, textures, and presentations. The aroma that fills the kitchen as the dessert bakes in the oven is tantalizing, building anticipation and heightening the overall enjoyment. Whether it's a warm, gooey chocolate chip cookie or a beautifully layered cake, the love, care, and personal touch invested in homemade desserts truly make them irresistibly delicious.
So, about that sweet tooth. You only want to provide it with the most indulgent recipes, don't you? Good thing your friends at StudyFinds visited ten expert websites and collected the five best dessert cookbooks so you can impress both your sweet tooth and your friends. If there is one you love that isn't on the list, please leave it in the comments below.
The List: Best Dessert Cookbooks, According
to

Culinary Pros

"The Baking Bible" is a classic dessert cookbook. Who better to turn to than a classic herself, Rose Levy Beranbaum? "Rose Levy Beranbaum's Baking Bible is the one-stop shop for popular bakes, from classic Victoria sponge and fudgy chocolate cake right through to muffins, scones, and bread and butter pudding," says The Happy Foodie.
Again, said to be a must-have in any baker's library. Chefs refer to it as reliable and a great go-to book for a base recipe. "The book brings together all new recipes, organized into four sections: cakes; Pies, Tarts, and Other Pastries; Cookies and Candy; Breads, and Yeast Pastries. Each—from classics like honey cake and chocolate chip cookies to more creative concoctions like ElderBlueberry Pie—is meticulously broken down to ensure your baked goods come out perfectly every time," shares Food and Wine.
Author Rose Levy Beranbaum is not only considered the "diva of desserts," but she is also the winner of the 2015 IACP Cookbook Award for Baking. "With all-new recipes for the best cakes, pies, tarts, cookies, candies, pastries, breads, and more, this magnum opus draws from Rose's passion and expertise in every category of baking. As is to be expected from the woman who's been called 'the most meticulous cook who ever lived,' each sumptuous recipe is truly foolproof—with detail-oriented instructions that eliminate guesswork, 'plan-ahead,' ingenious tips, and highlights for success. From simple everyday crowd-pleasers (Coffee Crumb Cake Muffins, Gingersnaps, Gooseberry Crisp) to show-stopping stunners (Chocolate Hazelnut Mousse Tart, Mango Bango Cheesecake, White Christmas Peppermint Cake) to bakery-style pastries developed for the home kitchen (the famous French Kouign Amann), every recipe proves that delicious perfection is within reach for any baker," boasts Book Authority.
Another cookbook to swear by, "The Cake Bible" is said to be for those who desire to be master cake makers.  New York Magazine elaborates, "The Cake Bible is an encyclopedia for all types of cakes, but Beranbaum provides techniques and recipes that will turn any novice into a cake artist. For those on a quest to find the perfect vanilla cake, I have three words for you: white velvet cake."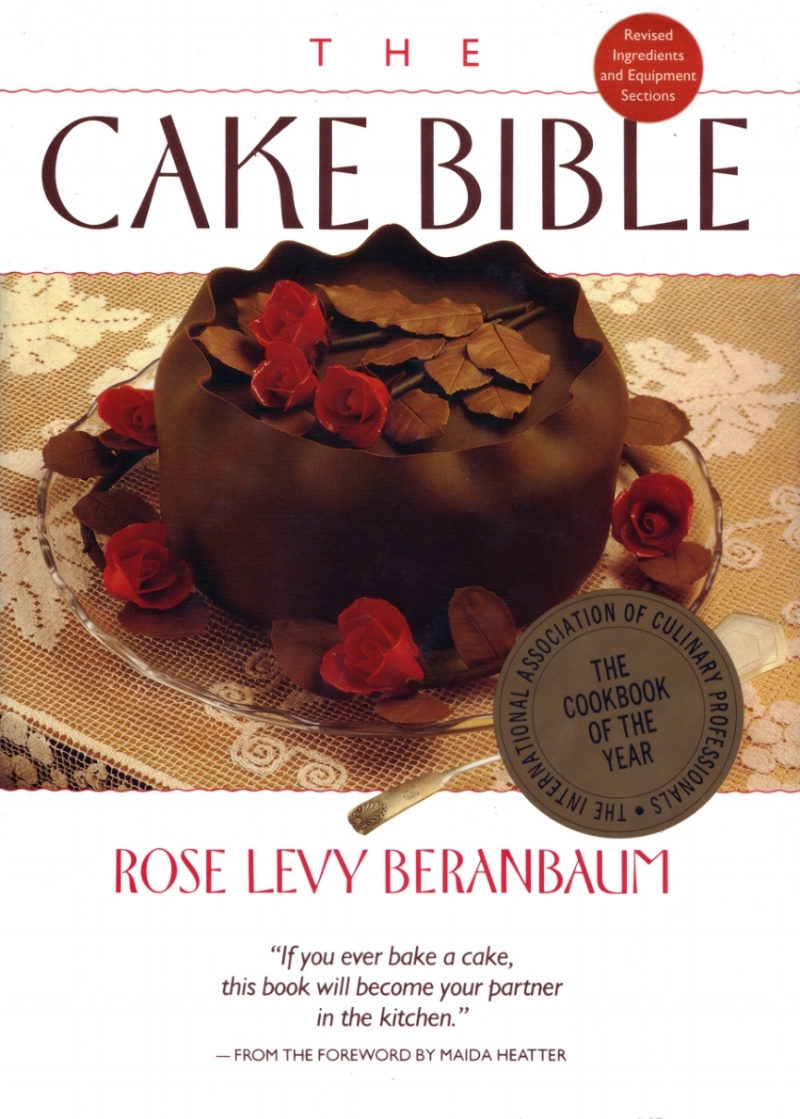 From one of the top bakers in the U.S., award-winning author Rose Levy Beranbaum's "The Cake Bible" is the definitive tome for any baker who's serious about creating exquisite cakes — no experience required. Even professionals are a fan. Forbes shares from professional chef Erin Jeanne McDowell, "When I first fell in love with baking as a young teenager, I coveted some of the beautiful large baking books my local bookstore stocked. For years, I couldn't afford it, so I would read it in snippets on the store floor whenever I could. I was finally given my own copy as a graduation gift, and I've treasured it ever since. The recipes are plentiful, insanely reliable, and incredibly detailed. I learned so much from its pages and it was a huge part of my own baking journey." 
There's great comfort in knowing that each review emphasizes that this book is easy to follow. The instructions are unintimidating and allow anyone to master the recipes. "In addition to recipes, Levy Beranbaum—also the author of The Bread Bible and The Baking Bible—includes sections to help the reader understand the results, plus helpful guides on substitutions and 'complementary adornments,' i.e. buttercream frosting or fondant," shares Food and Wine.
This is a great dessert cookbook that incorporates a lot of bread science. It is also a beautiful book in general. "For a more general baking cookbook, Margarita Manzke of République recommends their first title Tartine, which includes their now-classic recipes for banana-cream pie, brioche bread pudding, and any number of cakes — along with more complicated recipes like croissants, which is why it's better suited for those who already have a basic understanding of baking," says New York Magazine.
"Tartine" has over 60 recipes, including matcha-glazed croissants and fruit galettes. The recipes are easy to follow and have stunning photography. "Tartine ($27, originally $40) is a dessert and baking book for those who are ready to step up their game and have at least some experience in the kitchen., so you'll know exactly what your end product should look like," explains PopSugar.
The recipes are an exquisite mix of classic techniques with more modern flavors and approaches. Forbes shares Kristina Cho's thoughts: "Right when I first started working on my cookbook, I went to an event where Liz Pruitt was speaking and got my copy of Tartine signed by her. The discussion during the event and speaking one on one with her afterward gave me a lot of courage to put my whole heart into writing my book. I still reach for Tartine when I have a practical baking question, need to make a cheesecake (the recipe in there is incredible), or simply need a moment to look at gorgeous baked goods."
"Pastry Love" is hailed as chef, restaurateur, and cookbook author Joanne Chang's most personal and comprehensive book yet. Its collection of 125 recipes demonstrates Chang's inspiring passion for baking and sharing with others. "Among the book's eight chapters is an entire section on gifting with sweets, aptly titled 'I Made This for You.' The recipes themselves, many of them gluten-free and made with moderate amounts of sugar, are as appealing and unique as you'd expect: Tahini Black Sesame Spiral Shortbreads, Garlicky Cheesy Monkey Bread, Vietnamese Espresso Profiteroles, and many more," boasts Food 52.
For finalist of "The Great British Bakeoff", Crystelle Pereira, this book was the start of a new career in food. She said it brought her a lot of joy. "The baking book is a journal of Joanne's favorite recipes—some are more classic, others are more unique creations. I love the book because Chang describes it as 'not just a cookbook but a baking journal' and it's all about sharing the warmth and comfort from baking, and caring for others by sharing something special, which is a mantra I strongly live by. Each recipe is carefully written, with tips and tricks to help you along the way," states Forbes.
Who doesn't love a good pastry anyway? "Pastry Love" is a collection of 125 dessert recipes from the James Beard award-winning baker and Flour bakery owner, Joanne Chang. "Pastry Love is a must-have for baking enthusiasts and beginners alike, featuring easy-to-follow recipes for Lemon Sugar Cookies to showstoppers like Passion Fruit Crepe Cake. The book also includes master lessons and essential techniques for making pastry cream, lemon curd, puff pastry, and more. Discover the joy of baking with Pastry Love," shares Read This Twice.
Martha Stewart needs no introduction. All of her dessert cookbooks are proof of her staying power and knack to deliver recipes that combine the simple with the stunning. "With over 100 tried-and-true recipes, Martha's Fruit Desserts will teach you how to make peak-season fruit the star of your baking creations, from cozy autumn apple fritters to a summer-ready juicy peach slab pie. You can also use the book to bake by mood or occasion, whipping up, say, a caramel-apple bread pudding that makes for a comforting weekday treat but is impressive enough to serve guests or a stone fruit galette that begs to be toted to an alfresco get-together," says Food Network.
This domestic goddess and self-made mogul knows a thing or two about baking. She proves it in "Martha Stewart's Baking Handbook". It holds more than 200 well-organized recipes for cookies, cakes, pastries, breads, and more. "There are great classic recipes in this book that have clearly been very well written, tested, and beautifully presented. Sweet and savory treats include Cherry Frangipane Galette, Sausage and Feta Hand Pies, and a classic apple pie. Another bonus of the book is the cache of photo-illustrated techniques and equipment, making it a winner for all skill levels," informs Food and Wine.
Even if you want straight-up cookies only, Martha has you covered. The cookie recipes are all familiar favorites but upgraded in flavor and creativity. "Martha Stewart's Cookie Perfection ($14, originally $26) is chock-full of over 100 cookie recipes to please anyone who may be visiting your house. The recipes include decadent brown-butter crinkly cookies and carrot-cake thumbprint cookies," shares PopSugar.
You might also be interested in the following:
Sources:
Note: This article was not paid for nor sponsored. StudyFinds is not connected to nor partnered with any of the brands mentioned and receives no compensation for its recommendations.