If you are planning on going camping, to the beach, or tailgating, something to keep your drinks icy cold must tag along. The best drink coolers are a convenient, portable way to keep your beverages chilly while on the go. Simply fill it with some ice, your favorite thirst quenchers and head to your destination.
Step right up, my parched pals and chilling enthusiasts, for a gateway to refreshment and a fountain of frolic—the humble yet ingenious drink cooler! Picture this: you're basking under the scorching sun, your thirst intensifying with each passing moment, when suddenly, like a portable oasis, your trusty cooler appears before you, brimming with ice-cold elixirs of your choice. Oh, the convenience!
But that's not all; as you delve deeper into the world of this cool companion, you uncover a delightful secret—it's not just a mere vessel for beverages; it's a catalyst for merriment, a centerpiece for social gatherings, and a versatile tool for spontaneous celebrations. So, dear revelers, let us embark on a journey to uncover the myriad reasons why this marvelous invention is the epitome of convenience and the embodiment of pure fun!
So, if you're planning to pack a cooler for your next vacation, StudyFinds is here to help. We've compiled a list of the top five best drink coolers for your beverages based on reviews from ten expert websites. As always, we'd like to see your own recommendations in the comments below!
The List: Best Drink Coolers, According to Reviews
YETI is already known for making quality beverage coolers and tumblers. The brand's Tundra Haul is no different. The Food Network notes, "this cooler functions well in hot conditions at different capacities. The product has a solid drainage system and a handle which makes wheeling this heavier model a breeze."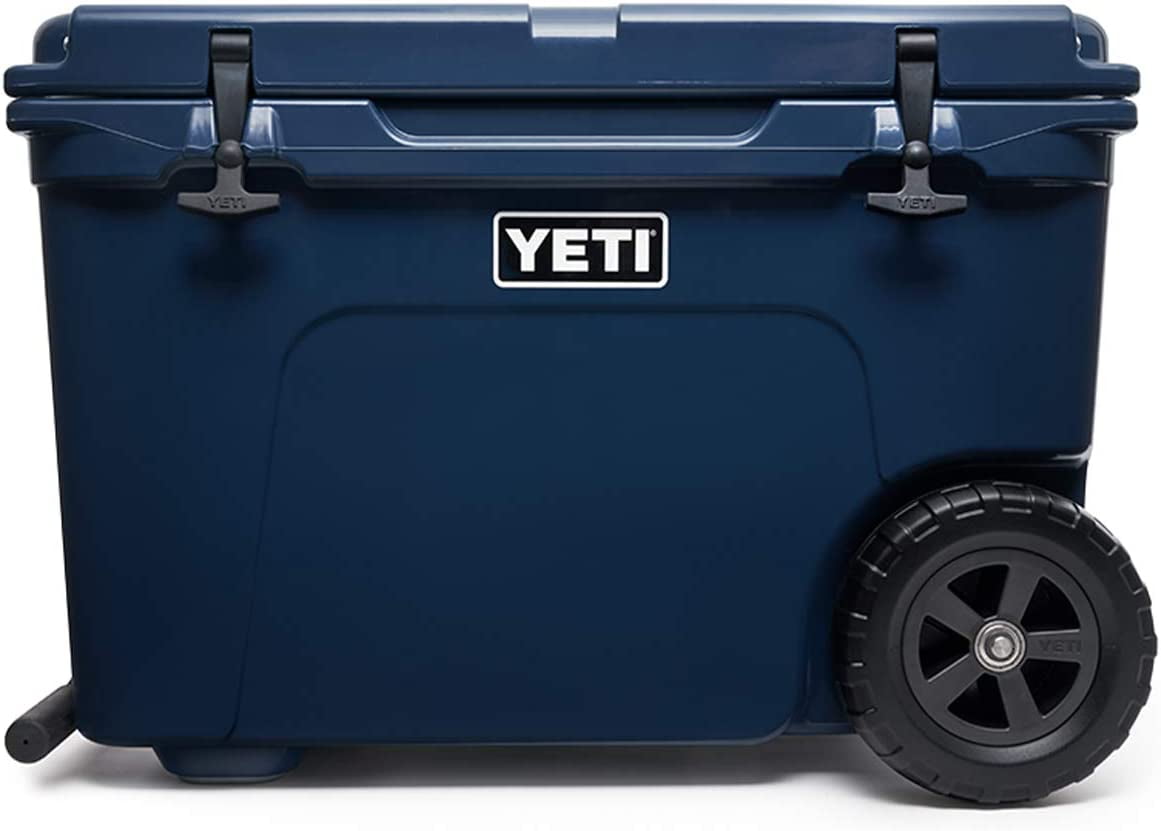 CNET points out, "you could trek out further or into more rugged terrain than you might venture with a lesser cooler. It will transport more easily than most, and you can be sure you'll be getting maximum cool duration for your time about." 
"The Tundra Haul is rotomolded, which means it's made from one piece of material, a design that contributes to high quality and durability. It's easy to open, thanks to its rubber latches, versus traditional plastic ones or buckles," adds Good Housekeeping. If you are a regular camper or tailgater, this durable cooler's higher price tag may be worth the investment.
Reviewers praise this cooler for being both lightweight and adaptable. "Starting with capacity, you get a versatile 52 quarts of storage, which easily squeezes into a trunk but still offers sufficient space for two campers headed out on a long weekend (for reference, most alternatives are either 45 or 65 qts.). As the name suggests, the 21-pound RTIC is well made yet notably lightweight, making it easier to carry than most similarly sized options," according to Switchback Travel.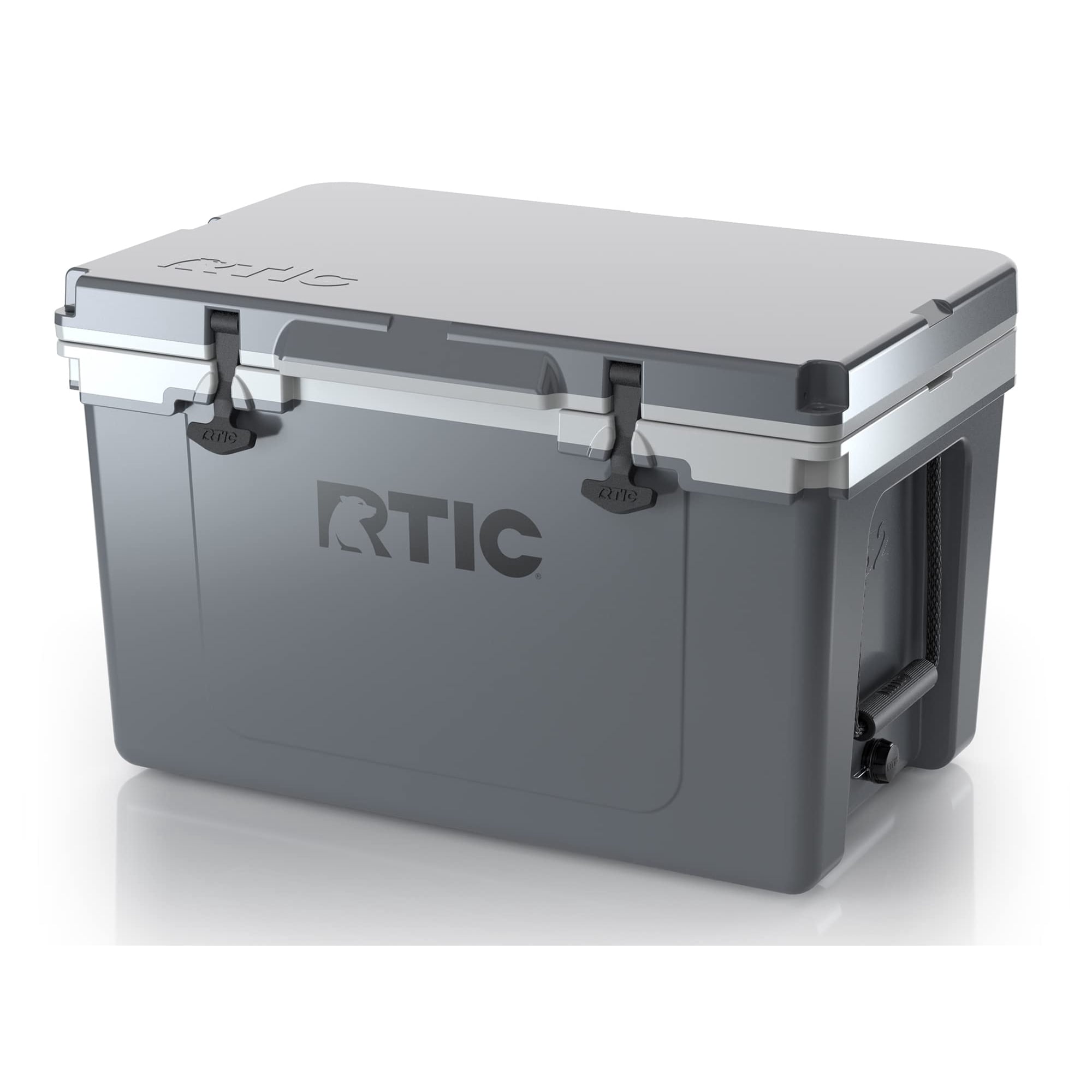 GearLab points out, "draining was no trouble at all, thanks to this double-drain system. We love that the design includes freezable dividers. Thanks to these, you can separate your cooler into compartments and keep it cool. The cooler lid doubles as a tabletop, cutting board, or bench."
The Spruce suggests, its "incredible temperature performance can be attributed to its 3 inches of closed-cell insulation and its heavy-duty rubber T-latches, which hold the top firmly in place even when pushed off a table. The marine-grade rope handles are a great feature if you're carrying this cooler with someone else, but they make maneuvering this cooler solo a bit tricky." 
Treeline Review calls RovR RollR the 'Best Wheeled Camping Cooler', adding it features "unmatched heavy-duty rubber tires, stainless steel axles, adjustable-height aluminum pull handle, durable dual rubber latches, double compartmented dry bin, and wagon bins for extra storage on top of the cooler."
GearLab notes, "the RovR is what a wheeled chest should be. Its broad handle has functional rubber grips on either end, so it's comfortable to stroll down the sidewalk, through the grass, and across the beach with this box in tow."
Switchback Travel suggests it's "a premium rotomolded build with excellent ice retention and a variety of fun features like optional cup holders and a side prepping board, and this cooler is as fun and functional as anything on the market." However, it is pricier and heavier than some of its competitors.
Not sure what type of terrain you'll be navigating when rolling your cooler? Well the Igloo Trailmate features 10-inch all-terrain wheels to handle both sand and bumps with ease. "The wheels have a strong plastic frame and rubber treads that make it easy to pull the cooler on the road/footpath as well as grass, dirt and even across soft sand. Most of the best beach coolers with wheels still struggle on really soft sand, but the Igloo Trailmate is the exception to the rule and still moves easily over soft sand," according to Hunting Waterfalls.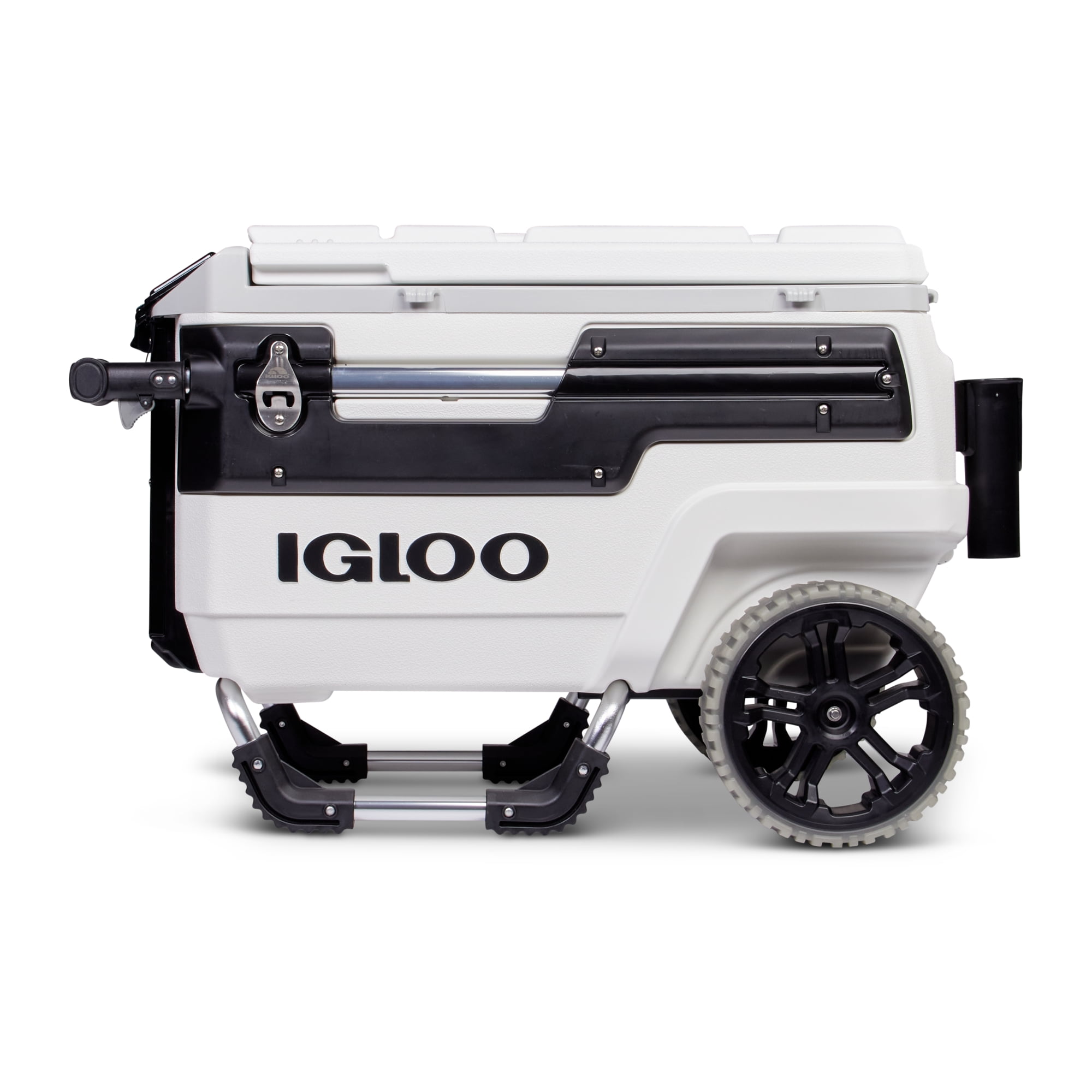 Tailgating Challenge points out features like, "the butler tray that is built into the inside of the lid. This can be removed to make a table on the handle." The cooler also has dual bottle openers and a removable storage box to keep personal items dry. Another added bonus? Attachments for umbrella holders or fishing rods.
"It steadily maintained the temperature of soda cans for 36 hours — and even kept most of the ice intact," notes Good Housekeeping. Although some reviewers mention the placement of the cooler's drain plug makes it challenging to empty.
Rounding out our top five is this budget-friendly pick from Coleman. "This classic cooler is a perfect mid-size option for tailgate parties and family get-togethers. While it doesn't have many bells and whistles, it certainly gets the job done," according to People.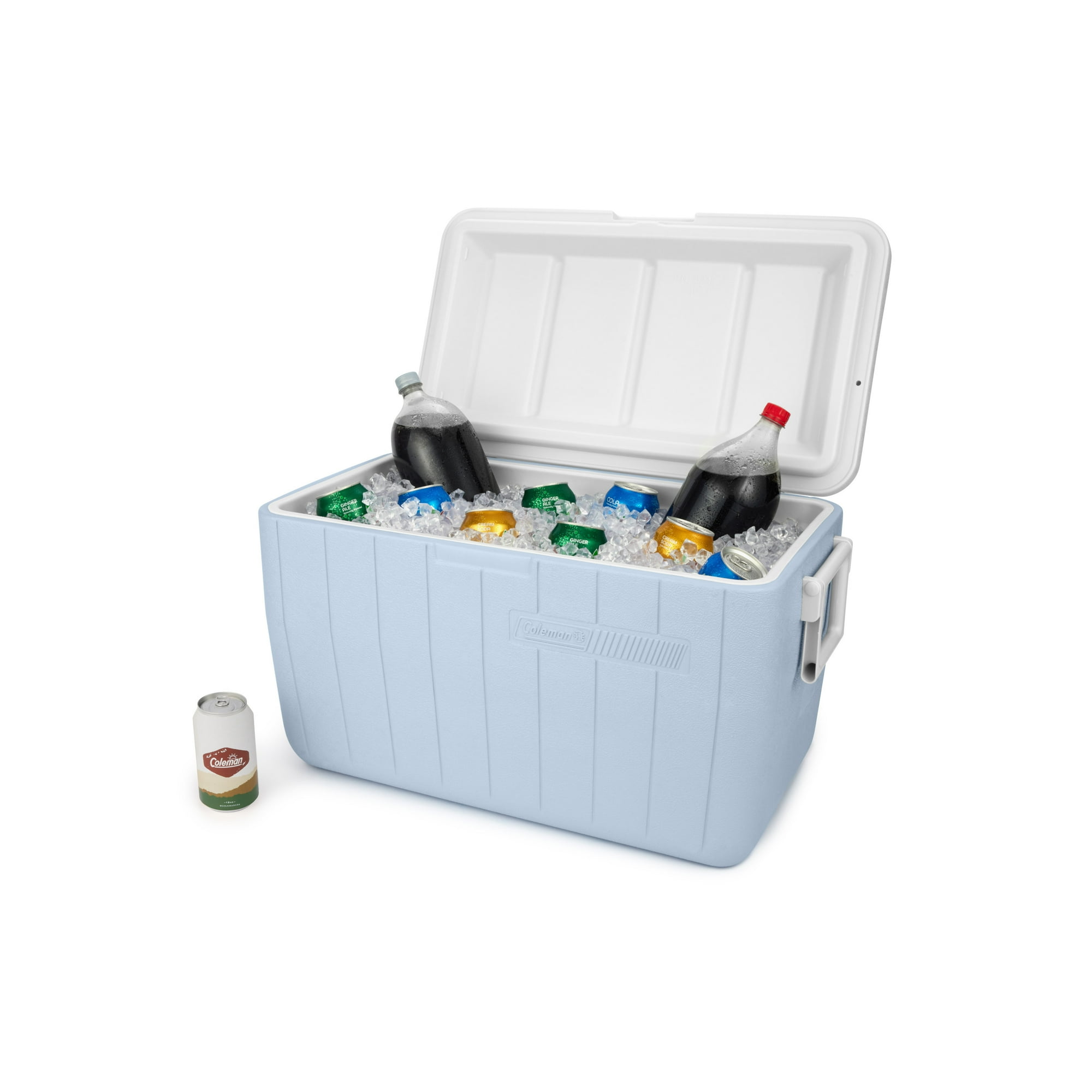 The Spruce appreciates "its cooling ability and hard plastic shell, which is lighter than other coolers on the market. This cooler can also double as a bench if you're pinched for seating at a tailgate or outdoor function." 
But as Food Network points out, during testing "a few frozen popsicles melted within four hours of sitting in the sun in this cooler. That being said, stocking the cooler with plenty of ice for a backyard barbecue will yield better results." Also keep in mind this doesn't have wheels or a latch. However, two people can carry it by the handles on each side fairly easily.
You might also be interested in:
Sources:
Note: This article was not paid for nor sponsored. StudyFinds is not connected to nor partnered with any of the brands mentioned and receives no compensation for its recommendations. This post may contain affiliate links.