Do you want to take your eye makeup to the next level, but have lackluster lashes? Then it might be time to try something new. The best false eyelashes can create the illusion of a longer, thicker lash line. Simply attach them to your natural lashes for anything from natural to a more dramatic look, adding definition to your eyes. 
Taking your makeup routine to the next level could give you a boost in more ways than one. Beauty products may help some women feel more secure about their appearance, although confidence can build in other ways. A new poll of 2,000 women ages 25 to 40 and 55 to 80 looked at how they view themselves in society. Four in five respondents agree society puts a lot of pressure on women to look or act a certain way. Seven in 10 women admit they care what others think or say about them (71%), feeling more judged than empowered about their body shape/size (38%), appearance (35%) and physical health (31%).
Despite those challenges, a majority of women are feeling more confident today than they were 10 years ago (77%), while 63 percent feel more empowered today than prior to the pandemic— including overcoming the need for perfection in everything they do (32%) and being more patient with themselves and everyone else (31%). Some advice they'd give other women to help them feel empowered is to be comfortable in their own skin (16%), trust their instincts (15%) and knowledge is power (13%). Respondents also say it's important for successful women to stay positive (30%) and surround themselves with positive people (29%).
That being said, is it time to boost your lashes and your self-esteem? If you're ready for luxurious lashes but aren't sure which ones to try, StudyFinds can help. We've compiled a list of the top five brands from ten expert websites to find the best false eyelashes to enhance your look. As always, we'd like to see your own recommendations in the comments below!
The List: Best False Eyelashes, According to Makeup Experts
These eye-catching, affordable lightweight lashes from ColourPop are a reviewer favorite. InStyle calls them 'Best Overall', noting "they're made with soft, 100 percent synthetic fibers that look just like real lashes. On top of that, they add gorgeous wispy length and definition without being too dramatic."
They're also easy to apply. Byrdie adds, "the lash band kept all of the fibers intact with little to no shedding." 
"These synthetic fibers are meant to recreate the look and feel of mink lashes, just without the harmful components that go into the production of them," points out People. One notable drawback? These lashes are only available in single pair packages. 
If you prefer a lash multipack, these false eyelashes from Ardell are a solid choice. "Made from 100% natural human hair, the lashes are knotted and feathered by hand for a pretty, fluttery finish. The mixed length lashes have flared outer corners that instantly boost volume, define and lift. Ideal for all eye shapes", according to Expert Reviews.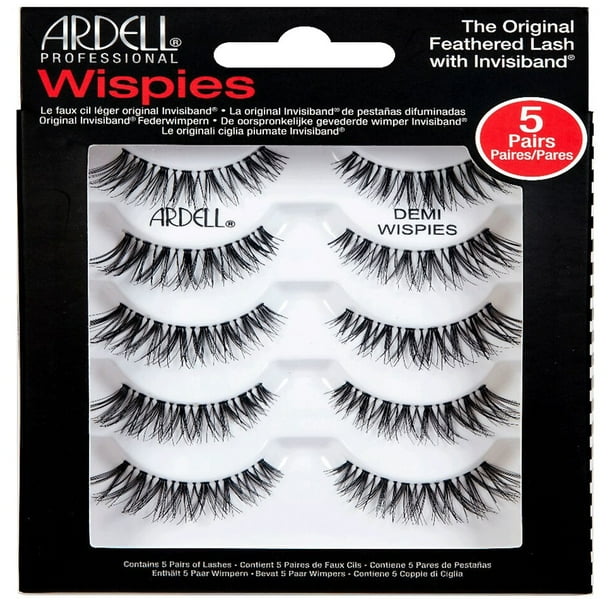 Vogue crowns them 'The Drugstore Hero', adding "celebs like Cara Delevingne and Lady Gaga wear the brand, and their bestselling Demi Wispies (and new Naked Lash and Eco Lash lines) make it hard to tell where yours end and these begin—the true testament to a good pair of fakes."
Allure suggests, "you arguably get the most bang for your buck when you grab the Demi Wispies Multipack. It's a five-pair set of ultra-wispy lash strips that boost drama while still having a natural look." 
Pro tip: Keep your eyes peeled for the bonus 6th pair multipacks.
Oprah Daily gives these vegan false lashes from Sephora 'Best Overall' accolades, noting "if you're new to false lashes, these are perfect for you because the band is thin, making it easy to handle and apply."
You can find Sephora's false eyelashes in several different styles— including wispy, curled, full-volume and layered. Allure spotlights 'Fringe', calling it "a full lash that features wispy hairs that add overall thickness and volume to your lashes." 
"They're versatile, pliable, and can be adjusted to fit any lash line," adds InStyle. Although some reviewers did mention you may need to trim them to fit your eye shape.
A good pair of everyday lashes can be tough to come by. However, Huda Beauty's false eyelashes give you a classic lash look. Byrdie notes, the brand's 'Giselle #1' lashes "offer super-light volume, yet also create the appearance of more thickness along the lash line. Plus, while the price is mid-tier, the fact that they can be reused up to 15 times ups the value." 
However, Woman & Home points out, "not all of the lashes point outwards, and the longest ones cross over at the top, so we wouldn't recommend wearing these false eyelashes with mascara as this would accentuate that crossover."
Another favorite? People highlights Huda's 'Samantha #7' lashes, adding "it's a dramatic lash, no doubt (with double-layered lashes of different lengths to show for it), but it's among the brand's most natural styles that flatters all eye shapes." Just keep in mind the lash glue is sold separately.
Last but not least, is this splurge-worthy DIY eyelash kit from Lashify. Consider them a close cousin of lash extensions. "Rather than applying these on top of the lashline, short clusters of 'gossamers' are applied to the underside of lashes (for invisibility) and crimped into place with its ergonomic tool," according to Vogue.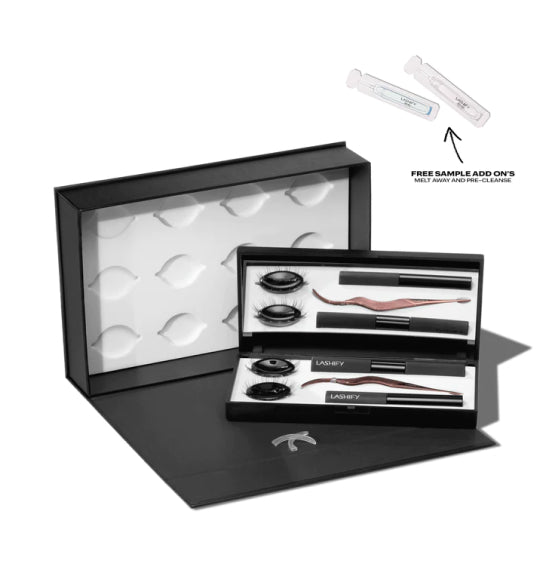 You'll get some wear out of these lashes too. "After applying them to your natural lashes, you may be able to keep them on for up to a week before you need to reapply," notes Glam.
"If you choose to wear them that long, you'll have to be careful cleaning around your lashes — but if you're an extension devotee, you're already used to that," suggests The Cut.
You might also be interested in:
Sources:
Note: This article was not paid for nor sponsored. StudyFinds is not connected to nor partnered with any of the brands mentioned and receives no compensation for its recommendations. This post may contain affiliate links.