We've all been there, busy weeknights, strapped for time, and a house full of hungry kids. It's times like these that it pays to know what your options are for the best frozen family dinners. And according to some recent studies, the need for quality, fast, somewhat home-cooked dinners is rising across our great country. 
A recent survey of 2,000 parents with school-aged children essentially found that parents are spread far too thin. The result is a general decline in parents' desire to cook dinners as well as the quality of those dinners. Over 50 percent of respondents report not having enough time to cook dinner as their days and nights are filled with too many other responsibilities related to raising kids. Additionally, more than 60 percent of respondents say the responsibility of cooking dinner typically falls on one parent while another 63 percent say it's a challenge to find 'easy' nutritionally balanced meals to prepare.
With all of the daily stress and time constraints facing most parents, how could any family find the time to eat a family meal? Although it might be difficult to get everyone together at the table for dinner time, a study finds that family dinners might be one of the best ways to reduce stress. The American Heart Association found that 91 percent of parents notice that their family is stressed at mealtime. The same survey found that 84 percent of parents wish they could regularly share a meal with loved ones while 66 percent say that sharing a meal with family and friends reminds them of the importance of connecting with others. 
In need of a quick dinner fix? StudyFinds consulted 10 homemaking and food review websites in an effort to find the best frozen family dinners. Our list is comprised of the top five recommendations across these sites. As always, feel free to share your picks with us in the comments section below!
The List: Best Frozen Family Dinners, According to Foodies
Narrowing down the list of the best frozen family dinners is a bit tougher than imagined, but coming in at the top spot is a classic favorite – Stouffer's Classic Lasagna. This scrumptious dish appeared on several of the lists we consulted and took the top spot a couple of times, making it the top choice for the best frozen family dinners. 
"It's made with real cheese and premium meats, so you can feel confident that your family is getting a high-quality meal. Plus, it's really easy to prepare – just pop it in the oven and let it cook for about an hour. You'll have a delicious lasagna dinner ready in no time," writes My Frozen Picks. 
"Stouffer's lasagna is a classic frozen dinner that has been around for decades. The dish is made with ground beef, ricotta cheese, and mozzarella cheese and is covered in tomato sauce," adds Pick Frozen Food. 
One of the best things about Stouffer's Classic Lasagna is it is consistently good. The Stouffer's taste you loved years ago as a kid is the same taste you're getting today. "Although there's nothing fancy about this classic frozen lasagna, there's a reason it's been popular for decades. You'll find it has the same delicious and comforting taste it did when you were a child, and everyone at the table will love it," explains Love to Know. 
This beef stew is designed for the crockpot, not your oven or microwave, so you'll want to keep that in mind when placing an order for Omaha Steaks Beef Stew. Still, this beef stew appeared on several different sites and it even challenged for the top spot on our list.
"If you enjoy cooking in your slow cooker, Omaha Steaks Italian Red Wine Beef Stew is a perfect option among the best frozen family dinners. It serves four people and costs around $30," explains Nancyloo. 
"Dinner can be as simple as tossing a frozen slow cooker meal into your Crock Pot and letting it cook while you go about your day. If you love using your slow cooker but don't have time to prep the ingredients, Omaha Steaks Italian Red Wine Beef Stew is a great alternative," adds Love to Know. 
Although it's designed for a slow cooker, you'll be glad you chose this frozen dinner. Omaha Steaks Beef Stew is also a fairly healthy choice that is sure to feed your hungry crew. "It has a delectable flavor and generous serving sizes. This meal also happens to be gluten-free," adds Pick Frozen Food. 
The next item on the list is Amy's Cheese Enchiladas. Amy's offers a wide variety of amazing frozen dinners, so even if you're not particularly fond of enchiladas, chances are you can find something delicious from Amy's. Still, Amy's Cheese Enchiladas are a perfect frozen dinner for hungry kids. 
"This was so yummy. The beans and corn were perfectly seasoned, and the enchilada was cheesy deliciousness. The tortilla was a bit soggy, but what enchilada isn't?" raves BuzzFeed. 
According to critics, these cheese enchiladas are all about the delicious cheese Amy's packs into their products. "[T]he simple cheese filling is a great crowd-pleaser when you need to feed the whole family. Amy's Cheese Enchiladas are made of corn, rice, olives, peppers, and other wholesome ingredients," explains Love to Know. 
And if you want a little extra nourishment from your frozen dinner, you can always opt for the black bean and vegetable enchiladas, which were also highly touted by several of the sites we referenced. "Again, it's hard to go wrong with Amy's entrées: whole foods, organic ingredients and tons of flavor. These vegetarian enchiladas are packed with protein from black beans, a little lower in sodium than comparable dishes and the kids won't notice all of the veggies hidden in the cheesy and saucy goodness. If you're feeling extra indulgent, top each enchilada with a dollop of sour cream," adds Parent Map. 
Trader Joe's is well-known for its diverse frozen food selection, and the orange chicken is an example of why people flock to this store's chilly aisles to grab their delicious freezer necessities. Dubbed as Trader Ming's, "this is one of Trader Joe's best-selling items (and that's saying a lot). Though you have to do a little extra work for this dish — heating the chicken and sauce separately — it's absolutely worth it. Served with ready-made brown rice and some frozen Trader Joe's stir-fry vegetables, this is faster, cheaper and (a bit) healthier than takeout," explains Parent Map. 
Experts agree that Trader Joe's Mandarin Orange Chicken is about as close to Chinese takeout as you can get from a grocery store's freezer section. "This delicious family meal tastes just like the chicken you get from your favorite Chinese restaurants, but you can pull it out of your freezer and have it ready to eat within minutes. Although you have to separately heat the chicken and sauce, the extra effort is worth it," writes Love to Know. 
Putting it simply: "One of the best frozen dinners for [the] family at Trader Joe's," adds Nancyloo.
Harry & David Chicken Pot Pie appeared on 30 percent of the lists we referenced and comes highly recommended for anyone looking for a high-quality frozen dinner option for the entire family.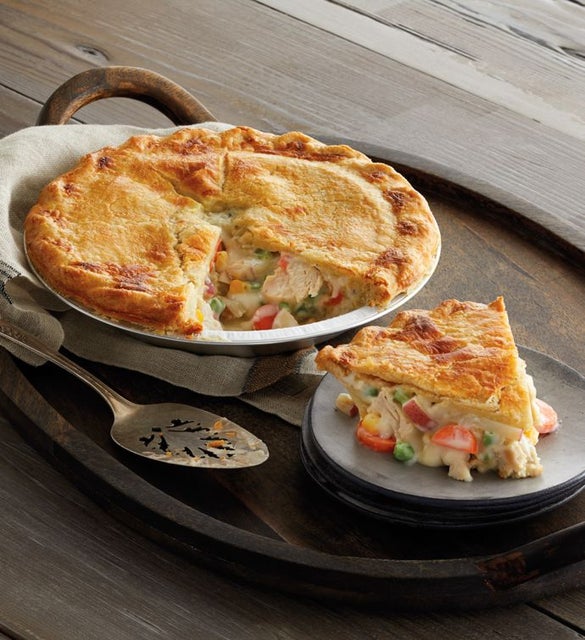 "When you want comfort food but don't have time to prepare it, make this pot pie that tastes like your grandma made it. The Harry & David Chicken Pot Pie, which feeds six and costs around $40, is more costly than typically frozen pot pies," explains Nancyloo. 
Although that's a little pricey, it's not too bad when you divide it among six people. That comes out to only six or seven dollars per person for what the critics agree is an amazing chicken pot pie. "[Harry & David Chicken Pot Pie] is more expensive than the standard frozen pot pies in your supermarket, but the flaky crust, white meat chicken, tender veggies, and delicate gravy take it to a whole new level," raves Love to Know. 
"The crispy crust, white meat chicken, delicate vegetables, and subtle gravy elevate it to new heights. It's the best-frozen family dinner I've ever had, and outperforms homemade alternatives," adds Pick Frozen Food. 
You might also be interested in:
Sources:
Note: This article was not paid for nor sponsored. StudyFinds is not connected to nor partnered with any of the brands mentioned and receives no compensation for its recommendations. This post may contain affiliate links. As an Amazon Associate we earn from qualifying purchases.