Are you in the mood for a pepperoni pizza but don't feel like ordering takeout? That's where frozen pizza can do the trick. Let's face it, though, it can be hard to find a tasty — and, quite frankly, edible — frozen pepperoni pizza. That's where StudyFinds comes in. We scoured through a trove of online experts and were able to compile a list of the top five best frozen pepperoni pizza brands.
It's best to eat pizza in moderation, but a personal trainer from Northern Ireland claims he got into better shape eating ten slices of pizza a day. Ryan Mercer, 34, says he ate pizza for breakfast, lunch, and dinner and managed to lose roughly 7.7 pounds during the 30-day challenge. He took on the challenge to show how calorie-deficit diets allow people to lose weight without restricting their favorite foods. So, if you are determined to keep your calories in check, you may not have to give up pizza if you are trying to lose weight.
A separate study reveals that people can occasionally eat all the pizza they want without damaging their health. Researchers from the University of Bath finds people can eat much more than what normally makes them feel "full" without causing health problems. Scientists say young men are able to devour twice as much pizza when they push themselves. All you can eat pizza? Sign me up.
Are you in the mood for your favorite pie made right at home? StudyFinds has put together the top five best frozen pepperoni pizza consumers should opt for. Did we miss one of your favorites? Let us know in the comments below!
The List: Best Frozen Pepperoni Pizza, According to Experts
DiGiorno's frozen pepperoni pizza tops the list, thanks to its variety. The New York Times called DiGiorno's Rising Crust Pepperoni Pizza the best thick-crust pizza. "This pizza was one of the overall favorites in our taste test. Among the only rising-crust pizzas we tested that actually rose, the DiGiorno pizza came out well browned, with a voluminous, puffy crust that was crispy on the bottom and bready but fully cooked throughout. Whereas other crusts were overly salty or sickeningly sweet, completely flavorless, or strangely spiced, this crust was well seasoned with a nice balance of salt and sweetness. Even tasters who don't favor thick crusts noted that the crust tasted pretty good and supported a solid, pleasant slice. The pepperoni slices were thin and plentiful, and they crisped up nicely."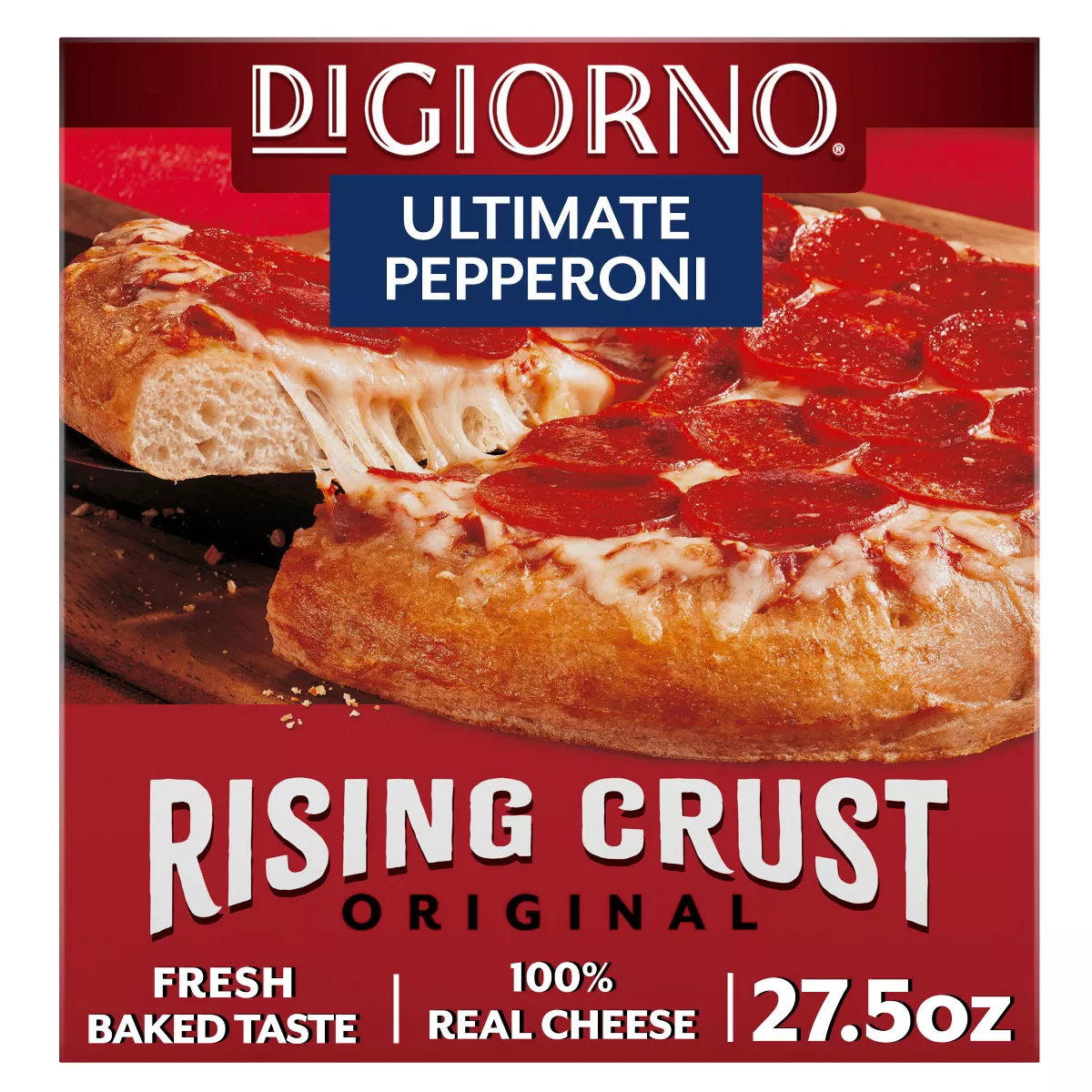 Tasting Table is a fan of the DiGiorno Crispy Pan Pepperoni Frozen Pizza. "There's nothing better than extra crispy pizza crust. DiGiorno perfected the frozen pizza and is serving up deliciousness with its Crispy Pan Pepperoni frozen pizza. This caramelized crust is topped with real mozzarella and savory pepperoni, so it feels simple but packs a powerful flavor punch at the same time. It's pizza perfection right at home. As the famous tagline goes, 'It's not delivery. It's DiGiorno' — and we might be forgoing delivery for this pie."
Delish recommends the DiGiorno Pepperoni Frozen Pizza with Croissant Crust. "When you combine two of the best foods ever, you can't go wrong. DiGiorno borrows the signature layering technique of croissant dough to make a thick, flaky pizza crust. Our tasters agreed that it's a great choice for crust lovers, saying it's 'nice and crispy' and 'extra buttery.'"
Second on the list is Red Baron's frozen pepperoni pizza, which consumers also have several makes to choose from. "Eating a slice of Red Baron Pepperoni pizza reminds me of the greasy, saucy pizzas that I loved as a teenager," says The Takeout. "With 380 calories per serving and four servings per box, the entire pizza is over 1,500 calories, well above some others that we tasted. Regardless, Red Baron wins in our household because of its incredibly fragrant smell. It's the kind of pizza that would be served in a school lunch cafeteria, except better. Another bonus: the sauce did not overpower the cheese, which tends to happen with frozen pizzas. Lastly, you can't beat its price."
Sporked called the Red Baron Thin and Crispy Pepperoni Pizza the best thin crust frozen pizza. "This was my personal favorite, and I really didn't expect that. Red Baron pizza always seemed low-rent to me (sorry!), but I keep loving their pies (and loaves—their supreme French bread pizza was our favorite). If you like Domino's thin crust pizzas, this is the best thin crust pepperoni pizza you can buy. It's practically a dupe. The crust is super crackery, but it's still buttery and indulgent. The sauce is savory and the pie is topped with plenty of pepperoni, which contribute a little bit of spice on the finish. I would buy this again in a heartbeat."
MyRecipes recommends the Red Baron Brick Oven Pepperoni Frozen Pizza. "Earning two crowd favorite nominations, this pizza offers the perfect balance of crust-cheese-sauce our editors were seeking. Some weren't fans of the cheese, but couldn't deny the harmonious distribution of toppings. Thick pepperoni added a nice amount of spice to every slice, and the sauce was 'reasonably' sweet. For the price, we're all about this pizza."
Newman's Own All Natural Thin & Crispy Uncured Pepperoni Pizza is another frozen pepperoni pizza favorite. "Newman's Own is a great pick for when you want a thin and crispy base for your pizza. All of our tasters noted how much they loved the crispiness, and how the pizza still felt substantial," notes Delish. "We also loved the pepperoni in particular—with just one bite, you can tell that this is the real thing."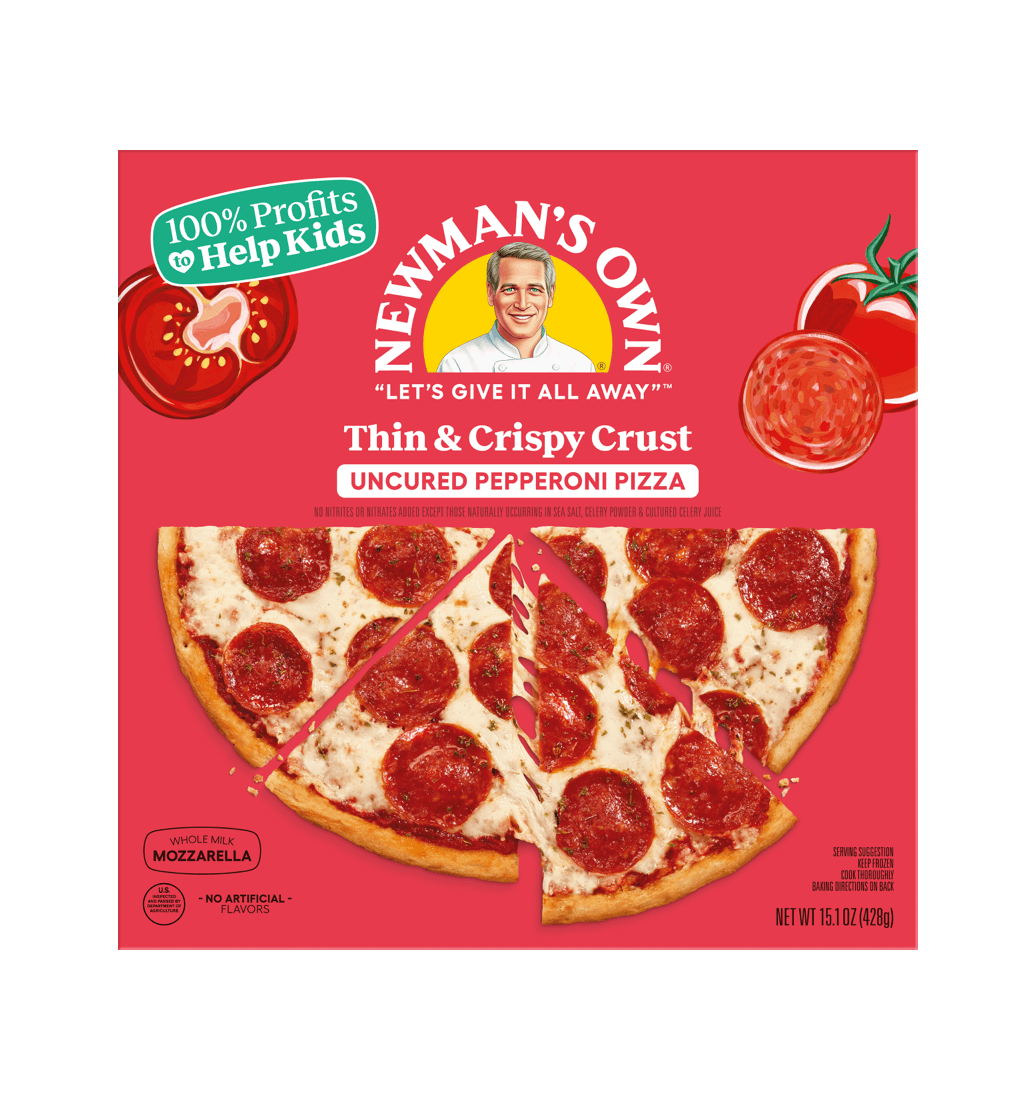 "I can't really believe I'm saying this, but the Newman's Own pepperoni? Exquisite," writes BuzzFeed. "It was perfectly marbled without being too fatty, and much thicker than all the others. Both of these factors contributed to a seriously meaty pizza that wasn't at all oily — which, if you know pepperoni pizzas, is kind of an anomaly."
Uproxx says, "One thing you'll notice about a lot of frozen pepperoni pizzas is that the pepperoni is made with a blend of pork, beef, and chicken. There is nothing wrong with this, but you'll find that the best-tasting pepperoni out there is usually a pork and beef blend, Newman's Own goes this route and their pepperonis are better for it."
Landing fourth on the best frozen pepperoni pizza list is Freschetta. "Freschetta is one of the most popular frozen pizza brands out there for good reason," says Hip2Save. "The sauce is savory, with just a touch of sweetness, there's usually a generous amount of toppings, and the crust has a memorable texture and flavor."
"I've always been a fan of Freschetta's Naturally Rising Crust pizza. But I know I'm not the only one; its popularity was evident at my local grocery store, because there were none left on the shelf," writes The Takeout. "I opted for the brand's Thin Crust version instead; the result was a golden brown, crispy crust, a light and airy bite (just like what the box says), with enough pepperoni to satisfy my kids. There was no gooeyness to this pizza, but there was certainly a lot of flavor for a thin crust pizza."
MyRecipes notes, "Although a fan-favorite, the focaccia-like crust was a divisive factor for this naturally-rising crust pizza. While it definitely had eye-appeal, it wasn't the top choice for those who don't love a bready-base. Fluffy crust aside, tasters loved the generous amounts of mozzarella, Provolone, and preservative-free pepperonis—even if they were a bit greasy."
Rounding out the top five is the Screamin' Sicilian. "This frozen pizza is a pepperoni-loving maximalist's dream, with tons of sauce, cheese, and almost two full layers of pepperoni, making it satisfying—if messy and oily—to eat. (Some tasters thought this pizza had too much sauce, noting that it oozed off the slice and dripped down their hands.)," says The New York Times. "Tasters remarked that the cheese actually tasted like cheese, with satisfying salt and tang levels and a gooey texture that made for great cheese pulls. The crust leaves a bit to be desired—it's a slightly thicker version of the crunchy, crumbly, almost cracker-like thin crust offered by Red Baron and Tombstone—but it's well seasoned, and the extra crunch offers a balance to the oodles of toppings."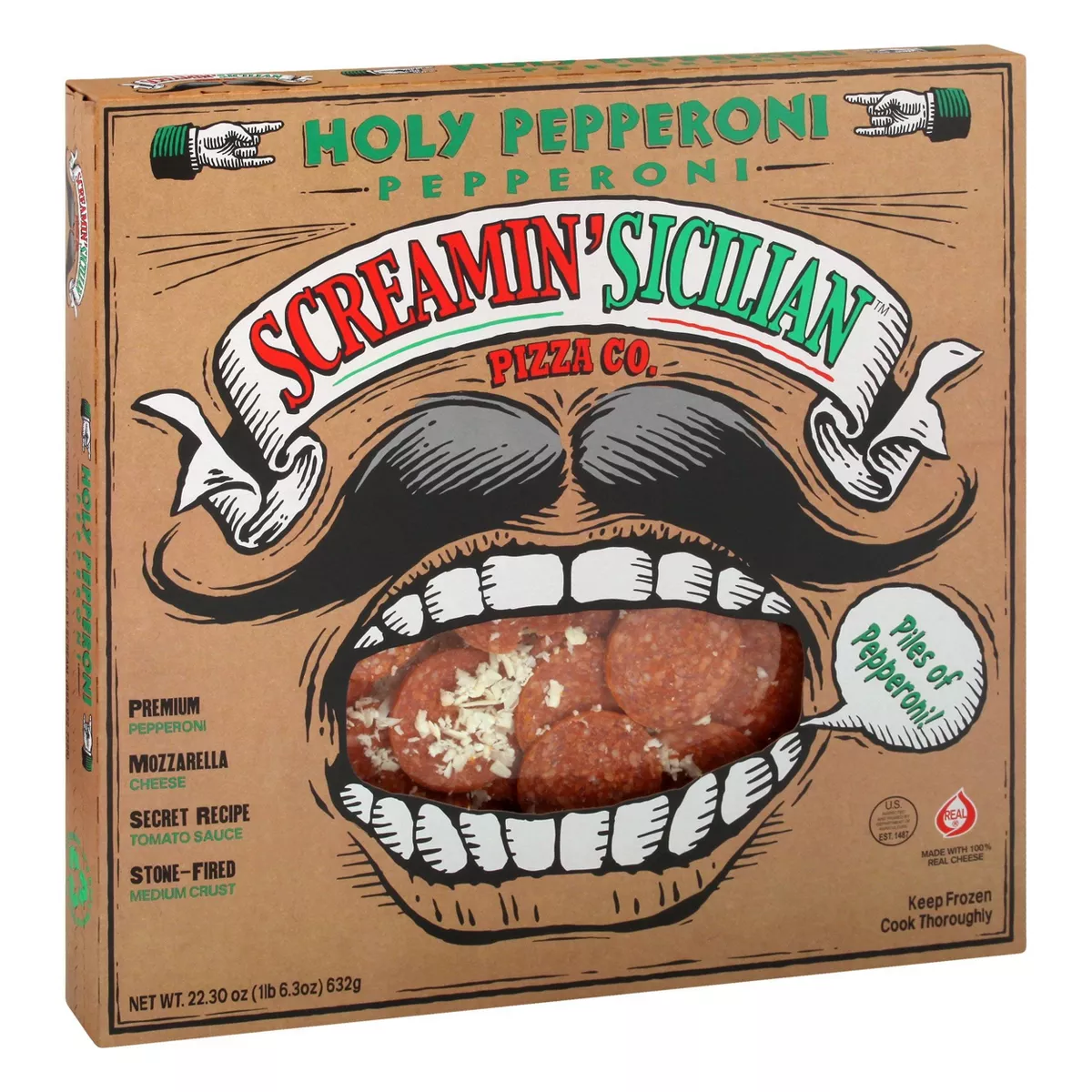 "When Screamin' Sicilian makes a frozen pepperoni pizza, they do not f*** around. And we love that," writes Sporked. "There's even a window in the pizza box so you can see how pepperoni-strewn this pie is—you can't even see cheese, only pepperoni. In a previous ranking of the best frozen pizza, we said Screamin' Sicilian tastes like arcade pizza, and that's definitely not a bad thing. It's nostalgic and harkens back to a time when you could eat whatever you wanted without shame or gastrointestinal retribution. All the same, this pie is stacked with peps, so, as I said earlier, don't forget the Tums."
Uproxx notes about Screamin' Sicilian, "Lives up to its revered reputation. A foldable, delicious pie that is truly worthy of the freezer space it occupies. While we wouldn't take this over a slice at our neighborhood pizza spot, we'd likely pick it over what the big national pizza chains have to offer."
You might also be interested in:
Sources:
Note: This article was not paid for nor sponsored. StudyFinds is not connected to nor partnered with any of the brands mentioned and receives no compensation for its recommendations.