Guacamole is a tasty dip that has become nearly ubiquitous on American, Tex-Mex, and Southwestern menus. However, this famous food has undeniable roots and history in Mexican, South American, and Central American Cuisine. With the perception that avocados are a healthy and delicious base for this famous dip, it is no wonder that its popularity continues to endure. Some of the best guacamole recipes to indulge in on Cinco de Mayo and other year-round fiestas is authentic to its cultural roots.
According to a recent study, more than six in 10 Americans are not ashamed of eating dip with a spoon straight from the container. The survey of 2,000 adults finds that 63 percent have no qualms about eating their favorite spread straight out of the packaging, so it's no surprise that a similar percentage believe the act should be considered socially acceptable (62%). Forget the chips, dip is the way to go!
If you love loading your nachos with guacamole and spinach dip, scientists have good news — the popular appetizers may help keep cancer at bay. Researchers from University of Basel find that foods rich with magnesium — including avocados, spinach, bananas, and beans — all help to boost the immune system.
So now that we have established that Guacamole is tasty, nutritious, and wildly popular; let's have a closer look at some of the most famous regional styles of guacamole in honor of Cinco de Mayo. Given that Cinco de Mayo is a Mexican holiday that celebrates military triumph over French invaders, this article will focus on the most famous Mexican regional variants of the popular food. With that in mind, StudyFinds researched sources of Mexican food culture to find out the best guacamole on the market. Let us know your recommendations in the comments below!
The List: Best Guacamole Most Recommended by Foodies
1. Guacamole Yucateco
Originating from the Yucatan Peninsula in Mexico, this style of guacamole is made with tomatoes, onions, habanero peppers, and cilantro. It can be considerably spicier than traditional jalapeno variants. "One of three states that sit on Mexico's Yucatán Peninsula, with which it shares its name, Yucatán was once an important region in the ancient Mayan civilization and is home to the famous Chichen Itza ruins. Like much of its culture and history, its cuisine is influenced by the Mayan legacy making it stand out from the other regional cuisines of Mexico. Achiote, citrus, habaneros, and smoke are pillars of Mayan cooking and deeply seeded in the region's traditional cooking," says Mexican Chef Pati Jinich.
In addition to the spicier flavor profile, the Gucamole of Yucatan is also traditionally made with the jumbo-sized Hall Avocados that can usually be found in the United States as Florida Avocadoes. "Yucatan avocados are larger than than (sic) more commonly-sold Hass avocado. The avocados in Yucatan are similar to Florida avocados (AKA Hall avocados), which are large with bright green skin. They are more watery than Haas avocados, resulting in a thinner guacamole," writes Travel to Merida.
Regarding the larger Yucatan avocado, "Of course, there is a big controversy over which is the better avocado, so I have tried both in recipes and by themselves. My best description is that the Hass avocado is buttery, smooth and flavorful. The Yucatan avocado is a little less dense and has more water content and less fat. However, I found it to be a great texture, very buttery, and a good flavor. Also, the larger avocado gives you more for your money at about 60 pesos for about 3 times the avocado. Both worked well in my recipes. The larger avocado is not as easy to find, except in the markets farther out from the city," adds Yucatan Magazine.
2. Guacamole de la Abuela
Grandma's guacamole is perhaps the most famous regional variant. It is popular in the Mexican state of Michoacán and is known for its smooth texture and rich flavor. "This guacamole recipe is also great because it only contains fresh, nutritious ingredients, and it only takes about 10 minutes or less to make! All you need for this particular recipe is the following: Avocado, Cilantro, Onion, Jalapeno (optional), Lime Juice, Salt, (and)Tomato. This will be perfect to take to that next get-together where you are supposed to bring something. Your guests will love it," says My Latina Table.
"The western state of Michoacán is often referred to as 'the soul of Mexico' and has one of Mexico's most diverse indigenous populations. Its deep heritage translates into the hearty, very satiating regional cuisine steeped in tradition. The city of Quiroga is known as the 'carnitas capital of the world,' and the state is the largest producer of avocados not only in Mexico, but in the entire world. Lake Pátzcuaro is one of its landmarks and the inspiration for the name Michoacán, which comes from the Nahuatl word 'Michhuahcān' meaning 'place of the fishermen' for those who fish on the lake," adds Pati Jinich.
As this is often considered to the most famous home-style preparation it is most frequently paired with rich and spicy meat dishes. "The heat is then turned up until the meat is crispy on the exterior and can be shredded. Carnitas, which translates to little meats, is often served with tortillas, accompanied by salsas, beans, guacamole, lime, or fresh vegetables. In Michoacán, carnitas are found everywhere from street stalls to upscale restaurants," notes Taste Atlas.
3. Guacamole Poblano
This regional style of guacamole hails from the Mexican state of Puebla and is typically made with tomatoes, onions, garlic, cilantro, and jalapeno peppers. Puebla style guacamole may seem like its only differentiating feature is the addition of garlic, but it is also unique for its history as well as the food it accompanies. "While the Aztecs get the credit for this early version of guacamole, the truth is that people were eating avocados even earlier than the Aztecs. In an archeological find in the state of Puebla in central Mexico, researchers found archeological evidence preserved in a cave that proves that avocados were a food source as early as 8000 BCE," says The Daily Meal.
This careful balance of flavor is achieved with the addition of garlic that can be either raw, blanched, or toasted with the skins on before peeling and adding to the dish. "Taste of Puebla Owner Mariana Castaneda's family guac recipe strikes a just-right balance of texture, flavor and spice. Pickup a bag of the restaurant's always-crunchy, never-oily house-made tortilla chips for the ultimate dipping experience," describes Main Line Today.
"Located in east-central Mexico, Puebla's origins as a state stem from the city of Puebla, which was founded by the Spanish in the 16th century as a major hub on the trade route between Mexico City and the port of Veracruz. This brought in many foreign ingredients that were combined with indigenous ingredients, often by nuns in the convents, to create many of Mexico's most iconic dishes — mole poblano, chiles en nogada, tinga, and tortitas de Santa Clara to name a few. Cinco de Mayo, now a worldwide celebration of Mexican culture, also has its roots in Puebla, where it's celebrated annually to mark the victory of Mexican forces over the French in the Battle of Puebla on May 5, 1862," adds Pati Jinich.
4. Guacamole Oaxaqueño
This regional style of guacamole is popular in the Mexican state of Oaxaca and is typically made with tomatoes, onions, garlic, cilantro, and a variety of chili peppers. "Oaxacan guac is prepared much thinner than you might be used to and is served as a condiment. To make it, put all your standard ingredients into the blender until smooth. Add more lime juice or a bit of water until you reach the desired consistency. If you want to use it as dip, you can leave it a bit thick, but this stuff really shines when poured over some classic al pastor tacos or a simple bean and cheese tlayuda," advises Avocadoes of Mexico.
When considering the wider attributes of Oaxacan food, "Here are the most notable characteristics of this state's cuisine: strong influence of indigenous cultures, seashore, tropical lowland and cool upland environments provide a huge diversity of produce. TRADITIONAL DISHES TO LOOK FOR Cocido — stew usually including beef, pork, chicken, garbanzos, string beans, chayote and other small squash, cabbage, carrots, 'guineo' bananas, seasoned with cilantro and hierbabuena herb, accompanied by rice and chili sauce," says Backyard Nature.
The texture of our guacamole is very different from your average "table-side" guacamole at your favorite Mexican restaurant. It's somewhere in between a runny taqueria guacamole, a chunky homemade one, and the super-bright sauce traditionally used for aguachile," writes CKBK.
5. Guacamole Veracruzana
This regional style of guacamole originates from the Mexican state of Veracruz and is unique because it often incorporates cooked ingredients. "To prepare the guacamole: Set a medium-sized skillet over medium-high heat and add the olive oil. Once hot, add the garlic and cook, stirring constantly, for 20 to 30 seconds, until fragrant and beginning to brown. Incorporate the onions and cook for about 2 minutes, stirring constantly until softened and the edges are beginning to brown," says Avocadoes of Mexico.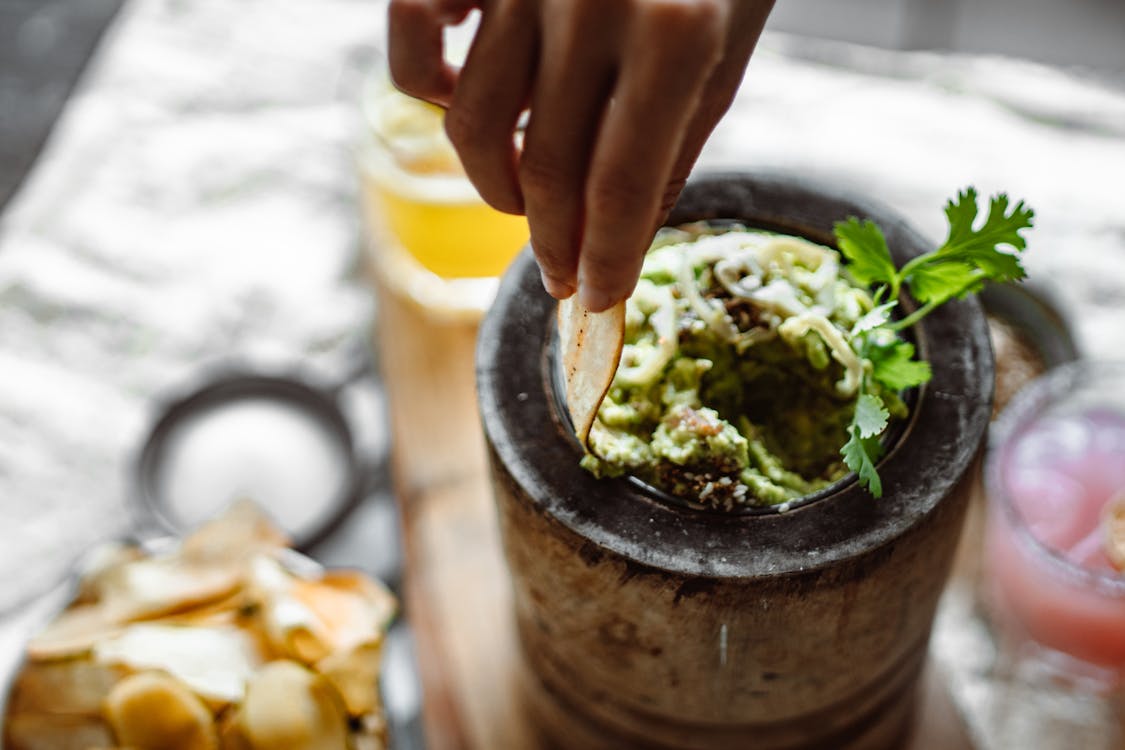 This tasty variant is also typically served with crisp plantain chips rather than the more common tortilla chips. Another differentiating factor for this variant is the addition of rabanos or radish. "The curious thing about this preparation is that the radishes are not a vegetable that characterizes the state of Veracruz, the Jarochans simply came up with this way of making the guacamole and they got a great recipe because the guacamole acquires a crunchy consistency and a delicious strong and spicy flavor," adds Mexican Authentic Recipes.
"The state of Veracruz was also where Hernán Cortés arrived on the mainland, establishing the eponymous city as the land's main port of entry. During the colonial era, many goods going in or out of Mexico passed through it, and nowhere else did the Spanish have such a strong impact on the local cuisine," mentions Serious Eats.
You might also be interested in:
Sources
Note: This article was not paid for nor sponsored. StudyFinds is not connected to nor partnered with any of the brands mentioned and receives no compensation for its recommendations.