Summer brings to mind images of colorful poolside cocktails, fruity drinks, and a refreshing can of the best hard seltzer. The last couple of years has seen the rise of hard seltzers among the most popular drinks of choice when it comes to socializing, and even when summer fades these bubbly beverages are here to stay. 
It's no surprise that hard seltzers have become so popular. Their affordability and array of flavors cater to a wide variety of audiences and take no preparation. Just grab one from the fridge or bring a case of your favorites to your next party. Most adults find that drinking makes social situations easier to handle. Research commissioned by alcohol-free spirit, SENTIA, co-founded by neuroscientist Professor David Nutt, reports that a sixth of the adults surveyed (17%) admit that they feel like "the best version of themselves" when drinking alcohol. 
And there's something to be said about people who like the sweeter, fruitier alcoholic beverages. If you're into hard seltzer, you might be the life of the party. In fact, another survey of 2,000 Americans reveals that adults who like fruity drinks fruity drink fans are most likely to describe their personalities as "fun" rather than "serious."
There are many different options on the market – wine-based, vodka-based, low-calorie, made from real fruit. It can be decidedly hard to choose which to grab for the next night out (or in!). StudyFinds has compiled a list of the top five best hard seltzers, examining 10 of the leading websites to determine which brands were recommended the most often. If you've got your own suggestions, please leave them in the comments section below the post!
The List: Best Hard Seltzers, According to Experts
The major ingredient in Vizzy seltzers is the acerola cherry, a superfruit extremely high in antioxidants and vitamin C. The brand prides itself on using real fruit juice and pulp to make its refreshing beverages.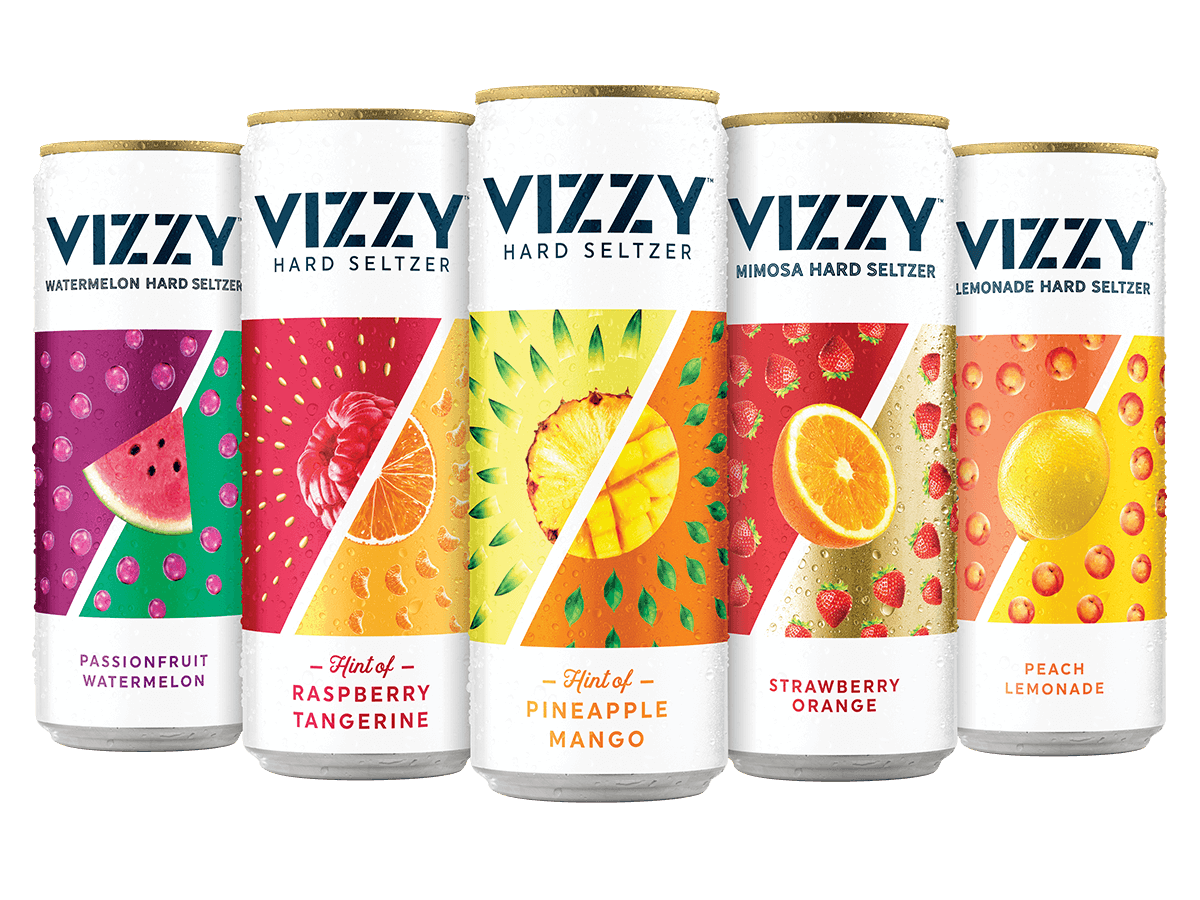 "Vizzy is juicy, refreshing, and slightly sweet with a combination of flavors bursting in your palate. It is a gluten-free, low sugar, and low carbs seltzer with added vitamin C and antioxidants," writes Sommeliers Choice Awards. "Apart from health benefits what keeps Vizzy distinct is its unique combo flavors which work really well together giving it a round and smooth mouthfeel."
Vizzy seltzers are gluten-free, low sugar, and low carb, packed with Vitamin C and antioxidants that work with unique flavor combos to create a guilt-free, tasty drink. "These low-sugar 100-calorie favorites are gluten-free and only have 2g of carbs, utilizing real cane sugar as its alcohol source at 5% ABV," writes HiConsumption.
For more details, Delish writes: "Each of the flavors we tried are a combination of different fruits, like strawberry and kiwi, mango and pineapple, and cherry and lime."
Truly is the main competitor of White Claw, the first brand that initially popularized hard seltzers. Truly is a go-to at most parties and get-togethers. "Truly is one of the most popular hard seltzer brands, and for good reason. The effervescence is perfectly balanced, and the wide variety of flavors means you can satisfy everyone's preferences. Our favorite Truly flavor was Citrus Squeeze from their Citrus Mix Pack," writes Delish.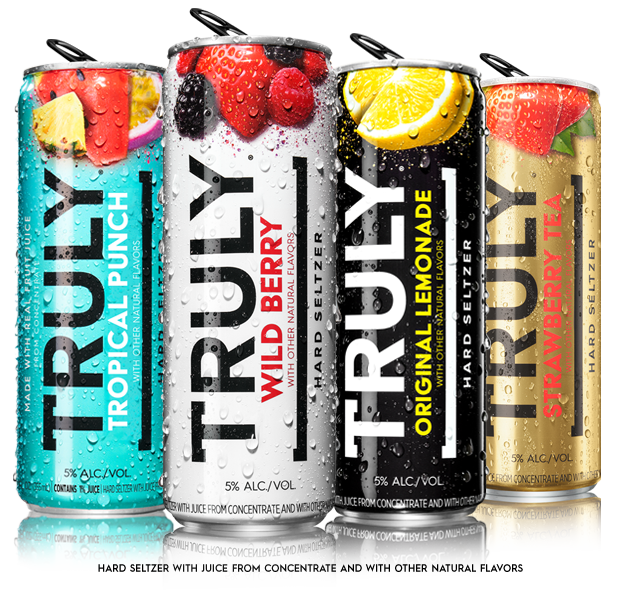 Truly is a fun, modern take on the traditional hard seltzer that tastes great while still weighing in at 100 calories and 5% alcohol content. "Flavor-wise Truly is one of the most seltzer-like of all the hard seltzers," writes Town & Country. "The flavors offer a range of more than a dozen berry and citrus options including classics like Lime and more esoteric versions like Blueberry Acai, as well as range of tropical flavors like Passionfruit and Pineapple and even a Rosé flavor."
High Noon takes a unique approach, deriving their 4.5% alcohol content from vodka instead of malt liquor or fermented cane sugar, giving the beverage a cleaner taste. "With a juicy balance of fruit and a hint of bitterness, High Noon has nailed packing the flavors and aromas of fresh grapefruit into a 12oz can. While High Noon's seltzers were impressive across the board, the Grapefruit's puckery punch made it a clear Food & Wine-favorite during our tasting," writes Food & Wine.
High Noon is a fresh, flavored take on the traditional vodka soda with well-balanced flavors geared more toward people who don't like their seltzers overly sweet. "For anyone who has tried a vodka-based seltzer, it's not a shocking pick. Kind of like the way the Band-Aid and Kleenex companies dominate their product lines, High Noon does the same here. They do so with some pretty tradition spins as well: watermelon, peach, lemon, lime and black cherry to name a few," writes USA Today.
If you're looking for a classier option on the healthier side, Flying Embers is the one to try. Brewed with natural ingredients and champagne yeast, this brand balances fizz with unique flavors like Watermelon Chili, Guava Jalapeño, and Pineapple Cayenne.
"Flying Embers is a hard seltzer brand that is brewed with live probiotics. It is a great choice for those looking for a healthy option with imaginative flavors and a modern twist," writes Advanced Mixology.
Flying Embers is comparable to a more relaxed version of flavored champagne with a crisp, clean taste that's on the drier side. "Their flavor combinations in the Flying Embers 'Botanicals & Bitters' variety pack are also particularly sophisticated and almost cocktail-like (including a Gin and Tonic-inspired flavor, made with juniper and zesty black lime peel)," adds RollingStone. "With just 95 calories and 5 percent ABV, Flying Embers knows how to keep it as light and refreshing as if you were on your own private island."
Have you tried a wine-based seltzer yet? Decoy is a brand that offers seltzers made from all your favorite wines – Chardonnay, Sauvignon Blanc, and Rose. "Decoy Premium Seltzer is a wine-based seltzer that clocks in at 5.5% alcohol by volume and just 80 calories — lower than the fairly standard 100 per can for most seltzers," says The Manual.
Indulge in flavors like Clementine Orange, Vibrant Lime, Black Cherry, and Lemon & Ginger. "While some brands market 'rosé' seltzers made from alcohols based on sugar or malted barley, we think a rosé seltzer ought to have some wine in the can," writes Liquor. Made from Decoy premium wines, sparkling water, and natural cherry flavor, this rosé seltzer is technically a wine spritzer—a simple cocktail, popular in central Europe, comprising wine, sparkling water, and optional fruit flavor.
You may also be interested in:
Sources:
Note: This article was not paid for nor sponsored. StudyFinds is not connected to nor partnered with any of the brands mentioned and receives no compensation for its recommendations.