Looking to achieve flawlessly manicured nails at home? You'll need the best nail file to accomplish your mission. There's a whole world of nail tools that your regular salon uses, and it can be tough to figure out which one is the best to purchase to meet your needs. Nail files come in a variety of grits, shapes, and sizes, and StudyFinds is here to help you meet your match.
DIYing your own beauty at home is not only easier on your wallet, it can be an important part of self-care. Self-care includes any act intentionally done to maintain health or well-being, such as going to the gym, developing a skincare routine, or doing your nails! A new survey commissioned by wellness software company Vagaro and conducted by OnePoll, asked 2,000 Americans to examine their self-care habits and the possibility of whether they see themselves investing in self-care more in the future. Two-thirds of respondents (67%) agree that the personal self-care routines they developed during COVID-19 have become a permanent part of their daily life now. Spending some time with yourself can be as simple as giving yourself a manicure!
At home manicures are also healthier for your body, not just your wallet. Findings from a study conducted by researchers from the University of Colorado Boulder state that manicurists and other nail salon workers face dangerous health risks, including cancer, comparable to people who work in oil refineries. Researchers say the elevated risk is due to chronic air pollution from noxious fumes and indoor pollutants present, such as formaldehyde and benzene. Avoiding such an environment and doing your own nails will reduce your exposure to these chemicals as well!
If you're interested in getting the best nail file to start your home manicure journey, StudyFinds is here to help! We've compiled a list of the most commonly recommended nail files across a variety of expert sources. Do you have a staple file you use? Let us know in the comments below.
The List: Best Nail Files, According to Beauty Experts
As a beginner, it can be hard to know what kind of file you need. Whether you're filing natural or faux nails, this Tweezerman set will do the job. "If you want to keep it basic, you can't go wrong with this three-pack of files," says Byrdie. "The dual-grit surfaces mean they work on both natural and acrylic nails, and the neon hues make it easy to dig them out of any crowded bathroom drawer or makeup bag."
If you want to add a splash of color to your manicure routine, this affordable and versatile pack of files will get you far. "Nail files don't have to be boring," writes Who What Wear. "This neon three-pack proves it. Use these 100/180 grit files on natural and acrylic nails. Bonus: They can be reused for up to three months."
"These are traditional dual-sided emery boards but in two-tone neon, which makes the whole experience more fun," says The Independent. "They're a little thick and cushioned, and have a different grit texture on each side: 100 and 180."
If you're ready for a step up from a basic file, this multi-sided tool is a great way to enhance your nails. "This four-sided file has four different grits to do it all—shape, smooth, buff, and shine," writes Byrdie. "(All four sides are made from a microfiber material that's gentle on your tips.) Consider it a one-stop-shop nail tool that makes DIY manis easier than ever."
"For healthy, natural nails, lead nail technician at Chillhouse Molly Romah told Insider Deborah Lippmann's Smooth Operator Buffer Nail File is one of the best," explains Insider. It's still affordable too, for a tool that will shape, smooth and shine nails.
"This multi-tasking nail tool is perfect to prep your nails for a DIY manicure or for on-the-go touchups. It has four sides with varying uses," says Makeup by L'Oreal.
Glass files are great for those who have thinner or more brittle nails that are prone to splitting or breaking. "The highly rated nail file is also loved for how easy it is to clean — all you have to do is rinse it under running water, according to the brand," says Instyle. "And yes, you should be cleaning your nail file, whether it's glass or metal (you can toss those disposable emery boards, though)."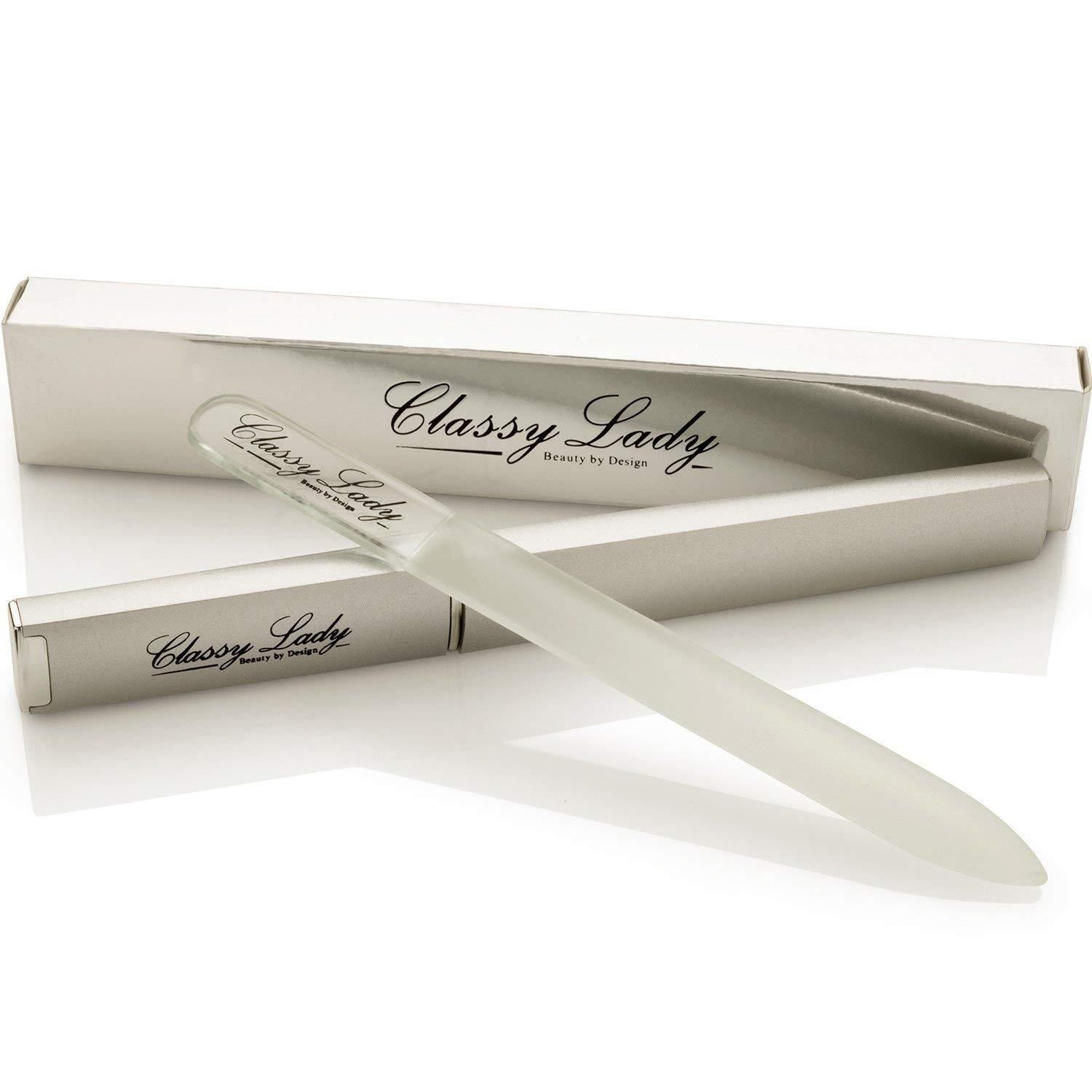 The smaller grit is great for natural nails but also works on other types of faux nails. "The ClassyLady Glass Nail File is made of crystal glass and works great on all types of nails, like natural, acrylic, gel, and artificial nails. It comes with a nail file case for storing it in your handbag," writes Style Craze.    
The best thing about glass files is their longevity. "This glass nail file will last for years, is easy to clean and lightweight enough to keep with you at all times," explains Makeup by L'Oreal.
Looking for a set of classy glass files to showcase your style? Choose from a variety of elegant colors. "This premium set of three nail files comes in a velvet pouch. The nail files are made of tempered glass and work best for natural nails. The set comes in various color options, like Aqua Cobalt, Blue Purple, Blue-Y-Blue, Bubblegum, Fern Green, Magenta Blue, and Purple Pink," describes Style Craze.
This Mont Bleu set is perfect if you need multiple files for convenience or on the go. "These true blue files come in a set of three in varying sizes, for all your nail needs. I'd throw one on my nightstand, another in my bathroom, and one in my purse for on-the-go touch-ups," writes a reviewer at Elle.
"Not to mention its luxurious looks, these nail files are crafted from hardened Czech glass alloy with a double tempering process which makes them more stronger and durable," writes Beauty Spark Review.
If you're a hardcore DIY manicurist, this set of professional standard files will serve all your needs. "An Amazon top pick, these have both a 100 and 180 grit, making them great for both shaping nails and taking down length (and using on toes, too). They come in a pack of 10—a total steal, we should add—though if you want to reuse them, they are washable," raves Byrdie.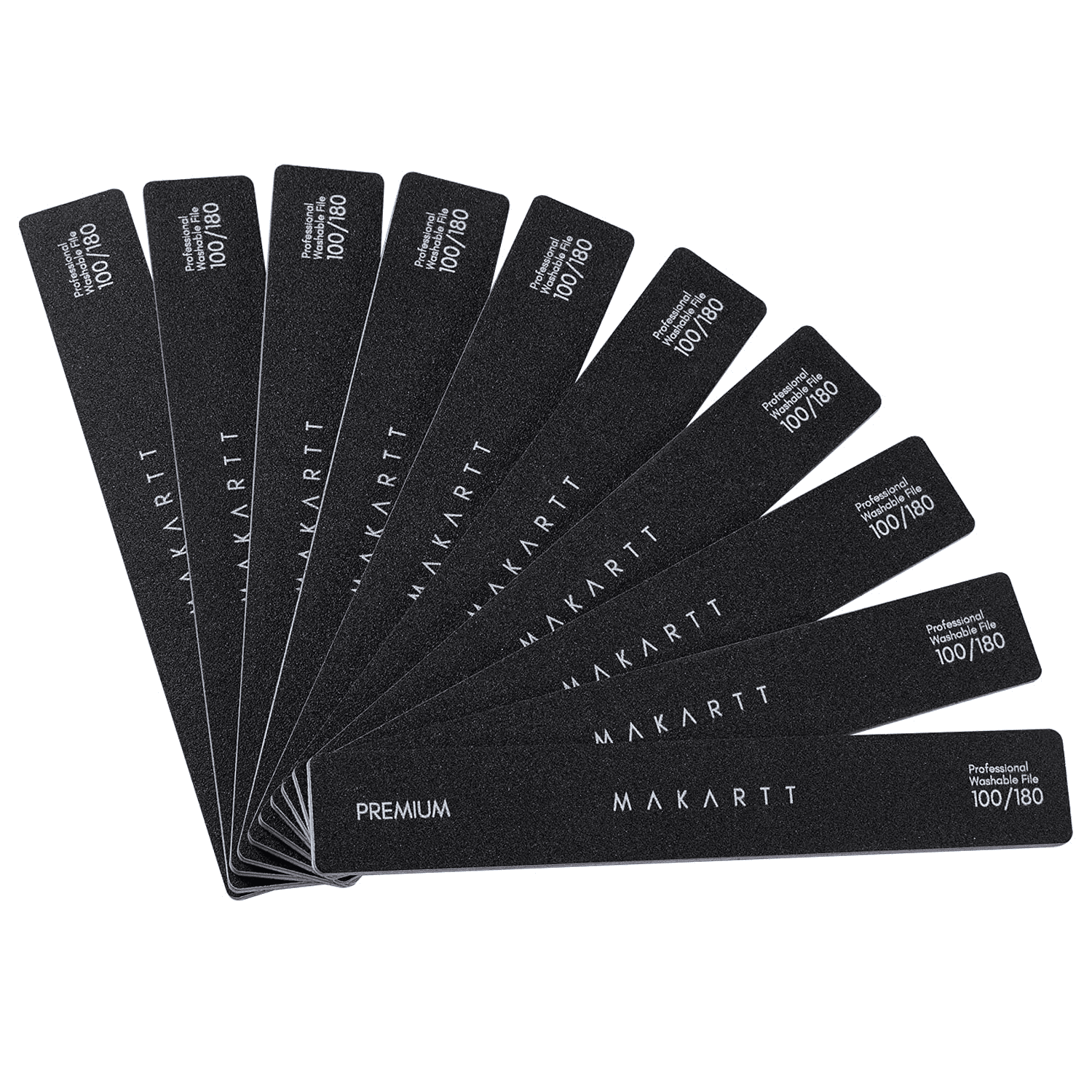 Use either grit level side on natural nails or different types of nail materials. You shouldn't need more since they're washable and come in a pack of 10, but if you do, they're only $8 for the pack. "These nail files are perfect for poly nails, extensions, gel nails, and acrylic nails. The double-sided nail files can help file hard fingernails and toenails in 100 grit and smoothens the nail edges with a refined shape in 180 grit," writes Style Craze.
"If you're a traditionalist, this value pack of emery board nail files by Makartt is your best bet. At just $8 for 10 double-sided files, it's a great deal. While emery boards might not be the most effective choice for super damaged nails, these boast a 180/240 grit size that's safe for fine nails yet sturdy enough to require the gentlest amount of pressure during use," says Bustle.
You might also be interested in:
Sources:
Note: This article was not paid for nor sponsored. StudyFinds is not connected to nor partnered with any of the brands mentioned and receives no compensation for its recommendations. This post may contain affiliate links.