Summer is looming, and of the many seasonal activities we are looking forward to, enjoying a juicy and icy popsicle is certainly one of them. Popsicles are so much more than ice cream as nothing can be more refreshing on a hot day. With so many on the market, and growing, it can be challenging to choose the best popsicles to take back with you to the pool.
Popsicles aren't just a refreshing snack in the summer. They are a smart choice when you're looking for a healthier choice. If you're looking to take your waistline down a few inches, drop some pounds and start the journey to looking (and feeling) better, your diet might have to change. When the sweet tooth rears its ugly head, reaching for a piece of fruit is always better than a high-calorie option at the coffee shop. Some of the best fruit for weight loss can help you satisfy cravings without the consequences. What's great about our top popsicle choices and most of the others, is that they contain real fruit (and pickles, hear us out) with no artificial sweeteners. 
Popsicles are typically right in your freezer at your disposal. A study shows that nearly seven in 10 Americans have ice cream in the freezer at all times. There are plenty of happy children enjoying their Fudgesicles, Push-Ups, and Flavor-Ices this summer. Almost half of Americans say they're happy to let their kids be big spenders at the neighborhood ice cream truck, as well. A recent poll of 2,000 U.S. residents finds that 47 percent plan to let their children participate in this summertime activity more often than they got the chance themselves. Although a third of respondents (34%) bought their truck-sourced treats several times or more each summer, another one in five (23%) didn't grow up in an area frequented by ice cream trucks. Another 17 percent have never ordered from any kind of ice cream truck in their lives.
The beauty is that popsicles come in many different variations; from dairy-free to gluten-free to sugar-free, and back to the classic sugary treat you grew up on. Depending on your mood, or diet, there are a lot to choose from. StudyFinds dug deep into 10 expert websites to find the best popsicles to stock up on this summer. If you slurp on the same brand every summer that we didn't mention, please let us know in the comments below.
The List: Best Popsicles, According
to

Experts

Outshine makes a genuinely classic popsicle. "Their lime bars are tart, sweet, and refreshing, the perfect treat on a hot day. Flavors include black cherry, strawberry kiwi, creamy coconut, pineapple, tangerine, and all the classics," says Let's Eat Cake.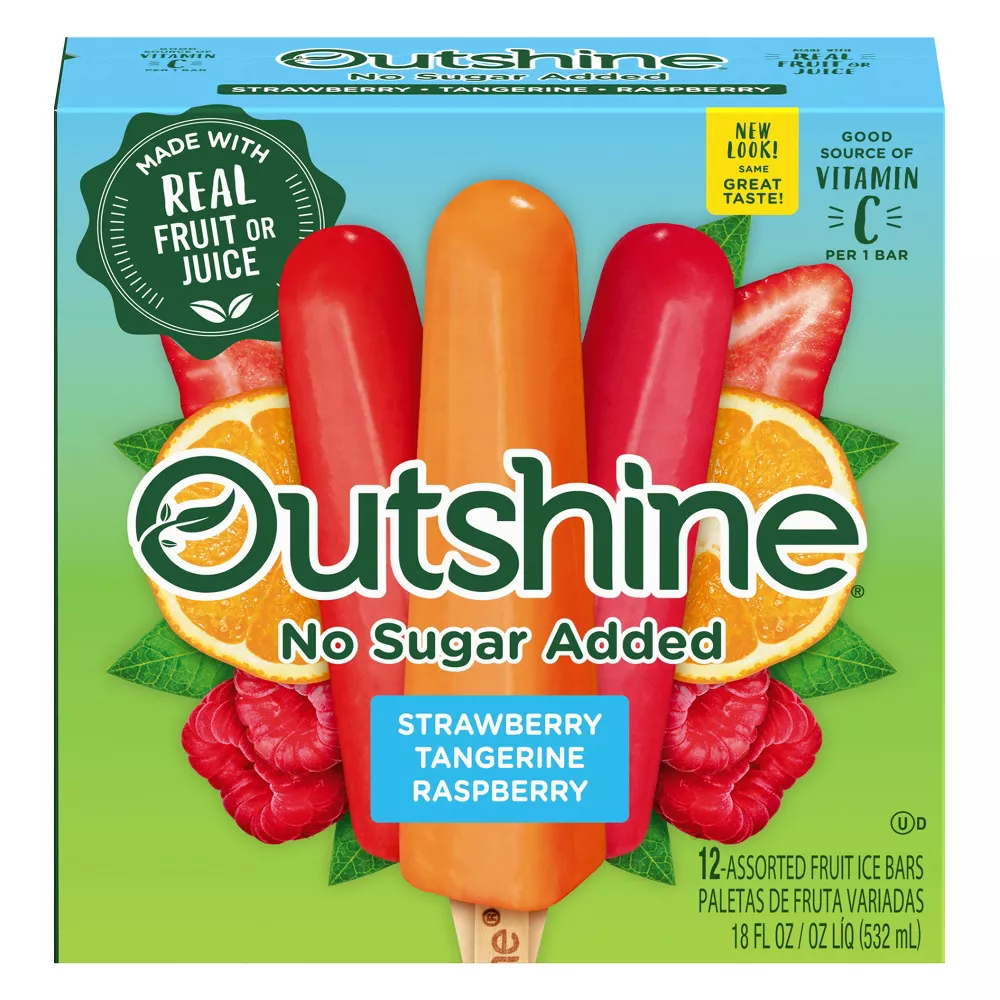 Outshine Fruit Bars are extremely fruit-forward and taste incredibly refreshing. Sporked comments on the tangerine flavor, "The tangerine tastes like biting into a juicy whole piece of citrus fruit. This is the first popsicle I would reach for if I was really, really hot (temperature-wise, not looks-wise). That being said, I am really, really hot-looking and do reach for these delicious popsicles often. If you're any type of hot, buy these popsicles!"
Outshine comes as a variety pack. All of the flavors are delicious, but with anything else, people have their faves. "If you want something a little closer to gelato, then the Simply Indulgent Mango is the way to go. It's essentially a blend of mango puree, dairy (milk and cream), and sweetener. The bar isn't too sweet and has a nice deep mango flavor that makes it a bar worth savoring," says Huff Post.
Goodpop has a variety of popsicle flavors, but watermelon specifically topped most lists. "If you had told us that the Goodpop watermelon bar was actually just frozen watermelon on a stick, we'd believe you — and we mean that in the best way! One pop is only 40 calories and nine grams of sugar and the ingredient list is short: watermelon juice, water, cane sugar, agave, and guar gum. As you see, there is still sugar in these pops in addition to agave, but the flavor wasn't overly sweet and was actually quite refreshing," explains Yahoo.
Goodpop was Founded by a former University of Texas student Daniel Goetz during a hot Austin summer. "Inspired by Mexican-style natural fruit popsicles called paletas, Goetz began designing a line of organic whole fruit pops, sourcing ingredients responsibly through fair trade practices," informs Restaurant Clicks.
Taste of Home admits that Goodpop Watermelon is an upgrade to the classic popsicle. They explain, "Good Pop makes watermelon agave popsicles that are the adult version of ice cream truck treats. They're made with just four ingredients and have only 40 calories a pop. The fun flavor combo might inspire you to learn how to make popsicles at home."
It's safe to say that most popsicles are refreshing, but Bomb Pops just seem to have that extra juiciness. "Your childhood is calling and it wants to know: were these actually ever good? Bomb Pops are like fine wine, and need the right pairing to be wholly enjoyed. In this case, it's an 80-degree day in the backyard with a kiddie pool while someone's grilling," says Let's Eat Cake. 
This Fourth of July you could go around waving an American flag, but that's just silly when you can wave a bomb pop instead. "No ice cream pop screams 'summer' to me quite like the Bomb Pop and the OG version has yet to be watered down and made healthy, delivering a seriously addicting combination of intensely sweet lime, blue raspberry, and cherry. There is something subtly sour about this flavor combination, which adds a nice complexity (feels ridiculous to call a popsicle "complex," but here we are) to the experience," boasts UPROXX.
Bomb Pops are the candy corn of popsicles. Are the three colors different flavors or are they just different colors? "Chainsmoking Bomb Pops are a true summer mood, and one is never quite enough popsicle. They're light and high-fructose-corn-syrup-y like Fla-Vor-Ice, but they require less preparation, and less jockeying for flavor since they're all the same. It's the perfect thing to bring to a barbeque if the barbeque needs a bit of nostalgia and a lot of sugar," explains My Recipes.
Did you even live in the 1980s if you never tried one of these nostalgic icy treats? Find This Best describes them, "Made with real fruit juice, these freezer bars are fat-free and low-calorie, with only 20 calories per pop. The pack contains 100 popsicles in six delicious flavors, including Strawberry, Berry Punch, Grape, Lemon-Lime, Tropical Punch, and Orange. Simply freeze and enjoy!" 
The concept of Fla-Vor-Ice is ingenious. They are the perfect drip-proof snack. "They founded the concept of the melt-less freezer pops, consisting of frozen fruit popsicles inside long plastic pouches that you eat by pushing the pop up through the open top of the plastic bag. This way, the melted popsicle transforms into a deliciously cold juice that you slurp out of a self-contained bag," says Restaurant Clicks.
A huge bonus with Fla-Vor-Ice is that you can hand them to your kids on a long car ride without worrying about cleaning sticky fruit juice off the back seats. Taste of Home suggests another idea, "If you're hosting a 4th of July party this year, don't forget the giant box of freezer pops! They'll bring back memories of lively parades and end-of-the-year school parties with their six fruity flavors. Grab one (or four) and get the party started. When it comes time to eat them, here's a hack to open freezer pops without scissors."
We know, weird, right? But, they're also the perfect frozen treat for anyone who prefers savory flavors and loves pickles. Sporked definitely did, "These ruled. I'm sorry! These pickle-y freeze pops were so salty and savory, I couldn't stop going back for another taste. They taste exactly like frozen pickle juice (duh) and are perfect for pickle lovers. Sure, they aren't for everyone, or every occasion, but this pickle freak loved them."
If it's still hard to believe that Van Holten's Pickle Ice made the list of best Popsicle Brands, they were on almost all of the expert lists. We promise! "If you have an aversion to pickles, it's going to be hard to convince you that this is worth trying, but if you do like pickles, go ahead and pick this up next time you're in the freezer section and prepare yourself to be pleasantly surprised. I haven't experimented with pairing this with a cocktail, but given that it's iced pickle juice, I feel the possibilities are endless with this one," admits UPROXX.
Fun fact; Van Holten's is a longstanding pickle company, founded by Dutch immigrant Jerry Van Holten in Milwaukee in 1898. "While this might make some of you cringe, pickle juice has long been lauded for its electrolyte properties. Many athletes drink pickle juice before a race to load up on sodium, thus preventing muscle cramps," explains Restaurant Clicks.
You might also be interested in:
Sources:
Note: This article was not paid for nor sponsored. StudyFinds is not connected to nor partnered with any of the brands mentioned and receives no compensation for its recommendations.