Containing at least 51 percent rye and aged in newly charred oak barrels, rye is a favorite among whiskey aficionados. To be called rye whiskey, the liquor has to be produced exclusively in the U.S. The best rye whiskeys often have a lighter body finish, but never lack their iconic spice and boldness. 
"Lovers of whiskey variety rejoice—again, owing to the distinct, assertive flavor of rye, which even after mellowing in charred oak can kick around in your palate with a lively spiciness. Rye will also have notes of caramel and vanilla from the barrels, and, depending on how it's aged or blended, might showcase a variety of other flavors. Rye doesn't have specific aging minimums, but as with any whiskey, it benefits from some carefully regulated aging," VinePair explains.
If you are in good health and choose to drink responsibly, rye whiskey is a pretty decent choice. Ringing in at just 140 calories per two-ounce pour and low in sugar and gluten, rye is a great option for even those who are trying to maintain a healthier lifestyle (in moderation, of course). And why not grab a snack while you're at it? Research suggests that drinkers who opt for high-protein, lean foods consume fewer calories overall than people who abstain from drinking entirely. Such snacks include olives, popcorn, cocktail onions, deli meats, cheeses, raw veggies, dips and dried or fresh fruit.
Many of us turn to celebratory beverages in times of social occasions. A recent study even found that one in six adults "feel the best version of themselves" after enjoying a drink. These situations include family gatherings (43%), the first social outing with new colleagues (25%) and catching a flight (23%). Among the top situations in which people drink to feel their best are on nights out (55%), a holiday (48%), and someone else's wedding day (43%). Now this is not to say that anyone should be drinking on a routine basis, but if the occasion calls for it, a glass of rye is a top-notch way to go.
Whether you're looking for a nightcap on the rocks with an old friend, or a Sazerac to get the night started, with crowded shelves full of options, it can be hard to know where to start. StudyFinds visited 10 of the leading expert websites to find the best rye whiskeys out there. Our list is ranked based on the most-recommended rye whiskeys across these sites. Did we miss one? Let us know in the comments below!
The List: Best Rye Whiskey, According to Experts
Bold, spicy and with bright botanical notes, High West's Whiskey Double Rye is well-loved by many rye drinkers and considered among the best rye whiskeys available. "From High West, Utah's ski-in distillery, the Double Rye bottling is heavy on the spice, making it a great option for diehard rye fanatics who are heat-seekers at heart. It's a blend of two different rye whiskeys (a younger spirit and an older spirit, both aged two years at minimum), and it's designed to be twice as spicy as your average rye," writes Liquor.com.
Due to its versatile flavor profile, reviewers love this rye in both top-shelf cocktails and neat. "David Perkins is a creative distiller, and Double Rye! was among his first to push the envelope. He blends ryes from two to seven years old, including MGP's famed 95/5 rye and its own 80 percent rye, 20 percent barley rye — spicey-meets-sweet, basically. The result is a whiskey that feels green and springy, with a strong, mellow finish," adds Gear Patrol.
According to Bourbon Inspector, "Back when High West Double Rye! Was made with a sourced 16-year-old rye, it was one of the best ryes on the market. And it's definitely still good, but now that it High West uses its own, much younger distillate, it has lost a bit of glory. All that said…it's a great value for $35-$40."
If you're looking for luxury rye, or a really over-the-top wedding gift for your rye-loving friend, Thomas H. Handy's Sazerac Rye is sure to impress. "Rye novices need not apply. One of five bottles in Buffalo Trace's mighty Antique Collection, Handy Saz is an uncut, unfiltered, max proof rye made from the same juice as the standard Sazerac bottling (known as 'Baby Saz'). Each year's release is a little different, but you can generally expect a five-finger rye (and alcohol) punch to the tastebuds. If you find a bottle at its $99 retail price, and you won't, you should buy it immediately — bottles from the Antique Collection are typically sold for three- and four-times their SRPs, at minimum," says Gear Patrol.
The rye is named after the New Orleans bartender who reportedly first used rye whiskey in the Sazerac Cocktail. "Considered 'the official cocktail of New Orleans', the Sazerac cocktail is believed to be one of America's first cocktails, typically based with rye whiskey (although originally made with Cognac), bitters, sugar, and absinthe, which is used to rinse the glass," mentions Independent. Expect "subtle stone fruit aromas joined by sweet vanilla, baking spices, and candied orange peel which continues on the palate alongside some toffee, maple, dried fruit, and walnut alongside black pepper and dry oak, complete with an oily, spicy finish."
Finding a rye whiskey worthy of some of the most delicious classic cocktails is not easy, but experts agree that Woodford Reserve's Straight Rye Whiskey is the perfect star to your Old Fashioned or Manhattan. "This rye uses a pre-prohibition style ratio of 53% rye in its mash bill to pay homage to history's original rye whiskeys, making spice and tobacco the dominant note among a sea of fruit, floral and sweet aromatics, which yields a nice sweetness and overall balance," points out Whiskey Raiders.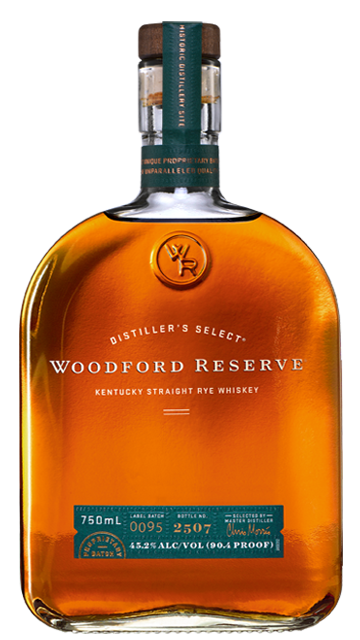 Notes of apple, mint, and honey make it a dream to drink neat, but even better in your drink of choice. "It would seem that most bar menus these days feature a Bourbon Old Fashioned, but one made with rye gives the classic cocktail a spicier edge. If you haven't had it yet, try Woodford Reserve's Rye Whiskey, which earned a gold medal at the 2020 San Francisco World Spirits Competition," says The Spruce Eats. "The grain's spice adds balance against the sweetness of the sugar and cherry, while the bitters play into the richness of the tobacco."
According to Vine Pair, "Most of its spice can be grouped into the baking category, with cloves and cinnamon aromas leading the nose. Rich banana and chocolate chip notes on the palate promise to further please those with a sweet tooth."
Fruity, spicy and with a vanilla cinnamon finish, Pikesville's 110 Proof Straight Rye is a fan-favorite among drinkers and whiskey competition judges. "A 'liquid gold' whiskey. Pikesville was the last standing rye in Maryland when prohibition was repealed and we're over the moon they made it. This classic rye comes with a bit of extra oomph – it takes a typical rye character of spice and caramel and bombards it with buttery and tropical flavors. A must try," adds BBC Good Food.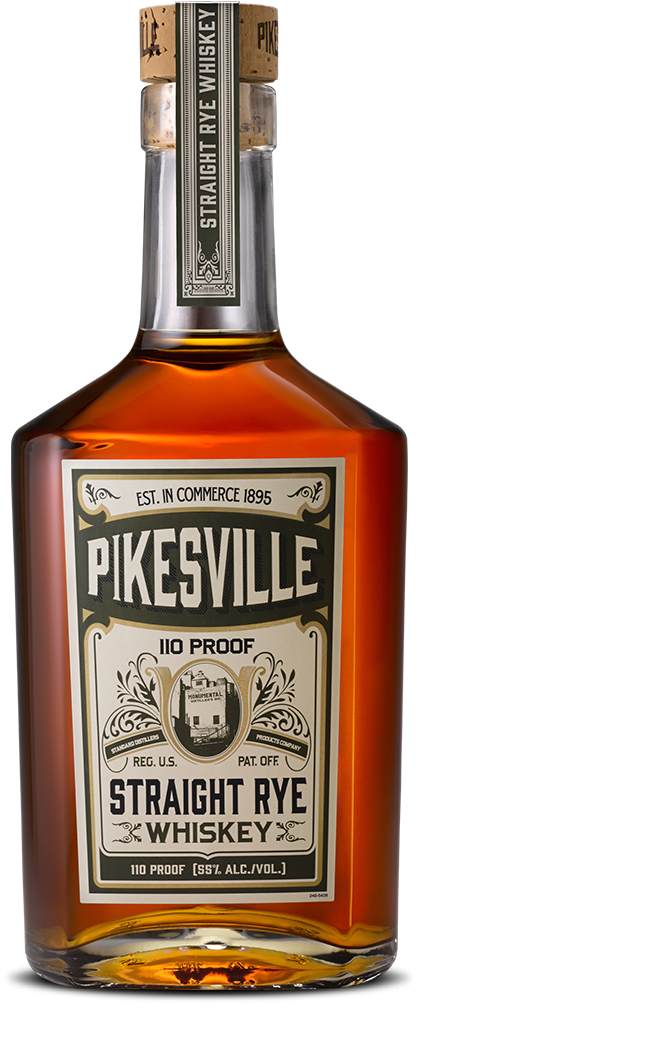 The 110-proof liquor goes through six years of aging before being bottled. Though the name of the whiskey has stuck, it's actually no longer made in the cozy Baltimore County town. "Not long ago, Pikesville Rye was a bottom-shelf rye from the Potomac region. First distilled in 1895, the name was acquired by Heaven Hill in 1982, who began distilling it on-site in Kentucky. Then, in 2015, Heaven Hill launched an older, higher proof and much better version nationwide. The bottle was named runner-up for Jim Murray's 2016 World Whisky of the Year, even though its price tag stays in the $50 range," notes Gear Patrol.
Mashed gets down to the nitty-gritty, saying it "fits the profile with 6 years of aging and a 51% rye, 39% corn, and 10% barley mash bill."
5. Willett Family Estate Small Batch Rye
A well-balanced and herbal spirit, the Willett Family Estate Small Batch Rye makes for a solid and distinct choice in whiskey rye. "The Four-Year Rye is a single barrel offering, so each batch is different from flavors to ABV (usually from 55 to 56 percent). But it's always fruity with a heavy dose of peppery spice that will tickle any rye lover's fancy. Bottles aren't always available, so if you see one, grab it off the shelf and run to the register," advises The Spruce Eats.
The family-owned distillery has been up and running for 120 years. "Willet has quickly become one of the premier brands in the whiskey game, and their 4-year rye is considered one of the best on the market. It's not always easy to find, but the fruit-forward mixture of flavors creates a super unique experience that you should try at least once," says Bourbon Inspector.
You might also be interested in:
Sources:
Note: This article was not paid for nor sponsored. StudyFinds is not connected to nor partnered with any of the brands mentioned and receives no compensation for its recommendations.