Keeping your feet warm as a guy isn't a one-size-fits-all equation, especially when you factor in how many people work from home these days. For many remote workers though, spending the day in slippers is about close to "living the dream" as it gets. And even if you don't work from home, waking up in the morning and slipping your toes into a little slice of heaven as you get out of bed can still feel majestic. There is no shortage of options out there, but which are the best slippers for men who want that warm and fuzzy feeling on a daily basis?
A quick search online leads you down a rabbit hole of indoor slippers, outdoor slippers, wide-footed slippers, and every nuance in between. It can be confusing—and ultimately, you're just looking for a product that'll keep you warm, feel good on your feet, and not fall apart after one cold season. Perhaps most importantly, you'll want a pair of slippers that will soothe those aching feet from a day of chores, exercise, and running around seemingly nonstop.
Foot pain, in fact, is such a pain for people, that many are going to extremes to stop it once and for all. One study reveals that injecting fat into the foot could actually help relieve soreness, especially for patients suffering from plantar fasciitis. "We developed this procedure to harness the regenerative properties of fat," explains Dr. Jeffrey Gusenoff, professor of plastic surgery at the University of Pittsburgh. "In this proof-of-concept study, we showed that fat injections into the foot reduced heel pain, helped patients get back to doing sports and activities and boosted quality of life."
But let's be honest. You're probably not running out to inject fat into your foot. Instead, you may opt for a comfy pair of slippers to help your toes' woes. And if that's the case, StudyFinds is here to help you find the best slippers for men according to experts. For our research, we visited six expert reviews to bring you the five most recommended products. Our list is ranked based on the number of times each slipper for men was mentioned on the top search results. Let us know in the comments if we missed some you love!
The List: Best Slippers for Men, According to Experts
Turns out Tom Brady isn't the only man who loves Ugg slippers. "The Ascot Slipper gives you the best of both worlds, as it's a crossover between a shoe and slipper. These slippers provide the benefits of a shoe, including heel impact absorption, arch support, bridge and toe protection, and traction," writes Insider.
Besides being supported, you'll also enjoy the comfort of a well-designed slipper for men. "The natural sheepskin portion of the lining covers most of the foot, moderating temperature and wicking moisture better than synthetic options," says GearLab. "Over hours of wear, you will surely notice the advantages."
If sheer comfort is the goal, the Ugg Tasman slippers also received high ratings from many experts. But in terms of a crossover slipper for men that can do it all, the Ascot was the clear winner. "Of the half dozen men's slippers we tested, these were our favorite because they felt like our feet were being hugged by clouds," adds WSJ.
There's a reason Minnetonka has been an industry leader for men's slippers for decades. The products they make are legit. This classic men's moccasin has the classic design you're looking for, and are built to last. WSJ says, "The suede uppers, available in gray or golden tan, feature rawhide lacing that gives the shoes structure and can be tightened for a better fit. Best of all, they can easily be crammed into the corner of a suitcase."
"The slipper[s] utilizes full-grain leather, making them versatile enough for wearing at home and on the go. Inside each slipper is a high pile of plush synthetic lining that is soft and warm," writes The Spruce.
Their classic men's moccasin offering popped up on several lists during our research. But Minnetonka's as a whole were present across the board. Their Sheepskin Moose Slippers offer a unique design that works for a wider foot. Like the classic moccasin, they are built to last.
L.L. Bean chose a bold name (based on their New England roots) when naming this product. But it appears to actually hold up, as multiple experts recommended the Wicked Good slipper as one of the best slippers money can buy for men. Especially if your feet are on the wider side.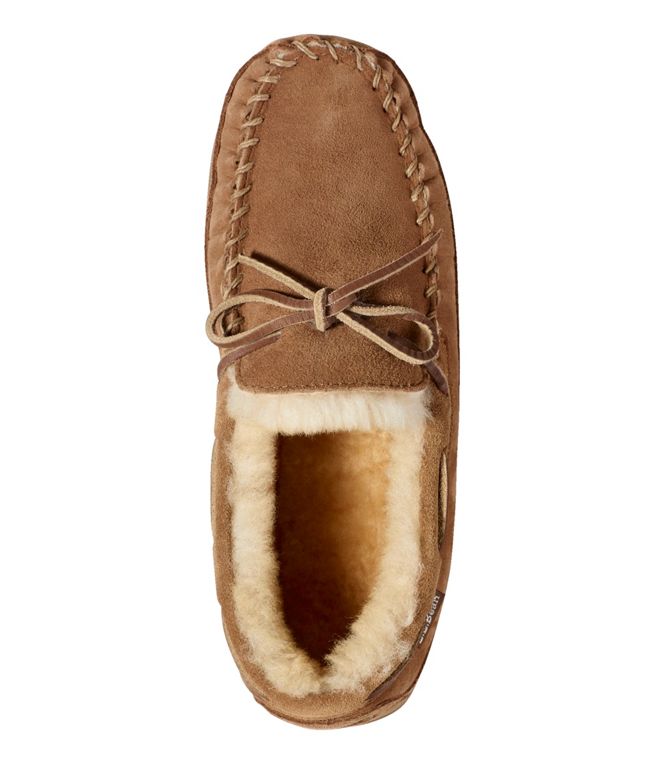 "If you have wider feet, finding slippers that aren't too tight can be laborious. That's why these moccasins from L.L. Bean are the perfect choice for style and comfort," says The Spruce. "The shearling interior keeps moisture at bay while keeping the whole foot warm in the cooler months. And, with the memory foam sole, your arches will be supported, no matter what your day brings."
As a company, L.L. Bean also takes pride in guaranteeing you'll love their products. In fact, you have an entire year to return any product you buy from them if you aren't completely satisfied with it for a full refund. "No need to apologize if you pull these on and let out a loud, involuntary aahhhhhhh, that's the stuff," writes GQ. (Seriously, they wrote that. They must be good.)
From day one, Birkenstock has made it a goal to create simple, comfortable products for men and women. According to our research, they totally nailed it in the men's slipper department. Interestingly, it's almost as if, like fine wine, these slippers get better over time. "For a brand that literally invented the footbed, it's not exactly a head-scratcher as to why Birkenstocks are so flippin' comfy," writes GQ. "Said footbed is wrapped in cozy shearling and chiseled with supreme arch support and thick cork that molds to your feet over time."
Other websites rave about them being the best shoe if you need a ton of support. Unlike other men's slippers, it doesn't seem to matter if you have extra wide feet, either. "The trademark supportive footbeds require breaking in, we found when we tested a pair, but wearing the slippers also felt like you're doing something good not just for your feet, but your entire body," says WSJ.
If you're arguing over the coolest name, the Bombas slipper might steal the show. Like L.L. Bean, though, Bombas didn't let a catchy product get in the way of being super, super comfortable. Because they look like thicker socks that grip around your feet, they are easy to put on and also incredibly low maintenance when you need to clean them.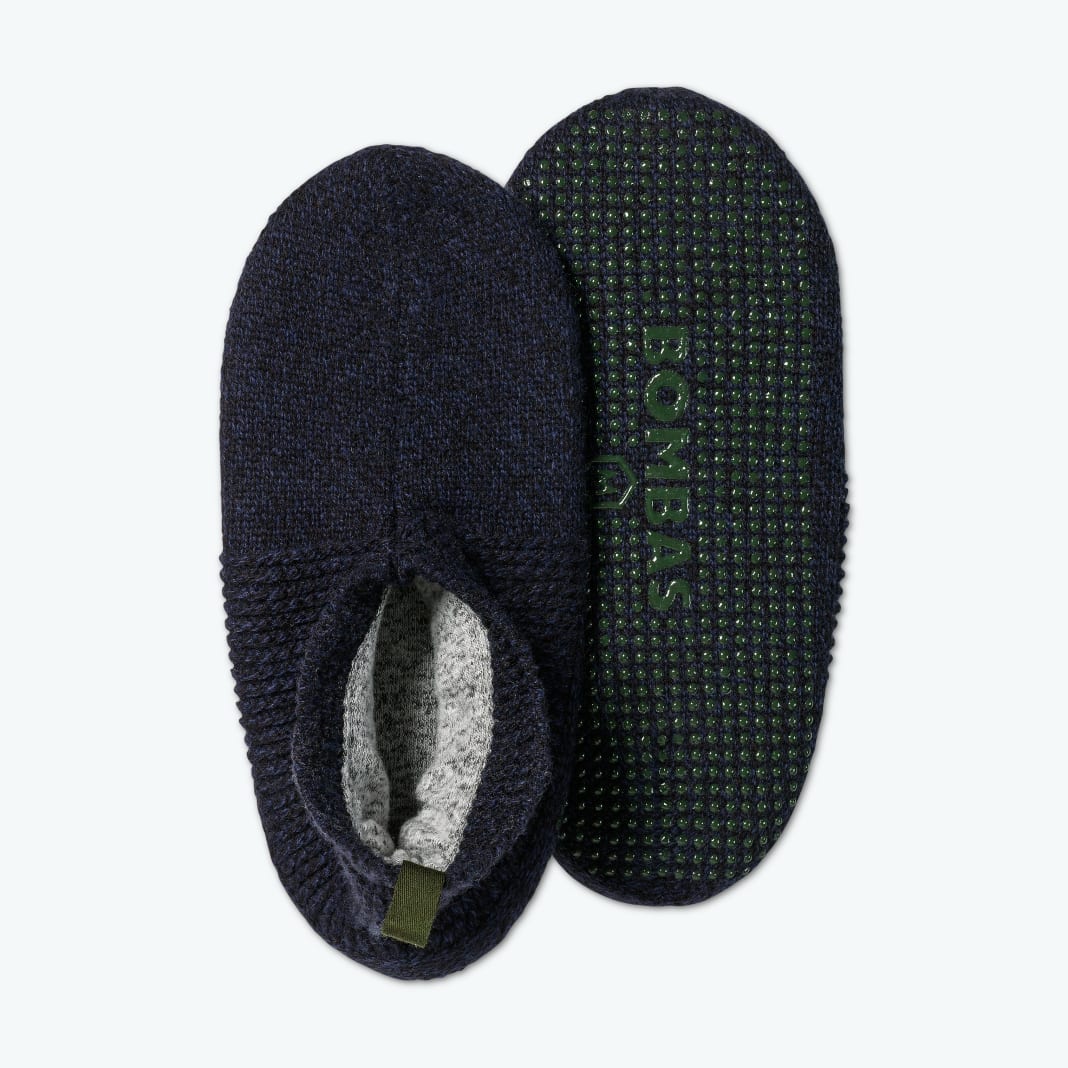 "They come in various patchwork designs and colors. The grippers on the bottom of the slipper (hence the name) mean you won't slip and slide on hardwood floors or bathroom tiles. Plus, you can throw these right in the wash, but be sure to lay them flat to dry," says The Spruce.
Strategist's associate editor Louis Cheslaw writes: "Because of their construction, they 'pack down flat for travel' and are machine washable. What's better is that the 'rubber dots on the soles keep you from slipping as you run up and down stairs and from room to room.'"
One other thing that could help your purchase decision? Bombas donates a pair of socks to a shelter every time they make a sale. So you can do some good while warming up your feet this winter by going for these.
You might also be interested in:
Sources:
Note: This article was not paid for nor sponsored. StudyFinds is not connected to nor partnered with any of the brands mentioned and received no compensation for making these recommendations.