Improve your well-being, boost your physical health, and reduce stress. If your first thought was cardio (and you were dreading it) — we have good news! The magical missing piece of the puzzle in your life is a standing desk! Standing while working is an innovative way to improve your performance and health. Plus, some of the best standing desks allow you to burn calories during your workday instead of sitting still.
Studies show that using a standing desk is highly beneficial. That's right, standing desks can help improve mental health by helping get individuals on their feet (and off their chairs!) For all the research frequently being released on the dangers of sitting, standing desks have become quite popular in recent years, especially for remote workers. Desk makers are constantly rolling out all sorts of styles and sizes, so finding the best standing desk for your needs is easier than ever.
As mentioned, simply getting on your feet can provide great health benefits. Research shows that office workers are often sitting for more than 80% of their day! That's why standing while we work can help offset the amount of time we spend sitting, allowing us to burn more calories and combat a sedentary lifestyle. Health experts often warn against living the couch potato dream. Spending too much time on the couch can raise the risk of stroke sevenfold, one study shows. Even kids face serious health risks from being on their butts for long periods of time. One study concludes that couch potato kids could be battling high blood pressure by age six if they're not on their feet more frequently.
Standing desks were invented to help people avoid the excuse they simply are unable to be up and at 'em at all times. Research shows that standing at work can be good for your brain, lowering levels of cortisol (the hormone that causes stress) and allowing workers to be more productive. Standing desks could even help lower the risk of death from any cause, as one study finds being on your toes at work can protect your overall health. Similarly, another study reveals that standing desks could even help offset the harms from an otherwise inactive lifestyle.
Looking to make the move to a standing desk and better your health? We're here to help! StudyFinds compiled a list of the five best standing desks mentioned across twelve expert reviews that will transform your workflow. Our list consists of the products recommended most frequently across these sites Check out the recommendations from the experts and let us know if you have a recommendation of your own in the comments below.
The List: Best Standing Desks, According to Experts
The most frequently recommended standing desk was the UpLift V2, according to the experts. Customization is king with the UpLift V2, which features five desktop sizes and also "two dozen desktop materials available, from more budget-friendly laminate or bamboo to much more expensive options like solid walnut and live-edge pheasant wood," writes The Strategist.
The customization doesn't stop with desktop sizes and wood options. You can also add mounting points for accessories, additional storage, and even an under-desk hammock! The UpLift V2 also allows users to pre-set four heights, so you don't have to always try to replicate the perfect height!
The UpLift V2 can raise as high as 51.1 inches but does not sacrifice on stability, even at the highest level. As noted by Tech Radar, "An issue that can be found with some standing desks is that they might be a bit shaky, particularly when extended to higher levels. Uplift is nicely stable, though, thanks to built-in stability braces."
For those who are busy, the UpLift V2 is an easy install, with CNet saying it was "easier to install than expected" and only requires a few tools.
The Vari Electric Standing Desk also received high praise for its sturdiness. The New York Times called it the "most stable standing desk possible" and also united that "even at its tallest height of 50.5 inches, it barely budged when forcefully shoved in all directions." We're not suggesting anyone do that, but it's a great feature to have! Gear Patrol firmly agrees on the sturdiness of the Vari Electric, calling it "one of the most stable on the market, owing to T-Style legs with heavy-duty steel feet."
The desktop is slightly thicker than other competitor desktops (1.25 inches vs. 1 inch). The Vari is also a larger standing desk – measuring 60 inches wide and a depth of 30 inches (and a weight of 200 pounds!). The size of the Vari Electric allows it to "easily hold a dual monitor work setup using monitor arms and pretty much any other office accessories or desktop options you need," comments CNET.
Though the Vari Electric may not feature as much customization as some competitors, it does offer options for the desktop finish, and a digital display on an electric control panel and comes with options for storage, cable management, etc. Much like the UpLift V2, the Vari Electric received high praise for its ease of installation.
The Fully Jarvis Standing Desk, weighing just 92 pounds, was noted as being a great lightweight option. Men's Health is a fan, calling the desk "sleek and simple."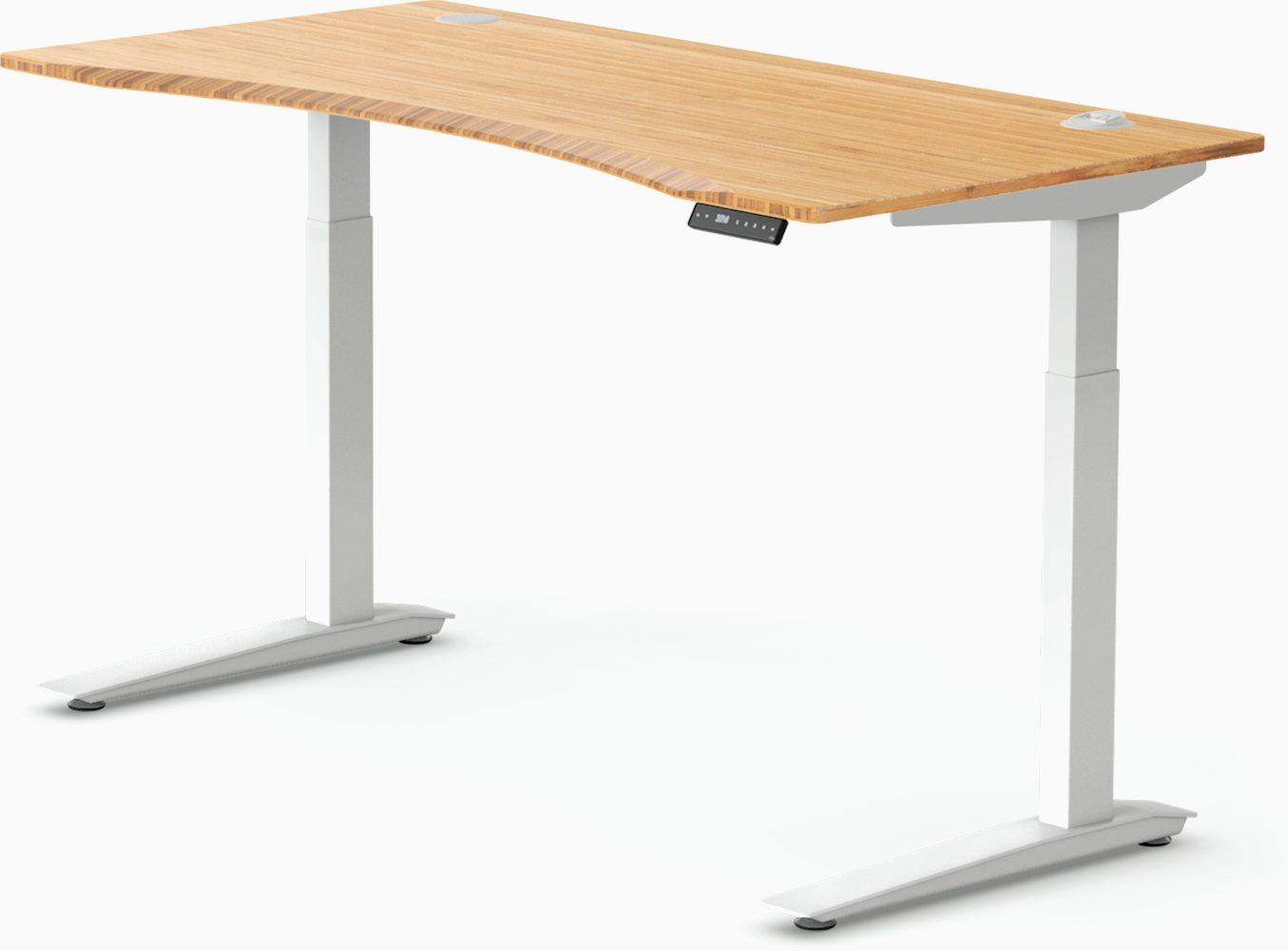 Though noted for being "simple," the Jarvis features a lot of customization options for those looking to purchase one. That includes a multitude of options for the desktop, including "heat-, scratch- and water-resistant powder-coated MDF; Greenguard high-pressure laminate; or Moso bamboo, harvested from sustainable forests," mentions Gear Patrol.
The Jarvis also received high marks for having a "metal frame with the motorized adjustment mechanism that comes in several colors and materials and is about as minimal as you'll find," writes Insider.
One of the biggest customization options for the Jarvis was that you could order the desk in varying sizes in both rectangle and curved options. You can also tailor the desk to your liking by adding an anti-fatigue mat, LED desk lamp, and powered grommet, among other options. Gear Patrol also notes that the desk "features 25.5 inches of adjustability, so anyone up to 6'7 can stand and work with ease."
"Ergonomic, simple, attractive," says Esquire of the Branch Adjustable Standing Desk. Esquire wasn't done with their praises, also noting that the Branch features a "three-stage lift system is stable and seamless; you'll not need to move your bottom half at all to transition from sitting and standing—then back again."
This model also offers a "high level of craftsmanship in a standing desk that ultimately rises above the best with seamless motion, a sturdy build, and a design that doesn't distract," notes CNN.
This standing desk featured a rounded bevel on the desktop, allowing users to rest comfortably on the desk. Functionality was also a highly noted strength of the Branch. The Branch can handle people as tall as 6-foot 8-inches (and stay stable), features four memory presets for different heights, and offers helpful extras including in-desk power outlets and cable management.
The praise for Branch's functionality and craftsmanship did not stop there. TechRadar noted that the Branch also features a "melamine desk surface that is both stain-resistant and impact-resistant, so it should be safe from spillage or other accidents."
The SHW might be best fitted for those with limited space, offering a 40-inch desk option. This desk also featured the lowest price point of any of the desks on this list.
Though it has a low price point, the SHW desk features options and customization that allowed it to receive high praise. CNN notes that the SHW Electric Height-Adustable Computer desk is "a surprisingly functional, sturdy desk at an incredibly affordable price, comparatively."
On top of being a great budget-friendly option for those looking for a table, the desk received high praise for the (albeit limited) customization and features it offered. The desk features a "handful of wood finishes atop a black or white frame, and the desk itself has a wire basket underneath to accommodate power cords and bricks," says Yahoo.
You may also be interested in:
Sources:
Note: This article was not paid for nor sponsored. StudyFinds is not connected to nor partnered with any of the brands mentioned and received no compensation for making these recommendations.