You may be an avid runner, or maybe you prefer to take a nice stroll. No matter your preference, there are shoes made for both! With all of the health benefits walking brings, it's important to know the best walking shoes for men that are made for the job in comfort and style.
Did you know that the speed in which you walk is just as important as the number of steps you take a day? A study shows that walking five miles daily, or about 10,000 steps in a 24-hour period, has long been tied to a litany of positive health benefits, including the avoidance of cancer, dementia, cardiovascular disease and even sudden death. But two studies from researchers at the University of Sydney and the University of Southern Denmark reveal that a faster pace akin to "power walking" should be viewed as equally as important during such exercise.
It's noted that a higher stepping intensity showed preventive health care benefits for "all outcomes," ranging from dementia to heart disease. Specifically, a lifetime of brisk walking leads to longer telomeres. These are the protective "caps" on the ends of your chromosomes — sort of like the plastic tabs on your shoelaces. Although they don't carry genetic information, telomeres play a vital role in keeping DNA stable.
Knowing that a brisk walk could help add 16 years to your life, StudyFinds turned to ten expert opinions to find the top five best walking shoes for men. If you have been making great strides in a shoe we haven't mentioned, we'd like to hear about it in the comments below! 
The List: Best Walking Shoes
for

Men, According to Expert Reviews

The Allbirds Men's Merino is named the best overall walking shoe for men according to Forbes. "As a relatively new footwear brand—they launched in 2016—Allbirds has made quite the name for itself in recent years. The Merino Wool Runners, the brand's original sneaker, features its 'revolutionary' wool fabric that's both natural and sustainable to help lessen the impacts of climate change. Made from superfine ZQ merino wool, the shoes are both soft and warm, and the natural properties of merino wool boost the shoe's breathability while reducing unwanted odors."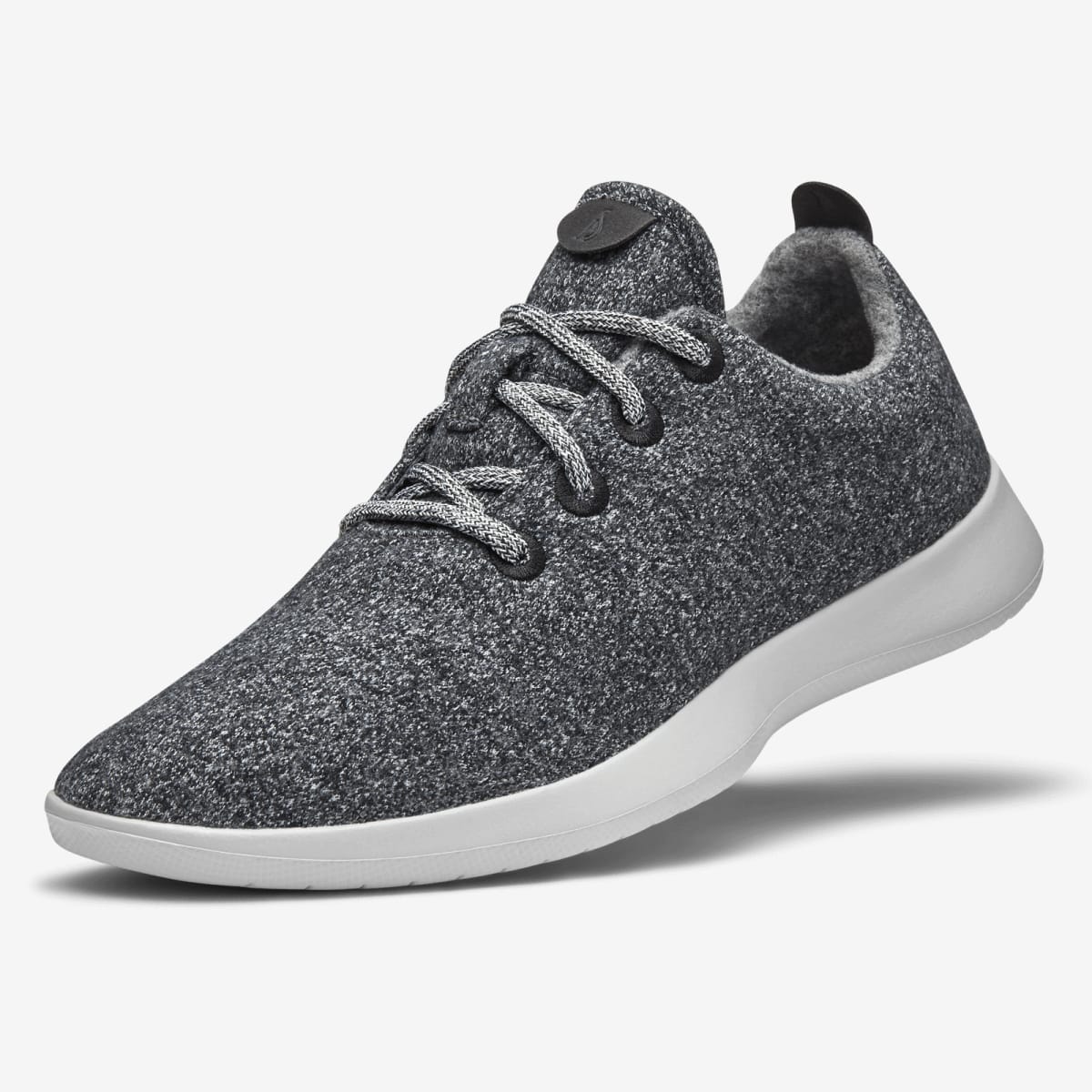 Esquire is blunter about Allbird's success, "Allbirds built a billion-dollar business off the strength of the brand's hero product, a relatively plain wool runner that doesn't look like anything special but remains one of the most popular sneakers on the market purely because it's so damn comfortable. And more than a million pairs in, it's looking like the brand is about to have the last laugh."
Garage Gym Reviews sees these runners as both comfortable and stylish, "The Allbirds Wool Men's Runner looks classy no matter which colorway you choose, but luckily there's quite a few for you to pick from. "These are casual enough to wear with gym clothes but you could also easily dress them up a bit more," says Rob Davis, husband of GGR senior editor Nicole Davis. "They'll be my new airport shoes."  
These sneakers are known for their lightweight cushioning. "Some shoes, like this one, are designed to put an actual pep in your step. Skechers' Hyper Burst midsole is a lightweight, resilient foam with spherical cells that compress and rebound as you step. That means the Go Walk Hyper Burst offers next level cushioning while you stride. And it doesn't stop there—the slightly padded, breathable insole provides even more bounce underfoot. Combine that with the soft, flexible mesh and synthetic slip-on upper (only currently available in men's style), and you're all but guaranteed to be feeling good for miles on end," says Runners World.
Buyers Guide encourages you to, "keep up the pace in enhanced comfort and stability with Skechers Go Walk sneakers; just lace-up and go with these Skechers Go Walk shoes for men. These tennis shoes feature a stretch-laced design (top of shoe) for a comfortable fit; breathable athletic mesh upper for cooling effect (ventilation that helps feet breathe)."
"It is manufactured with patented Skechers materials like performance technology for athletic walking, and Goga Max technology insoles that have high-rebound cushioning. You can stand out in style, considering the solid weave mesh fabric upper with a cushioned and supportive design," adds Footwear Geeky.
Hoka isn't just any walking shoe. GQ claims it is for men who take walking seriously, "Hoka's signature sneaker is beloved by serious walkers and serious aesthetes alike. The most cushioned shoe in the brand's thick-soled repertoire, the Bondi 7, offers a consistently smooth, luxurious walking experience—no matter the distance involved. Yes, the shoe is engineered with the brand's standout EVA midsole, breathable mesh uppers, and an ultra-soft memory foam collar specially designed to cradle your heel. But it's also—dare we say it?—downright sexy, a rarity in a market largely dominated by sneakers that place function high above form."
These walking shoes for men aren't lacking in the comfort department according to Runners World. "If you're after a cloud-like feeling, your search ends with Bondi. Maximum cushioning comes courtesy the beefy EVA midsole that accounts for much of the 27 millimeter stack height in the forefoot (29 millimeters in the men's version). That's several millimeters taller than similar shoes, and chances are you'll notice that extra height only after you feel the plushness underfoot."
Run Repeat boasts about Hoka, "The eighth iteration of the Hoka Bondi remains as runners' beloved plush and cushy daily trainer that excels on easy days and recovery sessions. With its humongous foam, your foot will find itself in a very comfy position. On top of this, it will allow you to move with precision, thanks to its highly stable ride."
Not only is the Fresh Foam great for walking, but it acts as a great running shoe as well. "There's a reason New Balance lists the Fresh Foam 1080v11 in both its running shoe and walking shoe categories. Although the lightweight, super-cushioned shoe is technically cut out for hitting the road pretty hard, it is also incredibly comfortable for cruising along with a good podcast (or friend). With an 8-millimeter drop from heel to toe and a bouncy foam midsole, the shoe offers plenty of support regardless of your pace. And the soft, bootie-like construction hugs your foot for a secure fit," says Runners World.
"'The Fresh Foam is a thoughtful balance of cushioning, weight, and flexibility that make the shoe a great choice for those looking for a shoe to wear for casual everyday activities and hold up to long walks. A foot-hugging knit upper allows for breathability and upper foot support, too. It is heavily cushioned with the perfect amount of bounce back,' says Dr. Mendeszoon. A redesigned upper feels like a second sock on top of the foot," says Men's Health.
CNET claims that the Fresh Foam are, "aimed more at trail running than regular walking, these sneaker-like shoes are excellent for those of you that like to hike the forest trails at a faster pace. The shock-absorbing midsole is extremely comfortable on mixed terrain, while the deeper lugs of the Vibram sole provide plenty of traction, even in wet conditions. They're light, too, meaning you can wear them for full-day trail walks without having to spend days nursing your aching feet afterwards." 
"Hoka sneakers are known for being some of the best on the market, and we think so, too, after testing and loving the Clifton 8 running shoes. From heel to toe, the design of the sneakers is simple, lightweight, and, most importantly, extremely comfortable after we put some serious miles on them around the city. The mesh upper is breathable for days when your feet get a little sweaty, and the padded tongue adds extra cushioning, so it doesn't dig into the top of your foot. Hoka's signature Meta-Rocker sole provides the foundation for an ultra-comfy sneaker, as the curved design feels supportive and bouncy, and the EVA midsoles have just the right amount of cushioning for a soft and absorbing feel for walking long distances," says Travel and Leisure.
Garage Gym Reviews gives a great analogy between walking comfortably and the Hoka Men's Clifton shoes: "I've never actually walked on air, but I imagine it feels like walking in a pair of the HOKA Bondi 8s. In fact, remember when I said I laced up a pair of shoes and walked for 13 miles straight? These were the shoes I wore on that walk, and my feet never once cried out in pain…These things are like walking on pillows and you can tell just how soft they are when you take them out of the box. The foam surrounds the entire shoe and gives it a considerable amount of girth, yet it still remains lightweight at around 11 ounces per shoe."
"Another crowd pleaser (and best seller) from HOKA," adds Men's Health. "And another great walking shoe that is recommended by the American Podiatric Medical Association. This shoe boasts a thoughtful balance of soft and light. In fact, at just under 9 ounces, it's one of the lightest shoes on this list. The brand's signature curved outer sole helps to rock you forward with each step, keeping you comfortable so you can enjoy walking more."
You might also be interested in:
Sources:
Note: This article was not paid for nor sponsored. StudyFinds is not connected to nor partnered with any of the brands mentioned and receives no compensation for its recommendations.