Keeping up with laundry can sometimes feel like running in circles. Just as soon as you've finished it all, another round begins. But of course, with the best washer and dryer set, laundry can be a far more pleasant experience. When your washer gets every load smelling fresh and looking clean, and your dryer gets all your clothes warm and ready to fold in one cycle, the once frustrating chore becomes much more manageable.
If you dread throwing your favorite sweater in the wash in fear it will come out a different size or color, you're not alone. In fact, a recent survey of 2,000 millennials and Gen Z'ers found that two in three young Americans avoid wearing their favorite clothes because they don't want to ruin them in the wash.
Although laundry is a necessary task, survey results reveal that most people dread doing it (68%). Young adults say the biggest reasons are it's time-consuming (52%) or they dislike a specific part of the process, like loading the machine or folding (50%). Two in five also think laundry is easy to mess up and 43 percent add that laundry can be bothersome because it needs to be done an average of three times a week. But even still, survey participants agree that the situation could be improved. 59 percent see laundry as a way for them to destress and most think they would be even more willing to do their laundry if there were easy fixes to some of the challenges (68%).
Thankfully, finding the right washer and dryer set can alleviate many of the greatest frustrations around this household chore. A good quality machine won't turn your favorite big t-shirt into a crop top, or your white socks into pink ones. But with so many on the market, the greatest hurdle between you and a better laundry experience is narrowing down the list to only include the best washer and dryer sets. That's why StudyFinds did the research for you, searching 10 expert websites for the top washer and dryer pairs. This list includes the most frequent recommendations, but of course, if you have a favorite that we missed, be sure to let us know in the comments!
The List: Best Washer and Dryer Sets, According to Experts
Make picking your next washer and dryer easy and opt for the LG WashTower! This two-in-one set is both space efficient and a powerful cleaning device that's sure to keep your laundry looking fresh. "The LG WashTower makes shopping for washers and dryers a lot easier, as you only have to buy one machine, rather than two," says USA Today. "The LG WashTower that we lab tested offered an above-average performance and got our laundry up to 4% cleaner than average. Drying, too, is a breeze. We don't see many washer-dryer pairs that feature such great performance at such a low price."
"One of this washer and dryer's most compelling features is its Wi-Fi connectivity. By pairing your phone to the brand's app, you'll get notifications when your laundry is finished, have the ability to check where it's at in the cycle, and even start or stop it from afar," says Real Simple. "Another is its AI technology, which detects fabric texture and load size to customize both machines' cycles, including wash and dry settings and temperatures. This ensures your garments get the most optimized clean possible and saves you the stress of laundry guesswork."
While the LG WashTower is an impressive cleaning machine, it will also look great in your laundry room. "While laundry centers are usually quite basic in form and function, LG's WashTower is a game-changer and a head-turner. This sleek-looking tower features a front-loading washer and dryer, a departure from the familiar top-loading washer usually seen in laundry centers," adds The Spruce.
If you want an attractive looking washer and dryer set that can give your wardrobe a powerful clean every time, the Maytag Smart Top-Load washer and dryer is the set for you. With a large capacity, top-load functionality, and smartphone accessibility, it's everything you need to make laundry day a breeze. "Those looking for a top-load washer that can deep-clean a large load of laundry should look no further than the Maytag Smart Top-Load Washer," says Real Simple. "According to the brand, the 4.7 cubic feet drum can wash 19 towels at once. And you don't have to worry about them not getting a thorough wash, since this design features an agitator that works overtime to fight stains and messes."
Adds NY Post, "with a sharp stainless steel look to match your kitchen appliances, the Maytag Smart Top-Load Washer Dryer Combo is a force to be reckoned with, as far as these trusty appliances go. If you prefer the classic top-load functionality, you'll appreciate this one."
One of the best features of this set is its ability to be controlled via your smart device. Whether you're at work or just across the room, you won't need to get up to check on or start your laundry ever again. "This smart appliance can be controlled via the Maytag app. Download the app to your phone or tablet to remotely start or stop the machine, and get end-of-cycle notifications," explains CBS News. "The home appliance features a built-in water faucet and a deep-fill option, so you can soak dirty clothes before you wash them, or use the extra water to tackle tough stains."
If you're used to laundry day taking all day due to the sheer amount you have to get through, making the switch to this Samsung Bespoke set is sure to (literally) lighten the load. With plenty of room and plenty of power, this set can handle even the largest of wardrobes. Architectural Digest writes, "the washer in this set from Samsung has a large capacity of 5.3 cubic feet, ideal for families that need to wash large loads frequently. Its dryer also has a large capacity of 7.3 cubic feet."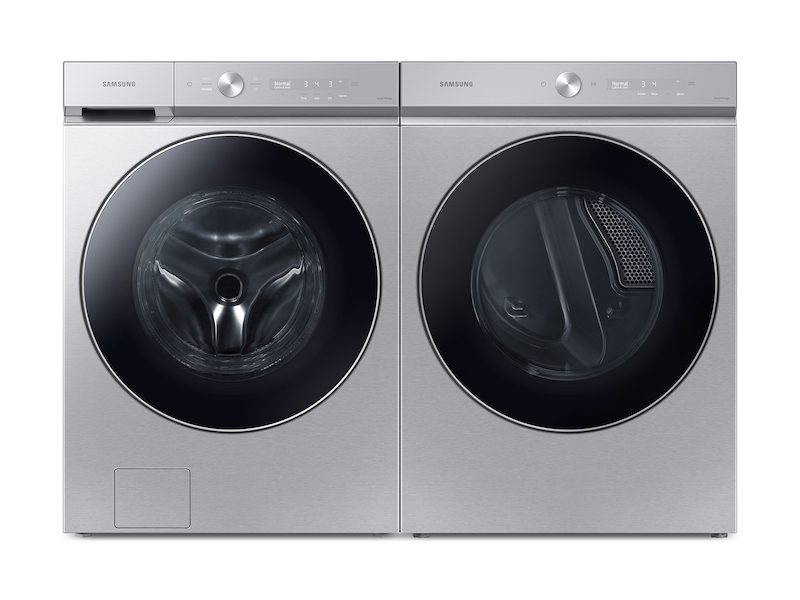 The Bespoke set also comes outfitted with additional features to help laundry run smoothly. Explains CBS News, "The latest Bespoke line includes Samsung's AI Optimal Dry. The tech feature uses sensors to detect the moisture content of your laundry and automatically selects the best drying setting."
"Our favorite part? Unlike most black or white options, this Samsung design comes in a chic forest green color (though there's also a navy blue option if that's more your style)," adds Good Housekeeping. "If you're looking for something with all the bells and whistles that'll make your laundry room stand out, go for this luxe-looking duo."
When you welcome a pet into your family, they tend to bring with them a significant amount of fur and hair. For many washers and dryers, that can prove to be a challenge. Not so for the Maytag Pet Pro. As Good Housekeeping puts it, "if you have pets, you need your laundry to be able to work a little overtime. Enter: This Maytag top-load duo. The washer has a Pet Pro filter designed to remove five times more pet hair than competitors, and the dryer is equipped with an extra-large lint trap that attracts any remaining hair."
"On our list of best washer and dryer sets, the Maytag Pet Pro washer and electric dryer come out on top as our best value pick," says USA Today. "This top-loading washer includes a filter inside the pole agitator that is designed to collect pet hair. During testing, it removed an impressive amount of fur off of a pet bed, and the MED6500MBK dryer works in tandem with the washer to ensure your laundry both dry and hair-free."
Even if you don't have furry friends in the house, it's hard to go wrong with the cleaning power of the Pet Pro. "The washer's deep fill option also adds more water when you want it. As for the matching dryer, steam-enhanced drying refreshes clothes, prevents wrinkles and helps loosen additional pet fuzz, adds Reader's Digest. "This brilliant duo is one of the most advanced pet hair removers that really work, and an absolute must-have for homes with multiple furry best friends."
If you find yourself hunched over the laundry machine flipping between unfamiliar settings, Samsung's Smart Dial washer and dryer are the set for you. This powerful pair makes it easy to wash your clothes correctly every time, even if you're not sure which cycle to pick. "Imagine a laundry set that completely eliminates the guesswork. The people at Samsung did," says Reader's Digest. "The intelligent, large-capacity, stackable units learn and recommends your preferred cycles and settings. The washer can sense the load's weight and even the dirt level, and washes accordingly."
"This model uses AI power to learn and recommend your favorite wash cycles and it can wash a full load of laundry in 28 minutes," explains CBS News, going on to explain that the dryer does the same. "The 4.7-star-rated laundry appliance uses AI power to learn and recommend your favorite drying cycles and displays them first for quick access. It can dry a full load of laundry in 30 minutes."
Beyond the ease of use, the Smart Dial also features advanced cleaning tools like auto detergent, speed dry, and more. "Another [feature] is its steam function. When used during the wash cycle, it helps to gently remove stains, whereas, during the dry cycle, it rids belongings of 99.9 percent of germs—as well as wrinkles and static," Real Simple adds.
You might also be interested in:
Sources:
Note: This article was not paid for nor sponsored. StudyFinds is not connected to nor partnered with any of the brands mentioned and receives no compensation for its recommendations. This article may contain affiliate links.