Nothing quite says "summer" like spending the day soaking up the sun, sliding down slides and lounging by the wave pool in one of the many water parks throughout the country. They are parks that attract thrill seekers, beach bums and families alike as their manicured waterways are inviting as well as relaxing. Some of the best water parks in America boast stomach-dropping slides and splash-filled rides that are exciting and family friendly.
Fun fact. According to PBH20, "It takes 900,000 gallons to initially fill a water park. A park can consume more 25,000 gallons a month. Water is lost through evaporation, splash off, deck cleaning and backwash operations." That's a lot of water!
For most people, a key indicator of a good vacation is posting about it on social media. In fact, a recent study shows that more than a third (36%) of those who use social media don't feel like they've had a real vacation unless they post about it. Luckily, there are endless photo ops at water parks. From snapping moments of joyful children to capturing the terror of a water slide's steep drop, you'll have so much to choose from.
It's that versatility and combination of attractions that attract people to their parks every Spring and Summer. The ability to fully entertain every type of amusement goer is difficult, and when you can do it all with one park, you've got it made. Other than their flexibility, nothing truly beats jumping into a pool on a blistering hot summer day and feeling refreshed… as long as you remember the sunscreen! 
Let's get in those tubes and ride some slides! To find the consensus best water parks in American, we reviewed 10 expert websites to find the most frequently recommended venues. If you've got your own suggestions, please leave them in the comments below!
The List: Best Water Parks in America, Per Experts
The King of all waterparks is Schlitterbahn in New Braunfels, Texas! Come on, the name alone is just fun to say! Sitting at many experts' top spot, this was an easy win. "If you're looking for the best water park in the United States, look no further than Schlitterbahn in New Braunfels, Texas. This world-class water park features more than 50 slides and attractions, making it the perfect place to cool off on a hot summer day," says Attractions of America.
As Mapquest puts it, "This is the first and perhaps the best known waterpark in Texas due to its size and amazing water attractions it offers. It is actually two parks that are connected by a tram, the original park that was created using water from the nearby Comal River and the newer park that features more thrilling slides and attractions."
"Arguably, Schlitterbahn's prime attraction is the six story Master Blaster water coaster. With numerous loops, tunnels, and plunges, this thrilling ride certainly gets the blood moving. There's also the Black Knight and Wolfpack Race Slide to enjoy. Kids can play on Blastenhoff Beach or along the Kiddie Coast. Practice your moves on the Boogie Bahn Surfing ride or just relax in the Dragon's Lair Heated Pool," writes Trip.
Who would have thought that a northern state would have such a quality water park! Set in Wisconsin Dells (which is actually the waterpark capital of the world!), this water park opened in 1979 and soars to the expert's second consensus pick.   
It's the biggest around! "Wisconsin Dells is home to America's largest water park, Noah's Ark. The park spans across 70 acres and features over 40 rides divided into four distinct categories – Thrill Rides, Family Rides, Adventure River, and Kiddie Rides," says Attractions of America. 
Timeout signals the best ride available, "The park's pinnacle attraction is the Black Anaconda tube slide, which gives riders a quarter-mile journey from the top to splashdown."
Travellers Worldwide says, "There are over 80 different attractions for all ages. The Time Warp is a behemoth water bowl that's enclosed, so you'll never know what's coming next. The Raja is a huge open slide made to look like a scorpion. For little ones, there's plenty to do. There's a splash pad, kiddie pool, and Tadpole Bay, which is full of water features. Your kids will be busy all day."
This Virginia based attraction is loved by many with it's retro vibe, fun attractions and all around good vibes. If you find yourself in Old Dominion check it out! Family Vacationist says, "Virginia's largest family outdoor water park, Water Country USA, features state-of-the-art rides and attractions with a retro surf theme. The Cutback Water Coaster thrill slide, one of the park's more popular slides, combines a water jet propulsion system with a saucer feature to create a steep, smooth ride more than 800 feet long."
The Travel Channel mentions a few of their rides: "Brace yourself for a liquid adrenaline rush on the drop slide, Vanish Point (pictured) with its 75-foot tower and 2 wave paths. Here, you'll step into a skybox where you drop down when the floor drops out. This water park — the largest in Virginia — has 25 state-of-the-art rides, including KIDsiderate (kid-friendly) rides like Cow-A-Bunga, H2O UFO and Kritter Korral."
"Water Country USA is an epic water park with four family-sized raft rides like Aquazoid that takes riders through a dark and twisty tunnel or the high-thrill adventure on Cutback Water Coaster," says Vacation Ideas. "Young park guests have three fun-filled themed play areas to choose from, Cow-A-Bunga, H2O UFO, and Kritter Corral, each with geysers, interactive water features, climbing obstacles, and scaled-down waterslides."
Of course Disney would produce a quality water park to go along with their world-class theme parks! Are you really surprised? This Shipwreck-themed water park shows that the Mouse knows how to throw a good summer party! 
Mapquest says, "Typhoon Lagoon is a family favorite and lives up to all expectations. This park is home to North America's largest wave pool that features 6-foot waves every 90 seconds, certain to keep your heart pumping. This park definitely caters to families with older kids, teens and adults themselves as many of the slides are fast and thrilling and the additional attractions cater to an older crowd. One experience visitors won't want to miss out on here is snorkeling at Shark Reef where you can get up close and personal with leopard and bonnethead sharks, stingrays and schools of blue tangs. Available at no additional charge, this underwater experience is like nothing else. The added bonus of this park, visitors can bring in food and drinks to save a little money."
Every Avenue Travel loves this place, "Walt Disney World Resort's second water park is the breathtaking Typhoon Lagoon. The focal point at this outstanding water park is its Mount Mayday, where slides and raft rides travel through caves, waterfalls, and rock formations. Shark Reef is a unique 362,000-gallon, saltwater, coral reef diving environment in which guests can snorkel amidst the colorful fish, coral, and plant life of the Caribbean. Typhoon Lagoon also contains one of the world's largest surfing lagoons (approximately 109,000 square feet, containing nearly three million gallons of water). Kids will agree that this is one of the best water parks in the US!"
"This water park in USA gives you a perfect place to experience the joy of a lazy slide and the enthusiasm of a fast descent. This water park is the home of the world's largest wave pool, where the riders can do body surfing. A specific Disney-themed water park gives a story like an adventure to the riders," The Top Tours says. 
This water park is owned by Universal Studios and boasts excellent theming with top-notch thrills. Being situated in the shadow of all the major theme parks in Orlando, this water park stands out despite the high expectations.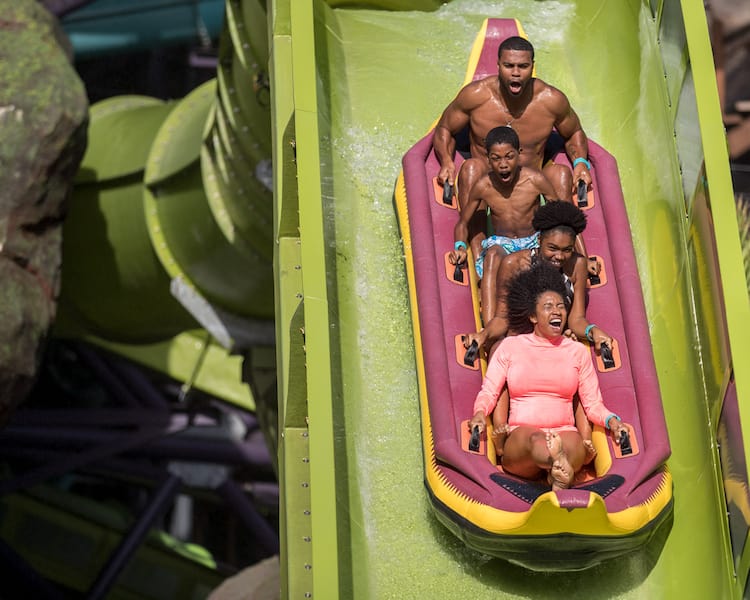 "The expectations for a Florida water park are high; for a Universal water park, even higher. Happily, Universal's Volcano Bay blows any and all expectations out of the water. Volcano Bay is superlative in every way, boasting four different themed areas, each inspired by various Polynesian islands and cultures. The park's centerpiece (and namesake) is Krakatau, a massive, 200-foot-tall monolith. The volcano houses three slides, including the Ko'okiri Body Plunge, which, at 125 feet tall, is the tallest body slide in the country," says Only In Your State. 
10Best, the USA Today Brand, says, "Whether you're looking for a few more thrills or simply to chill out, Universal's Volcano Bay has you covered. This tropics-themed water park is full of lush tropical landscapes and centers around a volcano. Not to be missed are the Krakatau Aqua Coaster and the Kala & Tai Nui Serpentine Body Slides. And if you're looking to save time, be sure to get a TapuTapu™. These waterproof wearables let you hold your place in line, one ride at a time, while continuing to explore the park."
Upgraded Points mentions, "the park offers a ton of watery fun for everyone. At the forefront of theme park technology, it also offers the Tapu Tapu wearables that let you wait in virtual lines, pay for your food, and play in the water without getting your wallet wet."
You might be interested in:
Sources:
Note: This article was not paid for nor sponsored. StudyFinds is not connected to nor partnered with any of the brands mentioned and receives no compensation for its recommendations.