With the wind beginning to breeze through the trees and chills starting to work their way down our spines, one may become aware of the changing of seasons. That can only mean one thing: A changing of the guard when it comes to summer-to-fall clothing may be in order! Gone are the shorts and sundresses of summer, and in come the jeans and, on a more comfortable note, sweatpants. Not only are the best women's sweatpants perfect for lazy days at home, but they can also be dressed up with a stylish jacket and sneakers for a casual yet fashionable outfit. Embrace the comfort and style of sweatpants this fall and enjoy the chilly weather in ultimate coziness.
With so many people working from home, the need for business casual dress pants is a thing of the past. With the COVID-19 pandemic upending the business world in such a way that fast-forward to 2023, a new survey finds more than half of adults in the United States are doing some form of remote work.
According to global management consulting group McKinsey & Company, how Americans want to work and where they want to do it seem to be of high value in the modern working world. Whether working part-time in the office or being fully remote, nearly six in 10 say they can work from home at least one day a week. Another 35 percent work from home for the entire week! Queue the dress shirt on top for Zoom meetings and a pair of Lululemons on the bottom for comfort, are we right? 
But how does one make sure they are prepared for the comfiest of workdays? As always, we have researched across multiple expert sources to bring you today's ranking of the top five best women's sweatpants. Don't agree with our list? No worries! We would love to hear from you in the comments down below. Now, onto the list, shall we?
The List: Best Women's Sweatpants, According to Style Pros
Shocking no one, the first spot on our list is dedicated to a Lululemon pick! The Scuba High-Rise Joggers are a definitive must-have this season. "These sporty high-waist sweatpants are lightweight and breathable yet impressively warm, and the pockets actually hold your cell phone. That's something we can all get behind—thanks, Lululemon," says Glamour.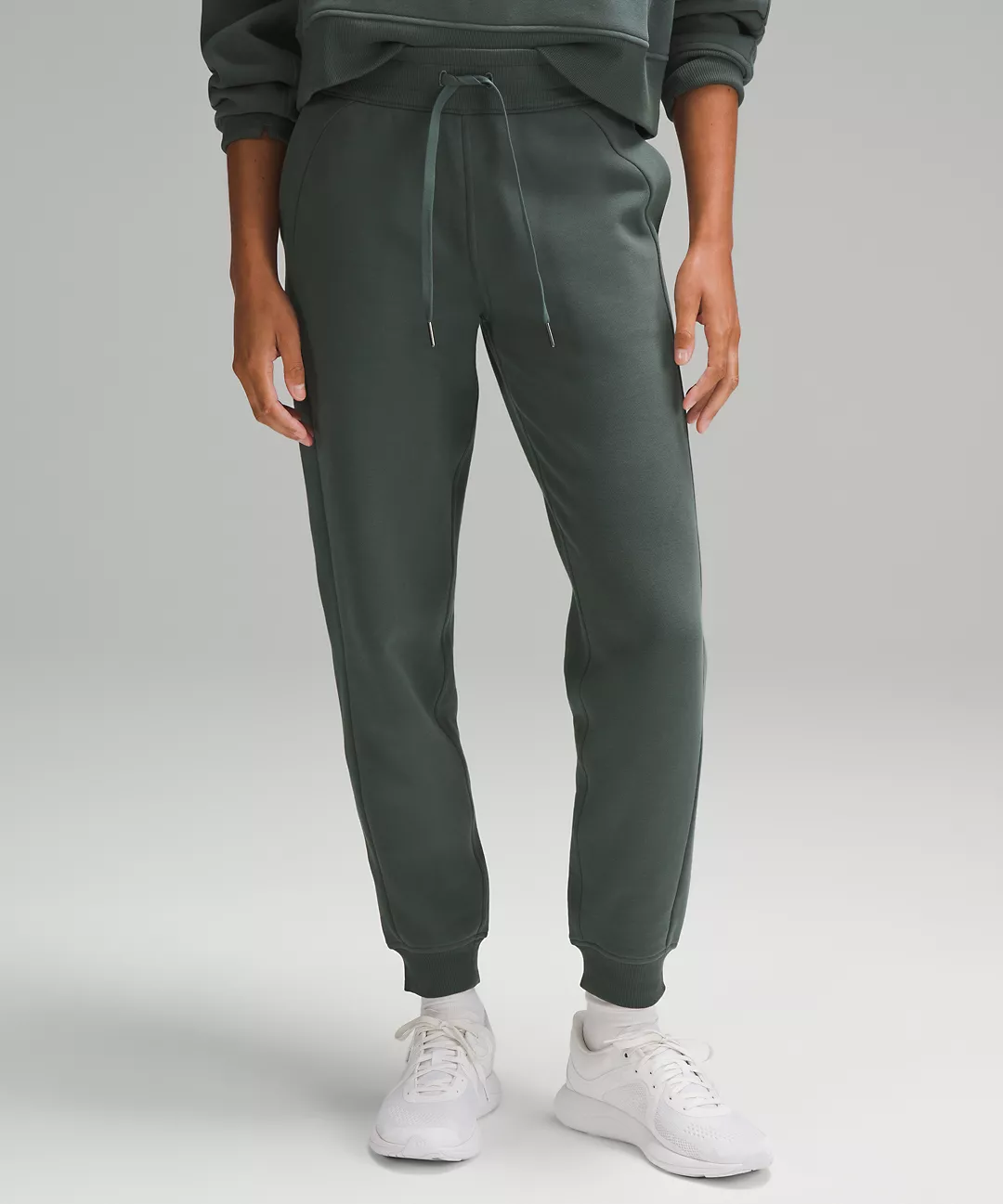 "Yes, these sweatpants are more than you may want to spend on loungewear, but they're such high quality that you'll likely keep them forever. Hey, at least you know these buttery-soft Lululemon joggers will never go out of style whether you're wearing them with a crop top and denim jacket for brunch or just a movie marathon at home," writes Women's Health.
"I've had these pants for a few years, and they STILL win my number one Quarantine Sweats award. They are warm and presentable enough to wear to the grocery store but also comfy enough to hop in bed with. Most of my other sweats are under $20 and on their last leg, so sometimes paying extra actually goes a long way," raves Refinery29.
Next up is the Athleta Venice Joggers. A popular choice for the 2023 autumn weather. "Somewhere between classic leggings and sweatpants, these nylon-spandex joggers look polished without compromising on all-day comfort. Zippered back pockets also keep your stuff safe, meaning this pair is ideal for travel. Oh, and there are three inseams to choose from, ensuring you'll find the right fit," explains Glamour.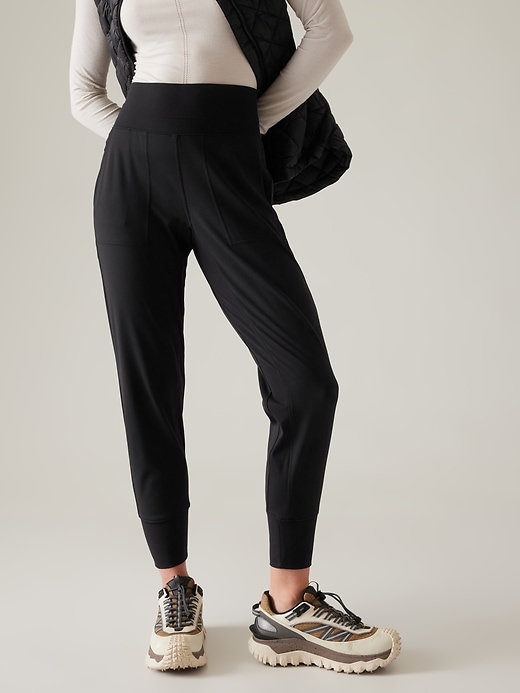 "Athleta specifically created these sweatpants to be versatile. While you can wear them to work out, they work really well for commuting, travel, and even being in the office. Sculptek Light fabric gives you full coverage and stretch, while easy-access secure pockets are handy for stowing your must-haves," describes Parade.
"Athleta specializes in fitness essentials made to fit women's bodies specifically. When it comes to joggers—which often have lean cut—this is especially important. Their highly-rated selection extends to size 3X and includes fabrics beyond cotton, such as technical nylon and even linen. The cinched-ankle Venice Joggers have a semi-fitted, relaxed feel with a mid-rise waistband that lightly supports and holds you in," notes Forbes.
The third spot belongs to the tried-and-true Champion Powerblend Jogger—a trusted name and for a reason. "The Champion Powerblend Jogger is made of quality fabric and manufacturing and held up well in our wash and wear and stretch tests, making it a great choice for durability. The heavier fabric is ideal for lounging around the campfire, going for a chilly morning hike, and sleeping on a cool fall camping trip. The athletic style, flattering fit, wider cuffs, and pockets make these pants good for running errands or walking on the local trails," comments GearLab.
"What truly sets these sweatpants apart is the ribbed waistband and cuffs. These features ensure that the pants stay in place at your waist and ankles, allowing you to move seamlessly during your workout routines. With a number of colors to choose from, you'll have no trouble finding the perfect one to match your style and personality," raves Pinkvilla.
"If you're looking for a jogger for the gym, look no further than Champion's bestselling Powerblend style. Its durable blend of 60% polyester and 40% cotton is breathable, reasonably moisture-wicking, and designed to reduce shrinking and pilling over time. These are also some of the best sweatpants for women as they're fitted enough to ensure comfort and style while running errands or simply lounging around. Consider them the ultimate athleisure hybrid," reports WWD.
You didn't think we'd talk about sweatpants and not name-drop Hanes, did you? The fourth spot is coveted by none other than Hanes EcoSmart Sweatpants for Women. "Designed with a touch of sophistication, these sweatpants by Hanes exude a vibe of elegance, making you appear polished even in the comfort of your home. The unique open–bottom design adds a graceful flow to the pants, effortlessly resembling formal trousers. And that's not all — the wide knit waistband not only ensures a secure fit but also discreetly hides any insecurities around your midsection," says Pinkvilla.
The Strategist even goes on to rave about the pants as part of a set. "If you're in the market for a matching sweatsuit, there's probably no better bargain than this Hanes EcoSmart duo. This pairing is a particular favorite, as the cotton blend and fleece lining have lasted through wash after wash."
"When you want to look smart even when chilling at home, you can opt for chic-looking sweatpants like these. The open bottom gives it a good fall and makes it look like formal pants. These pants look so good you can wear them even when running errands," notes Mom Junction.
Last but certainly not least is another easy-on-the-wallet option for this season's comfort. The fifth spot is dedicated to the Amazon Essentials Fleece Jogger. "You need these Amazon bestsellers on your radar, stat. Available in 39 different colors, from cherry-red to earthy brown, they've earned praise and high ratings from thousands of reviewers for their laid-back slim fit and supersoft texture," explains Glamour.
"Amazon Essentials brings you the most comfortable sweatpants, ensuring maximum freedom of movement for your limbs and hips without any irritating rubbing on the inside. Made from a perfect blend of 60% cotton and 40% polyester, these sweatpants provide the perfect combination of comfort and durability," comments Pinkvilla.
"These Amazon Essentials terry fleece joggers are available in 11 different sizes and will keep you warm without breaking the bank. They start at under $20 and come in various colors. Online reviewers say they are worth the price, but aren't the most durable pair of sweats they own," concludes Good Housekeeping.
You might be interested in:
Sources:
 Note: This article was not paid for nor sponsored. StudyFinds is not connected to nor partnered with any of the brands mentioned and receives no compensation for its recommendations.