For many women worldwide, yoga is an increasingly preferred form of exercise and relaxation. Yoga pants were created to comfortably form to the body and allow ease with stretching into various poses. Not all who wear them are yogis, though. Some just prefer the combination of a tight fit with the flared bottom. The best yoga pants for women are great for working out, stretching, or simply lounging.
If you are an aspiring yoga master, this can be quite beneficial to your health. A study says adding 15 minutes of yoga to an exercise routine gives heart health an even more powerful boost. It's also very relaxing and can be used as a cool down to stretch and settle your muscles.
Most health experts would likely agree that yoga and meditation are great ways to maintain strong mental health. Research shows their effects may also translate to physical health as well. Research shows their effects may also translate to physical health as well. A new study from the Keck School of Medicine at USC finds that mind-body practices may help with controlling blood sugar levels in people with Type 2 diabetes.
Yoga has become increasingly popular, and so has the desire for comfy, flexible, and long-lasting yoga pants. But choosing the right pair for your needs might be difficult with so many alternatives on the market. To make your job easier, StudyFinds has visited 12 expert websites and listed the top five best yoga pants for women. From breathable fabrics to fashionable designs, this list will assist you with choosing the pair for your next yoga session. Did we miss one? Let us know in the comments below!
The List: Best Yoga Pants for Women, According to Experts
Outdoor Gear Lab says this is their favorite: "They are stretchy and moved well no matter what pose we were contorting ourselves. We particularly love the high waist, with just a simple, v-shaped elastic band that made our toosh look extra good, and we never felt squeezed or impeded in our practice. The Align legging is also breathable for hot yoga or hot days. These leggings are available in various colors, styles, and sizes. If you're looking for a new pair of high-waisted leggings, this pair won't disappoint."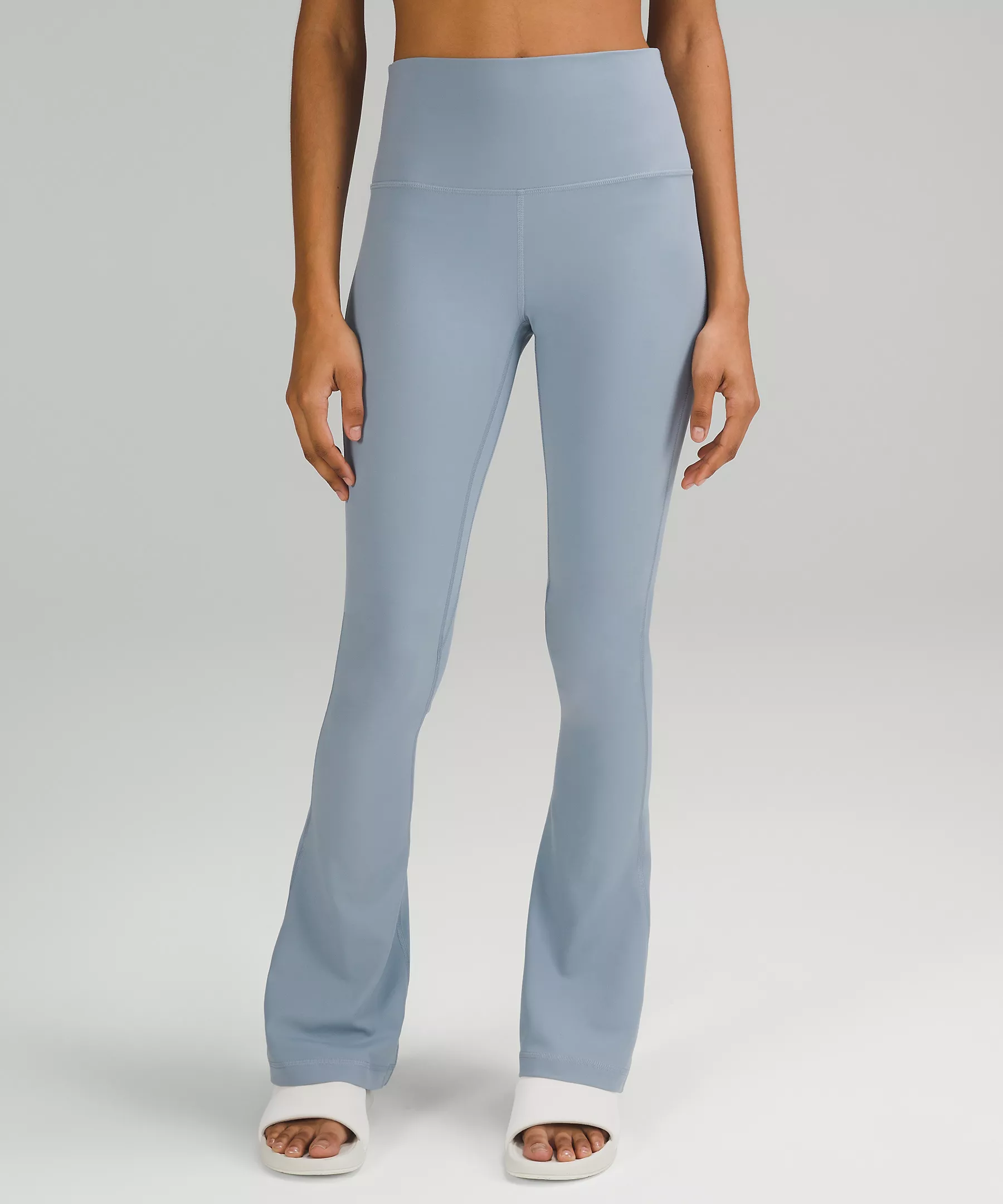 "Lululemon touts these leggings as 'buttery soft' and 'weightless,' and this isn't a marketing gimmick. Our testers are quick to agree, saying these are the softest leggings they've ever owned. Plus, the fit is true to size, with enough stretch to slide over hips, and enough compression to feel secure," adds Shape. "The Align line is designed for low-impact activities (think: yoga, walking, etc.) or plain old lounging, but the breathable, stretchy material makes them compatible with more intensive workouts."
"Lululemon is a beloved brand, but the Align Pant has an even deeper fan base. Thanks to the signature Nulu fabric, a buttery, and endlessly soft material with four-way stretch, these leggings really nail the 'feels like you're wearing nothing' effect. We also appreciate the supportive yet forgiving waistband, which is perfect for working out or hanging out. The ultra-stretchy fit is even a favorite among pregnant women. These pants are so beloved, in fact, that Lululemon now has an entire Align line, chock full of joggers, wide-leg crops, tanks, dresses, shorts, bodysuits—you name it," says Byrdie. 
The Strategist claims this is the best sustainable yoga pants. "We've written before that these Girlfriend Collective tights are one of the athleisure brand's best products — especially for their environmental credentials (fabric made using 25 recycled plastic bottles) and size inclusivity. Jones is a fan, saying that these are by far 'the most sustainable yoga pants that are still concerned with fit and look.' Health-care entrepreneur Hil Moss, a breast-cancer survivor who has undergone a mastectomy and rounds of chemotherapy and immunotherapy, says that Girlfriend Collective's leggings made the process just a bit easier: 'They are insanely comfortable. I have multiple pairs in different colors — that's how much I love them.' Testing out a pair for myself, I was surprised by how luxe a performance fabric made out of recycled plastic could feel."
"Girlfriend Collective is the poster child for sustainability in activewear, but thankfully never at the price of quality or performance. The Girlfriend Collective Compression Pocket Leggings are highly compressive, moisture wicking, full coverage leggings, with a pet-friendly spandex-like finish that are ready to work as hard as you do," writes Divein. "While these are made with performance in mind, many reviews claim the waistband tends to slide down with activity, even when sizing down. Given this information, these might be better suited for gym-centric workouts as opposed to long distance running or a fast, flowing yoga."
CNN Underscored likes these for everyday wear because of how comfortable they are. "They racked up a perfect score in opacity, passing the squat test with flying colors. Each pair is made from recycled water bottles (25 of 'em, to be exact), and we're big fans of Girlfriend Collective's ethos of creating sustainable garments and upholding ethical work environments. A few other things we loved about these leggings: They're available in perhaps the widest range of sizes of all the pairs we tested, from XXS–6XL (for context, they accommodate waists from 22.5 to 52 inches and hips from 32 to 62.5 inches), and their three inseams also span a wide range (19.5, 23.75 and 28.5 inches), so finding the ideal length no matter your height is in the bag."
According to The Strategist, these are the best plus-size yoga pants and states, "When we asked experts about the best plus-size workout clothes, three women pointed to Athleta's Salutation Capri Leggings, which go up to a size 3XL, as the best yoga pants. Jessica Rahil, a yoga instructor and body-positivity advocate, says they're hands down the best leggings she's ever worn. 'The material and waistband hug the body perfectly,' she explains, adding that the material is entirely opaque without feeling overly restrictive or thick."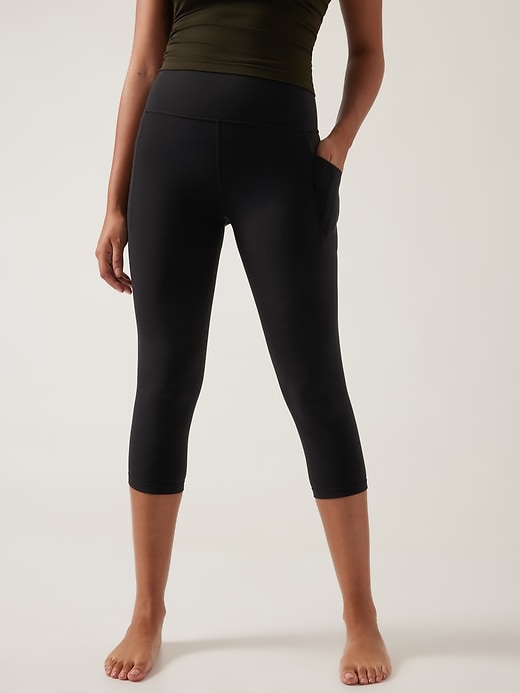 "They are made out of the same Align Nulu™ Fabric as their other yoga pants, so you can expect the same buttery softness, stretch, breathability, and lightweight feel," writes Active. "They also come with very comfortable pockets so you can easily take them from the studio to the street, and they feature an interior card sleeve so you don't have to worry about having your card fall out. These wide-leg crops come in all sizes and five beautiful colors you can easily mix and match with any top of your choice."
"Whether heading to yoga, barre or pilates, a pair of compressive leggings is a great choice to support your muscles. Testers were impressed with these Athleta leggings for their 'extremely flattering' fit that's still 'supportive while being comfortable.' We didn't notice any changes in appearance after our wash test with only slight shrinkage, but we found that they did not completely return to their original shape in our stretch recovery testing. The fabric easily wicked away moisture in our Lab evaluations and proved to be pill resistant," adds Good Housekeeping. 
Glamour ranks it at number three and explains, "With a leg-lengthening silhouette and a slim waistband, these Alo leggings offer a snug fit that won't hug you too tight. And the split-hem design is more than just an aesthetic choice: They offer extra ventilation for sweaty workouts (while also allowing you to show off your newest sneakers)."
"The flare design has become extremely popular this year and many women have been loving it so far. Alo Yoga is known for its high-quality activewear and yoga pants, so it comes as no surprise that their flared style is a best-seller," notes Active. "Made from their signature Airbrush fabric, these yoga pants are airy and breathable, opaque and not see-through, moisture-wicking, smooth, and leave you feeling supported. Many satisfied customers report they're very flattering as they sculpt and smooth your skin."
"Our very own Women's Health senior editor Neha Tandon is so obsessed with these yoga pants that she says she wears them several times a week—mostly not for workouts. She'll pair them with a t-shirt and blazer for work or crop top on a date. These really do tick the box between yoga and wearing out side the yoga studio. Fabric holds you in while being really comfortable," mentions Women's Health. 
Good Housekeeping names these the best high-waisted yoga pants. "Popular for their super high-waisted compressive fit, the Spanx Booty Boost leggings were a tester favorite for their 'very flattering design' and 'thick material that's not see-through.' The sculpting performance fabric makes 'your butt look amazing,' according to one GH pro, though some testers found them too fitted for their preference. This style is available in regular, petite and tall sizing with a limited amount of color options."
"Spanx makes some of the best shapewear, but the brand's yoga pants are also a total game-changer — especially if you have short (or long!) legs and need a more customizable size," writes People. "The Booty Boost Yoga Pant is designed with a high-rise, contoured waistband to help accentuate the body (and leave you feeling extra supported). The pants are also made from a sweat-wicking and super-breathable material, so they're compatible with hot yoga and other steamy workouts."
"Spanx is the name of the game for all things shapewear, so it honestly comes as no surprise that these were my favorite for compression. The word compression used to scare me: As a curvier girl, I was afraid it meant being sucked into corsets and uncomfortably tight Spandex contraptions. So Spanx, I need to thank you for helping me get over that fear, because the few pairs that I tried made me feel secure, but not like I was going to pass out from lack of circulation," adds New York Post.
You might also be interested in:
Sources:
Note: This article was not paid for nor sponsored. StudyFinds is not connected to nor partnered with any of the brands mentioned and receives no compensation for its recommendations. This post may contain affiliate links.