KYUSHU, Japan — You've heard of the Stone Age, but humans have evolved into a brand new era: the Plastic Age. Over billions of plastic products are dumped into the oceans in the past few years, causing detrimental harm to the environment and the ecosystem. New research from Japan estimates the world has an astonishing 25.3 million metric tons of plastic waste littering the ocean — that is only the tip of the iceberg!
The study authors estimate that nearly two-thirds of plastic waste is not being monitored. Large amounts of ocean plastics are likely on the seafloor that is hard to detect with current diving gear. Additionally, there is likely another 540 million metric tons of mismanaged plastic waste — about 10% of total plastic worldwide — trapped on land.
"To assess the amount and whereabouts of plastic waste in Earth's oceans, we have to consider the whole process from their birth to burial, starting with emission from rivers into the ocean and continuing with their transportation and fragmentation into pieces," says study co-author Atsuhiko Isobe, a professor at Kyushu University's Research Institute for Applied Mechanics, in a statement.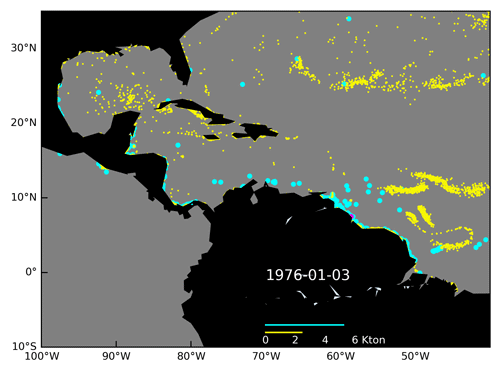 The study looked to estimate the amount of ocean plastic hidden deep below the ocean surface. They used existing studies to create simulations on how plastic breaks down over time, and satellite-derived wind data to study the movement of plastic particles.
The study results showed that large plastics and smaller pieces called microplastics that float on the ocean surface make up only 3% of all ocean plastics. About 23% of ocean plastic was large litter on the world's shore.
Simulations suggest almost two-thirds of remaining ocean plastic is in locations that make it difficult to monitor. More than half are composed of heavy plastics on the seafloor because they are denser than seawater. To put it into context, almost half of plastic products made today are created from heavy plastics. The remaining plastic waste is likely old microplastics from decades earlier that started out on the ocean surface and beaches, and soon made their way to the bottom of the ocean floor.
Since plastic is not decomposable, the researchers suggest half a billion metric tons of mismanaged plastics will likely outlive the current time humans have left on this planet.
The study is published in the journal Science of The Total Environment.