Let's face it. We can't always wake up with a healthy glow. Luckily, using a powder blush can add a little color to your cheeks and brighten your complexion. Blush is one of those must-haves in your makeup arsenal. Whether you want to achieve a natural look or a bold one, one of the best powder blushes are for you. The varieties are endless, with many stylish hues to flatter different skin tones.
It's important to feel confident in your own skin. In fact, a survey of 2,000 American women ages 35 and older say their confidence is impacted by the way their skin looks (72%). The top skin care concerns that women struggle with are combination skin (31%), dry skin (29%), and wrinkles (28%). That's why 68 percent try to take preventative care of their skin before it experiences any noticeable blemishes.
Skin care can also be costly. The poll also reveals women spend about $170 a year trying to find skin care products that are right for them. One in nine have gone through 10 or more failed skin care products in the past, and the average woman is currently holding onto four of them in their home. For most women, a product has three weeks to "wow" them before they decide whether or not it works. Even if it doesn't, respondents would hold onto them for four months before finally giving them up.
Without having to trudge through a few duds cluttering your counter, StudyFinds wants to help you narrow down the choices to elevate your beauty routine. We've compiled a list of the best powder blush brands from ten expert websites to add to your makeup arsenal. As always, we'd like to see your own recommendations in the comments below! 
The List: Best Powder Blush, According to Makeup Experts
One blush that gets rave reviews is this peachy-pink, shimmery shade from NARS. "The finely milled powders are ultra-light and a cinch to blend, carving out cheekbones without ever looking muddy or heavy," according to Elle.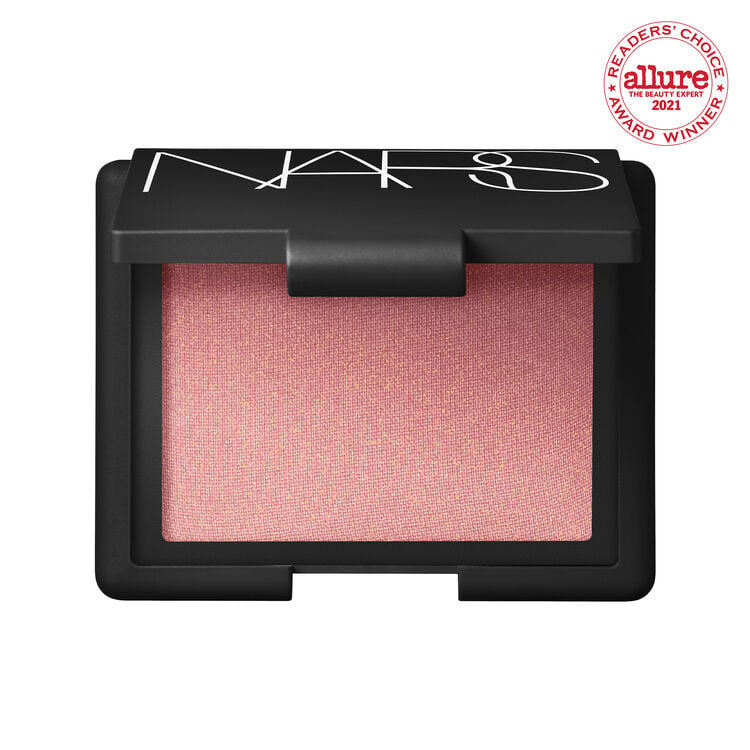 Rank & Style points out Orgasm "has a pink undertone that gives it a singular, natural-looking finish, while its ultra-fine powder pigments make smooth application feel effortless."
Harper's BAZAAR adds, the "combination of rosy pink and subtle golden shimmer makes this product truly ideal for a wide range of skin tones." This blush remains a fan favorite, receiving 'best overall' accolades from many style experts.
If a lightweight, long lasting powder blush is what your face is craving, here's a solid option. It's great for oily skin too! "If you have an oily complexion, you'll notice grease gets soaked up by the formula, but dry-skinned beauties will feel hydrated," according to POPSUGAR.
Good Housekeeping points out it's, "formulated with mineral pigments, it layers on without the chalkiness while the namesake ingredients mattify those shiny areas." It's also easy to apply.
Glowsly adds, "this silky soft powder glides in seamlessly, offering a fresh flush of color that blends effortlessly. Plus, it's formulated with good-for-your-skin ingredients like Amazonian clay, vitamin E, and soothing mineral pigments."
However, some reviewers did note this matte powder blush may take a few layers to get the full color to pop.
This powder blush from Milani will brighten your cheeks at an affordable price. "A natural shimmer that blends into the skin beautifully is what every girl looks for in a baked blush. The product is infused with the best ingredients in the market and is brought to you sunbaked on terracotta tile," according to Stylecraze.
Rank & Style adds, "the superfine pigments within the vegan formula deliver a slightly glittery finish that you can easily increase with by building coverage." 
However, there's one word of caution. InStyle points out, "a few of the shimmer shades lean toward the glittery side, so those with large pores or textured skin may want to steer clear." 
Maybe you would like to splurge on a makeup purchase. If so, this powder blush from Chanel is worth trying. "There's no dusty texture here, only a silky-smooth formula that glides right on the skin. They come in a range of colors and finishes," according to Glamour. 
"It's an iconic formula that's been around since the '80s (and has since expanded to include many more shades), and although it's slightly drier than some other powder blush formulas, when applied by dabbing the product onto your cheeks (versus sweeping), it still delivers beautiful, natural color that is suitable for any occasion or time of day," adds InStyle.
This powder blush will help you to easily transition from a day to evening look. Glowsly notes, "Chanel's Joues Contraste will help you go bold for a girl's night out or keep it natural for tomorrow's Zoom call."
Some possible downsides? First, the price. It's expensive for the amount of product you get. This blush also has a scent, which may be a turn off for some users.
Rounding out our top five, is this wallet-friendly blush palette from Anastasia Beverly Hills. British Vogue suggests to "use each color alone or layer them up for a hue totally bespoke to you and a blush that will look totally natural." 
"You'll get three options in one with this top-rated blush palette from Anastasia Beverly Hills that Sephora customers are raving about. One satisfied shopper writes that the buildable palette features, 'Beautiful shades that blend well for medium to dark skin tones,'"  according to Harper's BAZAAR.
Glamour points out, "this blush palette, with three high pigment blushes in mauve, pink, and peach, offers you a range of options. You can use an individual color or swipe across all three to get your perfect blend." 
You might also be interested in:
Sources:
Note: This article was not paid for nor sponsored. StudyFinds is not connected to nor partnered with any of the brands mentioned and receives no compensation for its recommendations. This post may contain affiliate links.