Collecting basketball cards is more than just a hobby — it's a billion-dollar industry. Basketball cards shot up in value as millions began collecting again during the COVID-19 pandemic shutdown. Since they couldn't go out with everything shut, people had dispensable cash and many used it for sports cards. Buying boxes and getting into breaks, collectors sought out top rookies and superstars like LaMelo Ball, Anthony Edwards, Zion Williamson, LeBron James, Steph Curry, and others. But don't forget to show love for those cards from the 1990s. That's why StudyFinds combed through online experts and put together a list of the best 1990s basketball cards from that decade.
Unlike baseball cards where the most expensive cards are vintage, millions are being spent on modern-day basketball cards. The priciest basketball card of all time is the 2009-10 Panini National Treasures Stephen Curry Rookie 1/1 Logoman Autograph which sold for $5.9 million in July 2021. In that same year, another card sold for over $5 million — LeBron James' 2003-04 Upper Deck Exquisite Collection Rookie Patch Autographs card. Rounding out the top three is Luca Doncic's 2018 Panini National Treasures 1 of 1 Logoman Autograph that went for $4.6 million.
Despite how much Curry's Logoman Autograph card went for, that wouldn't crack the top three baseball cards. The most expensive baseball — and sports — card sold to date is a 1952 Topps SGC 9.5 Mickey Mantle rookie card which went for an astronomical $12.6 million. The next two on the list belong to Honus Wagner's T-206 card for $7.25 and $6.6 million, respectively.
Are you ready to add some cards from the '90s to your collection? Thanks to online experts, StudyFinds is presenting a list of the top five basketball cards of the 1990s. Did we miss one? Let us know in the comments below.
The List: Best '90s Basketball Cards, According to Experts
Topping the list of the best basketball cards of the '90s is Kobe Bryant's 1996 Topps Chrome Refractor rookie card. Bryant, who was drafted right out of high school, won five NBA championships with the Los Angeles Lakers. He tragically died in a helicopter crash with his daughter and seven others in 2020. "With Allen Iverson, Tim Duncan and Kobe Bryant at the top, one thing is clear, open-mouthed photos and Topps Chrome cards are an unbeatable combination," writes The Cardboard Connection. "Kobe Bryant's 1996-97 Topps Chrome Basketball rookie card is the one big rookie on the list and even ungraded cards sell for a premium with the Refractor parallels going for much, much more."
"Who else but Kobe Bryant in the top spot?" notes Bleacher Report. "A high school phenom playing in one of the sport's biggest markets, Bryant was compared to Michael Jordan from the start of his pro career. It was all a recipe for superstardom, and his development from tantalizing teen star to franchise player and all-time great helped solidify his place as one of the hobby's biggest names. His rookie cards are head and shoulders above everyone else on this list in terms of value, with PSA 9 versions of his Topps Chrome rookie selling for more than a PSA 10 version of Allen Iverson's in the No. 2 spot in these rankings. His 1996-97 E-X2000 rookie also sells for a boat load, as do high-grade versions of his Topps base rookie—really, you can't go wrong with any early Kobe cards."
A BGS 10 Pristine of Bryant's 1996 Topps Chrome Refractor rookie card fetched more than $1.7 million in 2021. "This 1996 Topps Chrome Refractors card is as good as it gets for Kobe Bryant fans," says Cardbase. "It's Kobe in motion and this particular copy earned the coveted BGS 10 Pristine rating. This is unusual, especially with a 10 rating for all four sub-categories. That's so rare that BGS notes that only two copies of this card have been awarded this 'perfect' rating. It's no wonder that it fetched $1.75 million in March 2021, making it the most valuable Kobe Bryant rookie card."
Allen Iverson was the number one overall pick in the 1996 NBA Draft and led the Philadelphia 76ers to an appearance in the 2001 NBA Finals against the eventual champions Los Angeles Lakers. The 6-foot point guard played every game like it was his last, fast becoming a fan favorite. That's why his 1996 Topps Chrome Refractor rookie card is a must for collectors. "Unlike Kobe's card from the same set, this one doesn't show some sort of athletic move towards the net. Rather, just a photo that shows one of the things Iverson did best: bark down the court at teammates and foes alike," writes Bargain Bunch. "That and score points by the bunches. Grade 10s are floating somewhere around the $25,000 value range."
"Although Allen Iverson was one of the smallest players in the league, he became well known for his explosive playing style. Whilst he didn't win any NBA championships, he was an 11-time NBA All-star and won multiple MVP awards," notes VIP Art Fair. "This 1996-97 Topps Chrome Refractor Allen Iverson card is a rare example of the player known as 'The Answer.' The card was released in a defining year for Iverson when he made his debut and won rookie of the year. The card features Iverson in a red Sixers jersey passionately celebrating with his Sixers teammates."
Valuable Antique Detector says Iverson's 1996 Topps Chrome Refractor rookie is one of his rarest cards. "It was released in 1997, which is a memorable year for AI and collectors of AI's cards. He debuted in that year and also went on to win rookie of the year. So, this rookie card is a jewel. The card features AI in his Sixers no. 3 jersey letting out a celebratory shout, with his teammates around. Being a rookie of the year's rookie card is not the only thing that makes this AI's card special. You may find some other of this card, but finding one in pristine condition is very difficult. But this particular one is pristine – with BGS 10 grade."
3. 1997 Upper Deck Game Jersey Michael Jordan Autograph
Do you have an extra few million dollars lying around? If so, you can afford the 1997 Upper Deck Game Jersey Michael Jordan Autograph card. "What's not to love about this amazing Upper Deck card? The high value makes sense when you see its limited population, that it includes a All-Star game jersey piece, and it's signed by the legendary Jordan himself," notes Cardbase. "With that combo, it's no surprise that a PSA 8 copy of this exceptional card sold for over $2 million in May 2021."
"It features Jordan dribbling the ball during a 1992 NBA All-star game, played in Orlando, Florida in front of 14,000 spectators. The game is regarded as iconic as it was the last game played by both Hall of Famer James Worthy and fellow Laker Magic Johnson," writes VIP Art Fair. "The front of the card features an authentic jersey patch from the 1992 All-star game, with Upper Deck starting the basketball Game Jersey cards around the same time this card was produced. The card is considered very rare with only 23 being produced. The odds of pulling this card in a pack are thought to be around 1/55,000. The card is personally autographed by Jordan in a thin blue pen with the serial number 8/23 also handwritten. The card is graded as a PSA 7 with the autograph graded as an 8."
According to Sports Card Specialist, 1997 Upper Deck Basketball was the first NBA release that included memorabilia cards. "Taking the top spot for the most expensive sports card from the 1990s is this Upper Deck Game Jersey Michael Jordan from 1997. The card features a patch of game-worn MJ jersey, which has big appeal to collectors for obvious reasons. While memorabilia cards are commonplace in the sports card hobby today, they certainly weren't in the 90s, when this was released – The set marks the first NBA release that included memorabilia cards. Jordan was a part of the main checklist of 22 different standard jersey cards, which were extremely rare in series 1 packs – The 23 autographed versions were part of Series 2, and he was the only autographed jersey in the set. The jersey piece itself comes from Jordan's 1992 NBA All-Star Game jersey, so it's not Chicago Bulls."
Another Kobe Bryant rookie card made the list — his 1996 Topps Finest Gold Refractor card. "It's a nice looking, and iconic card, which is another of his top rookies," says Sports Card Specialist. "Topps Finest products remain desirable to collectors across the hobby, and this gold refractor of Kobe Bryant's 1996 Heir card certainly is."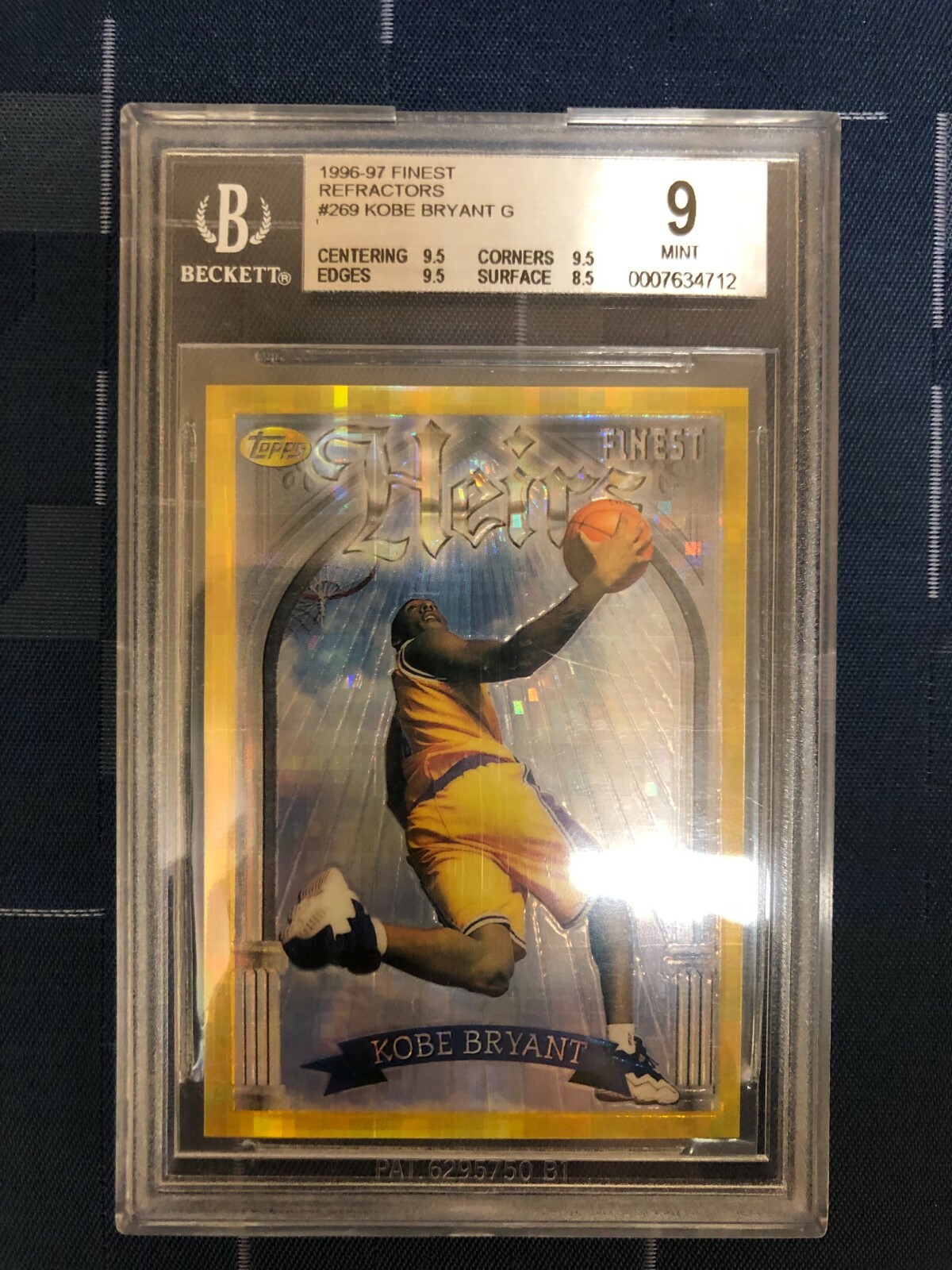 "Here's a card that's shot up the charts lately. For instance, in late 2020 a grade 10 cleared $70,000 on eBay. Wow. The card has a gold edge and shows Kobe doing some sort of over the back slam dunk during the Slam Dunk Contest," notes Bargain Bunch. "Looking to reign in your investment? Seek out a lower grade version as prices fall off pretty quick with 9s being less than $20,000 and 8.5s less than $10,000."
Not many of Bryant's 1996 Topps Finest Gold Refractor exist as less than 250 were made. "This Finest Gold Refractor Kobe Byrant card is very aesthetically appealing, framed in gold edges. The card features the Black Mamba, Kobe Bryant in a yellow Lakers jersey dunking the ball from behind his back," writes VIP Art Fair. "Less than 250 of these cards exist. The card produced by Topps is graded as a PSA 10, meaning it is in pristine condition, making it highly collectible."
The San Antonio Spurs selected Tim Duncan first overall in the 1997 NBA Draft. The Wake Forest product led the Spurs to five NBA championships and became arguably the best power forward in league history. That's why Duncan's 1997 Topps Chrome Refractor rookie card rounds out the top five. "Without any flash or ego, Tim Duncan thrived as a member of the Spurs. It took the majority of his career before his greatness was recognized, but collectors eventually came around to the dominant player. His 1997-98 Topps Chrome rookie card is second only to Kobe Bryant," writes The Cardboard Connection.
"His pro transition was as smooth as any in recent memory, as he averaged 21.1 points, 11.9 rebounds and 2.5 blocks while earning a spot in the All-Star Game as a rookie. He was a model of consistency in the middle of the San Antonio Spurs roster for 19 seasons, finishing his career 18th all-time in points (26,496) and seventh all-time in rebounds (15,091)," says Bleacher Report. "Despite his status as one of the greatest players in NBA history, most of his rookie cards can be found for a fraction of what his Topps Chrome card costs, and it still feels tremendously undervalued sitting at the top end of his market."
Bargain Bunch notes that these cards in a PSA 10 can go for $15,000. "Another top rookie of the 1990s who went on to win 5 NBA titles in the following decades. Which are 5 great reasons that this card is valued at around $15,000 when in grade 10 condition!"
You might also be interested in:
Sources:
Note: This article was not paid for nor sponsored. StudyFinds is not connected to nor partnered with any of the brands mentioned and receives no compensation for its recommendations. This post may contain affiliate links.