Fishing is one of America's favorite leisure and recreational activities. There's nothing quite like enjoying a day out on the lake or the river, patiently waiting for the day's catch. Whether you're gathering with friends or teaching your kids to enjoy this generation-old hobby, having the best fly fishing rods is a great way to ensure you're having the time of your life.  
Just beware when you're deciding on if you'll eat the fish you catch, especially freshwater fish. According to a recent study by the Environmental Working Group, eating a single serving of freshwater fish could equal a month's worth of drinking water laced with 'forever' chemicals, or perfluoroalkyl substances (PFAS). PFAS are a group of more than 9,000 different chemicals, some of which are already banned or highly restricted. Manufacturers often use them in non-stick cookware, food packaging, stain repellents, coatings, and fire-fighting foams.
The chemicals in PFAS are nearly impossible to destroy. They can accumulate in animals throughout the food chain and also contaminate everything from drinking water to food and personal care products. PFAS can build up in our bodies and never break down. Tests and studies have found PFAS in the blood of nearly everyone, including newborn babies. 
If freshwater fishing isn't your thing, you might be surprised at the sight of your next saltwater catch. According to a study by Louisiana State University, fish are shrinking in size as temperatures in the ocean continue to rise. Specifically, the small silver fish known as menhaden, which National Geographic calls 'one of the most important fish in the sea,' are considerably shrinking in size. Over the last 65 years, menhaden have shrunk in size by a whopping 15 percent. This decrease in the size of menhaden fish is having an impact on fishermen who depend on catching these fish to earn a living as well as the various ecosystems these fish support. 
To recap, fish from the sea are getting smaller and freshwater fish might contain harmful 'forever' chemicals known as PFAS, but it's not all gloom and doom. Eating a diet complete with whole, lean proteins such as those from fish is still good for you. A recent study by McMaster University involving participants from 60 countries finds that eating oily fish twice weekly can protect against cardiovascular disease in high-risk individuals. 
The oils in fish are known as omega-3 fatty acids and help combat a range of health issues. Researchers found that individuals who consume two or more servings of fish rich in omega-3 fatty acids are approximately 16 percent less likely to be at risk of heart attacks and strokes as compared to those who don't regularly consume oily fish. The study was the first of its kind to include participants from all over the world and all five continents. Long story short, don't hesitate to eat your fish, it's good for you. 
Fly fishing involves using bait that resembles an insect, or fly, on the surface of the water for fish that normally eat bugs. It involves special gear and skills, which is where we come in. StudyFinds did the research, consulting 10 expert review websites in an effort to find the five best fly fishing rods available today. Our list is comprised of the five most frequently recommended fly fishing rods from across these sites. As always, feel free to share your favorite models with us in the comments section below! 
The List: Best Fly Fishing Rods, According to Experts
The top spot on the list of the best fly fishing rods goes to the Orvis Clearwater Fly Fishing Rod. This fly rod appeared on 80 percent of the lists we consulted and is a clear choice for the top spot on our list. The Orvis Clearwater fly rods are some of the most affordable, popular, and highly regarded fly rods available on the market today.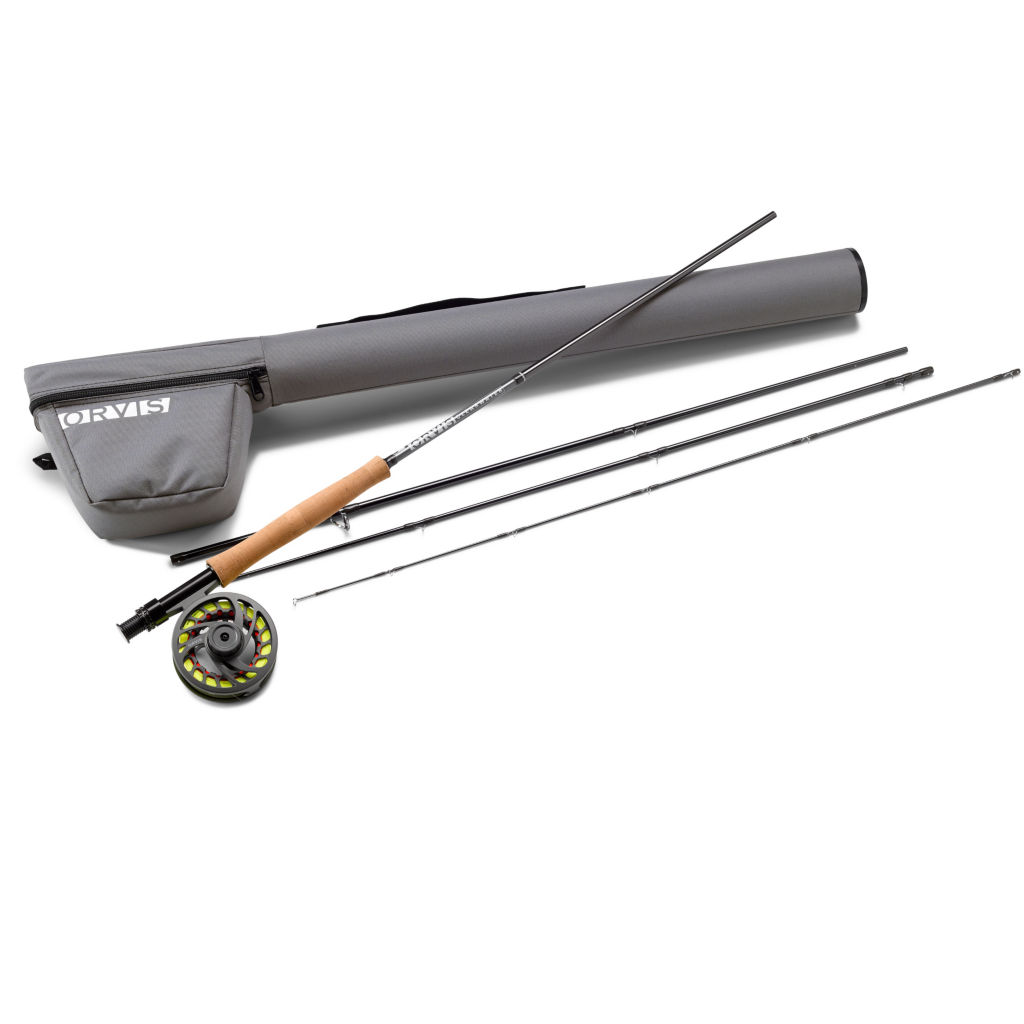 "[The Orvis Clearwater] can do almost everything a high-end trout rod can do at a fraction of the cost. The Orvis Clearwater launches long casts and consistent loops with surprisingly good feel and decent line control… The Orvis Clearwater is the best value in all-purpose trout rods by a mile. You won't find anything better for twice as much money. You might even like it better than some fly rods that cost four times as much," writes Field and Stream. 
This fly rod is touted for its affordability and value while still being a viable, quality fly fishing rod. "[T]he Orvis Clearwater series is incredibly accurate and is without a doubt the best fly rod for the money right now. If you're new to fishing and you want a good quality setup but don't want to buy the cheapest gear possible, then I recommend the full Clearwater outfit, which includes the rod, reel, case, line, leader, tippet, and everything else you need," explains Into Fly Fishing. 
Finding the best fly fishing rods to meet your needs can be a daunting task. The Orvis Clearwater outfit has everything you need to get up and fishing with the best anglers. Although experts say this isn't the most fashionable fly rod available, you can't go wrong with an Orvis Clearwater. 
"The Orvis Clearwater Fly Rod is yet another example of why so many anglers decide to fish Orvis. This rod has a fast action that's pleasant to fish with for an entire day. The rod has a surprising amount of power in the butt section, meaning you can really punch outline at distance, even through a stiff wind or with heavy bugs on the end of your leader. The Orvis Clearwater Fly Rod probably won't win over a lot of fans in the aesthetics department, but that shouldn't dissuade you from giving it a try," adds Fly Fisher Pro. 
The G. Loomis NRX+ was met with raving reviews across the expert sites we consulted. "The G. Loomis NRX+ is the best 7-weight fly rod (as you'll see later in this list), and it's also the best rod overall. It easily beats out all other 7 weights on the market in 2023. It's not a cheap rod, but for the quality you get and the affordable added warranty cost, this rod simply can't be beaten. G. Loomis is getting better and better at producing rods every year," explains Into Fly Fishing. 
As the experts explain, the G. Loomis NRX+ stands out against the competition and this fly rod is ideal to use in any weather conditions. "Before our test officially began—after we took all of the rods out of their tubes, assembled them, and set them on a table—the G. Loomis NRX+ stood out. At 10 feet long, it was the longest rod in our test. It was also the only one with a fighting butt. Then we started casting, and the NRX+ really stood out. This rod is a workhorse. It generates tremendous line speed and shoots a ton of line… while also delivering consistent loop stability and accuracy," explains Field and Stream. 
Accuracy and consistency are keys when fly fishing, especially in open waters. And, unlike some of the other fly rods on the market, the G. Loomis NRX+ offers excellent portability. "Breaking from the one-piece saltwater fly rod trend, this two-piece is what G. Loomis calls its 'tournament' configuration. The draw of one-piece rods is both weight reduction and improved performance. However, they can be brutal to transport. The NRX+ (FLY T2S) series is touted as having all the performance of a one-piece rod, with the added benefit of portability," adds Gear Junkie.
Casting into the third spot on the list of the best fly fishing rods is the Sage R8 Core fly rod. "For the season, American manufacturer Sage premieres its brand new R8 Core. As a #5 fly rod, the R8 Core shines as it combines lightweight and power. The company's Core technology ensures a fast-action combined with incredible feel. It's a great rod to combine with a double taper fly line as it brings out its characteristics in a beautiful and smooth manner," explains The Wading List. 
Fast action refers to a lower amount of bend in your fly rod when casting, making it easy to fast-cast your line back into the water. The Sage R8 Core isn't for beginner fly fishermen, though, and the experts agree that this fly rod is made for anglers who've been at the sport for a while. 
"The Sage R8 Core is a trout fly rod specifically designed for the experienced fly caster who uses a variety of techniques to put flies in front of trout. The 9-foot, 4-weight model boasts a faster action than others in its class, making it easy to switch over from dry-fly casting to streamer fishing, and its length is good for intimate high-stick nymphing," writes Outdoor Life. 
"And that is what sets the R8 apart: It does everything really, really well. Most rods are an either/or proposition; you get distance or feel, lightweight or power. But the R8 is different. At just 2 11/16 ounces, it's light and lively and has enough power to cut the wind. It finished right near the top of our test for distance and provided wonderful feel and line control on the water. It's accurate at short and long ranges, a rare combo. All of this makes the R8 extremely versatile," raves Field and Stream. 
The fourth spot on the list of the best fly fishing rods goes to the St. Croix Imperial fly rods. The St. Croix Imperial fly rod is another fast-action fly rod designed for more experienced anglers. The best part of this rod, according to experts, is you can use it to go after a variety of fish. 
"There's no getting around the fact that the Imperial is a fast-action rod—so fast, in fact, that it can feel quite stiff. Compared to a couple of the other value rods in our test, the Imperial didn't offer much in terms of feel or control. But the rod has power, and it's light enough that you can cast it all day without tiring out your arm. This is a versatile rod, too. On trout water, it'll cast dries, nymphs beneath an indicator, or small streamers. It's also perfectly suited for catching panfish and small bass on farm ponds or creeks," writes Field and Stream. 
One of the best parts of choosing a St. Croix fishing rod is they're made in the USA – Wisconsin to be exact. Although you'd think these fly rods are on the higher end of your price range, the St. Croix Imperial fly rods are quite affordable. "This particular fly rod, the Imperial, offers a lightweight feel combined with fast action for fishing in a variety of environments. All things considered, the rod fishes just fine—it's versatile enough to get the job done for most anglers and rivers," explains Switch Back Travel. 
"The St. Croix Imperial fly rod delivers elevated performance and value. Handcrafted in the U.S.A., these premium rods are without equal," explains Think Vail. The St. Croix Imperial is loaded with features such as "Dynamic blend of high-modulus/high-strain SCIV graphite and premium quality SCII graphite, Premium-grade cork handle, Sea Guide snake guides with black PVD coating for extra hardness and increased smoothness."
Rounding out the list of the best fly fishing rods is another Sage rod, this time it's the Foundation model. The Sage Foundation is yet another fast-action fly rod with loads of versatility and plenty of features that make it a joy to use on your next fishing trip. 
"The fly rod in the Sage Foundation kits is a faster action rod, so some beginners may find this more difficult to begin to cast with. That being said, the components and graphite blank of this rod are better than other combination kit rods. This rod is available in a 4, 5, 6, 7, and 8 weight option. The rod is paired with the Sage Spectrum C reel which is a die-cast aluminum reel with a solid drag," explains Curated. 
The Sage Foundation was most frequently voted as the best fly fishing rod and reel combo. The inclusion of the Sage Spectrum C reel makes this a no-brainer choice for the best fly rods. "The Foundation is one of the best efforts I've seen Sage make at building a truly fantastic entry-level rod. If you're a fan of fast-action rods, the Foundation is for you. It features a taper and feels eerily similar to the heralded XP, with enough backbone to push flies through wind, but the delicacy to present tiny dries at short distances," adds Fly Fisher Pro. 
"The comfort, accuracy, and feel of this rod definitely doesn't compare to the more expensive Sage X (listed as our best pro-level rod later in this post), but when you get an entire Sage Fly Fishing Outfit Package including the rod, reel, line, net, snips, flies, fly box and more for around $650, you can't complain," furthers Into Fly Fishing. 
You might also be interested in: 
Sources:
Note: This article was not paid for nor sponsored. StudyFinds is not connected to nor partnered with any of the brands mentioned and receives no compensation for its recommendations. This post may contain affiliate links. As an Amazon Associate we earn from qualifying purchases.