Millions of young girls are gearing up for field hockey season. One of the most popular sports in the world, field hockey allows athletes to show off their competitive side and learn to work as a team. Since field hockey is getting ready to start, parents are looking for the highest-quality equipment so their children can succeed on the hockey pitch. To help with that, StudyFinds delved into the top five best field hockey sticks out there for kids and young adults getting into the sport.
Playing sports as a kid not only builds character and keeps them in shape, it also improves brain health. Neurologists from Washington University found that participating in team sports in childhood can improve brain structure. Researchers say that getting children involved in team sports early on may have preventative effects against depression.
Children who participate in sports also show more "grit" when they grow up. The Ohio State University researchers define grit "as the combination of passion and perseverance that helps people achieve their long-term goals." They add that children learn lessons while playing sports, positively impacting them later on in life. The study revealed that adults who played sports as a kid scored higher on a measurement of grit than those who didn't play at all or quit early on.
To tap into the benefits of team sports for your children, StudyFinds has put together a list of the best field hockey sticks. Do you have another favorite? Let us know in the comments below!
The List: Best Field Hockey Sticks, According to Experts
The Grays GX1000 is a favorite among experts. Made with a carbon and fiberglass combination, it's ideal for drag flicks and reverse stick control. "The Grays GX1000 Composite Field Hockey Stick is a fantastic option if you are on a budget. Made from a combination of composite and fiberglass, this stick offers enough stiffness and strength for good hitting power with minimal vibration," writes Sport Fitness Advisor. "The GX1000 is lightweight and easy to maneuver and is an excellent stick for beginner to intermediate players and those players that want to work on transitioning from the fundamentals of field hockey to learning the more technical skills of advanced hockey players."
"If you are looking for a well-balanced hockey stick, then it is surely the one. It keeps the balance between power and control and allows you to be unstoppable in the field. Thanks to its ultrabow blade profile, this hockey stick is perfect to develop the core skills and makes the player a pro in no time," says National Lacrosse Classic. "This hockey stick is another example that why GX range has been ruling the hearts of the players for over a decade. For sure, it can take the game of the player to the most advanced level with the right practice without any delay."
Field Hockey Review pays the Grays GX1000 the highest compliment, calling it "one of the best hockey sticks in the game…It makes a best companion for intermediate players. It is made from a perfect blend of carbon, Kevlar and fiberglass at 20%, 20% and 60% respectively. This combination makes it light weight and durable featuring great power. The fiberglass provides the stick with a better ball control and absorbs most of the shock. Though its flex is stiff, it is perfect for an intermediate player. With this product, you benefit from a great design, superior maneuverability, shock absorption and balance, all of which plays a key role to an intermediate's performance on ice."
Another popular Grays model is the Surf 500. Its durable construction leads to a comfortable handle with a good grip. "The Grays Surf 500 Junior Field Hockey Stick has a Thermo rubber sleeve handle. This creates a strong grip while absorbing shock, so you can play for long amounts of time without putting pressure on your wrists and hands. In addition, the light and thin construction allow for better control and speed. This stick is made from fiberglass-reinforced toe-heavy mulberry wood. Mulberry wood was traditionally used to make hockey sticks," says Sports Illustrated. "This stick for field hockey is lightweight, flexible, and strong, thanks to the fiberglass construction. This item also features a maxi toe with a large surface area, great for honing your receiving and passing skills."
"Outstanding Surf 500 field hockey featuring a unique wood core that's good for the game because it stops the ball from rebounding too far. With this stick, you'll have no trouble hitting the puck in the net," writes Best Hockey Products. "The toe shape makes it an excellent choice for players who are just getting started. Its lightweight construction allows junior players to sprint with the stick without feeling any weight on their shoulders."
And this is probably the best news for parents regarding the Grays Surf 500 — it's much cheaper than other field hockey sticks on the market! "This junior field hockey stick is made from durable fiberglass-reinforced mulberry wood and is a great, inexpensive stick for those just starting to learn field hockey. It is responsive and flexible, as well as being thin and quite light. It's excellent for reverse stick control and drag flicks," notes Sport Consumer. "There are more color options for this stick on Amazon than any other I've seen, and it has ELEVEN length options as well! A 1-year warranty is standard. It may not have all the finessed features of a pro stick, but for less cash than you'd spend on a trip to McDonald's, this is a great deal!"
KreedOn calls the CranBarry Falcon "one of the best in the business of field hockey sticks." "The stick is made of a modern age technology called Sigmatex technology, which means high-level carbon weaving and layering in the stick. The stick is pretty light in weight and highly responsive. The stick is not very useful for defenders. The price is a bit on the higher side, but it is worth investing in."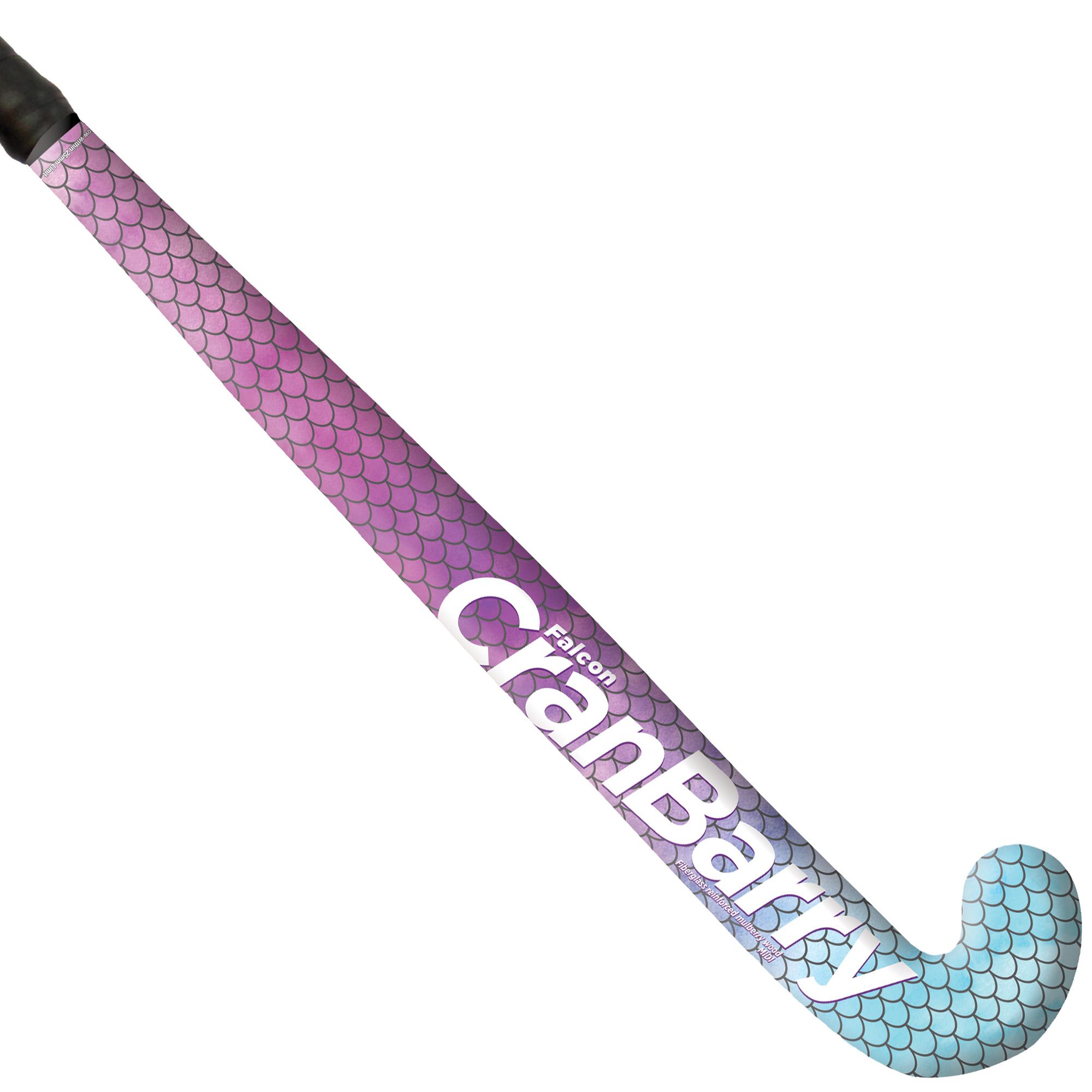 "The CranBerry Falcon Field Hockey Stick is available in several sizes, from 33 inches to 38 inches. It has a comfortable and strong grip that will let you play in comfort and with confidence. In addition, this hockey stick is made from fiberglass. Fiberglass is a great material for hockey sticks because it is lightweight, durable, and flexible," writes Sports Illustrated. "This hockey stick looks great and is perfect for any mermaid fans, with its beautiful mermaid scales and vibrant purple and blue colors. The toe is a maxi toe, which makes it easier to pass and receive. In addition, the lightweight fiberglass material allows you to move quickly despite the extra surface area of the toe."
Another popular CranBarry version to go along with the Falcon is the Phoenix. "The composite shaft and the lightweight design of the CranBarry Phoenix make it one of the most durable sticks among its competitors. The composite matrix gives great striking power and stiffness while preserving ideal weight and durability," notes Rookie Road. "Its hitting power is unsurpassed by any other field hockey stick. The Micro-head is perfect for trapping and angled backhand shots, while the Maxi head is fantastic for collecting long balls. The stick is excellent for beginners and experienced players alike. It also comes in a range of sizes, from 28 inches to 38 inches."
For field hockey goalies, the Kookaburra Field Hockey Stick could be the perfect one for you. "The Kookaburra Field Hockey Stick is a high-performance field hockey stick designed particularly for goalkeepers that is great for players of any skill level. Made from carbon fiberglass material with a duo core, the stick is durable and lightweight and offers excellent balance, stability, and stick control," writes Sport Fitness Advisor. "The G-shaped hook of this elite stick has a tailored head and a large stopping area, making it perfect for players looking to stop a ball."
"Kookaburra Skill Zone technologies use the benefits of the concave design but on a reduced amount of the stick so the normal player can have greater ball control and a more consistent rebound/stopping ability while playing," notes Hockey Hooked.
Sport Fitness Advisor points out how the streamlined design improves ball stopping and rebounding. "Innegra Edge is the lightest fiber available on the market today, resulting in a high-tech hybrid-composite construction that increases the strength and longevity of the shaft while remaining lightweight. Its reinforced backhand edge is an extra-strength area that can take a lot of hits from the forward position."
Rounding out the list is the Osaka Vision field hockey stick, known for its great ball control and its slap shots. "Another great stick from the team at Osaka Hockey is the Vision GF. Designed as an entry-level stick for kids, this is one of my favorite junior sticks on the market in 2023," writes Hockey Hooked.
"The Osaka Vision 10 Grows Bow is a high-quality all-around stick for junior players that's ideal for a variety of situations. It has a maximum bow point of 300mm from the head and a height of 17mm at its highest point. Power and precision are well balanced by their weight and shape," states Best Hockey Products. "In order to accommodate little hands, the handle is thinner, and the moderately curved design is better for younger players who want to develop their slap shooting and ball control. Also, it's available in a broad range of color variations."
National Lacrosse Classic says the Osaka Vision will help turn young field hockey players into superstars. "Designed to give comfort to the hands, it has a thinner handle so you can play all day long. It gives you a modest curve with an elegant profile so you can have full fun.  With this design, the ball is fully under your control and has amazing slap shooting. Moreover, the construction is high-quality with the best construction material. You will get 10% carbon with 95% fiberglass. If that's not enough, you will get 3% Kevlar cross reinforcement with 2% aramid backhand blade reinforcement. Using this material, the stick is superlight with the durability that can go season after season."
You might also be interested in:
Sources:
Note: This article was not paid for nor sponsored. StudyFinds is not connected to nor partnered with any of the brands mentioned and receives no compensation for its recommendations.