WEST PALM BEACH, Fla. — With Labor Day marking the end of summer, airports are bustling with travelers looking to get away one last time. Nowadays, snagging a flight that won't leave you stranded in the terminal is hit or miss. In an effort to find reliable vacation transportation, a new survey is breaking down the airlines that best eliminate the turbulence of getting left on the tarmac — literally.
The study, conducted by Price4Limo, collected data from the Bureau of Transportation Statistics during Labor Day weekend from 2017 to 2022. This, combined with data covering the 50 most-traveled airports from 2019 to 2022, revealed the best and worst airlines you can fly with during the holiday rush.
Top airlines and airports for avoiding departure delays
Getting the dreaded notification that your flight is delayed is usually met with a sigh of frustration. However, if you're heading to Hawaii, you may be in luck. Only six percent of Hawaiian Airline's flights are delayed on average during Labor Day weekend. Following close behind are Delta (9%) and Alaska Airlines (11%).
Similarly, Hawaiian Airlines has the lowest cancellation and diversion rates. The Daniel K. Inouye International Airport in Honolulu, Hawaii (HNL) also boasts an average success rate of 93 percent for on-time departures.
Minneapolis-St. Paul International Airport in Minnesota (MSP) comes in second place with on-time departures 91 percent of the time. In third, Seattle-Tacoma International Airport (SEA) has an average of 90 percent on-time takeoffs during the long weekend.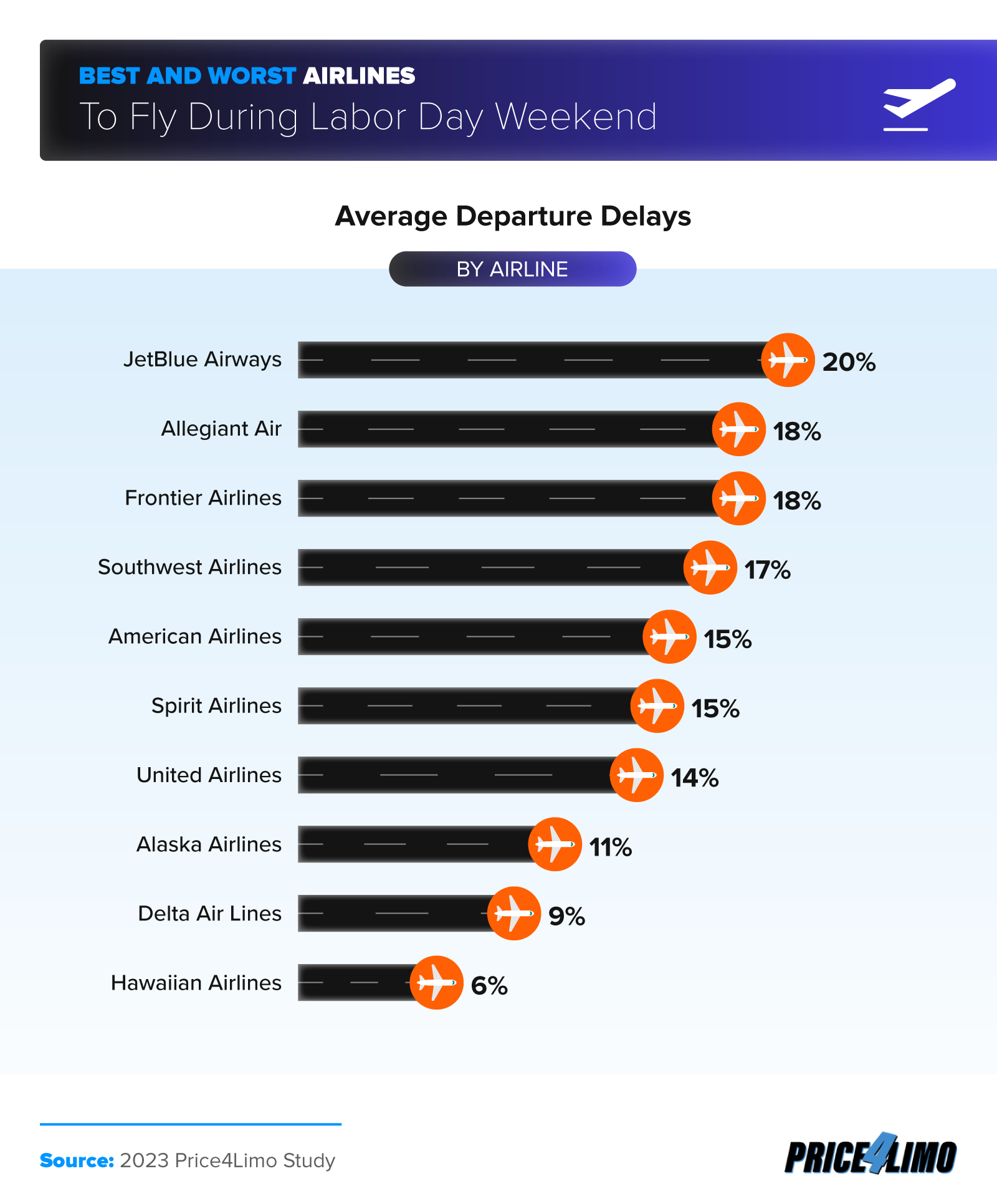 Airlines with the worst delays (pack your patience)
The three airlines with the most delays during Labor Day travels are JetBlue Airways (20%), Allegiant Air (18%), and Frontier Airlines (18%). JetBlue also has the highest average diversion rate, meaning changing its flight path from the originally planned destination to an alternative airport.
Spirit Airlines passengers were most likely to be left at the terminal as they had the highest cancellation rate during the holiday weekend.
The airport with the most delayed departures was Luis Muñoz Marín International Airport in Puerto Rico (SJU) at 20 percent. Newark Liberty International Airport in New Jersey (EWR) follows with 18 percent of their flights delayed, and Dallas Love Field Airport (DAL) sees 17 percent of their flights take off late during the Labor Day weekend.
Survey methodology:
Price4Limo collected Labor Day travel data from the Bureau of Transportation Statistics. When researching airlines, researchers averaged Labor Day weekend data from 2017 through 2022. When researching airports, the team examined the 50 most-traveled airports during Labor Day weekend from 2019 through 2022.
You might also be interested in: