Garden hoses often sit right outside the door of many homes, connected to an outdoor spigot where they wait year-round exposed to the elements. Anywhere green grass and pretty flowers grow, the outdoor hose is a must-have item for homeowners and gardeners alike. Hoses are an often-forgotten essential piece of equipment. Rather than waiting until attempting to start up that ancient hose only to discover that it's leaky, kinked, or too weather-worn for use; why not be proactive and check out our list of the top five best garden hoses? Our sources gave us the lowdown on the highest quality brands that are sure to keep your garden hydrated.
For those fortunate enough to have access to a garden, a great hose is an essential tool to help your green thumb efforts. Recent research indicates that gardening can have a positive impact on mental health. If you've been feeling down lately, or particularly stressed out, researchers from the University of Florida suggest getting more hands on with nature. Their study finds gardening helped lower stress, anxiety, and depression among a group of healthy women attending twice-weekly gardening classes. Even better, you don't have to be an experienced gardening pro to reap the mental benefits. Each participant never gardened before taking part in the study.
Especially in warmer states, gardening is a great way to grow fruits, herbs, and vegetables. Basil, chives, and cilantro are just a few sometimes-pricey herbs that can be grown outside in a small pot with kitchen scraps. A new study finds eight in 10 Americans have grown their own produce over the past year. Researchers asked 2,000 people about their thoughts on gardening and 65 percent say they've tried it themselves at some point over the past year. Of those respondents who've dabbled in gardening, 76 percent claim it's their new hobby and 86 percent have eaten the fruits of their labor.
Gardening has many benefits for you and your precious plants! For folks that want to get outside and work on the garden, lawn, or even wash the car; our list of the top five best garden hoses is here to help. Let us know your favorites in the comments below!
The List: Best Garden Hoses, According
to

Experts

Flexzilla offers a high-visibility hose that is well rated. "This highly rated garden hose from Flexzilla is made from a flexible vinyl and rubber hybrid material, which experts told us offers varying levels of flexibility and durability. The Flexzilla hose is durable in weather conditions as low as -40 degrees Fahrenheit and resists abrasion, UV and mold, according to the brand," writes NBC Select.
While praising the low cost, another source offers critical feedback as well: "When testing, we liked that it was lighter than the rubber and stainless steel hoses, but we didn't love that it wasn't as kink-resistant. We're skeptical that it would hold up as well over time, but it's a great option if you want something cheaper and/or only have infrequent watering needs versus a demanding summer vegetable garden," counters HGTV.
Perceived as a reliable and sturdy hose, "Those looking for an all-around hose that can withstand the abuse of everyday chores and gardening will be happy with the Flexzilla. Although this is one of the pricier models we tested, it should last for multiple seasons. Something to note is that the bright colors do show dirt and wear more than other models. The Flexzilla is the best overall for its blend of lightweight durability, ease of use, high-quality components, and kink-resistant material," writes Gear Lab.
The next item on our list has been called a workhorse of a hose that can handle large yards and gardens. "If you have a lot of landscaping to water — maybe spread out over a vegetable garden, foundation beds and lots of thirsty perennials — spending $100 on a garden hose is actually a smart investment, especially if it's this 50-foot workhorse from Dramm. The no-nonsense hose is made from ultra-durable rubber that withstood every abuse our testers threw at it: yanking, pulling, prodding and even stomping on its nickel-plated brass fittings (the 'crush-free' claim held true)," explains Good Housekeeping.
Also noted as being handy for car washing, "This 50-foot rubber hose can be a good option for large outdoor projects, like watering a larger chunk of your lawn or cleaning off your car, according to our experts. Bawden-Davis called this a 'durable' option — the hose is kink-resistant and can withstand hot water up to 160 degrees Fahrenheit, according to the brand," according to NBC select.
One source also acknowledges that this hose could be fun for outdoor play as well. "If you're looking for a high-quality hose with heat-resistant qualities and crush-proof coupling, look no further… but if you've got a lot of watering to attend to, this is your best bet. The 17004 also comes in a variety of fun colors—all the better if you're planning on using it for summertime fun with the kids," details Forbes Vetted.
Coil hoses are great for smaller gardens or when extra reach is needed to get around corners. "For a compact and lightweight option that's more versatile, this expandable hose with nozzle from Flexi Hose is a great choice… Overall, she [reviewer] loves how lightweight the hose is compared to her old hose and that it takes up less space by the spigot. Plus, she thinks the fabric actually feels and looks more durable and long-lasting than an old rubber hose that's prone to cracking and kinking up all over the yard," as written by HGTV.
Maneuverability thanks to the light weight and flexible design are well received features of this hose. "The Flexi Hose is an excellent option for gardeners who struggle with keeping a traditional garden house from kinking. This option performs well where a traditional hose is challenging to manage: moving a sprinkler often, turning corners, and navigating around garden beds and other obstacles. Unlike some other expandable choices, the Flexi Hose performs well at various water pressures, keeping its shape and putting out decent water pressure," explains Gear Lab.
"Most expandable hoses aren't as lightweight as this Flexi-Hose expandable hose, making it a great choice if you need to haul it around to different parts of the garden. It comes with an eight-pattern spray nozzle, solid brass fittings for the hose pipe, and can withstand water temperatures up to 113°F. This item can be purchased in varying sizes from 25-, to 100-, and even 150-foot options and comes with a lifetime warranty, but to prolong its life, it's advised to keep it in the shade when not in use. 'I love this hose,' raved one customer. 'Also, the nozzle is great. No problems so far, and I've been watering every day,'" claims Thomas A Xometry Company.
For a simple an sturdy hose available in several different lengths our sources write that the Eley Garden Hose is, "Overall, the best garden hose… Testers gave this garden hose a perfect score across categories and noted it had a solid, durable construction they felt could stand up to wear and tear," indicates Better Homes & Gardens.
The guarantee of quality is also backed up by a 10-year warranty. "In our testing, the hose didn't kink at all, and was significantly lighter than rubber, another material lauded for its durability. It comes equipped with lead-free brass fittings and is drinking water-safe. The hose is also available in 10 different sizes, ranging from 6.5 feet to 200 feet," explains Real Simple.
Although costly, the Eley hose has earned a rave review: "It's the best hose we've ever handled, and after using it for a while, we came to see all other hoses, including our other picks, as cumbersome, primitive, and dysfunctional… it comes with a 10-year warranty (twice as long as the coverage that Eley offered on its discontinued rubber hose). With all of these high points, this Eley hose doesn't come cheap—costing roughly $110 for a 50-foot length, it's certainly an investment. But if you have trouble hefting a heavier hose or if you just want to simplify and eliminate as many of the daily micro-frustrations of a garden hose, this Eley hose is very much worth considering," gushes Wirecutter.
Another respected brand, Craftsman offers a reliable outdoor hose. "In our tests, the CRAFTSMAN hose was easy to maneuver and felt good in the hand, said our tester, adding that it was easy to screw on and off, thanks to its high-quality brass threading. The hose also felt extremely durable, and it didn't kink a lot, whether empty or full. 'The price seems like a good deal for the product you get,' concluded our tester," writes People.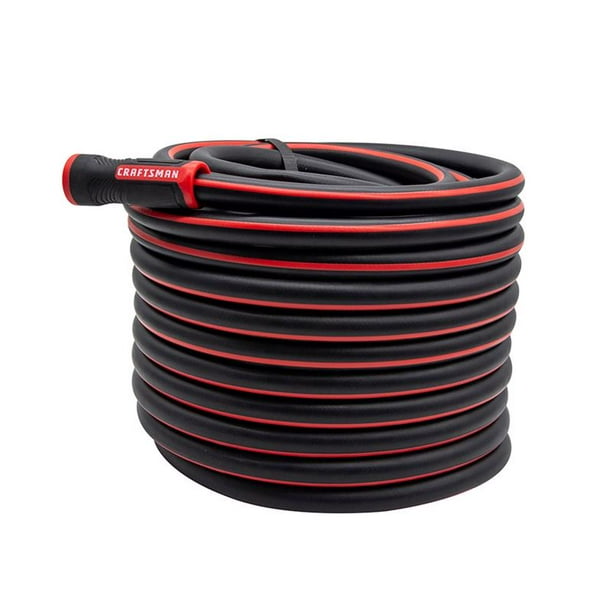 As stated by another source: "When it came to the hose's design, testers appreciated that it had a solid build and weighed as much as they expected it to—it's worth noting, however, that they wouldn't consider it lightweight. They also appreciated that it was easy to maneuver and didn't kink a lot, regardless of whether or not it was filled with water. Plus, testers like the hose's red color, which is a departure from typical hose designs," offers Better Homes & Gardens.
This mid-weight item is durable as stated by this source, "For heavy use, a rubber hose provides long-lasting durability at a much lower cost than polyurethane. And despite rubber's reputation for being cumbersome, our testers found this hose to be easy to maneuver around pots and not overly heavy," adds Real Simple.
 You might also be interested in:
Sources
Note: This article was not paid for nor sponsored. StudyFinds is not connected to nor partnered with any of the brands mentioned and receives no compensation for its recommendations.