When you get a puppy, you want to make sure that they grow to be big and strong. That's why you should know how to find the best puppy food for their nutritional requirements. When searching, try to look for things like antioxidants, extra vitamins and minerals, and a nutritional adequacy statement from the Association of American Feed Control Officials (AAFCO) Formulation that's appropriate for your puppy. In the meantime, the kibbles on our list provide a great jumping-off point to caring for your new pup.
As we mentioned, puppies need a specific formula when it comes to their food for good reason. A new study finds what you feed your puppy today may determine their health in the years to come. The findings suggest puppies should be eating more raw food because those who do end up with fewer allergies and skin issues later in life. 
Stick to high-quality puppy food because, just like humans, dogs eating a highly processed diet can lead to chronic disease. The question then becomes, what works best for them? Researchers find that dogs fed a meat-based diet consisting of raw red meat, organs, fish, eggs, and bones, as well as some vegetables and berries, or even potatoes or table scraps, were much less likely to exhibit gastrointestinal issues. 
So, given the importance of proper nutrition for growing dogs, how do we determine what to feed our fur babies? StudyFinds visited 10 of the leading expert websites to find the best puppy food most recommended across these sites. If we left out your go-to, let us know in the comments below!
The List: Best Puppy Food, According
to

Experts

Hills is highly recommended by veterinarians, as its formulas are created by pet nutritionist experts. "The company does ongoing scientific testing to ensure its pet foods live up to their claims. This puppy food is suitable for dogs of all sizes and breeds—though the product is also available in large breed and small breed formulas—and it's made using high-quality protein to help your young dog grow," boasts Forbes.
"Dr. Bryant is a fan of the puppy food from Hill's Science Diet that is made with natural ingredients that help support strong bones, teeth, muscles, the brain and the immune system," states The Dodo.
Large breed puppies have a lot of growing to do before becoming the humongous dogs you come to love. "The best puppy food for large breeds is one that supports the growth of their big bodies and brains, like this selection from Hill's. If a natural puppy food formula is important to you, check out the natural ingredients including balanced whole grains and an assortment of vitamin and mineral supplements," offers Petco.
Prominent veterinarians recommend Purina Pro Plan's puppy formula for dogs under one year. "It contains fish-oil-derived DHA for brain and vision development as well as live probiotics for digestive health and protein for building muscle," says The Dodo.
This puppy food is formulated specifically for puppies that will weigh over 50 pounds. "If you're trying to decide whether to get a puppy food with omega-3, a puppy food specifically for large breeds, or simply the best dog food with vitamins and minerals, why not choose one that does it all? It is packed with supplements for joint, bone, brain, vision, and immune support," informs Petco.
Purina Pro Plan's wet puppy food is a top choice if you have a picky eater. "This paté-style canned food comes in three different flavors—chicken, chicken and rice, and turkey—so you're sure to find an option that your young dog will enjoy. Real meat and liver are the top two ingredients, giving the food an appealing smell and taste that your puppy will gobble up," states Forbes.
There are several subscription home-delivery services for dog food, which regularly send bags of fresh food directly to your door. "Dr. Judy Morgan, a veterinarian who specializes in integrative care, recommended The Farmer's Dog, which she calls 'TV dinners for dogs' due to their palatability. Select's social editor Sadhana Daruvuri feeds The Farmer's Dog to her 1-year-old Maltipoo, Bandit, and he loves it. 'I knew friends who tried it, and their dogs were all big fans, so I did a trial with Bandit and it was obvious he liked it way more than his kibble,' she says. If you're on a budget and have a large dog, this might not be a cost-effective option for you, but it may be more beneficial for owners of smaller dogs," states NBC.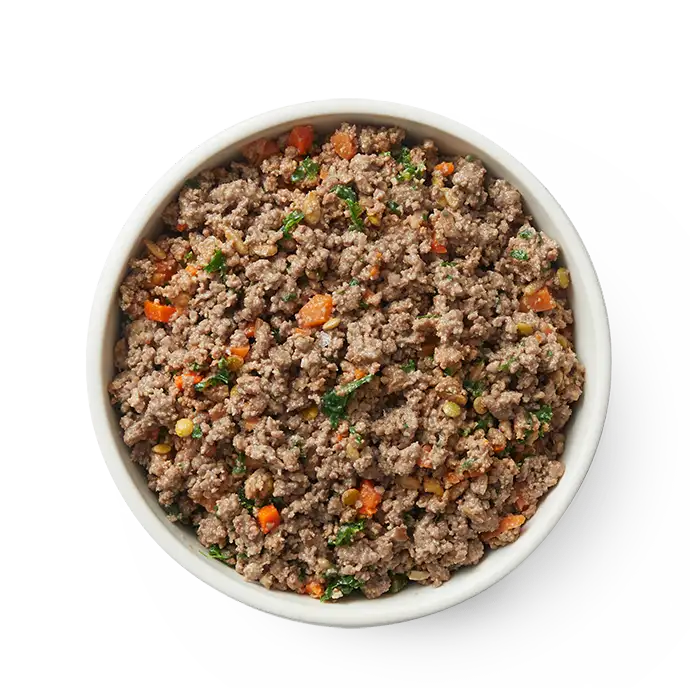 All Farmer's Dog recipes are 100 percent complete and balanced and formulated for puppies of all breed sizes. "Farmer's Pork derives the bulk of its animal protein from fresh pork. Dry matter label analysis reveals the recipe contains 36% protein, 28% fat, and 28% estimated carbs… with a fat-to-protein ratio of about 78%. The entire product line is designed by a board-certified veterinary nutritionist (DACVN). Plus… each recipe is made with human-grade ingredients. A healthy feeding option for those able to afford the premium price. Highly recommended," says Dog Food Advisor.
"The company asks each customer to fill out a series of questions about their dog's age, breed, and weight as well as any food concerns they might have. Each diet — chicken, turkey, beef, or pork — is customized to your dog and shipped to your house, ready to serve. According to the Farmer's Dog, their plans start at around $2 a day for the smallest dogs with few dietary restrictions — but the actual cost of any plan will depend on the specific information you provide when signing up," says NY Mag.
Deboned chicken, chicken meal, and salmon meal are the main proteins in this review. "The list of carbohydrates includes oatmeal, barley, peas, carrots, sweet potatoes, blueberries, apples, and flaxseed. It also contains probiotics and omega fatty acids from salmon meal and salmon oil. The nutritional breakdown is 29% protein, 18% fat, 4.5% fiber, and 450 kcal per cup," says Business Insider.
Wellness Puppy is an exceptional formula. Contains just the right amount of calcium to make it safe for all puppy breeds. "Wellness Puppyn gets the bulk of its animal protein from fresh chicken and chicken meal. Our dry matter label analysis reveals the recipe contains 32% protein, 20% fat, and 40% estimated carbs… which produces a fat-to-protein ratio of about 62%," informs Dog Food Advisor.
Wellness Complete Health provides immune system support and appetite stimulation for undernourished dogs. "This is an excellent option for pet parents looking to add whole grains to their puppy's diet. Apart from oatmeal, it contains ground barley, a popular ancient grain in pet food. Salmon oil is the key ingredient for providing high levels of DHA and tomatoes provide a source of vitamin C and carotenoid lycopene, an essential antioxidant for a growing puppy," states Wellness Pet Food.
This formula from Royal Canin is specifically tailored to the nutritional needs of your small breed cuties, such as a Chihuahua, Shih Tzu, or Pomeranian. "It's designed for puppies between two and 10-months-old that will be between nine and 22 pounds at maturity, and the kibble is smaller than most other foods, making it easier for small pups to chew," says Forbes.
Royal Canin offers some of the most diverse dog food options on the market, making both dry and wet food for a variety of dog sizes, breeds, and dietary restrictions. "I feed my four-year-old Havachon, Bella, Royal Canin's small-breed kibble after it was recommended by my veterinarian. I've noticed that Bella prefers this brand over others, which she would often leave half-eaten. Royal Canin also offers its dry food formula for medium and large breeds, as well as a puppy formula," explains NBC.
If your small dog's breed is a bit of a mystery, Royal Canin also makes food for small, medium, and large puppies that aren't specific to their breeds. "Three of the vets we consulted recommend Royal Canin puppy foods. Zacharias raised six of her own dogs on Royal Canin, and Dr. Sara Ochoa, a Texas-based veterinarian and a veterinary consultant for doglab.com, likes the brand because it is specifically formulated not only for a dog's size but also for certain breeds, such as Chihuahuas or French bulldogs," offers NY Mag. 
"This Blue Buffalo puppy product derives the majority of its meat protein from fresh chicken and chicken meal. Our dry matter label analysis reveals the recipe contains 30% protein, 18% fat and 44% estimated carbs… creating a fat-to-protein ratio of about 59%," says Dog Food Advisor.
Dr. Bryant also recommends the puppy formula from Blue Buffalo, which is made with natural ingredients enhanced with vitamins and minerals that help puppies grow strong muscles and bones and develop healthy immune systems," says The Dodo.
Deboned chicken and chicken meal are the main protein sources in Blue Buffalo Life for puppies. "Carbohydrates include oatmeal, barley, peas, brown rice, carrots, and sweet potato. Healthy additions include probiotics and omega fatty acids from fish meal and fish oil. The food contains 29% protein, 17% fat, 5% fiber, and 415 kcal per cup," offers Business Insider.
While it may seem like common knowledge, dogs actually have sensitive stomachs and certain ingredients should be avoided in their diets. "The experts we spoke to agree: Studies show that proteins like beef and chicken are among the most reported causes of allergies in dogs, so it's important to look out for common signs of allergies — like excessive itching and vomiting — to figure out what works best for them, says Dr. Joe Wakshlag, professor of clinical nutrition and sports medicine and rehabilitation at Cornell College of Veterinary Medicine," says NBC.
Merrick Grain Free is full of nutrition for your pup. It delivers 67% of protein from animal sources to support developing muscles plus DHA to promote brain development. "Merrick Contains omega-3 and -6 fatty acids to nourish the skin and coat, glucosamine and chondroitin for healthy hips and joints, and no artificial colors, flavors, or preservatives," offers Business Insider.
This Merrick formula derives the bulk of its meat protein from fresh chicken. Dog Food Advisor offers a review, "This puppy food is a hit in our home! It's got a good texture and is easily mixed in as a topper. It has a pleasant smell (for canned dog food) and you can see chunks of veggies throughout. The puppies are eager for meal times and clean their bowls. 5 stars!"
You might also be interested in:
Sources:
Note: This article was not paid for nor sponsored. StudyFinds is not connected to nor partnered with any of the brands mentioned and receives no compensation for its recommendations.