Traveling with kids can be a mixed bag of joys and stress. On one hand, witnessing their wide-eyed wonder as they explore new places and experience different cultures is truly heartwarming. Their infectious enthusiasm and boundless energy can add a whole new level of excitement to the journey. However, it's not all smooth sailing. Traveling with children requires meticulous planning, endless patience, and the ability to handle unexpected situations. So, when you do decide to bring the whole family along on your next trip, you'll want to ensure you have the best luggage for kids to keep everyone organized.
Overdue for a family vacation? A recent study shows that more than half of parents haven't taken their family on a vacation in at least three years. For obvious reasons, many have had to put their travel plans on hold. But it's time to change that stat! As you're preparing for some great quality time away, we'll help you find the best kid-friendly luggage to get your vacation off to the right start.
Traveling with kids can be stressful, and it's straight-up hard work lugging everybody's bags around. If your tots can manage their own totes, it's sure to take some of the pressure off. Plus, it will give them a sense of responsibility, like a grown-up, and what little one doesn't like that?! (Just wait, Junior…) You can even personalize their new bags, adding luggage tags and stickers to make them extra special (and easy to spot!). Getting the kiddos excited about carrying their own things will make your trip that much easier.
Whether you prefer flying or driving to your destination, it's important to take care of yourself in order to maintain your cool and stay in it for the long haul. A recent study reveals that parents start getting overwhelmed five hours into their road trip with their children. To combat this, pack plenty of snacks, books and toys to keep kids entertained along the way. Having a variety of activities lined up can help them avoid screen time burnout. Some parents wrap up small toys and fidgets for kids to open periodically as a fun surprise. Others like to encourage reading, playing games, coloring and listening to music before ending with a nice long movie and (hopefully) a nap. Make a gameplan, but also be prepared to wing it. That is parenting, after all!
Ready to get going? Below is our list of the top brands with the best luggage for kids most recommended by experts. We can't wait to hear which of these is your favorite for travels with the kids! Let us know in the comments what your favorite features are and where you're going next! Happy trails — or travels!
The List: Best Luggage for Kids, According
to
Experts
Good Housekeeping named the American Tourister its best overall kids' luggage. "Covered in popular Disney characters like Elsa and Anna, Mickey and Minnie Mouse and Grogu, American Tourister's hardside luggage is sure to be a hit with your kids. The suitcase, available in 16- and 18-inch options, is made with ABS plastic, which weighs in at less than five pounds and is lightweight and compact enough for your kids to roll on their own. The ABS material isn't as durable as other hardside materials, but it is lighter and typically less expensive."
"American Tourister also offers coordinating luggage tags, backpacks, and stickers so kids can go all in with their love of Baby Yoda or Minnie Mouse. It's all, of course, perfect for a family theme park trip, but kids will love the luggage no matter where they're going," adds Family Vacationist.
CNN Underscored writes: "Durable, easy to handle and downright adorable, this well-reviewed suitcase offers great value for the money. A push-button handle and zipper pulls are perfect for small hands, and at just more than 4 pounds when empty, it's lightweight enough that they can easily pull it around on its side-mounted wheels. Inside, tie-down straps hold everything in place, while a divider creates separate packing compartments that make it easy to keep clean and dirty clothes apart while you're on the road."
TripSavvy gives this suitcase two-thumbs-up for pattern and price. "For a kid-friendly suitcase that doesn't break the bank, Crckt gets the job done. The 18-inch carry-on has fun prints, including donuts, a space theme, stars, and dinosaurs."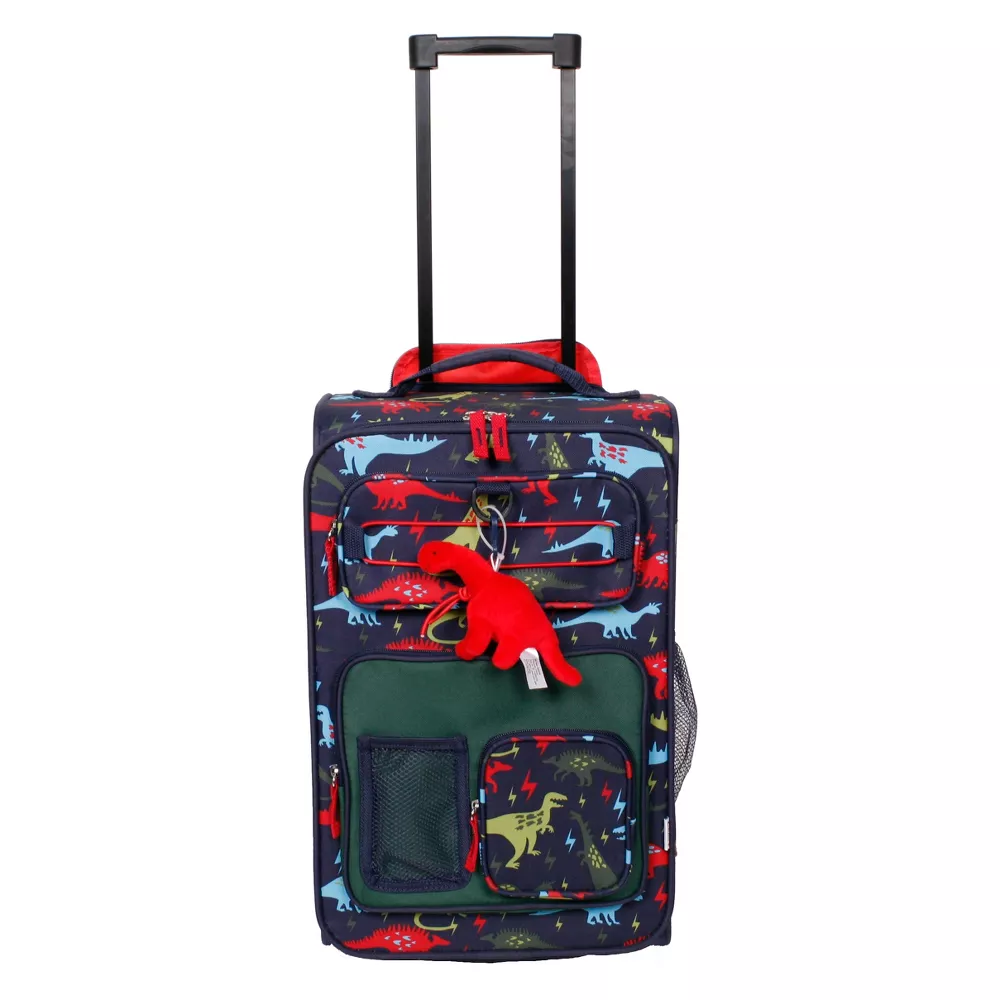 Parenting likes the convenient, roomy design: "There's tons of room for toys and clothes in this rolling carry-on, which has numerous compartments to keep everything organized and easily accessible. A bungee cord keeps stuffed animals that come along for the ride safe, and each carry-on comes with its own little plush animal."
"This soft suitcase is water-resistant, has a water bottle pocket, and includes a removable plush dangle, which is just perfect for younger children. There are multiple exterior storage spaces and pocket space for snacks, tablets, and more," raves The Everymom.
This top pick features more than a dozen delightful designs to satisfy every traveler's taste. Condé Nast Traveler writes, "If your little one wants their own luggage for family travel, this is a great starter pick. Fun meets function with this rolling softside find; the Amazon bestseller measures 14.5″x 18″x 6.5″ and has an adjustable pull handle."
Don't Waste Your Money touts its ease of use and extended life, "The bag is also made with wheels for ease of transport and a telescoping handle that grows with your child."
Lightweight, budget friendly and exterior pockets are among the pros listed by Verywell Family: "On the practical side, testers praised the suitcase for its number of useful pockets, including an inner mesh pocket, an outer front pocket, and two outer side pockets."
Seeking to avoid the tired tantrums? Trunki doubles as a sweet ride! Writes Anna Everywhere, "Trunki is the first thing that comes to mind when you think of a ride on suitcase. It's hard to deny the cuteness and functionality of the Trunki. It's made to sit on, ride on, carry on and just climb all over, really. It's the perfect size for little bodies and little hands to pack, carry, and rest on easily."
SiteSee touts the undeniable function along with the dollop of fun: "A multi-functional strap gives you options wherever you go: Let little tykes carry it themselves; tell kids to hop on and tow them and the luggage all in one go; or throw it over your shoulder when it's really time to hustle. From a bumblebee theme to a firetruck, a unicorn, or other playful options, you can turn boring luggage into an engaging toy for kids."
"The innovative Trunki ride-on suitcase has taken the world by storm and parents are super grateful to have a multifunctional piece of luggage that kids can ride on. This design makes getting through the airport fun for kiddos; they can hold onto the 'horns' and push themselves or you can tow them with the included strap. Reviewers note this sturdy pick can withstand bumps and bangs," notes Scary Mommy.
Full Suitcase says this one is best for younger kids. "Available in different animal designs, this kids' travel bag is sturdy and durable. We love the cute, matching zipper pulls and the handy write-on name tag, which is useful if your child takes the bag to daycare. Deceptively spacious, the bag will hold up to a week's clothing for younger children."
"The lightweight material makes these kids trolley cases easy for little ones to pull along. There is a front zip pocket to make snacks and small toys easily reachable, as well as a side mesh pocket for water bottles. (You can buy matching water bottles and lunch boxes too!) Although small and lightweight, we found this kids roller bag large enough to store everything they need for the plane – including books, toys and a change of clothes, making it an ideal choice for a kids cabin bag. There are no backpack straps for the kids to carry it, but there is a shoulder strap should mum or dad need to help out with the children's hand luggage at any point," says Mum on the Move.
Upgraded Points adds, "Kid-friendly fun helps your child to gain their own independence when it comes to packing and traveling — on vacation, sleepovers, or just for make-believe. Made from sturdy poly-canvas fabric, the dimensions of this case are perfectly sized for little ones, while the retractable 13-inch handle is just long enough to make it easy to pull along behind them."
You may also be interested in:
Sources:
Note: This article was not paid for nor sponsored. StudyFinds is not connected to nor partnered with any of the brands mentioned and receives no compensation for its recommendations. This post may contain affiliate links.