If you're a fan of fall, you know that this particular season is when everything Pumpkin Spice starts popping up in stores. Starbucks starts serving their seasonal Pumpkin Spice Lattes as soon as the end of August. The iconic PSL started the trend that is synonymous with fall, but now the pumpkin spice flavor is everywhere. You can find it in everything from candles and coffee to lip balms and fragrances. Keep reading to learn about some of the best pumpkin spice products you can grab for your autumn festivities.
Love pumpkin spice all year and don't think it should be confined to one season? Your seasonal taste buds may reveal more about your personality than you think. A survey of 2,000 Americans asked whether seasonal foods, beverages, or activities should only be a treat people enjoy during their matching seasons or year-round. Those who were more Type A personalities preferred a certain season and those with Type B personalities believe you can enjoy seasonal favorites year-round. The study reveals that no matter your personality type, the overall favorite season is fall (32%), with 69 percent saying that time of year has the best seasonal flavors.
Whether you enjoy it year-round, or wait until the leaves turn, pumpkin spice enthusiasts rejoice! The autumn season brings an irresistible array of pumpkin spice flavored products that are nothing short of delightful. From steaming cups of pumpkin spice lattes, with their perfect blend of cinnamon, nutmeg, and clove, to decadent pumpkin spice muffins and cookies that exude the warmth of fall, there's something to satisfy every craving. The best pumpkin spice products transform everyday treats into cozy, aromatic indulgences that capture the essence of this beloved seasonal flavor.
Time to add some pumpkin spice flavor to your life! StudyFinds did the research and consulted a variety of expert sources to determine the best pumpkin spice products to try. Let us know which ones are your favorites in the comments below.
The List: Best Pumpkin Spice Products, According to Experts
If you don't want to make a trip to Starbucks every time you want some pumpkin spice, this creamer is the perfect way to add the familiar flavor to your coffee at home. Plus, if you're vegan, they make a version just for you, too! "Non-dairy milk drinkers won't be able to get enough of this almond- and oat milk-based coffee creamer from Starbucks' At Home line," writes Food Network. "It contains hints of nutmeg, pumpkin spice and cinnamon to help you easily transform any blend of hot or iced coffee. The brand's original milk-based Pumpkin Spice Creamer will also be returning this year."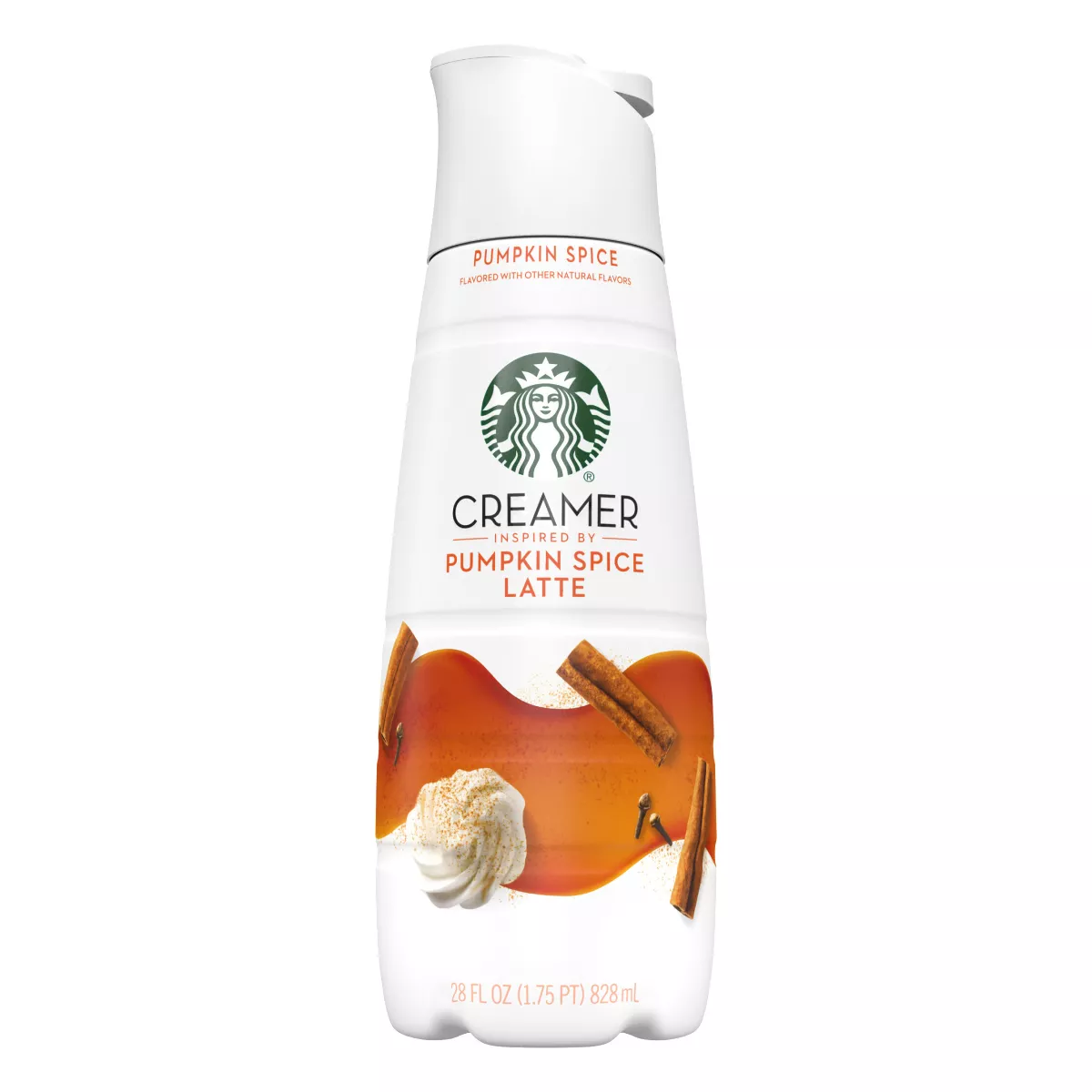 "There are plenty of great coffee recipes that taste even better with a splash of pumpkin coffee creamer!" says Taste of Home. "This delicious concoction comes from Starbucks and it promises all of the spicy, pumpkin flavor you crave from your favorite autumnal treat. It also comes in an almond and oat milk version!"
"This creamer is a bit like sprinkling cinnamon in your coffee," says a reviewer from Insider. "The cinnamon is subtle, but it still outshines any other spices that might be present. As with the Coffee Mate, it takes a lot to make an impact."
For a unique but nostalgic snack, try Dunkin's collaboration with Goldfish. The crackers taste like familiar graham crackers with a hint of sweetness from donut glaze. "If you could eat an entire box of pumpkin Munchkins in one sitting, this is the snack for you," explains PureWow. "They're a lot like Teddy Grahams, just with more depth of flavor than straight cinnamon-honey notes. They're the grab-and-go snack you won't tire of by mid-October."
They're limited edition and often out of stock! "Another throwback to childhood are the tiny Pepperidge Farm Goldfish crackers, which have been mixed with the famous Dunkin' Donuts pumpkin spice blend to create something that's more graham cracker than traditional Goldfish cracker, but delicious nonetheless because of the added taste of donut glaze," writes Parade.
"Yes, you've read that correctly. Dunkin' and Goldfish have teamed up to create a seasonal treat that you'll want to eat by the handful," says Eat This, Not That. "These limited edition pumpkin spice Grahams are tiny, bite-sized graham crackers containing notes of pumpkin along with a donut glaze and other warm spices, featuring cinnamon, cloves, and nutmeg.
Cookies have always been a huge part of the holidays, and these delicious pumpkin spice cookies with white chocolate chips are the perfect treat. "Tate's Bake Shop is known for their thin, crispy cookies that taste homemade," writes The Pioneer Woman. "And for a limited time, that includes this pumpkin spice variety that's perfect for fall. They're loaded with white chocolate chips so they're sweet and spiced."
"Tate's has offered a variety of seasonal flavors to customers in the past, including Blueberry Crisp, Key Lime Coconut, Gingersnap and now the signature flavor of autumn," writes Today. "Tate's Pumpkin Spice Cookies will be available on Tate's website and in stores nationwide this month." These thin, crispy cookies are also perfect for accompanying your favorite holiday drinks like tea, hot chocolate, or coffee.
Delish recommends these cookies for fall: "The addition of white chocolate chips cuts into the spices just right,' writes one reviewer who described these crispy pumpkin spice cookies as their 'new fall indulgence.' They're not to be missed if you're a fan of pumpkin products."
Pumpkin spice Cheerios might sound like a strange twist on the classic cereal at first, but if you're a fan of the flavor give these a try. "Plain, original Cheerios certainly aren't for everyone, especially if you're the type of person who generally prefers more heavily flavored foods. But that doesn't mean you should write off Pumpkin Spice Cheerios totally before you give them a try," writes Tasting Table. "These Cheerios, made with pumpkin puree and plenty of cinnamon, pack a bold flavor in a crunchy bite."
This product is also limited edition. "Pumpkin Spice Os are back for fall, now available at Target in an 18.5-ounce box," says NY Post. "Mix with milk for a classic bowl of the seasonal cereal, add to a granola mix or get creative and sprinkle the leftover box crumbs on your PSL for an added pumpkin pizzazz."
"Crisp fall mornings call for a bowl (or two) of pumpkin spice Cheerios," writes Yahoo. "The seasonal edition of the breakfast classic features natural pumpkin flavor with cinnamon, nutmeg, cloves and 22 grams of whole grains. And as an added bonus, they're gluten-free."
Another option to add pumpkin spice to your breakfast is in cream cheese. "Use this pumpkin cream cheese spread to bring tasty flavor to your breakfast bagel," says RetailMeNot. "Add it to dessert recipes to make delicious pumpkin frosting, French toast or cream cheese spread cookies. It's made with real pumpkin and cinnamon for a smooth, decadent flavor."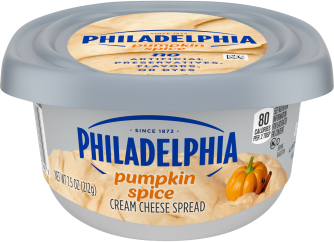 This version is easy to spread and made with fresh milk, real cream, pumpkin, cinnamon, and no preservatives. "Philadelphia Pumpkin Spice Cream Cheese adds a rich, sweetened creaminess to your morning bagel or decadent dessert," writes Eat This Not That.  "It's made with real pumpkin and cinnamon, but be mindful that there are 5 grams of sugar per 2-tablespoon serving, so use it sparingly to keep your added sugar intake to a minimum."
"Philadelphia's fall flavor is back again!" says The Pioneer Woman. "Whether you spread it on a cinnamon-raisin bagel or use it to make a seasonal cream cheese frosting, this limited edition product is worth a try!"
You might also be interested in:
 

Sources:
Note: This article was not paid for nor sponsored. StudyFinds is not connected to nor partnered with any of the brands mentioned and receives no compensation for its recommendations