Skin care routines keep us looking our best no matter where we are. So, when traveling, you'll want to pack some key cosmetics. It's tough to secure those items in a regular old suitcase or carry on. After all, nobody wants a spill that will ruin your freshly packed clothes. Investing in one of the best makeup travel bags is a simple way to keep everything neat, compact, and mess-free.
After all, the way our skin looks and feels can have a huge effect on our self-confidence. A survey of 2,000 American women 35 and older looked at their skin care journeys and found that nearly three-quarters say their confidence is impacted by the way their skin looks (72%).
The study revealed women spend about $170 a year trying to find skin care products that are right for them. One in nine have gone through 10 or more failed skin care products in the past, and the average woman is currently holding onto four of them in their home.
Having the right bag for cosmetics helps to organize those essential beauty products that actually do work for us. So, StudyFinds went on a quest to find the best makeup travel bags for your next trip from ten expert websites, for easy traveling. As always, we'd like to see your own recommendations in the comments below!
The List: Best Makeup Travel Bags, According to Expert Reviews
This one is a 'clear' favorite. Plus, it lets you easily see if you forgot to pack something. "This clear makeup bag from Calpak manages to be super stylish and practical all at once. It's lined with gold zippers and a nice faux leather that comes in seven different color options, including neutrals like black, stone, and caramel, and bolder colors like mauve and hot pink. The top of the case is finished with gold hardware that holds down the two straps used to carry the item around," according to Real Simple.
Elle points out it unzips, "into two separate clear compartments, so staying organized is a breeze. It's large enough to fit full-sized products if you don't have travel-sized versions of your favorites. Bonus: the individual sides minimizes damage from any accidental product explosions."
In The Know raves, "Calpak is known for its top-of-the-line luggage and travel gear — and this popular cosmetics bag is no different. With its dual handles and two spacious compartments, you'll be able to see all of your products without even opening it! (Pssst, it also comes in a mini size for $75.)"
One drawback? The price. It's on the more expensive side, coming in at $95.
This case is compact, but also spacious. The price? $68. "This super chic travel case from Béis allows you to easily organize your products, makeup brushes and other small essentials with a convenient top carry handle. Inside the main compartment, a removable sleeve features a brush holder on one side and a zip pocket on the reverse to keep small items organized," according to In The Know.
Byrdie notes, "there are three suitcase-style pockets in the main compartment and a slip pocket on the lid with a removable mirror for on-the-go application. This spillproof makeup carrier has a faux-leather exterior that resists crushing, and the lining is easy-to-clean, water-resistant polyester."
Real Simple writes: "The bottom of the makeup bag is a roomy catch-all that can easily house blushes, palettes, powders, primers, and more. There are also two long compartments on either side that can house smaller, thinner items that may not fit on the back of the brush holder."
At $21, this option is both affordable and functional. "This soft (yet structured) makeup train case is as close to professional-grade as you can get for the price. The zippered bag has adjustable, removable dividers (so you can fit legit anything you want in the slots), a zippered side pocket, four elastic pouches for your brushes (or mascaras or lipsticks, etc.), and a flap that flips over and velcros everything snugly in place," suggests Cosmopolitan.
"The adjustable compartments are not the only advantage of this bag, as it also comes with an anti-wear and waterproof outer layer," adds Upgraded Points.
Real Simple says this product is perfect for "People who need lots of compartments and want the flexibility to customize them."
For $75, this bag is for those of us who love to have lots of compartments for organizing. "This sleek, water-resistant bag comes with a spacious interior and wide zippered opening — meaning it can hold tons of products and give you easy access to all of 'em. But for us, the real selling point is all the organizational details in this design," according to Sitesee.
TripSavvy points out, "this case comes with a detachable brush roll to store your makeup brushes that snaps to the top lid. The bottom compartment also includes neoprene and clear zip pockets, the latter of which let you locate your favorite lipstick in a second. The sturdy carrier zips closed and has a carry handle."
According to Real Simple, "The Away Cosmetics Bag can be monogrammed for up to three letters for an extra $20, and comes in two colors: black and petal pink." If you want it personalized, that'll cost you extra, and if you are looking for something collapsible, this isn't the bag for you. 
If you are looking for more of a nostalgic travel bag, at $99, check out this one from Mark & Graham. Plus, you can add a monogram. "This best-selling pouch allows you to add up to three letters of your choice for $12.50. You can also choose from multiple fonts and two-toned color options, ranging from lilac varsity letters with a blue border to blue cursive with an orange border. The personalization is made of a shadow-printed sticker decal, which will last longer than hand-painted monogramming," writes Real Simple.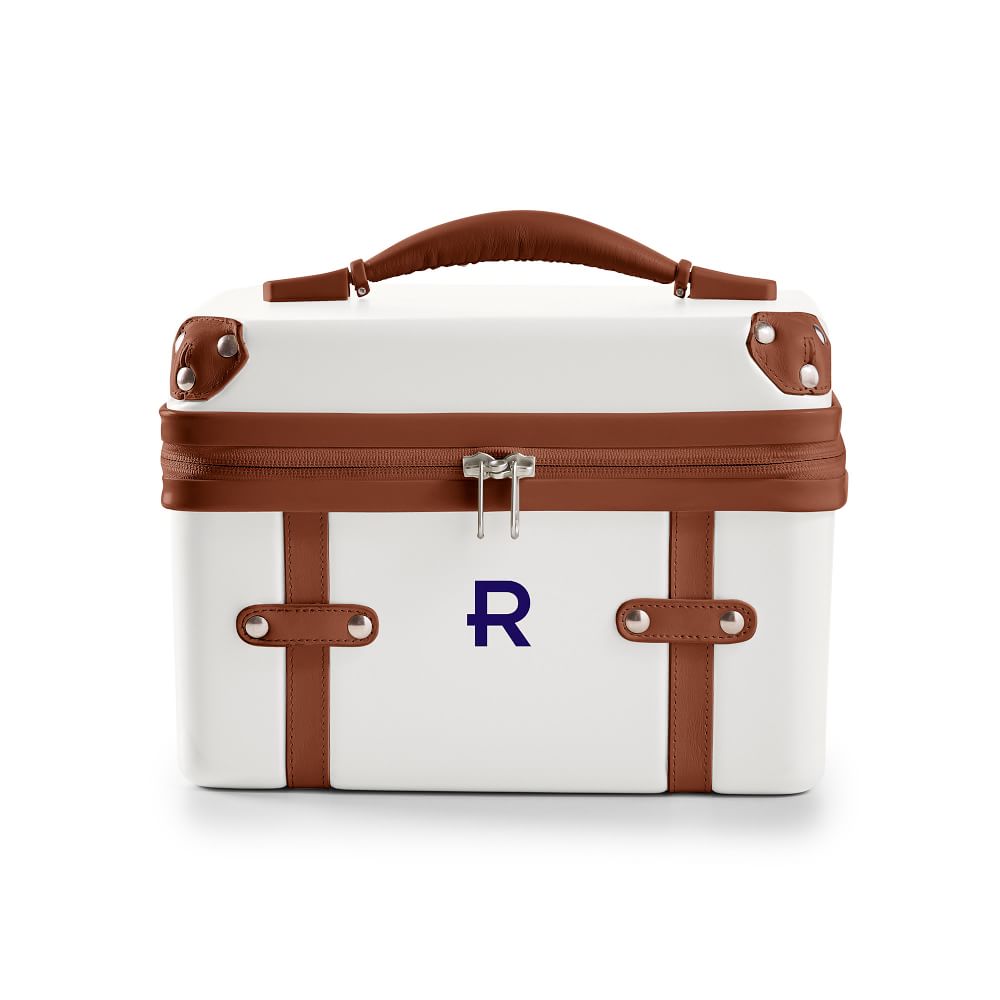 "The vintage-inspired bag is designed with a durable but lightweight shell exterior and is the perfect mini-match to the other Terminal 1 suitcases in the collection. It's also small enough to pack inside of a suitcase but spacious enough to fit all your essentials," according to Condé Nast Traveler.
Travel + Leisure notes it is, "on the higher end of this list cost-wise, but it's worth the extra expense considering all the internal organizational pockets, the leather handle, and the zip-around enclosure." 
You might also be interested in:
Sources:
Note: This article was not paid for nor sponsored. StudyFinds is not connected to nor partnered with any of the brands mentioned and receives no compensation for its recommendations. This post may contain affiliate links.