A great pair of jeans can be what makes an outfit. They are sure will elevate whatever else you wearing, even if it's just a plain white tee shirt. There's not much that can beat a classic denim look. With so many different styles out there, check out our list of five of the best men's jeans.
Times change, and apparently so does style. A new study finds the line between men's and women's fashion is becoming a lot blurrier. Seven in 10 young adults believe their style has become more gender-fluid than that of previous generations. Millennials were a bit more set on keeping their current looks, with 46 percent saying they'll stick to it for the next decade – compared to 42 percent of Gen Zers. The poll, conducted by OnePoll on behalf of De Beers Group, also revealed that 71 percent agree that it is more socially acceptable for men to wear jewelry today than it was just a few years ago. Nearly two-thirds (65%) of young men feel more confident when they wear jewelry.
Luckily, it isn't a high price to pay to look and feel good. A new survey of 2,000 adults finds that, in fact, it only requires a little more than $600. "People feel their best in clothing that lets them feel youthful and on the move," says Sally Morrison, chief marketing officer at Lightbox, in a statement. Men in the survey preferred jeans (64%), a T-shirt (57%), and a jacket (43%). A suit came in fourth on the list at 42 percent. Sneakers were their favorite footwear at 43 percent, followed by dress shoes at 25 percent.
We've made it a little easier to find the right fit and go-to for your everyday wear. Below are the top five best men's jeans, per experts. Of course, we want to know which pair is your favorite, so comment below to let us know!
The List: Best Men's Jeans, According to Experts
It's probably no surprise that the Levis brand tops the list. Every human being should own a pair. "If you're deciding on what version of Levi's to get, you should start with the 511. They're perfectly cut in a classic slim fit that retains a modern silhouette and flatters most body types, and feature upgrades like more stitches per inch (added durability), a durable and soft fabric, and an advanced stretch that ensures mobility. You can't get more classic. These jeans never go out of style and for the price, you can't beat them," boasts Men's Health.
Having a pair of Levi's as part of your denim collection is kind of a necessity, don't you agree? Denim jeans were invented by Levi Strauss in 1873. "While the straight-leg 501s are a classic, this 511s are a slimmer mid-rise. These have just a hint of stretch, which offers give and allows for movement but won't compromise structure after hours of wear. At such a budget-friendly price, you may just need to scoop up a few different washes," informs Forbes.
These slim-cut jeans surprisingly have fans with bigger legs. They may be slim, but men don't have to squeeze into them. NY Magazine weighs in, "Tim Melideo, the writer behind menswear site Stay Classic, says Levi's 511s are a staple of his wardrobe, and stylist Brandon Garr likes them too, telling us that Levi's is a go-to brand for him because they're affordable and hold up in the city."
You can't beat a pair of jeans that offer lots of stretch and a curved waistband for extra comfort. "Bonobos Stretch Jeans are available in a variety of styles, including athletic, slim tapered, and straight, and can be enjoyed in seven different colors. They're also garment-dyed and have an OKEO-TEX and FSC certified branded paper patch," explains the NY Post.
Bonobo's Premium 4-Way Stretch Jeans are a favorite among both athletes and active guys who hate heavy denim fabric. "These are jeans for men who want more comfort and flexibility. They have a stretchy material that adapts to your movements, a signature curved waistband that prevents gaping, and a range of fits and sizes to accommodate different preferences," offers Men's Health.
Bobobo's Stretch Jeans are versatile with zip fly and five-pocket styling. They also come in four different fits, so you can always find one that works for you. "The slim style has a slim straight leg and is extremely flattering on a guy with a more narrow frame. While blue is the most popular, it comes in other go-with-everything colorways," explains Forbes.
"Remember trying to distress your jeans by yourself? Nobody has time for that! Levi's Men's 501 Original Fit Jeans are a great pair of jeans, they fit great and it feels like they're already broken in. They're available in more than a dozen colors, are made of 100% cotton, and have more than 7,000 five-star reviews on Amazon," says NY Post.
Levi's 501 ages so well that they get better after each wear. "The quintessential blue jean comes in all shades, washes, and distressing. These button-fly, straight-leg jeans work as well with a pair of sneakers as they do boots. Plus, they're available in big and tall sizes and stretch cotton for the perfect fit," explains Gear Patrol.
No round-up of best jeans brands would be complete without the OG. Levi's is the first, the inventor, and still, to this day, the standard. And the best-known, most-iconic fit, without a doubt, is the 501. Its rigid straight-leg silhouette is a legend of the denim world, worn by too many fashion icons to list. Whether it's a new variation or a vintage style, the 501 is a solid investment. In fact, it's the best," states Robb Report.
This particular pair of jeans from Todd Snyder features a contemporary and flattering slim fit with the comfort of stretch. "For all-around perfect jeans, Todd Snyder is the way to go. Their robust denim selection features lots of different washes and fits to suit almost anyone's preferences, from novice to expert. It also comes in seven different washes, from a dressier indigo rinse to a weekend-friendly destroyed wash," boasts Forbes.
American designer Todd Snyder's label launched a denim collection and the world cheered. "Snyder sought to simplify jean shopping by dividing denim into three categories: Stretch, Selvedge, and Small Batch. Snyder's Stretch line is perhaps his most popular, available in an array of washes and wears, and featuring a nearly undetectable amount of stretch. This 12.5-ounce denim is a slim fit jeans with a broken-in feel for instant comfort and a versatile style to dress up or down as needed," explains Gear Patrol.
No one is surprised with what Todd Snyder does when it comes to denim. "The best selvedge jeans get better with age, and the rich indigo color will show beautiful fades over time," says the Insider.
Everlane already has a reputation for having reasonably-priced and well-made clothing, so it's not surprising to see this brand on the list of best men's jeans. Esquire chimes in with some pros of the brand, "Coined as a 'go-to' brand Everlane is a sustainably made jean with four-way stretch and a 365-day guarantee."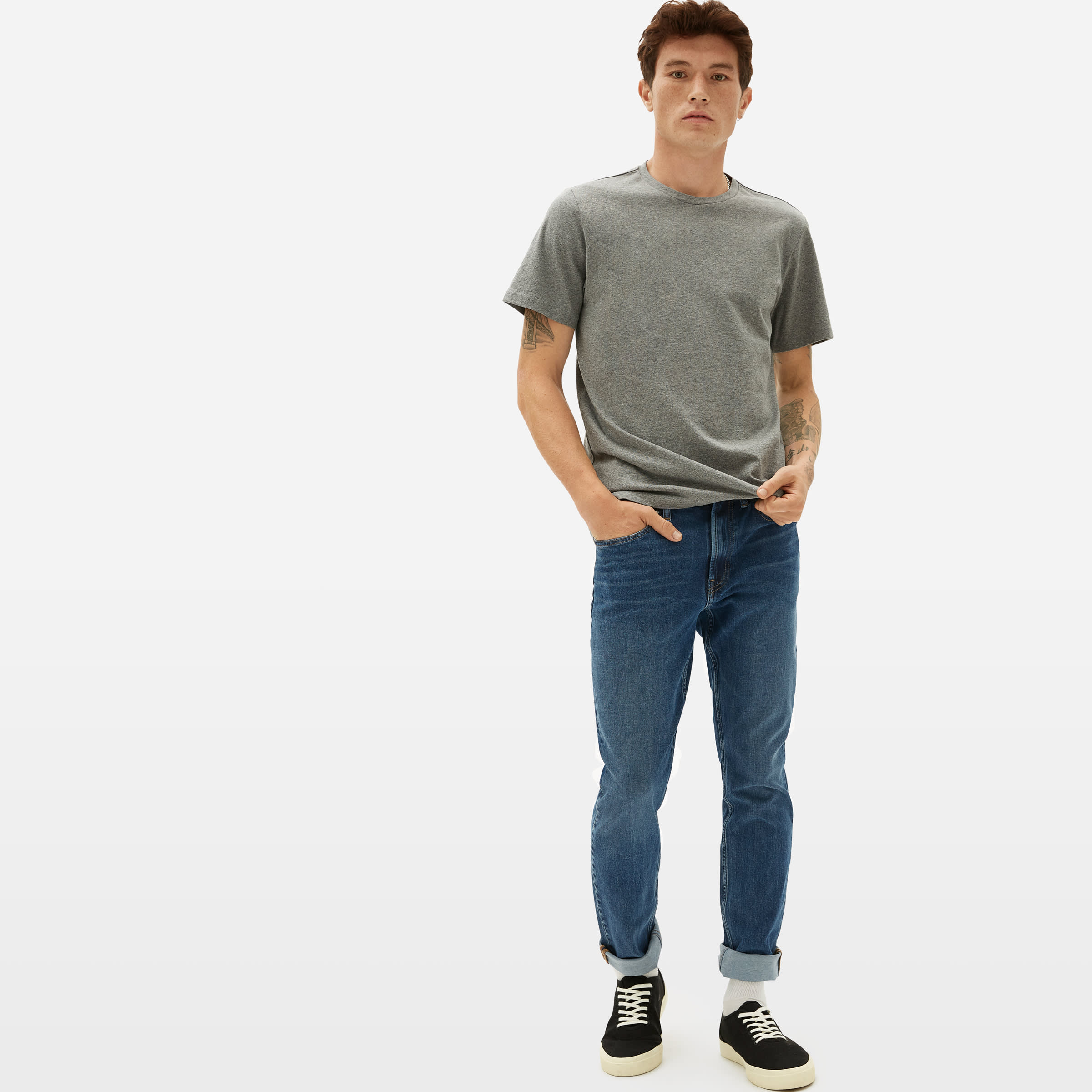 Many celebrities and stylists liken Everlane to a pair of jogging pants. Now that's comfort! "I love these Everlane jeans because they're authentic denim with a touch of stretch. And they're made from organic cotton—any time I can put my clients in sustainably-minded brands I will. My client Glen [Powell] recently wore these Everlane jeans for his press tour and they're his new favorites," explains Men's Health.
Many men are fans of Everlane's denim for its simplicity and quality, possibly also due to its comfy range of motion. "These jeans have lots of stretch through the warp and weft—the two types of yarn that are woven to create denim. If you like a relaxed fit, these are the jeans that pair nicely with your favorite sweatshirt and sneakers," says Forbes.
You might also be interested in:
Sources:
Note: This article was not paid for nor sponsored. StudyFinds is not connected to nor partnered with any of the brands mentioned and receives no compensation for its recommendations.