Leggings just aren't for women anymore! These athletic compression pants are becoming more popular among men nowadays. From yoga to running, men are wearing leggings to help stabilize their muscles while also increasing blood flow and muscle oxygenation. And to the men who might think leggings show off a bit much of the male body? Just wear a pair of your favorite workout shorts over them. To help in your search, StudyFinds has put together a list of the best leggings for men.
The best men's leggings are designed with both comfort and functionality in mind. They are typically made from high-quality materials that provide excellent breathability and sweat-wicking capabilities, ensuring a comfortable and dry experience during workouts or everyday activities. These leggings often feature a form-fitting design that offers support and flexibility, allowing for ease of movement without sacrificing style. Many come with a convenient pocket for storing small essentials like keys or a phone.
Moreover, men's leggings are durable and built to withstand frequent use and rigorous activities. They often incorporate flatlock seams to prevent chafing and irritation, enhancing overall comfort. Finally, these leggings come in a variety of colors and styles, making it easy for men to express their personal fashion preferences while enjoying the numerous benefits of wearing them in various settings, from the gym to casual outings.
Ready to upgrade your fitness garb? StudyFinds has put together a list of the best men's leggings. Did we miss one of your favorites? Let us know in the comments below!
The List: Best Men's Leggings, According to Fitness Experts
Under Armour leggings was the favorite among experts. Men's Health notes that Under Armour leggings are made from proprietary HeatGear fabric with built-in infrared technology that helps increase energy, strength, and endurance while lowering muscle fatigue. "When you think of compression wear, Under Armour is likely one of the first brands that comes to mind. And for good reason, too. With a 3/4 cropped length, 4-way stretch material, extra ventilation in all the right places, and a waistband branded with Curry detailing, these pants will look just as good as they feel."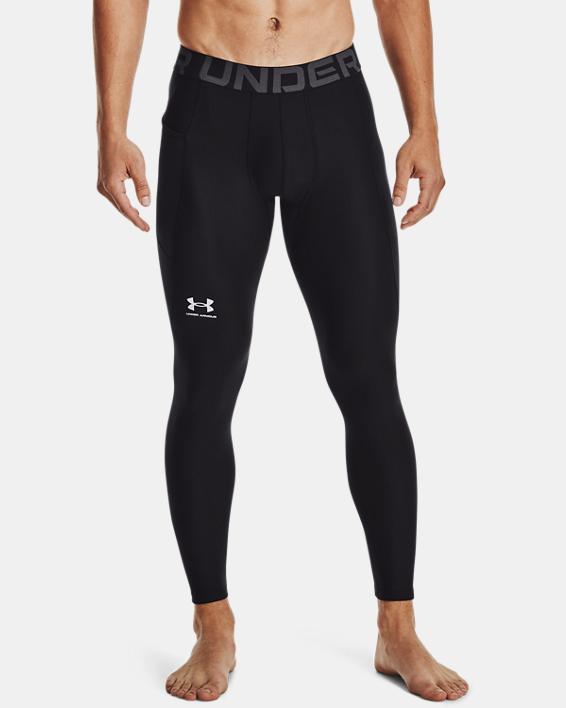 "U.S. sportswear brand Under Armour was one of the very first companies to introduce compression tights and compression wear to the market, meaning they really are an expert in the field," writes DMARGE. "Under Armour has a range of men's compression tights that can be worn on their own or as a baselayer, although the specific pair you choose will influence this decision. The company's range makes use of various technologies, such as UA RUSH which helps to return energy to your body, and UA HeatGear which makes the compression tights incredibly light so you feel like you're wearing nothing at all. Compression tights are available in full-length or 3/4-length styles and all are made to last you a lifetime."
Verywell Fit called Under Armour leggings are the best for moisture-wicking. "While plenty of tights on our list are made with quick-drying material, Under Armour's ColdGear Leggings are our recommendation for the pair that wicks away moisture the best. The dual-layer fabric is brushed on the inside to keep you warm, and silky on the outside to help sweat evaporate. We also like that, unlike other tights on our list, these come in a wide range of sizes (including tall sizes) and bright colors. And the material has four-way stretch, so it will move with you as you run or sprint. An anti-odor treatment prevents unpleasant smells from building up. Just note that these ColdGear Leggings only have one drop-in pocket, and no reflective details."
Even if it's hot out, men can still wear Nike leggings while running because it helps keep them cool. "You might think it's weird to wear tights when you want to stay cool — why not just wear shorts? But these Nike men's leggings are almost magical. On some days, I think I'm actually cooler with these under my shorts than I would be without," writes Livestrong. "The soft fabric seems to draw sweat away from my legs, letting the perspiration do its job at keeping me cool and comfortable. The length — only three-quarters, instead of full-length — lets a little air in around your ankles, too."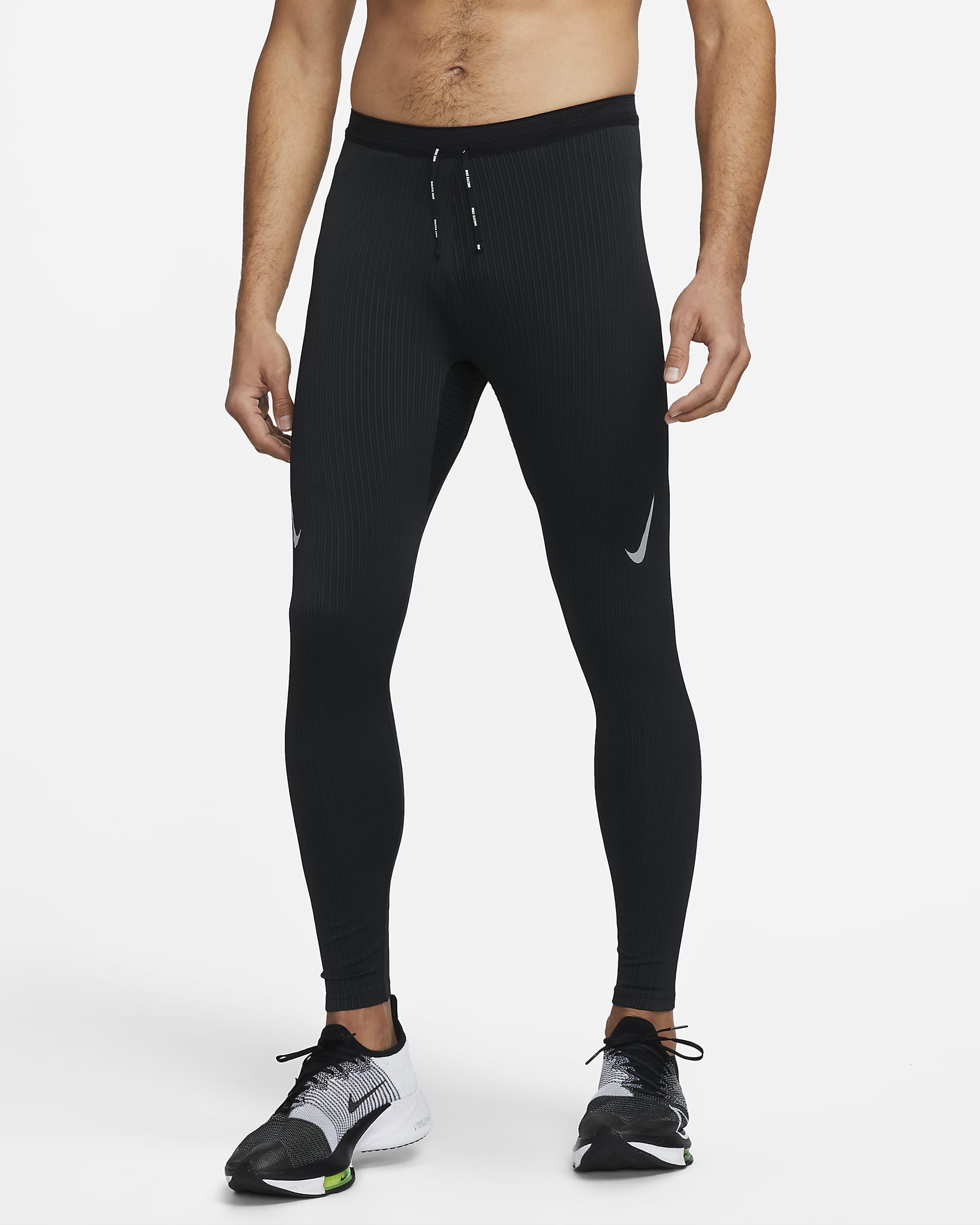 "Part of Nike's flagship racing range, these streamlined leggings are designed with speed in mind," says Ape to Gentleman about the Nike Dri-FIT ADV AeroSwift Tights. "The fabric is breathable and moisture wicking, and there's extra ventilation in the waist for increased airflow and comfort. There's also a number of concealed pockets featuring a moisture barrier to keep your valuables dry on the go."
Not only does Nike make leggings that help keep men cool during the summer, they also make leggings that keep you warm when it's cold outside. "You simply can't go wrong with the Nike Pro Warm Men's Tights," notes Spy. "Made from recycled polyester and a French terry knit, these compression pants promise to keep you warm without compromising your workout. They feature Nike Dri-FIT technology to wick sweat, mesh overlays on the knees for better motion, an elastic waistband that stays put and a single media pocket for your phone."
3. 2XU
2XU leggings, which have been called the best men's compression pants for sports, have specialized compression areas for targeted support, an anti-slip waistband, and a zippered pocket. "The 2XU MCS Run Compression Tights are built for all types of workouts, from long runs to quick HIIT training sessions. They're made of a nylon and spandex combo that's stretchier in the back but more compressive in the front. They also have specialized compression areas, which the brand calls Muscle Containment Stamping (MCS), built into the quad and calf zones to help reduce muscle strain and soreness specifically in these targeted areas," writes Active. "Built for comfort, these compression pants have a wide, covered elastic waistband to prevent slipping, and flatlock seams that minimize chafing. They're also quick-drying and have antimicrobial elements built into the fabric to reduce the buildup of odor-causing bacteria. A zippered pocket keeps your essentials secure no matter which sport you're playing."
"You'll notice that most of 2XU's products come at a slightly higher price tag, but for good reason. Unlike most of the other products mentioned on this list, 2XU built these compression pants out of 72% Nylon and 28% Elastane, which is why they offer a 12-month guaranteed warranty on their products," notes The Authentic Gay. "The compression design supports the glutes, abductor, hamstring, and calf muscles to reduce muscle vibration during your workout. Ideal for someone who wants a great long-term investment."
Men's Fitness says the 2XU Light Speed leggings feature proper medical-grade, graduated compression. "Such a high level of compression is usually found on dedicated post-workout recovery tights but the Light Speed leggings have plenty of features to make them workout-ready too. The 360-degree flex fabric and close-fitting comfort and support mean they stay put on runs or dynamic workouts, aided by the narrow, soft-fabric waistband, adjustable drawstring and elasticated cuffs. Flatlock seams cut the rusk of chafing risk and three pockets mean you can stash essentials like phones, keys and gels for those longer runs. Reflective details for night running also underline the Light Speed's workout credentials."
Lululemon has some of the best leggings to wear while running at night with their Surge Tight Nulux. "Substantial pockets for your phone and keys, panels of mesh behind the knees to stay breathable and stretchy, quick-drying fabric make these Lululemon men's leggings a great base layer for running," writes Livestrong. "The reflective details in all the right places — along the sides and backs of your calves, and on the back of each hamstring — make them particularly great for running at night when wearing reflective clothing can make all the difference in being seen by distracted drivers. The Surge tights also stay in place — there's no bunching, and no readjusting needed. Be warned: The compression level on these is pretty tight."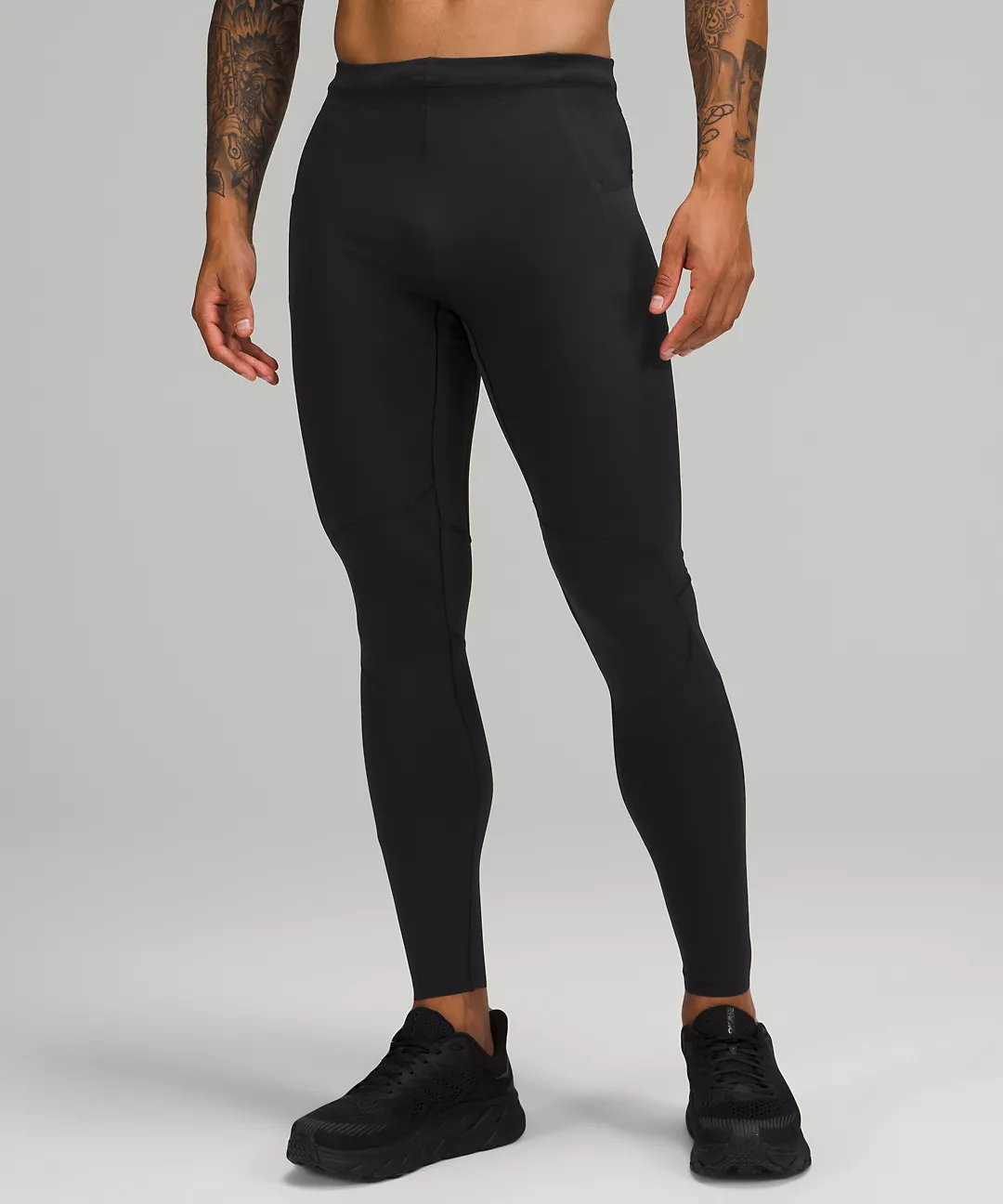 "Lululemon is arguably one of the best and most fashionable activewear brands on the market. Originally designed for yoga, the brand has expanded to create premium activewear for all types of exercise. Committed to designing innovative technical athletic gear, Lululemon's compression tights are no exception," states DMARGE. "Lululemon offers compression tights that all serve a different purpose. Their Vital Drive Training tight, for example, is specifically designed for strength and weight training, as it is made with abrasion-resistant fabric, whereas the Surge tight is specifically designed for running with its lightweight fabric for a full range of movement. All of Lululemon's compression bottoms have four-way stretch, sweat-wicking abilities, and added support, but make sure you purchase the right tights specifically designed for your preferred way of exercising for optimal performance."
The Lululemon License To Train Tights take into account stretch and shape retention. "Featuring a neat bonded construction for flat seams, these training tights are the work of arguably the biggest name in leggings and the brand that started the athleisure movement," says Ape to Gentleman. "They're made from abrasion-resistant 'Luxtreme' fabric, and have added Lycra for stretch and shape retention."
5. Brooks Running
Rounding out the top five best leggings for men is Brooks Running. "If you're the no-frills type, might we suggest these tights from Brooks Running, which are as simple as they come — black, navy and gray color options with two pockets and a semi-fitted shape. But that simplicity is no knock on the quality," writes Spy. "On the contrary, Brooks Running consistently tops lists of the best running shoes, so it's no surprise that the brand also makes some of the best compression pants for men. Better yet, Brooks has a generous 90-day 'trial run' period, allowing you to return items that don't work out, even if you've worn them."
"When the temperatures drop, we recommend Brooks' Momentum Thermal Tight. The thick thermal fabric is made with recycled materials to create tights that are insulating, but also quick-drying and moisture-wicking," notes Verywell Fit. "If you're someone who tends to overheat while running (even in the winter), these can help regulate heat and airflow to keep you feeling comfortable."
Active calls Brooks Running the best compression pants for long runs. "If you're looking for top-tier running gear, you can't go wrong with Brooks. From sneakers to compression pants, the brand expertly combines comfort with function. The Brooks Men's Source Tights are made with an insulating and sweat-wicking mixture of 78 percent polyester and 22 percent spandex. Because these have more spandex than other pairs, they're a bit stretchier and not as compressive, but this, combined with the lack of side seams, is ideal to prevent chafing and irritation on long runs. Like most compression pants, this pair has a secure elastic waistband, but it also includes a drawstring so you can get the most comfortable fit. There are also two deep drop-in pockets so you can hang onto your cell phone and other essentials when you're on the road."
You might also be interested in:
Sources:
Note: This article was not paid for nor sponsored. StudyFinds is not connected to nor partnered with any of the brands mentioned and receives no compensation for its recommendations. This post may contain affiliate links.