Is the rainy weather putting a damper on your kids' playtime and other activities? Have no fear; StudyFinds is here to help fix just that problem. We all know how the weather can be unpredictable, which means being prepared for any climate is important, especially rainfall. That's why raincoats are an essential piece of clothing and a must in the coat closet, specifically for the kiddos. Made from durable material, these waterproof garments are an essential wardrobe staple that not only protects children from getting wet during rainy weather but also ensures their overall health is not in jeopardy. The best raincoats for kids are made of waterproof material that effectively repels water and keeps the child dry to prevent health issues such as colds or flu. Additionally, a bright and vibrant design can enhance visibility and ensure their safety! 
And believe us when we say that these rain jackets are going to be needed! A new study done by researchers from Northwestern University says it's actually raining harder in the United States than ever before. The study found that rainfall intensity has increased in all but one region out of 17 across the U.S., with precipitation up five percent when it rains east of the Rocky Mountains. In fact, the only region not experiencing harder rainfall is an area along the Pacific Coast and Rocky Mountains. Study authors say climate change may be to blame because warmer air can hold more moisture. So, it's better to be safe than sorry and stuck in a rainstorm with no waterproof covering.
With the increase in rain, the best raincoats for kids combine durability, comfort, and playful design to keep little ones dry and happy during wet weather adventures. These raincoats are typically crafted from waterproof and breathable materials to ensure that children stay dry without feeling stuffy. With a wide range of vibrant colors and whimsical patterns, these raincoats not only provide protection from the rain but also allow kids to express their individuality while staying cozy and dry.
Rain, rain go away! Now, as always, we at StudyFinds researched across numerous expert sources to bring you the top five best raincoats for kids to keep your munchkin nice and dry. As always, if you don't agree with our list, no worries. We would love to hear from you in the comments below! Now, onto the list. 
The List: Best Rain Jackets for Kids, According to Experts
Without a doubt, this was the top pick across the board when it came to the perfect coat for those gloomy days. Not only is it practical and comes in a variety of sizes, but it's also reasonably priced. "The Columbia Glennaker Rain Jacket tops our list because it's durable and will keep your kiddo dry thanks to a waterproof material. Available in a wide variety of colors and sizes ranging from 2T to XL, this rain jacket has a waterproof nylon exterior and a hood to help keep your kid dry," explains VeryWellFamily.
"You can count on this coat by Columbia to keep little explorers dry and warm on a rainy day. The brand has been making quality gear since 1938, and this blue raincoat provides the perfect amount of protection from the outdoor elements thanks to a special nylon fabric. My son has had a version of this jacket since he was a toddler. Living in New York City means getting caught in wild weather sometimes, and this has kept him warm and dry his whole childhood," says Best. 
"Columbia's Glennaker Rain Jacket is an easy addition to the best rain gear for kids list. With no lining, it's great for warm, humid days. You can also add layers underneath for colder outdoor play dates. If you are looking for a travel layer, this jacket is easy to roll up and bring along wherever you may go. The waterproof nylon shell withstands everything from a drizzle to a downpour. It has zippered side pockets, elastic closures, and reflective detailing," describes J.J. and the Bug.
I know, I know, we are giving the top spots to two Columbia jackets, but it's just because they are that good. With a front zipper, elastic cuffs, and a roomy hood, this rain jacket from Columbia is sure to keep your kiddo safe from those rainstorms. "A lightweight rain jacket for kids. We love this one because it is affordable, does a good job, and is packable," adds Tales of a Mountain Mama.
"Much like the Columbia jacket above, this has been the preferred jacket of my daughter, who actually just donned this coat this morning to head off to school on a rainy day. It's not super warm, but there's plenty of room for layering, and the seams are so watertight that even sideways rain won't penetrate," writes Best.
"The Columbia Girls' Switchback II Waterproof Jacket is my top choice, and it features a drop-tail design that keeps your kid warmer on their backside. This raincoat is super lightweight, allowing your kid to run around without feeling weighed down. It features a polyester inner lining with a waterproof Hydroplus 100% nylon fabric outer shell," explains Etramping.
Do you live in warm weather year-round and are prone to rainstorms? If so, this L.L. Bean option may be the right choice for you! "This lightweight, hooded coat is great for summer showers thanks to the breathable mesh lining and 100% nylon exterior. You can purchase this machine-washable jacket in three different colors in sizes ranging from 4 to 10. It's wind-resistant, has two front pockets, and has elastic cuffs to help keep water out," notes VeryWellFamily.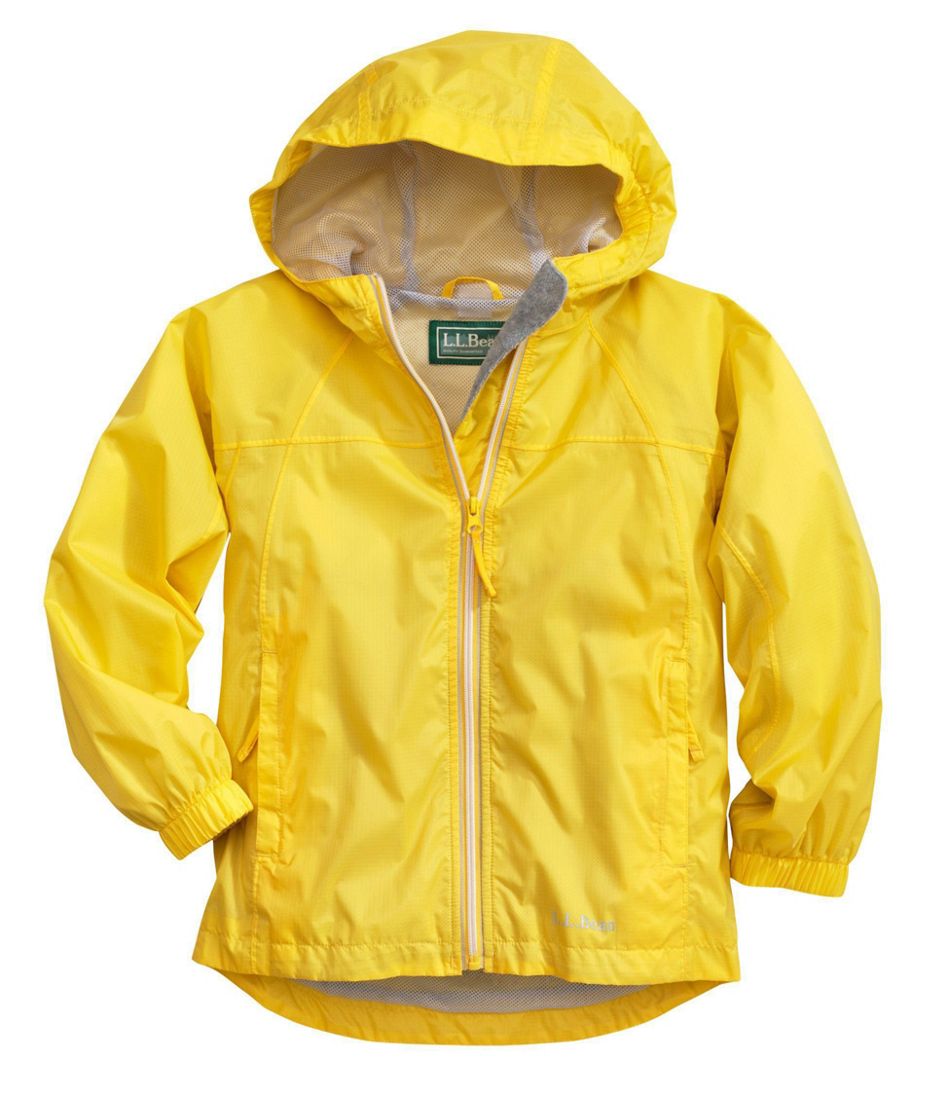 "L.L. Bean makes great rain gear for the kids, and their rain jacket is top-notch when looking for something durable and comfortable. The jacket is lightweight with a breathable material that will keep your kids dry but not sweaty. It can be machine washed, and the underarm vents are great if you live in a warmer climate with occasional showers," comments Twist Travel Magazine.
"The L.L. Bean Kids Discovery Rain Jacket is one of the best on the market and a rainy-day essential at a terrific price. The jacket packs into its own pocket, making it easy for kids to take wherever they go. It has a 3M™ Scotchlite™ back triangle and zipper to enhance low-light visibility. It has underarm vents for breathability, internal storm flaps and elastic cuffs to keep the weather out, and a fleece-lined chin guard to prevent chafing," adds Run Wild My Child.
For those on a budget but still looking for something stylish, this Hiheart water-resistant hooded coat may be the pick for your little one. This toddler jacket comes with rave reviews. "If there's rain on your forecast already, head over to Amazon, where you can snag this Hiheart rain jacket for kids that feels very Tommy Hilfiger inspired, without the designer price tag," describes Cool Mom Picks.
"For a little older toddler, go with the Hiheart Hooded Jacket. The outside shell is waterproof, and the hood is weighted to help keep it in place, even when it's windy. The inside lining keeps everyone warm, and the front zipper makes it easy to get on and off. The fabric is breathable, and the colors are adorable," says Twist Travel Magazine.
"The Hiheart waterproof hooded jacket for boys and girls has a classic style and offers full-coverage protection to the child. The outer shell is 100% polyester, while the inner layer is soft cotton material, making it comfortable to wear. This stylish raincoat for kids is suitable to wear during spring, winter, and autumn," writes Mom Junction.
Looking for something to brave the elements, fit in your price range, and be able to fold up and fit in any bag? Arshiner may have the coat for you. "This jacket will keep the kids dry but doesn't weigh down a hiking backpack or fall off your waist. It comes in great sizes, from 2T all the way to 6 years old, and the material will keep your kids dry in case of a downpour. The jacket isn't lined, but for $21, you can easily layer some clothes underneath. It can also be machine washed and comes in a variety of fun colors," notes Twist Travel Magazine.
"This ultra-light rain jacket for kids is made of a soft polyester that's waterproof and comfortable to wear. For wet weather with warmer temperatures, this casual-wear jacket will keep little ones dry. The coat is easy to carry and can be folded up small to throw in your child's book bag," adds ChildFun.
"The few people who have bought this rain jacket for their kids have attested to the fact that for as long as their kids have used the jacket, it has been able to keep them dry even in the rain. The hood of the rain jacket is sizable enough to fit perfectly on the head of a child, thus protecting them from the scorching days of the sun and the rain," concludes The Gear Hunt.
You might be interested in:
Sources:
Note: This article was not paid for nor sponsored. StudyFinds is not connected to nor partnered with any of the brands mentioned and receives no compensation for its recommendations.