A few secret ingredients to a happier, healthy life are time, consistency, and good health. Sadly, in our fast-paced society, time is a commodity that is often in short supply – which can negatively impact our health. Fortunately for us, innovation is never far from the cusp and technology has paved the way for great breakthroughs. Among one of the latest advancements includes the creation of personal training apps, which help people reach their fitness goals and full potential. However, the benefits don't stop there. For example, the best personal training apps offer a diverse range of workouts, health monitoring features, motivation, progress tracking, customization, and more. 
Helping to revolutionize the industry, personal training apps bring fitness to your fingertips. Delivering top-tier guidance, motivation, and results, the best personal training apps help you live a well-balanced lifestyle that extends beyond exercise routines. For instance, a new study found that using fitness apps significantly lowers levels of depressive symptoms. To add, the research examined improved cynicism and emotional exhaustion, showing that fitness apps help curb burnout, address barriers to exercise, and enhance our mental well-being. 
And no, we're not talking about having to carve out hours a day to workout. In fact, part of the main attraction of personal training apps is that they allow you to maximize what time you have. So whether you have 15 minutes, 30 minutes, or up to a few hours – it's tailored to you. For most of us, this is perfect because, let's be honest, sometimes it's a real drag to get 10,000 steps a day. Which, according to a recent study, is no longer the step count linked to a longer life. Yup, you read that right. According to research, a mere 4,000 steps a day can enhance one's longevity and reduce the risk of cardiovascular disease. To add, an international team found that every addition of 1,000 daily steps decreased a person's death risk by 15 percent. Moreover, adding just 500 steps daily could lead to a seven percent drop in mortality from cardiovascular ailments.
The saying health is wealth is true. Without good health, life becomes vastly more difficult. And during a time when we're constantly trying to get more done with less, it's little surprise that we often put our health on the back burner. Given these reasons and more, we've compiled a list of the best personal training apps for you. Don't happen to see your favorite app below? Drop us a comment and tell us why your favorite should be on our list! 
The List: Best Personal Training Apps, According to Experts
Where innovation meets inspiration, Nike Training Club (NTC) connects you with millions of fitness enthusiasts worldwide. Helping you stay motivated and accountable, NTC keeps you consistent when it matters most. As Coach Web says, "You don't have to spend any money to get good guided workouts on your phone." With the NTC, you can access "more than 200 workouts free, covering a range of activities including mobility work and yoga alongside pure strength sessions." Best of all, "if you're in need of extra motivation then you can tune in to training sessions inspired by the likes of Serena Williams and Rory McIlroy."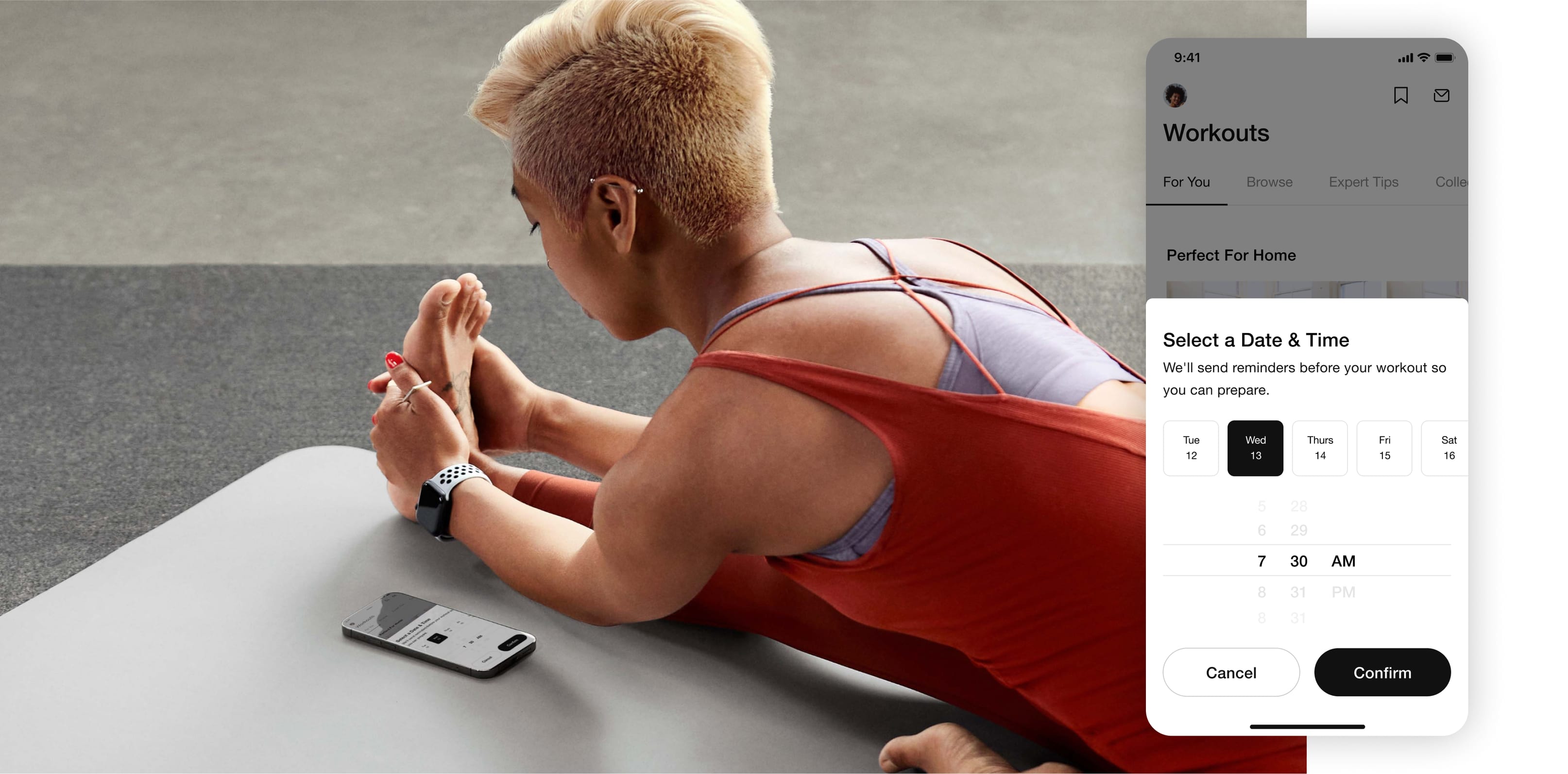 A real one-stop-shop for holistic health, the Nike Training Club is one of the best personal training apps. It's more than breaking a sweat, but creating a healthy lifestyle. As Women's Health sums up, "Whether you want a strength-focused workout or a cardio-focused interval set, this app has you covered." With "works for all durations, the Nike training app also has warmups for all the workouts and gives guidance on nutrition, wellness, sleep, and more." 
From nutrition guidance, recovery strategies, and wellness tips, the Nike Training Club covers every facet of fitness. It's not about fads or fast gimmicks, it's about driving results. As Mind Body Green describes, "The app houses HIT, bodyweight, and full gym exercises that you can filter by equipment, muscle group, fitness level, trainer classes, and time commitment." To add, "there's also an "expert tips" section spanning nutrition, healthy recipe ideas, training tips, recovery, mindset, and sleep." Best of all, "the platform makes it easy to keep track of every class you take, save favorite flows, and progress on your own time and at your own speed." 
Combining training with daily goal aspiration, Future takes a holistic, data-driven approach to fitness. With personalized fitness guidance of world-class personal trainers, your workouts won't know what hit them. As Garage Gym Reviews mentions, "Future is truly the epitome of virtual personal training." And compared to competitors, "it doesn't get much more personal than the initial strength assessment and being matched with a coach who specializes in your area of interest." Let's also not forget the "unlimited messaging with coaches, video check-ins, and workout plans tailored to your fitness level and specific goals." 
Future isn't just about lifting weights or running faster; it's about improving sleep, nutrition, and recovery. Best of all, the app's algorithms continuously refine your training plan, making sure that every session drives you closer to your fitness goals. As Mind Body Green sums up, "Future is the best personal training app if you are looking to train virtually, face to face with a trainer." The app also "offers unlimited access to top personal trainers across the country, at a fraction of the price of most in-person training."  
Future is one of the best personal training apps for beginners. Helping to round out the fitness journey, Future keeps you focused on the present so you stay aligned with your future. As Byrdie writes, "Future is a personalized, in-depth coaching platform that matches you with an elite fitness expert." Designed to work with your busy lifestyle, "Future allows you to choose the type of exercise you want to do, and your coach will design a weekly program for you that includes audio coaching." And for those without access to commercial gyms, "trainers design plans based on where you like to train and what equipment you have available." 
Caliber is more than a personal training app, it's a virtual fitness concierge that takes fitness personalization to a new extreme. Engineered to drive results, Caliber monitors performance for an experience that feels more realistic than having a personal trainer by your side. As Sports Illustrated recaps, "Caliber offers users a one-on-one, virtual personal training experience with diversified and tailored workouts and nutritional guidance to help crush goals more quickly." When starting, "you'll match with a certified trainer who will create new workouts for you weekly while your coach monitors your stats, like your strength score, sleep, calorie input and activity level to help better fine-tune your nutrition plan and training." 
Caliber leverages artificial intelligence to continuously adapt workouts based on your progress. With real-time insights and one-on-one guidance, your fitness journey has never been better. As Active states, "Caliber is a science-based online coaching platform that pairs you with an experienced trainer to help keep you motivated and on track toward your goals." With customized workouts and meal plans, "Caliber will get you your results efficiently without all the guesswork while keeping you engaged in your training with competitive dashboards that empower you to make more informed health decisions."  
If achieving your fitness aspirations are important to you, it's time to take a look into Caliber. As one of the best personal training apps, Caliber provides the tools, expertise, and guidance you need to succeed. As Forbes summarizes, "Caliber is the best personal training app for whole-body health and offers a combination of live and on-demand workout options." Available in Apple iOS and Android app stores, "Caliber coaches are available 24/7 via live video calls and video and text messaging through the app while trainers vetted for expertise and certified by U.S.-based personal training organizations."
Boasting a dynamic selection of workouts, FlexIt is one of the best personal training apps with something for everything. Whether you're into yoga, strength training, HIIT, or something in between, FlexIt has a workout for you. As U.S. Health News reports, "FlexIt is the newest best-kept secret for training and offers pay-as-you-go access to gyms across the country." Supporting a variety of plans, FlexIt offers "anything from strength training to cardio-centric sessions and when you leave, the app charges for the time you were there." 
FlexIt is best known for making fitness accessible anywhere on-the-go. It's flexibility gives you access to a network of fitness studios and gyms worldwide. As Gizmodo writes, "FlexIt brings the feeling and hype of an instructor-led class into your home." Equally important, "it allows users to receive individual attention, modifications, advice, and assistance on their form or completing an exercise if they aren't familiar with it." Best of all, "scheduling a class is much easier than traditional exercise studios, too." 
FlexIt powers up your workouts from the ground up. Introducing you to certified personal trainers, FlexIt brings credibility to your hard work day in and day out. As Forbes recaps, "FlexIt offers the best range for price options as a personal training app." Depending on your plan, "personal trainers are available for unlimited messaging while trainers come from diverse backgrounds, including yoga, physical therapy and more." Another great feature of FlexIt is how "you can select a trainer based on your preferences and goals." 
Peloton is without question a true trailblazer in the ever-evolving fitness arena. With a vast library of expert-led training regimes, this personal training app delivers an unmatched fitness experience. As Coach Web mentions, "Peloton is best known for its range of connected cardio machines, however, the app also works as a standalone and it offers good value for money." Overall, "there are 11 types of class in the app and many don't require any equipment at all, like the yoga and strength sessions while some offer audio-only versions for outdoor runs and activities." On top of one-on-one sessions, "you can sign up for training programs within the app to add more structure to your training, or pick and choose each and every time you log in." 
@ birds pic.twitter.com/IvcniYbYwz

— Peloton (@onepeloton) February 13, 2023
If you're someone who thrives off the competitive edge, you'll enjoy the Peloton Leadership board which adds a friendly rivalry theme to every workout. More than a fitness app, Peloton is known for its strong community ties that empowers you to become the best version of yourself. As Women's Health highlights, "Even if you don't have the famous stationary bike, treadmill, or rower, you can still tap into Peloton's wildly popular exercise programs, which include free weight strength sessions, yoga flows, and marathon training." With charismatic, high-energy instructors, "classes start at just 10 minutes long and are smart watch compatible."
Whether you're in your living room or in a group fitness class, Peloton brings the workout to you. Taking the fitness industry by storm, the Peloton is one of the best personal training apps. As Gizmodo breaks down, "Peloton has really made a name for itself in the fitness-from-home space, but their fame isn't unwarranted: They've got the interactive programming dialed in." With "thousands of workouts to surf, Peloton has something for everyone." So "whether you're at home looking for a quick workout or want to unwind after work with yoga, you can with Peloton." 
You may also be interested in:
Sources: 
Note: This article was not paid for nor sponsored. StudyFinds is not connected to nor partnered with any of the brands mentioned and receives no compensation for its recommendations.