Starting a fitness regimen is challenging, so it shouldn't feel like a workout to choose an online fitness program. But with so many available options, finding the perfect fit can become a time and energy sucker. And that's why we did the legwork for you. We scoured the web to find the best online fitness programs currently available, and we've listed them here for you.
Exercise can help you achieve ideal body composition, but it can also give your brain a boost. That's right, recent research reveals that three months of regular, mild exercise enhances brain health in older adults. Even brief sessions of mild exercise, such as walking and yoga, appear capable of stimulating the brain and producing temporary improvements in cognitive performance. That means you don't have to go all "beast mode" in the gym to reap the benefits.
Exercise may be a cure-all because, in addition to enhancing cognitive function, it can also erase damage from sleeping poorly. If you're one of the many people deprived of quality sleep, we have good news. A new study shows that increased physical activity levels weakened the mortality risks associated with short or long sleep duration. For study participants who exercised a lot, they were not affected by poor sleep at all while those with a low volume of exercise were. Specifically for cardiovascular death, short sleepers with a low volume of exercise had a 69-percent higher risk, but that declined as exercise volume increased.
Ready to cater to both your brain and your overall health? Below is our list of the five best online fitness programs, according to industry experts. Of course, we want to hear from you. Comment below to let us know which program keeps your body fit and mind sharp!
The List: Best Fitness Apps, According to Experts
You know the name, but you may not know that this app is now free. Healthline relays the good news: "While it may seem too good to be true, Nike Training Club is a free training app featuring on-demand classes for every fitness level. Originally priced at $14.99 per month, in March 2020, Nike announced its decision to make the app free for all customers as a way to provide an affordable way for people to stay healthy, active, and connected. There are currently over 479 workouts, including trainer-led classes, livestreams, and whiteboard workouts, which are gym-style drills that you can complete at your own pace. With the exception of Athlete Workouts, which are led by professional athletes like gymnast Gabby Douglas and footballer Cristiano Ronaldo, classes are taught by Nike Master Trainers."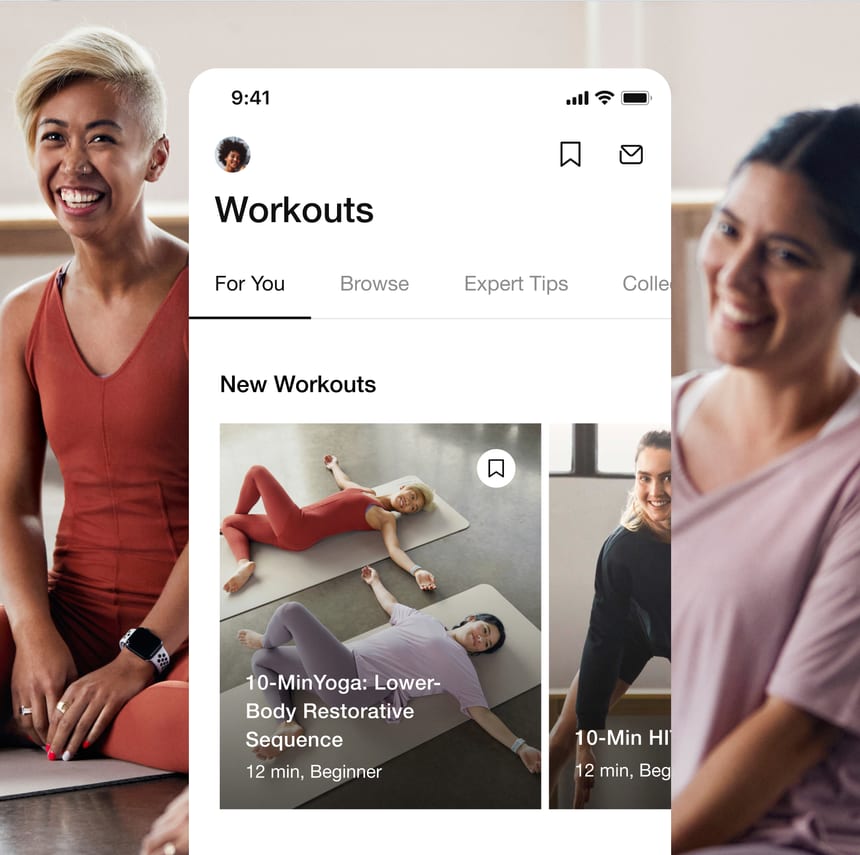 And you won't get bored doing the same old workouts with this program. Medical News Today notes that "Nike adds new content daily, and people can set their own goals. In addition, users can select which pieces of equipment they have access to so the app can tailor workouts to their circumstances. A person can search for a workout by choosing a class type, duration, and fitness level. The app also provides guidance on nutrition, holistic wellness, mindset, movement, recovery, and sleep."
Good Housekeeping writes, "The Nike Training Club app has fantastic classes and doesn't put a price on health and fitness. With an easy-to-use interface, the app lets you browse routines by workout type, muscle group or equipment. Our testers loved the variety of workouts offered, noting that there were different programs for varying fitness levels making it great for workout novices and more advanced athletes alike. The app also offers nutrition and wellness tips. Our experts like that the classes are efficient and easy to follow, and that the app caters to big workouts for small spaces making it friendly for apartment fitness too."
You don't have to be a spin bike enthusiast to benefit from this program, according to Garage Gym Reviews. "If you're thinking, 'Oh, I don't do cycling classes so this isn't for me,' then just give us a minute of your time before you click away. Peloton offers workouts across multiple categories, including running, meditation, yoga, strength training, boxing, Pilates, and so much more. And just like their iconic cycling instructors, each one is taught by an instructor who won't only get you the results you're looking for but also make you want to do the work…Even better, you don't need a Peloton bike to use the Peloton app."
"While Peloton may be best known for its wide range of cycling workouts, stationary bikes are just one of several ways to exercise with a Peloton membership. The OnePeloton app offers thousands of equipment-free, on-demand and live workouts, such as cardio, yoga and guided outdoor exercise, taught by world-class trainers, according to the company," writes Forbes, also noting their varying paid membership options depending on what you are looking for.
MindBodyGreen notes that "This is a platform with a thorough vetting process for instructors, too. Everyone who teaches on the Peloton app is required to be a certified personal trainer. We've found most instructors to be engaging and high-energy, bringing positivity to classes and creating a community feel. If you want to interact with the instructors during live classes, you'll need the 'all-access' membership. With this, you'll also be able to track your performance metrics within the Peloton app."
If you're looking for a fitness community, look no further. Fitness Drum says, "If you're finding your normal workout a bit boring and struggling with motivation, it's time to discover the world of Obé. Obé Fitness offers fun exercise classes and workouts, with a thriving community. With its bold colorful backdrops and charismatic instructors, Obé doesn't conform to what fitness apps should be and instead, follows its heart and provides a very unique experience. If you want to get fit, but have fun at the same time, Obé is a great choice. Many fitness apps fall victim of being too serious and assume everyone wants an intense, high tempo, energetic coach… but if you want a coach with their own distinct personality, Obé is the perfect fit."
Some workouts are short and sweet, according to Healthline. "If you're looking to break a sweat in 28 minutes or less, you'll love Obé Fitness. Created with the simple goal to help you move every day, Obé Fitness is a one-stop shop when it comes to online fitness. All of the classes are led by certified instructors and feature upbeat music. Plus, you can control the volume of the instructor and music separately, which is a huge plus if you'd rather listen to your own tunes. Obé makes it super easy to find classes, as you can filter by class type, music, fitness level, time, body area, low or high impact, instructor, and equipment. You can also connect with friends, choose a training plan, or plan your workouts in advance using the calendar tool."
MindBodyGreen thinks "Every membership includes access to classes ranging from 5 to 60 minutes with options for barre, bounce, boxing, dance, HIIT, sculpting, strength training, yoga, and more. There are stretching and foam rolling videos for recovery, fitness content for kids, workouts designed specifically for seniors, and meditations to help you relax and unwind. The instructors are upbeat and encouraging, with plenty of beginner-friendly content offered as well. While you can modify most workouts to be bodyweight only, many do have options to step things up a notch with equipment such as hand weights, ankle weights, resistance loops, and sliders. Bounce classes require a trampoline, jump rope classes require a rope, and (of course) foam rolling sessions require a foam roller. If you want one membership with a whole lot of choices, Obé is an excellent option."
Medical News Today shares that "Glo is an app that has a variety of pilates, meditation, and yoga workouts available either live or on-demand. It also includes cardio, HIIT, and barre exercises. The company claims these workouts are suitable for beginners, intermediates, or advanced individuals. Glo offers various classes ranging from 2-90 minutes with various experts in body wellness." Plus, you can also purchase a monthly membership for more advanced options.
Good Housekeeping lists Glo as their best pick for yoga. "Whether you're a dedicated yogi or a downward dog beginner, Glo's 5,000 classes (and counting!) make it the ultimate pick for practitioners at every level. Download the app and take a quiz to get personalized recommendations, then search for and follow your favorite teachers. We especially love that you can download sessions to do later — perfect when you won't have access to WiFi. You can enjoy live classes with other Glo members, and you can search based on class duration, practice, instructor, body part, intensity level and more. Testers also appreciate that the app offers meditation content."
"Although Glo offers a variety of fitness classes, it's best known for its yoga options," adds U.S. News & World Report. "The app has various types of yoga classes available, including breathwork, kundalini yoga, hatha yoga and even tutorial/educational videos. The app also includes Pilates and meditation classes. Glo might be a good choice if you have an injury or limited mobility and want to avoid tougher workouts. Users that are looking for workouts beyond floorwork and yoga may want to find another app."
If you're looking for a variety of exercises for all ages, Les Mills has it, according to Forbes. "Les Mills offers 20 styles of workouts, including youth classes for children as young as 2 years old, making it one of the most versatile platforms on our list. From weightlifting to yoga to dance, Les Mills features 1,500 on-demand workout videos, as well as live classes, for beginner to advanced fitness enthusiasts."
"Les Mills made a name for itself for creating some of the most effective in-gym group fitness classes," adds Byrdie. "With the introduction of Les Mills+, it brings the intensity to your living room. All of the Les Mills-branded workouts are here, with thousands of videos in the library. In addition to the variety of workouts available, including cycling, martial arts, and yoga, there's also programming for kids. And athletes will find Les Mills+ doesn't pull punches. The workouts are scientifically driven, using the latest exercise philosophies and plans to keep you on track. As esteemed as Les Mills is, you would expect to pay more, but annual plans are surprisingly affordable. Try a 30-day free trial to see if you can keep up."
Variety is the name of the game with this program. MindBodyGreen says, "The massive on-demand library even includes workouts for kids. Each class is led by world-class instructors with options for beginner, intermediate, and advanced athletes. The online community has more than 150,000 members, all of which are given access to a Facebook group to connect and share progress. There are a ton of equipment-free workouts on Les Mills+, but when it comes to strength training in particular, the BODYPUMP classes exceed many others that we've tried. Don't think you have space in your home for all the gym equipment needed for strength training? Adjustable dumbbells will change your perspective. What's more, the app even has a ton of meditation content—so you can supplement your physical workouts with a mindset boost, too."
You may also be interested in:
Sources:
Note: This article was not paid for nor sponsored. StudyFinds is not connected to nor partnered with any of the brands mentioned and receives no compensation for its recommendations. This post may contain affiliate links.