Settling down for a good night's sleep is notably harder in warmer weather. Rising temperatures can result in feeling restless, leaving you tired and sweaty. Luckily, the best cooling sheets are made of fabrics that provide hot sleepers some much-needed relief on warm nights.
A recent study warns that rising temperatures due to climate change will likely mean people will get less sleep in the years to come. Researchers from the University of Copenhagen suggest that people will lose up to 10 minutes of sleep at night due to global warming by the end of the century. The findings note that by 2099, suboptimal temperatures may erode 50 to 58 hours of sleep per person per year.
The study, published in the journal One Earth, suggests that on very warm nights – greater than 86 degrees Fahrenheit – sleep declines by an average of just over 14 minutes. The likelihood of getting less than seven hours of sleep also increases as temperatures rise.
Here at StudyFinds, we really enjoy a comfortable night's sleep. That's why we've put together a list of the top five brands from ten expert websites, to find the best cooling sheets. As always, we'd like to see your own recommendations in the comments below!
The List: Best Cooling Sheets, According to Sleep Experts
This brand's sustainably-made cooling sheet set scores big in the chill department. "The Olive and Crate Eucalyptus TENCEL Fiber Sheet Set deserve an award for its exceptional cooling — the coolest of the testing pack. Not only did they feel nearly ice-cold to the touch right out of the package but this luxury-grade option was a dream to sleep on," according to the New York Post.
Real Simple adds, the "fabric is breathable and moisture-wicking, while the sateen weave will feel soft and silky against your skin. The sheets remained cool for the duration of our testing, even for self-proclaimed hot sleepers." 
People points out, "these eucalyptus sheets have a really silky feel, which is luxurious to sleep on, but we did notice a few loose threads on the pillowcase after a few months, and we observed that the fabric took longer to dry than cotton sheets." 
Made from quality lightweight linen, reviewers appreciate the breathability of these sheets. "It was relatively warm when we tested the sheets—temperatures ranged from 75 to 90 degrees Fahrenheit—but we found that they stayed sufficiently cool," according to The Spruce.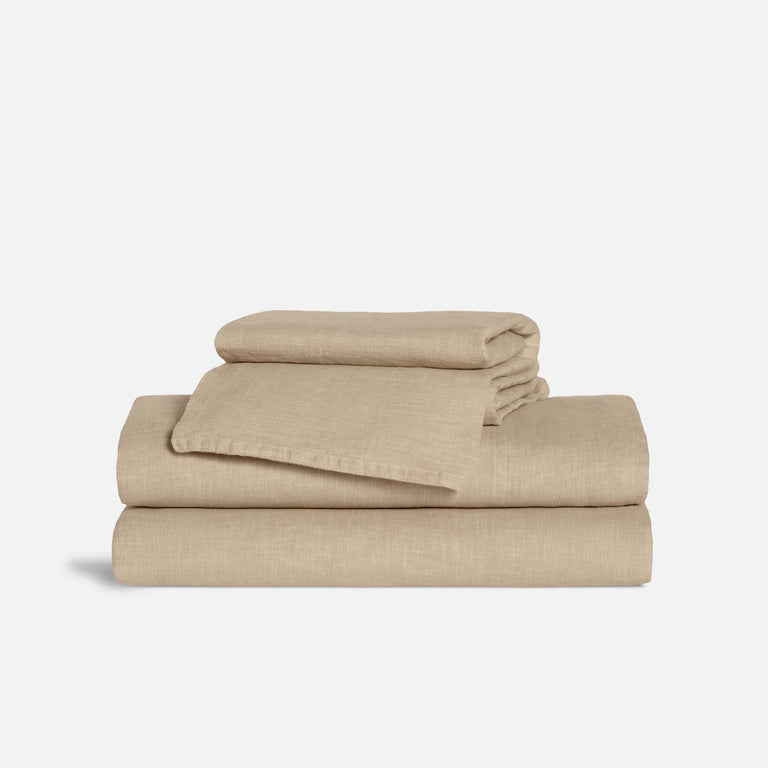 Coming in several colors, "each piece of the set is said to be individually washed and dyed, giving it an element of uniqueness and individuality," notes Today. The sheets are stonewashed for a more rustic appearance.
The Wall Street Journal adds, "they feel breezy but are not sheer, like some ultralightweight sheets. (Brooklinen shares its GSM number—a measure of grams per square meter—and it's 145, indicating a medium-weight fabric)." Keep in mind as with most linen products, these sheets come at a higher price. So think of them as a long-term investment.
Sheets & Giggles uses eucalyptus lyocell material to keep you cool while you sleep. The material, "helps wick away moisture rather than hold it in, like cotton sheets, so you'll stay dry all night long," according to Forbes. It crowned these the "Best Sheets For Hot Sleepers Overall."
"Available in 13 (!) different colors, these sheets will have you snoozing peacefully in no time. Plus, they can help reduce static while you sleep and get softer with each wash," suggests Cosmopolitan.
These sheets aren't a problem when it comes to fit. Especially, if you have a thicker mattress or a mattress topper on your bed. Good Housekeeping points out, "this set from Sheets & Giggles boasts a 20-inch mattress depth with a stretchy elastic bottom to stay put."  
There's a reason reviewers think these breathable Cozy Earth sheets are splurge worthy. "This set is made of 100% viscose from bamboo and feels silky and cool to the touch. The fabric's sateen weave provides a subtle sheen and elegant drape," according to Sleep Foundation.
Reviewers note the sheets hold up well in the laundry. However, People points out, it "did notice that the sheets shrunk slightly after washing and fit more snugly on the bed, but loved how wrinkle-free they were right out of the dryer."
"These sheets are definitely an investment, but they'll give you years of use and comfort. Plus, they come with a 100-night trial and 10-year warranty so you can ensure that they're worth the investment and see for yourself that they're made to last," suggests Real Simple.
Last on our list, is a budget-friendly pick reviewers love. "If you're a beginner to sleeping with cooling sheets and don't want to drop more than $100 on a new sheet set, Bedsure is your best bet," adds the New York Post.
"Not only are these sheets easy on the pocket—they're also easy to fall asleep on thanks to the viscose from bamboo fabric. The fabric is soft, smooth and breathable," according to Forbes.
With lots of colors to choose from, there's likely to be a Bedsure sheet to match your bedroom aesthetic. "The material feels great throughout the night and is lightweight without feeling cheap. There was slight shrinkage after a few washes, but the fitted sheet still fit snugly around our mattress and the set kept us cool throughout the night," notes People.
You might also be interested in:
Sources:
Note: This article was not paid for nor sponsored. StudyFinds is not connected to nor partnered with any of the brands mentioned and receives no compensation for its recommendations. This post may contain affiliate links.