Electric bikes are one of the fastest growing products in the world of transportation, with sales of battery-powered bikes more than tripling during the pandemic alone. While electric bikes used to get a bad rap for being unaffordable and difficult to operate, innovation in the industry is rapidly changing with their boom in popularity. The best electric bikes give a smooth ride, have long range, and offer competitive features. 
And good news for all of us: just because they're electric doesn't mean that e-bikes aren't a great workout. While battery-powered bikes will surely get you to your destination more quickly and without as much effort, research shows that the journey is still enough to elevate your heart rate and get your body moving. When it comes to biking in general, researchers from Concordia University found that commuting to work via bike helped lower stress levels for employees before they even arrive at the office. The authors of the study said that coming to work calm and collected can prove quite valuable in terms of productivity.
Using an electric bike offers numerous benefits that make it an increasingly popular mode of transportation and recreation. They provide an eco-friendly alternative to traditional gasoline-powered vehicles, reducing air and noise pollution while promoting a cleaner environment. They also offer a cost-effective solution, as they require less maintenance and have lower operational costs compared to cars or motorcycles. Electric bikes promote physical fitness by allowing riders to choose the level of assistance they need, making them suitable for people of varying fitness levels and abilities. Additionally, they enable individuals to cover longer distances and conquer challenging terrains without exerting excessive physical effort. Plus, commuting with an electric bike can help reduce traffic congestion, as they can maneuver through crowded areas with ease and often have dedicated bike lanes. Hopping on one of these can contribute to personal well-being, providing a fun and enjoyable way to explore the outdoors, improve mental health, and enhance overall quality of life.
Investing in an electric bike can set you back anywhere from $1,000 to $3,000 (on average), making it critical that you do your research before purchasing the perfect e-bike for your needs. For our findings, we visited 10 of the leading expert websites to find the best electric bikes. Our list is ranked based on the most-recommended e-bikes across these sites.
The List: Best E-Bikes, According to Experts
Stylish, customizable, and perfect for cruising, the VanMoof S3 is an all-star in the world of electric bikes. "The VanMoof S3 feels like one of the most advanced, innovative and elegant bikes around. It features an automatic electronic gear shifter that's remarkably smooth under almost all shifting conditions. The motor is very quiet, delivers a top speed of 20mph, and has a push-button turbo boost," writes Forbes.
Riders say it's worth the expensive price tag with top-notch features and a range of 37 to 93 miles (depending on your ride). "Once you connect the bike to your phone via Bluetooth, you get a bunch of other features, too: You can change when the bike shifts gears, change the sound of its electronic horn, and more. Best of all, you can lock the bike using your phone, and get an alert if someone tries to make off with it," adds Tom's Guide.
According to Good Housekeeping, "The edgy, all-black VanMoof looks nothing like your average e-bike; there's no obvious display (just an interactive screen on the frame) and you'll find only two buttons."
Designed for paved and unpaved roads and highly rated for its durability and safety features, the Radrover 6 Plus is a great choice, no matter what your biking needs are. "With the Radrover 6 Plus, Rad Power has made a fat tire e-bike that is comfortable to ride on pretty much any terrain, from urban streets riddled with potholes to off-road paths riddled with rocks or snow. Updated display and hydraulic disc brakes make the RadRover 6 Plus substantially nicer to ride than its predecessor," mentions Bicycling.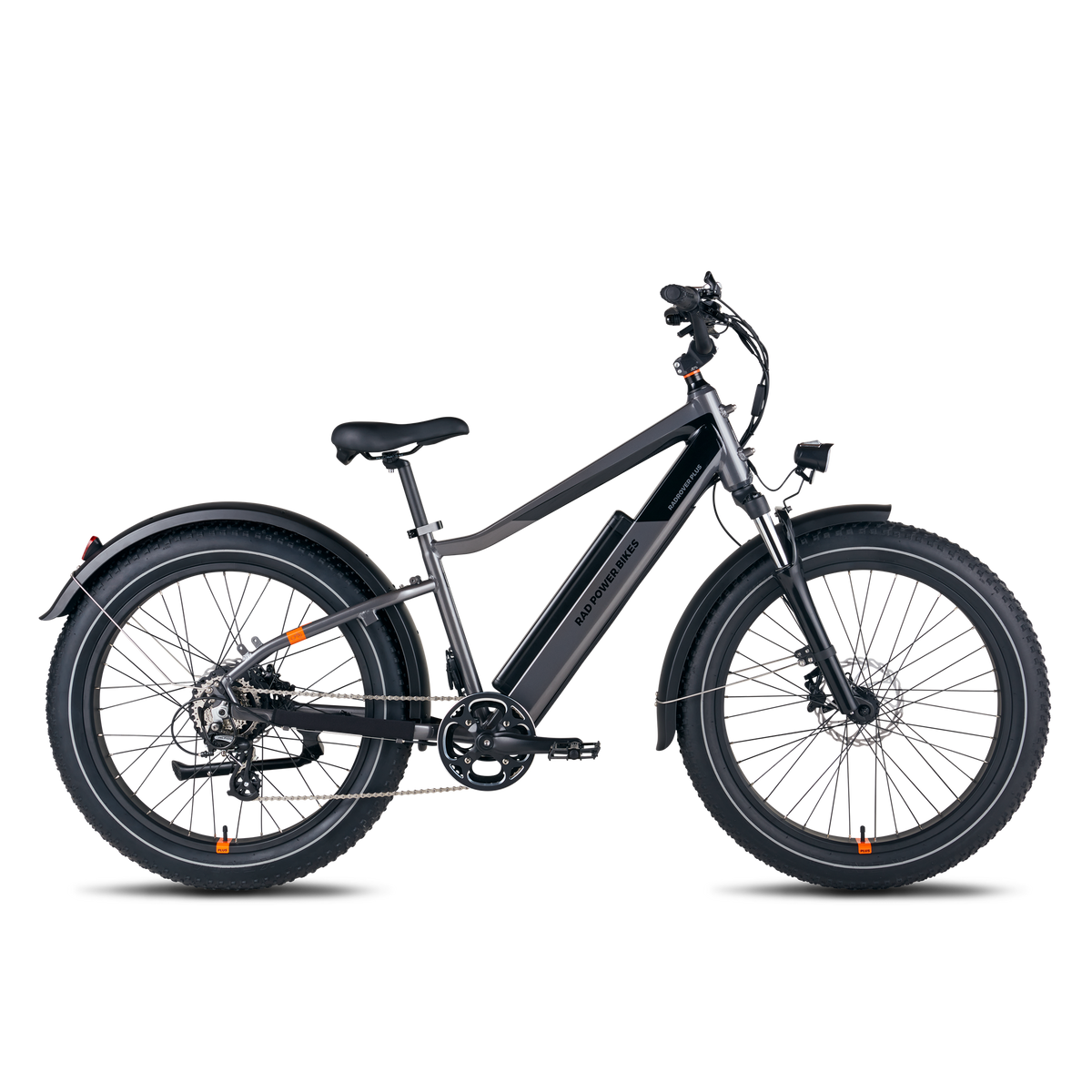 The bike can go up to 45+ miles per charge and carry a total of 275 lbs. "Fat tires and plenty of juice: RadRover 6 Plus is the next generation of personal transportation," adds Rolling Stone.
A great value and highly rated for its durability and power, the Aventon Aventure gives riders a smooth and comfortable ride, regardless of where you're going. "Need a powerful e-bike that you can take out on rugged roads, rain or shine? Aventon Aventure's 4-inch fat tire wheels cruised over potholes, gravel and uneven terrain with ease in our tests. It's built with a suspension fork that helps absorb some of the shock when riding over imperfections in the road," says Good Housekeeping.
The bike also features built in fenders and integrated front and rear lights for added visibility and protection. "If you're looking for a fat-tire electric bike that's less than $2,000, the Aventon Aventure is hard to beat. It's as good off-road as it is on pavement, has a beefy battery and a clear color display, as well as fenders that'll save your clothes from getting too muddy," points out Tom's Guide.
According to Bicycling, the "new torque sensor delivers power to the rear hub motor more evenly than the previous generation bike. The Level.2 has a more natural and intuitive feel when riding. The integrated lights and a smaller, easier-to-use display help make one of our favorite commuter e-bikes even better."
Specifically designed for city commuters, the Trek Domane+ ALR is a high-end e-road bike that makes getting from point A to B (and everything in between) a breeze. "The Trek Domane+ ALR is a standout as an e-road bike. Made for city commuters and road enthusiasts alike, this bike will assist you through your commute or provide a little extra oomph to keep you from getting dropped on a morning group ride. The 300 Series Alpha Aluminum makes for a sturdy and durable frame, giving you the feel of a true road bike that will get you efficiently over hills," says Sports Illustrated.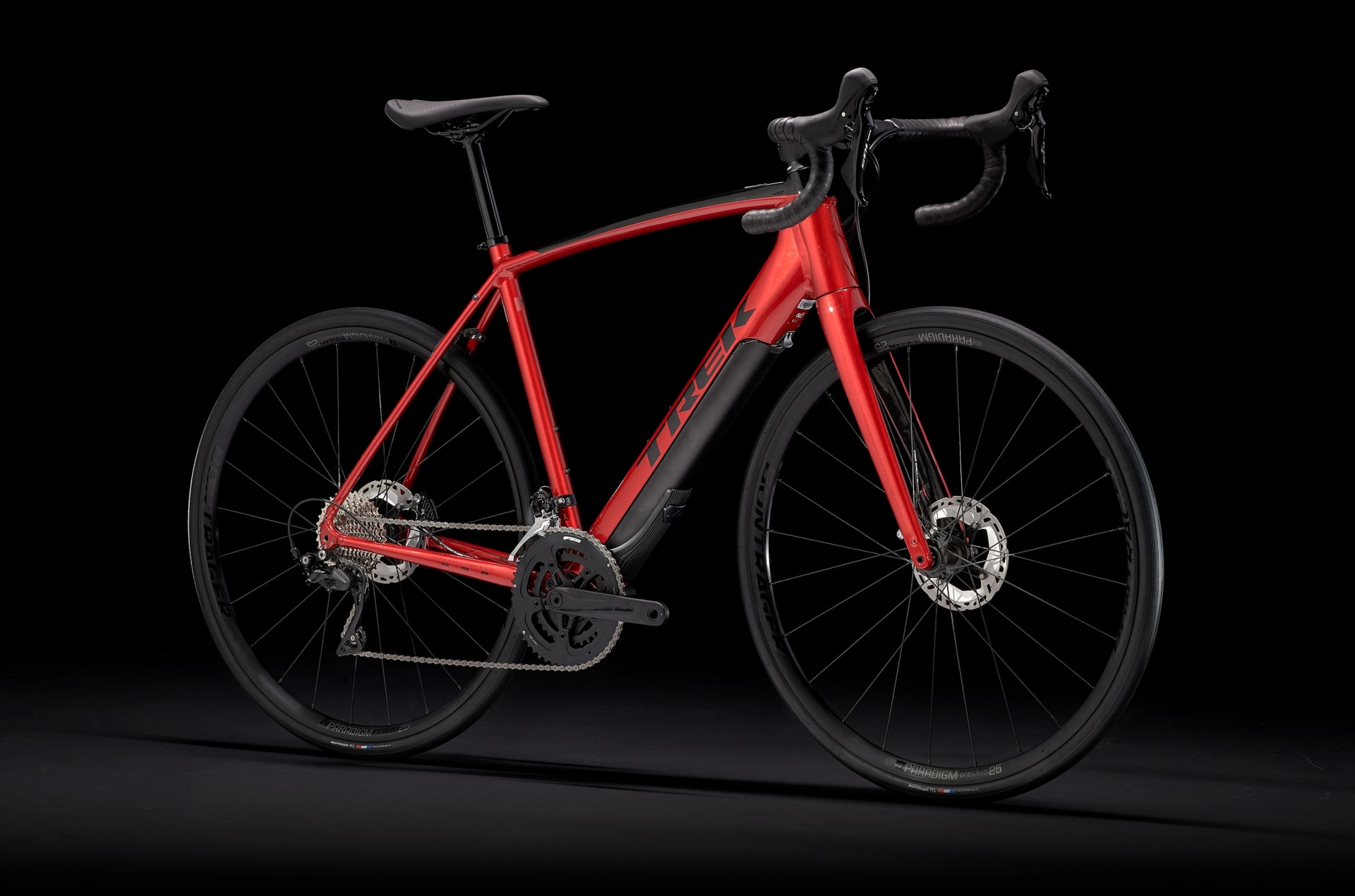 Bicycling especially likes the Trek Dual Sport +2. Why? "Trek makes some of the best hybrids on the market and its electric version is also an excellent choice. The Dual Sport+ 2 features a sleek aluminum frame that fully hides a 250Wh battery. A rigid aluminum fork helps save weight (and cuts down on maintenance) over the low-cost suspension forks often found on e-bikes in this price range."
Forbes chose Trek's Rail 7 Gen-3 Electric Mountain Bike in their top picks. "Mountain bikes tend to have have a certain look and feel based on their peculiar needs. Creating an electric version runs the risk of making an industrial disaster of a bike with all the wrong aesthetics. Thankfully, Trek has produced a suite of electric bikes that both look and feel like a mountain bike while being fully equipped for dirt trails and varying terrain."
Engineered with award-winning features and a remarkably affordable price, the Lectric XP 2.0 lands on our list as the top budget pick. "It's so thoughtfully designed that it's a genuinely good choice for city riders on a budget, not some sort of reluctant consolation prize," notes Forbes. 
The model's folded design also guarantees your ride will fit into virtually any compact space. "The newer Lectric XP 2.0 doesn't change the motor or battery but improves ride comfort. That includes a front-wheel suspension, mounting points for racks, wider handlebars, and IP65 water resistance," adds Wired. 
Other honorable mentions include:
Ride1Up 700 Series

Aventon Soltera

RadPower RadRunner
You might also be interested in:
Sources
Note: This article was not paid for nor sponsored. StudyFinds is not connected to nor partnered with any of the brands mentioned and receives no compensation for its recommendations.