Every fall, a new school year starts. For many kids, this usually means a new pair of kicks to stroll into class with on the first day of school. Because our little ones grow so fast and play so hard, tennis shoes are something that needs to be replaced often. The best kid's shoes are supportive, durable, and up to date with the latest fashion trends for the back-to-school season.
Wanting kids to fit in with fashion trends is a genuine worry for some, amongst a mountain of other concerns that parents must face. Do you find yourself constantly worrying about your kids? If so, you're far from alone. A new survey finds that parents spend a whopping 37 hours a week stressing over their children. Broken down by day, that means moms and dads burn five hours and 18 minutes daily feeling worried.
This tends to get even worse during the back-to-school season. When the endless to-do list of daily tasks is finally said and done, parents are left with just one hour and 16 minutes to themselves, with one in five (21%) only getting an hour or less, according to new research. Given the little amount of personal time that parents scrape by with, searching for the right pair of shoes for their kids may not be something that should fill that time.
With all of this in mind, we did the hard work for you! We turned to our trusted sources to help rank the best shoes for kids. Finding the best sneaker to fit your kiddo's needs will help them get a head start with their day and make one less worry for parents to consider. If you have any more recommendations, please let us know in the comments below!
The List: Best Kid's Shoes, According to Experts
For some, Vans will forever be skater-kid shoes that go along with tree-trunk-width blue jeans that drag on the floor and, for some reason, an oversized wallet chain. Bad '90s fashion aside, Vans are cool shoes that remain popular today. The NY Post praises, "This roundup would be incomplete without the Vans Old Skool Big Kids Sneaker — one of the most popular back-to-school kids' stock-ups. Perfect for middle school, this pair will look even more put together with your favorite T-shirts and jeans."
Rank & Style also compliments this respected brand: "Vans are known for their durability and this Old Skool pair is no different. The suede and canvas uppers and the rubber waffle soles ensure comfortability… classic shoes are available in more than 10 vibrant colors, to help add a pop of color to any kid's wardrobe."
Family Vacationist rounds off a trio of great reviews: "One shoe, many looks—that's the joy of Vans Old Skool sneakers. These retro-cool Kids Vans feature a reinforced toe-cap, suede and canvas uppers, and a lace-up closure. They're available in an embrace-your-style array of colors and patterns for little kids, big kids, and adults. Proving it's never too early to start honing your sneaker game, Vans Old Skool sneakers are available (with Velcro) in toddler sizes as well."
Adidas is a Bavarian football club shoe that was originally released in 1949. Since that time, Adidas has grown beyond soccer into a major brand and a ubiquitous shoe in American schools. Vetted describes these cool kicks, "Teens (and many tweens) often wear adult shoe sizes, and at this age, they prefer a shoe that doesn't look like a kids' option. The Adidas Cloudfoams run in sizes as small as 4.5 (for girls) and have a lightweight feel that makes them great for everyday wear. (There's also a kid's version of the Cloudfoam if you want to snag these for younger kids, too.)"
"One of the most important features of your child's sneakers is how comfortable the footbed is, and lifestyle blogger and mom Bianca Dottin says the Adidas Cloudfoams live up to their name. 'Love these because my kids rave about how comfy they are. I have the adult version as well and I can walk in them for hours without any complaints, plus they're budget friendly,'" adds The Strategist.
Insider also offers, "Small feet deserve just the same support, rebound, and injury protection as adult feet, and that's what little feet get with running and training shoes from Adidas… Adidas offers multiple pairs of kids' shoes with the same informed design and excellent materials they use for their adult athletic shoes. This includes features like the proprietary Cloudfoam cushioning in the midsole that absorbs shock and creates excellent rebound."
Despite the U.K. spelling, Under Armour is an American company that was established in 1996. Originally focused on undergarments, their catalogue now includes a wide range of apparel and shoes. Tiny Beans reviews, "There's nothing like a basic sneaker to get your kid off on the right foot. This one from Under Armour has over 15 different colors, has durable leather overlays that lock in your midfoot to help with stability and an EVA-liner that provides step-in comfort."
"These comfortable kids' shoes are available in 14 color combinations, so you are bound to find something that will appeal to your child. Plus, they won't feel like their feet are heavy from these shoes — they'll be ready to spring into action because of how light they are," according to MomLovesBest.
"Designed for younger kids, these kid shoes are easy to slip on and off. They feature a hook and loop strap that is easy for preschoolers and kindergarteners to manage on their own. The sneakers are also lightweight and breathable, so they won't feel heavy," writes Don't Wa$te Your Money.
Crocs didn't show up until 2002, though they were not the first clog on the market. The indelible appeal of the Croc is in its simplicity, plus they're really nice for people that have a tendency towards stubbing their toes. Parents raves, "Beloved for years by everyone from healthcare workers to chefs for their comfort, Crocs have quickly become a favorite no-tie shoe for kids too. Their design offers supportive cushioning, plus they're slip-resistant and easy to clean."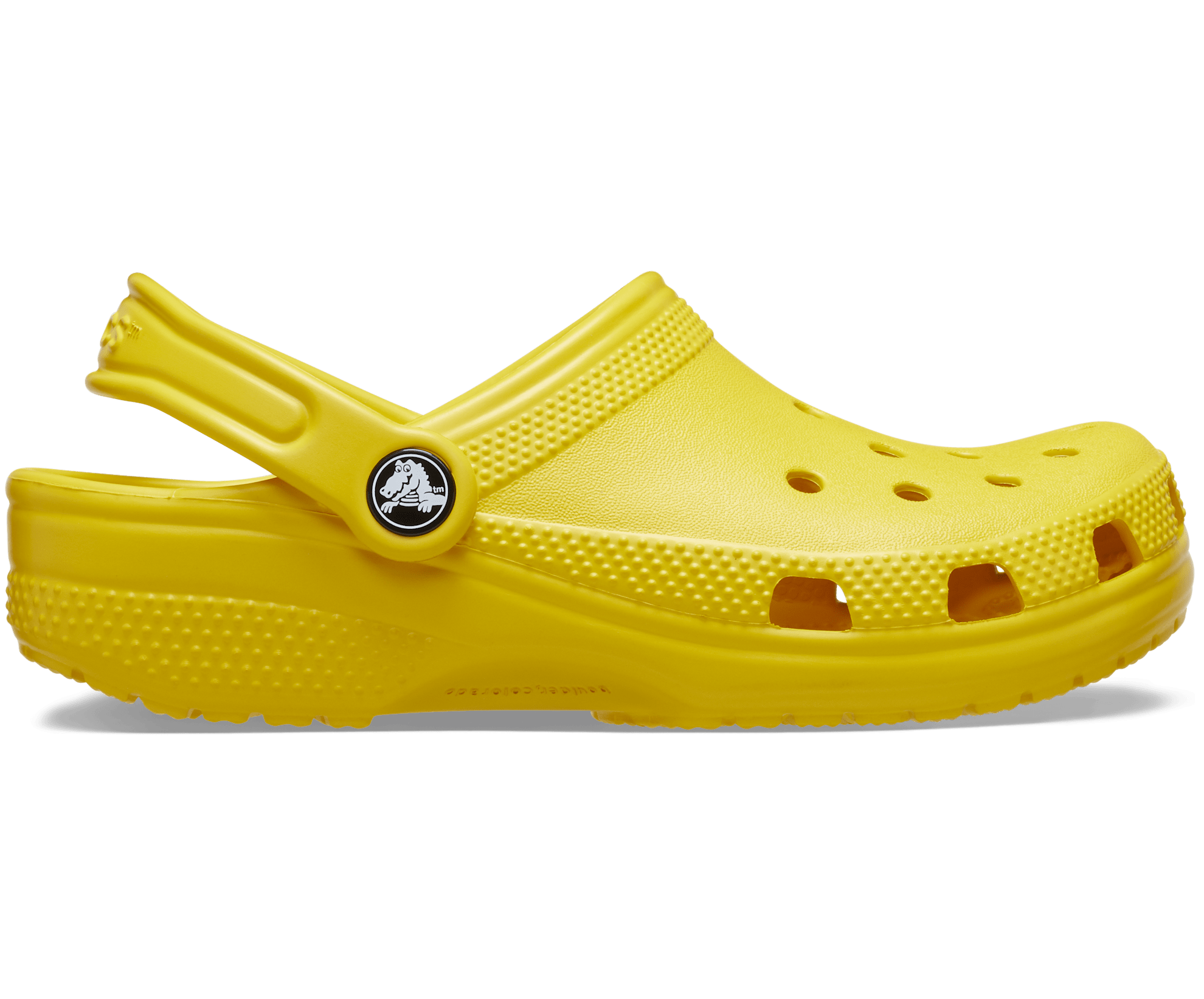 "All you need to do to clean these kid shoes is hose them down. They're made using a durable rubber that is also quite comfortable. Kids can easily slip them on and they're available in a choice of 18 different colors," claims Don't Wa$te Your Money.
While Vetted praises Crocs, they also offer some critical feedback: "While you don't want to send your child in on gym day in a pair of Crocs, experts say they're a great option for a lifestyle shoe, which is wonderful news given how trendy this clog has become among kids and teens. Meaning, they're a good shoe to toss on if your child is hanging at a friend's house or doesn't plan to do much running on any given day."
These shoes are the product of 2009 Vancouver-based Native Shoes Company, and they compete with Crocs as a rubber shoe that is great for hot weather. However, these comfy-slip-ons are said to fall on the narrow side. Parents offers some additional details: "If your child has those adorable wide kid feet these may be too tight for them. Native Shoes are beloved by parents and with good reason… They're great for playing in water, but they also look good for everyday wear."
"Whether your little one hasn't learned how to tie their shoes yet or simply prefers a style that slips on, these shoes will fit the bill. They offer a water-friendly design and a lightweight feel thanks to an EVA [Ethylene-Vinyl Acetate] lining," adds Rank & Style.
"With socks or without, the perforated uppers on these kid shoes lets feet breathe and cuts down on odor. They're made from acetate which is not only durable but fully waterproof. Environmentally conscious parents will love their low-emission manufacturing policy and materials that don't harm animals," explains Don't Wa$te Your Money.
You might also be interested in:
Sources:
Note: This article was not paid for nor sponsored. StudyFinds is not connected to nor partnered with any of the brands mentioned and receives no compensation for its recommendations.