Before your next outdoor water adventure, consider grabbing a pair of the best water shoes to protect your feet from rocks, shells and other not-so-foot-friendly items lurking in the terrain. Water shoes also provide better traction, so you aren't slipping and sliding. Plus, they're nice to have if you're spending a day at the beach, especially if the sand is rockier or full of sharp shells. 
Water shoes are an essential accessory for anyone venturing into aquatic environments, whether it be for a leisurely beach stroll, a thrilling river adventure, or a refreshing dip in a rocky cove. These versatile shoes offer numerous benefits that make them a must-have for water activities. First and foremost, water shoes provide excellent protection for your feet, shielding them from sharp rocks, shells, and other potential hazards lurking beneath the water's surface. Their sturdy yet flexible soles provide exceptional traction, preventing slips and falls on slippery surfaces.
Even better, water shoes are designed to be quick drying, ensuring maximum comfort and preventing yucky, soggy footwear. They are also lightweight and breathable, allowing for unrestricted movement and optimal ventilation, so your feet stay cool even during extended periods of use. Whether you're an avid swimmer, a beach enthusiast, or an outdoor adventurer, water shoes are a practical and reliable choice, offering comfort, protection, and grip to enhance your aquatic experiences.
Whether you are heading out to spend time by the ocean or a lake, it's important to protect your feet. That's why StudyFinds put together a list of the top five best water shoes for your next outing. As always, we'd like to see your own recommendations in the comments below!
The List: Best Water Shoes, Top 5 Brands According to Reviews
Popular Science calls this slip-on knit water shoe 'Best Overall', adding they "feature a mesh upper with a water-resistant rubber insole that's also comfortable. They're also lightweight, so they won't slow down your performance."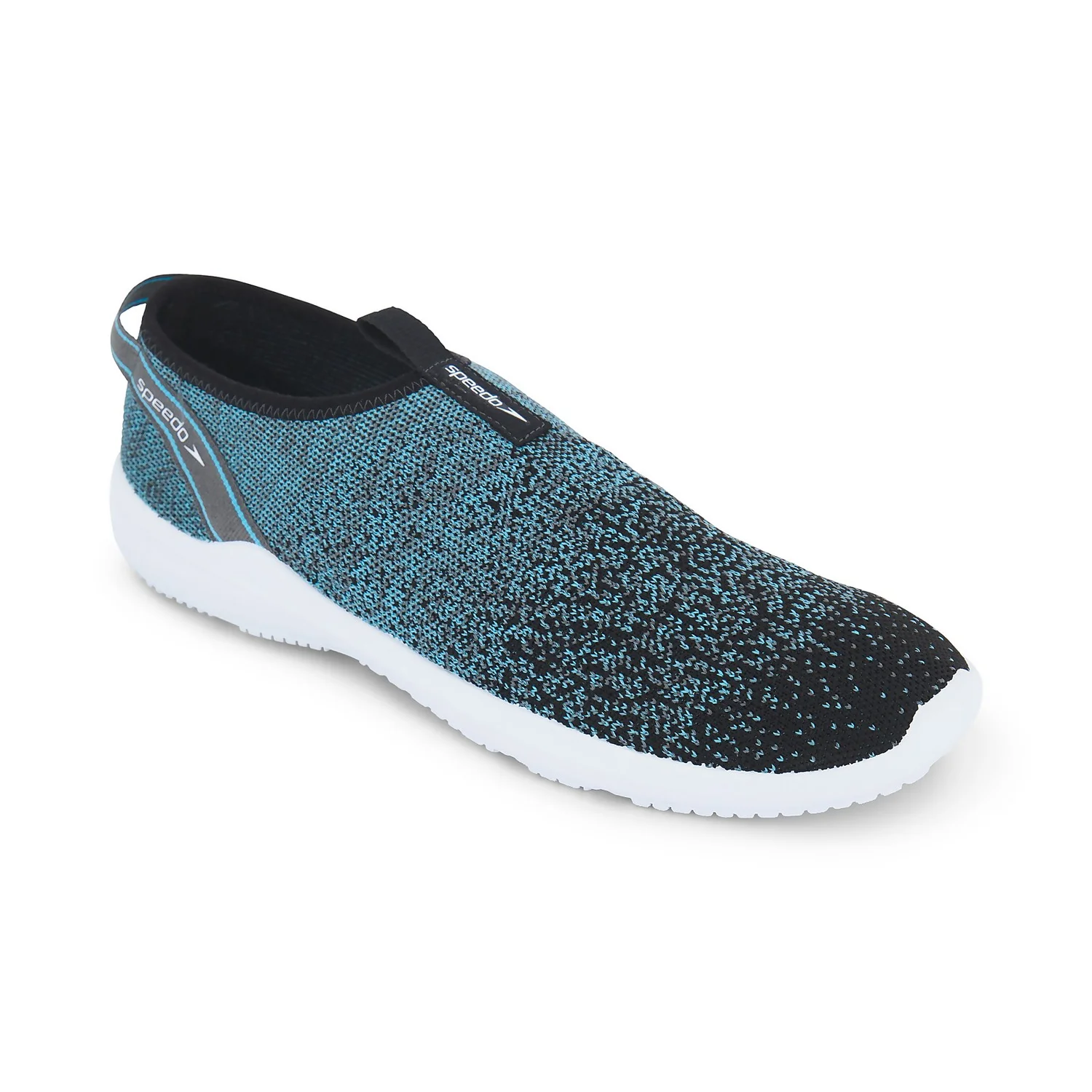 They're breathable, plus "you can remove the insoles if you'd like to speed up their drying time. Online reviewers found them sturdy and comfortable and particularly liked that they can squish down to pack easily," according to Good Housekeeping. Speedo has sizes available for men, women and kids.
However, GearLab notes, "while they work well for kayaking and even swimming, these slips are thin and have minimal construction with little support. If you only need simple shoes for warmth, short distance, and protection of your feet and dry suit socks, then for the price, these simple, lightweight water shoes are a solid contender."
Suitable for men, women and kids, the Hydro Moc Water Shoe by Merrell is a reviewer favorite. People points out, they're "great swimming shoes, as they poured out water immediately (thanks, rubber!). They held their grip when we wore them while trying to exit a rocky river bed, which thankfully protected our feet from the bottom of a lake."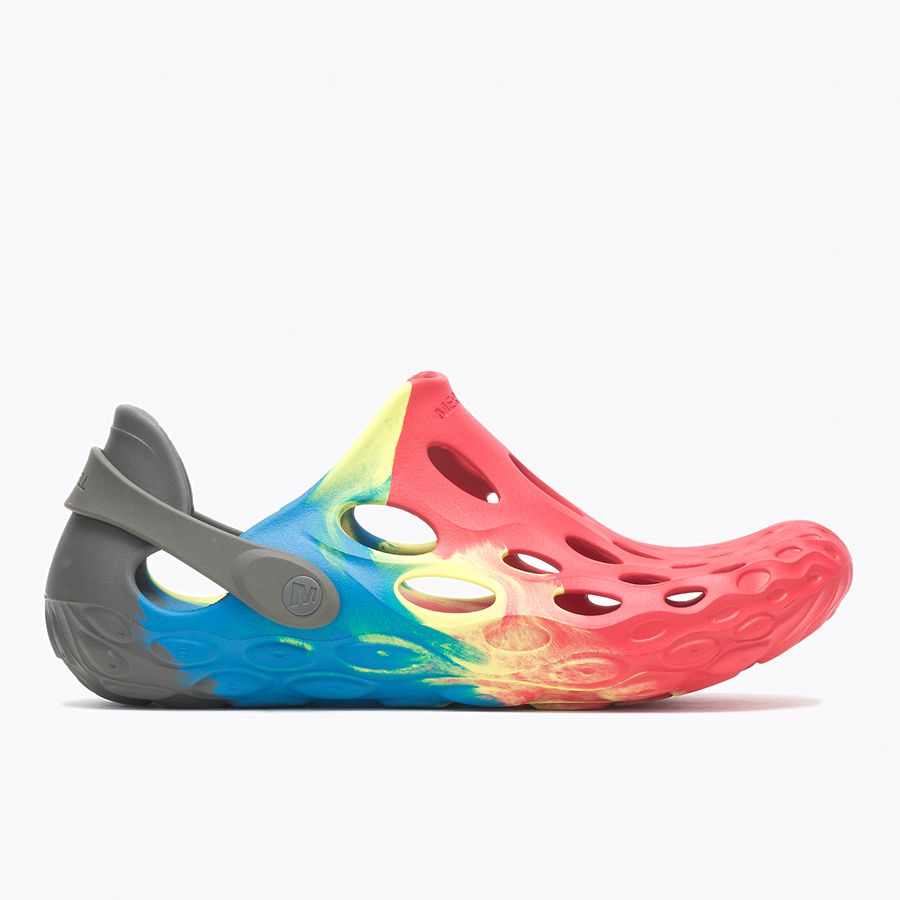 These water shoes are available in many different colors too. "Because of the porous upper, we don't like these as much for the beach, but they're ideal for most other aquatic or amphibious adventures. While the arch support isn't optimal enough to encourage long distance hiking in these shoes, it is still quite good – we certainly wouldn't scoff at seeing these on a short trail to a swimming hole," according to DIVEIN.
Travel+Leisure gives the Hydro Moc 'Best Rubber' honors, adding the shoes are "made of an injected EVA foam — also known as expanded rubber or foam rubber — that is commonly used to create sports equipment padding that absorbs shock." Just keep in mind these do run big, so size down if you need to.
Outside Magazine spotlights the KEEN Newport 20 slide, noting "the sandal's EVA insole provided good arch and midsole support for all-day comfort, whether we were adventuring by boat, or relaxing afterward around the campfire."
Field Mag crowns the KEEN Newport H2 'Best Overall', suggesting "wet shoes are no problem thanks to a breathable webbing design with a quick-drying lining and eco anti-odor properties. It has a large rubber toe bumper and multi-directional lug pattern for exceptional grip and durability in rugged terrain." The shoes also feature side openings for drainage.
GearLab also praises the brand's Newport H2, adding "with solid coverage and water friendly materials, this is our favorite closed-toe sandal for water sports." You can find them in men, women and kids sizes. 
Available in many colors and patterns, these inexpensive unisex barefoot shoes are quick-drying. "With a sock-like fit, this streamlined design allows for flexibility when you're snorkeling or running on the beach," notes Oprah Daily.
There's lots of colors available to suit your style. Good Housekeeping adds, they "have over 85,000 five-star reviews on Amazon, and online reviewers appreciate that they have fairly good traction, fit comfortably, dry quickly and feel extremely close to being barefoot."
However, Today points out, "while the soles remain protective, the top material can fray a bit after many uses, so be sure to air dry them outside instead of putting them in the dryer." Another potential drawback? These aren't adjustable, so sizing can be a bit tricky.
Astral makes these stylish water shoes in men, women and youth sizes. Field Mag notes, they feature "a flex-grip rubber sole that features drainage holes to encourage the outflow of water, silt, or sand, and you've got a great everyday shoe that's quite literally always ready for watery adventures."
"Their thin, neutral soles have a great ground feel that helps maintain balance and makes them fun to swim in," adds GearLab. However, these shoes are pricier than some of the competition.
DIVEIN suggests, "these are the perfect shoes for boating and water sports like paddle boarding or kayaking, or even casual outings. They could do a reasonable job with light hiking in wet areas but do not have the durability or sturdiness for long hiking trips." 
You might also be interested in:
Sources:
Note: This article was not paid for nor sponsored. StudyFinds is not connected to nor partnered with any of the brands mentioned and receives no compensation for its recommendations. This post may contain affiliate links.